Using American Airlines miles to Africa can be tough. That's true for any miles where you're going to have to fly on oneworld airlines, because there simply isn't very much oneworld service to Africa.
Using British Airways miles to Africa can be tough as well. BA used to offer outstanding award availability on their flights to various destinations on the continent, but for the past couple of years that hasn't been the case. Until now.
And that's of special interest not just to American Airlines mileage-holders (and Alaska Airlines frequent flyers), but to British Airways Visa cardholders as well. Because if you spend $30,000 in a year on the British Airways co-brand card from Chase, you earn a 'travel together' ticket where two passengers fly for the number of points of a single award.
Flying British Airways means paying fuel surcharges. I think of it as buying a discounted coach ticket that doesn't earn miles, and getting a double upgrade with miles to business class or triple upgrade to first. But it's real money.
(See Unlocking the Value of British Airways Points, Details of the British Airways Travel Together Ticket, and Minimizing Fuel Surcharges When Redeeming British Airways Avios.)
Award availability on British Airways to South Africa and Kenya has gotten really, really good. Take a look at May and June, London – Johannesburg and Johannesburg – London. (Calendars show 1st through 29th of each month only.)
Here are calendars showing the days where there are four first class award seats available.
And note that there are a few days where London – Capetown has four first class award seats available, too.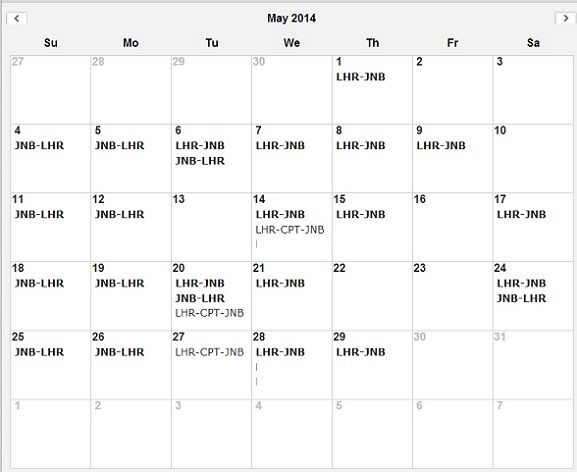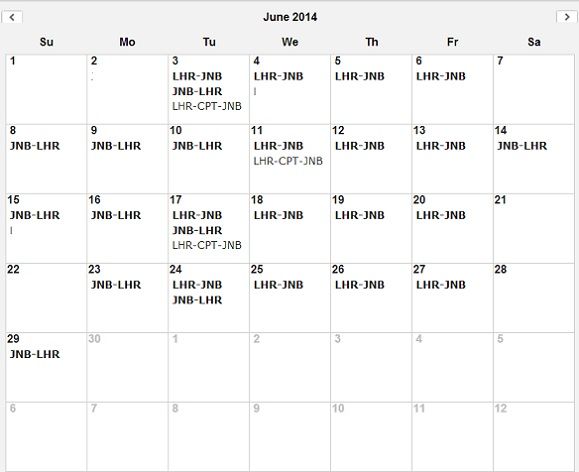 Interestingly the phenomenon doesn't extend into July.
Here, by the way, is a calendar of availability for London – Nairobi, again 4 first class award seats, between May 1 and May 29: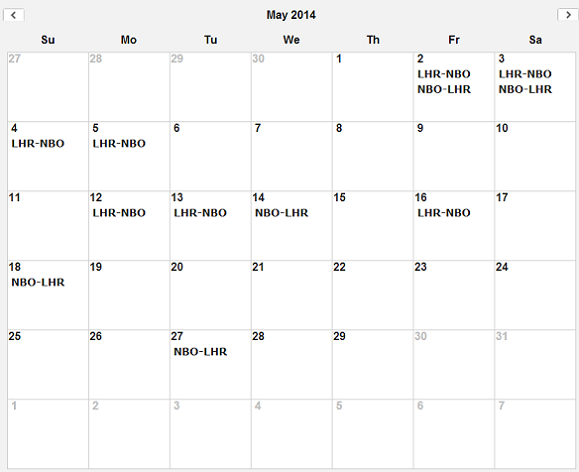 British Airways first class isn't a world-leading product but it's among the best for Europe-Africa and certainly among the best given that there's availability. You can find reports here and here.
Just don't get too excited about the Concorde Room first class lounge at Heathrow.
Of course if you're starting in North America, you need to find award availability to Europe. Using a Travel Together ticket you have to fly on British Airways flights only. And BA availability across the Pond isn't what it once was — but it's still pretty good from many East Coast cities and secondary markets.
(HT: Howie M.)
(Note that cards in this post offer credit to me if you're approved using my links. The opinions, analyses, and evaluations here are mine. The content is not provided or commissioned by American Express, by Chase, by Citibank, US Bank, Bank of America, Barclays or any other company. They have not reviewed, approved or endorsed what I have to say.)
---