Australian Business Traveler carries the details on a new business class seat that British Airways has patented.
It offers clues into how BA is thinking about what comes next for business class. This may not be the actual or final seat they use, there could be more than one under consideration.
Here's BA's patent application (.pdf). It was filed May 19 and published August 13.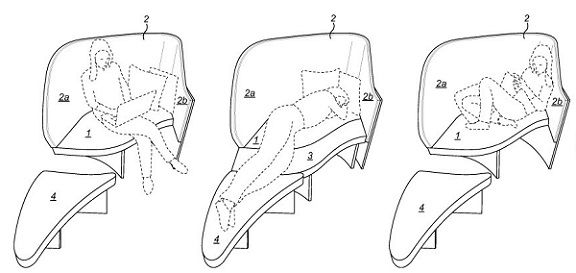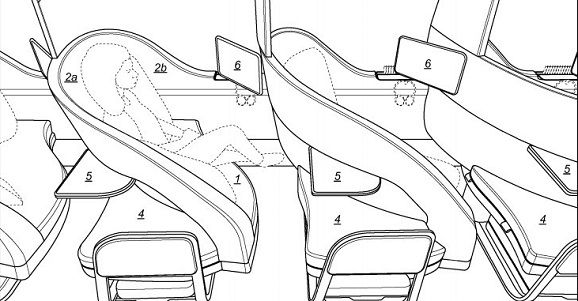 Here's the ostensible seating configuration, gone would be the dorm-style 8 across seating. Currently I'd prefer flying joint venture partner American between the US and London for their 4-across seating on the 777-300ER. Here British Airways goes all-aisle access 4-across as well.
The patent application describes the challenges of seat weight (because weight means fuel burn) and safety (such as the ability "to survive deceleration of 16g in a takeoff/landing position").
Plans are shown for use of the seat on Boeing 747, 777, and 787 aircraft – though it's hard to imagine a retrofit of the 747s. They're also shown for the Airbus A350 and A380.
The idea seems to be a couch, in herringbone layout. It appears the seats are wider than they are deep (greater width than pitch). And the seat does appear to offer better storage than the present BA business class seat.
Australian Business Traveller points out that the layout is similar to Virgin Atlantic, while the wide seat and high walls are similar to Singapore Airlines (albeit in this case it seems at more of an angle).
While seat pitch is in the 40s of inches, the bed length should extend to over 70 inches.
The entertainment system is built to allow continuous viewing during taxi, takeoff, and landing.
These are just drawings, they may not come to fruition, and if they do we'll have to see them in action to really judge. On first impression the seat looks good, certainly an improvement over BA's current offerings, though net-net I'm not convinced I'll like this over Cathay Pacific's (and thus American's) design.
---