Last month I wrote that one of the many ways to avoid fuel surcharges when redeeming British Airways Avios points is to start your trip in Brazil, because fuel surcharges are contrary to Brazilian law.
Shortly thereafter British Airways started adding fuel surcharges to awards starting in Brazil and there was much handwringing, including speculation that blogging about this 'loophole' killed it.
Perhaps British Airways had figured out that award travel was exempt from Brazilian law? Certainly I am not expert on the subject.
Turns out, though, that it really must have been a glitch. Because fuel surcharges are no longer being added to British Airways Avios awards originating in Brazil. It was a short-lived phenomenon to say the least!
Taxes on a first class award are showing up at only $36, which is what they were a couple of weeks ago before the glitch.
Note, though, that the mileage cost and taxes is only one of two interesting things in the screenshot below: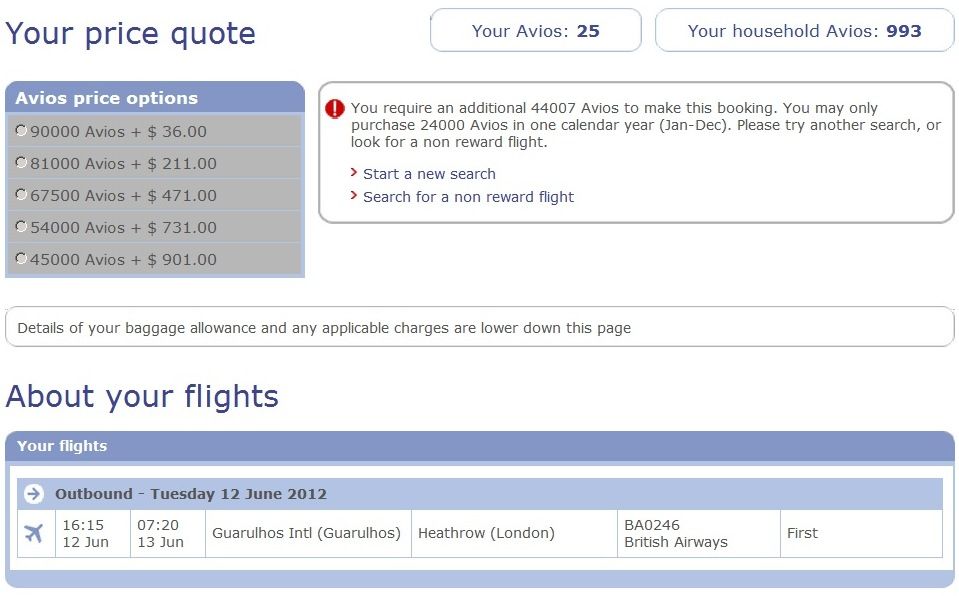 … the other, to me at least, is that I burned nearly all of my points before the gutting of the award chart in November.
Sadly I still have about 70,000 bmi miles and no great ideas on how I want to use them before May 31, the last shot to redeem for (non-Lufthansa group) Star Alliance awards. Those will likely, ultimately, revert to Avios.