Back in June I wrote about finding at least four business class seats non-stop between the US and Australia almost every day.
That was using Delta miles on its partner Virgin Australia. Virgin Australia awards are even bookable on the Delta website and Delta no longer adds fuel surcharges to Virgin Australia awards.
Then last month all of a sudden Virgin Australia's business class inventory simply dried up. It was gone, pretty much across the board, with only a few stray dates available.
At the time I said DON'T PANIC. Virgin Australia inventory goes in cycles. So there was reason to believe it would come back. And it has.
This is what availability looks like searching for four business class seats, Los Angeles – Sydney, next summer:
Wow.
Now, it isn't like that all the time. There's still decent space for peak December travel (again, four business class seats):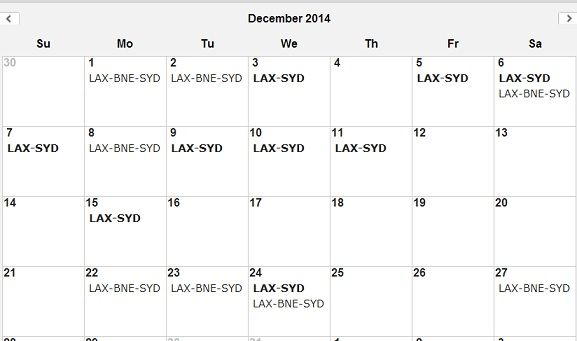 But not so much for January:
Overall very good news, and why Delta miles are best for travel between the US and Australia. Although you may need to buy tickets to and from Los Angeles to take advantage of it — both a function of Delta's domestic availability (better if you can fly Alaska Airlines from your home city on the West Coast to Los Angeles) and their pricing engine which frequently won't combine the domestic flights with Virgin Australia at the proper mileage level.
---