I've made mentions already that new Star Alliance member EVA Airways has outstanding award available. But I haven't really spelled out just how good it is.
I had no probably booking five people back to the US from Hong Kong via Taipei shortly after New Years (albeit not all on the same flight). And I had no problem booking folks back from Thailand in July last week as well.
EVA Airways offers a top notch business class product. The title of this trip report, I think, encapsulates their service: Dom Pérignon Service on Eva Airways Business Class.
And their Boeing 777-300ER features business class seats similar to Cathay Pacific's (and to Delta's new Pacific route only business seats, American's new 777-300ER business seats, and the US Airways seat).
So it is a good business class offering. And one you can secure with United miles, with US Airways miles (while they remain in Star Alliance, until some point after their merger with American), and with miles in programs that transfer from American Express Membership Rewards like Aeroplan, ANA, and Singapore.
But just how good is the availability?
I ran 29-day searches using Award Nexus which provides a nice calendar display of availability. I picked flights from Taipei to Los Angeles, San Francisco, and New York JFK in the months of September and April with the idea of getting a broad sense of availability.
The search was for 2 business class award seats, and results are current as I write this but certainly can and will change.
Here's Taipei – San Francisco in September.
And the same route in April.
Here's the Taipei – Los Angeles route in September, And no I don't know what it is about flights to LAX and Tuesdays!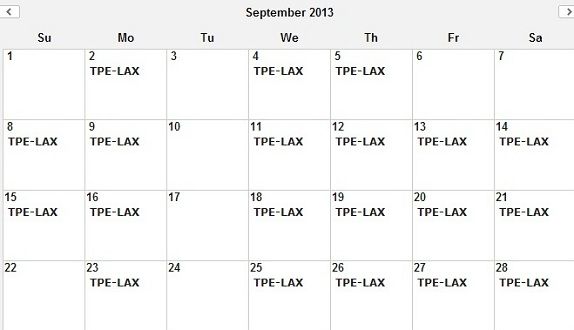 Availability is even better for April. Every single day I checked.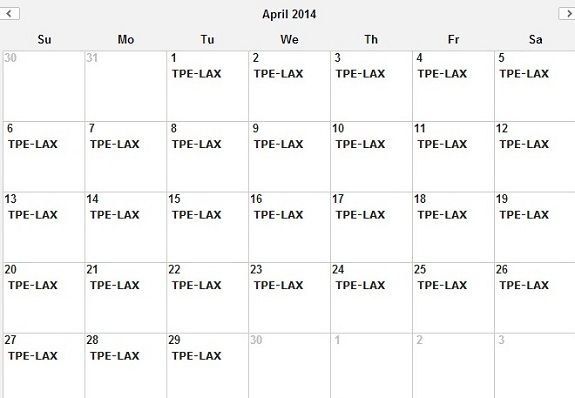 New York JFK is unsurprisingly a bit harder, but still very good in September.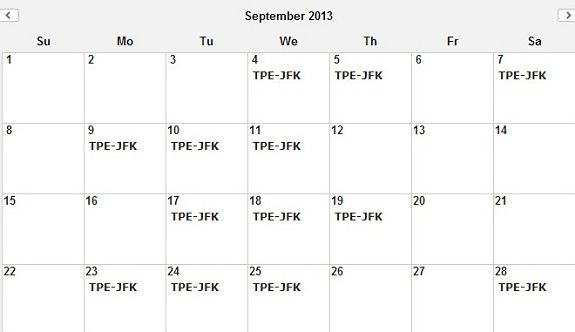 And even better still in April.
So far I've had to call United in order to book EVA Airways award seats (and I haven't gone through the process with other Star Alliance airlines yet). I haven't been able to book the space online, but every time United has been willing to waive the telephone booking fee.
Some agents have believed it necessary to put the award on hold for 24 hours and then have me call back to ticket. I believe this is a relic of the old pre-Star Alliance system for booking EVA Airways seats (from when EVA Airways and United were partners but not alliance members together). Most recently I've had an agent who checked on this and was told it was no longer necessary.
Since the space isn't readily available online, I suspect that preserves its availability somewhat. It will be interesting to see how availability changes once United's members start snapping up the seats (and whether EVA Airways changes its inventory management philosophy) and especially once the availability becomes viewable at United.com.
But for now award availability on EVA Airways is simply too good So if you're looking for business class award space, their routes via Taipei and beyond are definitely worth checking for.
---
You can join the 30,000+ people who see these deals and analysis every day — sign up to receive posts by email (just one e-mail per day) or subscribe to the RSS feed. It's free. Don't miss out!