Last week when it erroneously appeared that American Airlines was going to start adding fuel surcharges onto all international award tickets, and that there might just be a short window to make bookings before the change was fully implemented, I hurriedly grabbed a first class award on Cathay Pacific with onward business class segments to Cambodia and Vietnam.
It turned out the whole scare was a false alarm. but I did have an award ticket to play with an I started to ponder what I might do in Southeast Asia.
I was looking at airfares between Cambodia and Vietnam and found that Qatar Airways had a 'tag flight' between Phnom Penh, Cambodia and Ho Chi Minh City, Vietnam.
I've never flown Qatar, so I was interested. And it's a really short flight — just 132 miles — so unsurprisingly there are quite reasonable fares for purchase.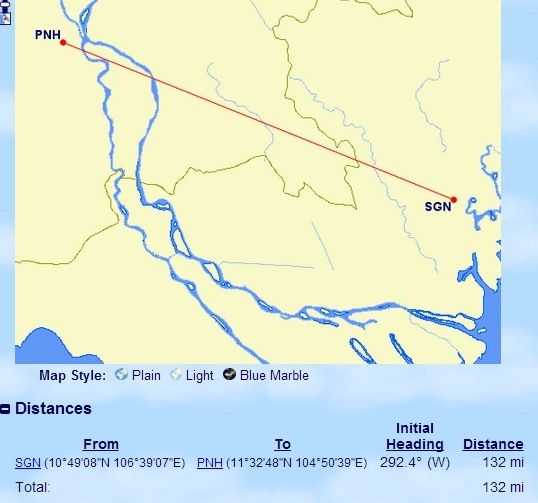 But there's something special about this flight, or rather the airfares that have been filed between the two cities. They were allowing connections in Doha…!
And that's a whole lot more miles.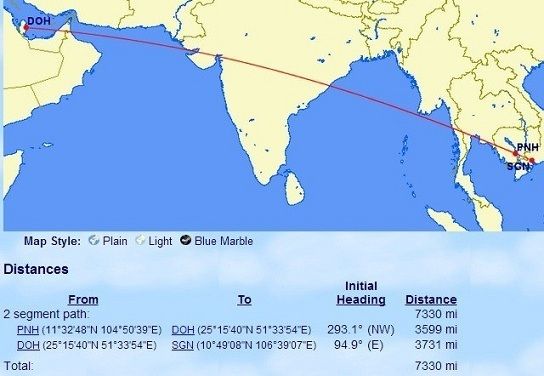 So How Do You Find This Fare?
Just try a multi-city booking at QatarAirways.com: Phnom Penh to Doha, Doha to Ho Chi Minh City.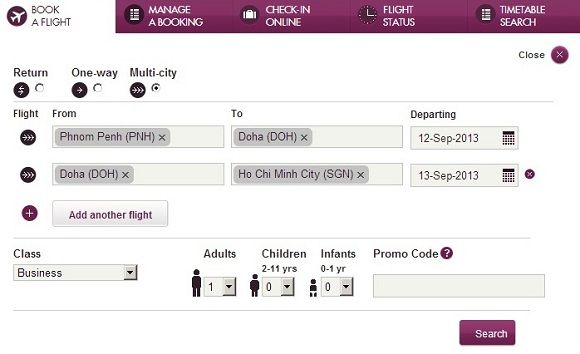 You should be able to add a stopover in Doha for additional cost if you wish (as an add-on charge, rather than causing the fare to price as Cambodia – Qatar plus Qatar – Vietnam).
With random dates next week here's the itinerary that came back:

And how much would it cost?
Relevant details of fare ZOWKH:

One-day advance purchase

Books into Z fare bucket

$40 cancellation charge
Why Would You Want to Do This?
I realize that this fare is going to be of limited use to most folks, since it requires starting in Southeast Asia.
But having found it, I figured it wouldn't do anyone any good if I didn't write about it.
And there are some interesting uses for it.
Qatar Airways is scheduled to join oneworld next month meaning that if all goes as planned they will become an American Airlines partner.
They are already a mileage partner of British Airways which is sponsoring their entry into oneworld (BA got pretty well stuck when Qantas exited their joint venture to go separately with Emirates).
Presumably you will be able to mileage run quite cheaply for American Airlines status, this is about 3.5 cents per flown miles. We will have to wait to see what sort of bonus 'points' will be awarded for paid discounted business class on Qatar, until the earning chart is posted there are no guarantees in that regard, but it could be even more useful than just flying ~ 7500 miles for ~ $250.
These fares earn 125% of miles flown in the British Airways program though they do not yet earn elite-qualifying tier points. We'll have to wait for oneworld membership for that to become active.
Will it Be Honored?
As we any fare offering outsized value, there's always the risk that the travel provider decides they don't want to honor what they've offered.
In general I suggest not booking any non-refundable arrangements surrounding such great fares right away, to wait and see what the airline does. And since this fare doesn't originate or terminate or even connect in the U.S. there aren't any of the US (or even European, for that matter) consumer protections that apply.
I don't see any reason straight away that this will not be honored, but there's not a guarantee. So my advice is to book if interested and then wait a bit to see what happens.
So… Is this just too far out to be of any use to you, or does it get the juices flowing on this Saturday morning?
---
You can join the 30,000+ people who see these deals and analysis every day — sign up to receive posts by email (just one e-mail per day) or subscribe to the RSS feed. It's free. Don't miss out!