I receive compensation for content and many links on this blog. Citibank is an advertising partner of this site, as is American Express, Chase, Barclays and Capital One. Any opinions expressed in this post are my own, and have not been reviewed, approved, or endorsed by my advertising partners. I do not write about all credit cards that are available -- instead focusing on miles, points, and cash back (and currencies that can be converted into the same). Terms apply to the offers and benefits listed on this page.
---
Capital One has done something game-changing: making their miles transferable to airline frequent flyer miles with a wide array of partners. That makes their already valuable points more lucrative. Venture customers can continue to redeem their miles with no blackout dates on all travel-related purchases — at the same rate as before. Now they also have the option to transfer points to airline miles.
Initially they've launched with 14 airline partners: Aeromexico Club Premier, Air Canada Aeroplan, Air France KLM Flying Blue, Alitalia MilleMiglia Program, Cathay Pacific Asia Miles, Avianca LifeMiles, Emirates Emirates Skywards, Etihad Airways Etihad Guest, EVA Air Infinity MileageLands, Finnair Finnair Plus, Hainan Airlines Fortune Wings Club, Qantas Qantas Frequent Flyer and Qatar Airways Privilege Club and Singapore Airlines KrisFlyer.
Points transfer to most travel programs at 2 Venture miles -to- 1.5 airline loyalty points. For Emirates and Singapore, Venture miles transfer at a 2:1 ratio. Since the card earns unlimited 2 points per dollar that means you can earn up to 1.5 frequent flyer miles per dollar spent with Venture in the airline program of your choice.
Here are some of the things you can now do with the card's points because of this very cool new feature.
Aeromexico Club Premier
Aeromexico is the largest airline in Mexico, and it's part-owned by Delta. Their frequent flyer program, incidentally, is part owned by Aimia — the same company that currently owns the Aeroplan frequent flyer program.
You can use their miles to redeem travel on their own flights of course, or on SkyTeam partners like Korean Air, Garuda Indonesia, and Kenya Airways. They have an interesting "round the world" chart.
Economy: 224,000 Aeromexico points

Business class: 352,000 Aeromexico points
For round the world awards you must travel on SkyTeam airlines, all in the same class of service, and begin and end in the same country. Travel must all be in the same direction (in other words, fly Eastward around the world or Westward around the world, but you cannot change directions). These awards permit between 3 (minimum) and 15 (maximum) stopovers, with no more than 5 stops per continent.
I've never done a 'true' round the world trip with myriad stops. I've created many stops of less than 24 hours on a single award, and I've flown awards around the world meaning Eastward to Asia and then Westbound back home across the Pacific. I've written about round-the-world awards before and taking the kind of time to do something like this intrigues me.
And of course even though airlines like Delta, Korean, and Garuda Indonesia aren't directly partners with Capital One, you can use Aeromexico miles to redeem for travel on those airlines – even include them in SkyTeam round the world awards.
Aeroplan (Air Canada)
Aeroplan is the frequent flyer program of Air Canada. It was spun off as a separate company, but Air Canada announced a deal to re-acquire the program and that deal is expected to close by the end of the year. As a result Aeroplan miles should remain associated with Star Alliance airline Air Canada past mid-2020, when the Air Canada-Aeroplan relationship was set to expire.
The program has a highly functional website that lets you redeem for travel on most Star Alliance airlines. And they have a reasonably priced award chart for many awards. For instance one way business class between the US and parts of Europe is just 55,000 Aeroplan miles (some European destinations are 57,500 miles each way).
55,000 miles each way between the US and: Austria, Belgium, Denmark, France, Germany, Ireland, Italy, Luxembourg, Netherlands, Norway, Portugal, Spain (incl. Balearic Islands; excl. Canary Islands), Sweden, Switzerland, United Kingdom.
57,500 miles each way between the US and: Albania, Armenia, Azerbaijan, Belarus, Bosnia, Bulgaria, Croatia, Cyprus, Czech Republic, Estonia, Finland, Georgia, Greece, Greenland, Hungary, Iceland, Latvia, Lithuania, Macedonia, Malta, Moldova, Montenegro, Poland, Romania, Russia (Western), Serbia, Slovakia, Slovenia, Turkey, Ukraine.
My latest Aeroplan redemption is on Turkish Airlines, one of the partners that Aeroplan doesn't impose carrier surcharges for when using miles. Others without such surcharges include Aegean; Air China; Air India; Air New Zealand; Avianca; Brussels Airlines; COPA; Croatia Airlines; EVA Airlines; EgyptAir; Ethiopian; Scandinavian, SWISS, Shenzhen Airlines, Singapore Airlines, South African Airways, and United.
Avianca LifeMiles
LifeMiles is a fantastic Star Alliance program. I have a few hundred thousand of their miles, and I've never used them to travel on Avianca. Instead I use them for premium cabin awards on airlines like Lufthansa, Asiana, and Thai Airways. And I use their cash and points awards to book United's domestic first class — a redemption that's gotten me as much as 10 cents per point in value domestically.
LifeMiles has no fuel surcharges and a reasonable award chart. You can fly business class to Europe for 63,000 LifeMiles each way or Southeast Asia for 78,000. First class (Lufthansa) is 87,000 miles each way between the US and Europe.

Lufthansa First Class Terminal
Cathay Pacific Asia Miles
I redeemed Cathay Pacific Asia Miles for the very first time a decade ago. I had gotten a Saturday night booking at what was then the most difficult reservation in the world, El Bulli, and so I needed to take my wife to Spain for dinner. I had built up points in the Asia Miles program and it was the perfect way to redeem for travel on British Airways.
Here's their award chart for Cathay Pacific travel:
Notably travel between the US and Southeast Asia costs a reasonable 85,000 miles each way. And Cathay Pacific features an excellent business class.

Cathay Pacific Business Class
You can use their miles for travel on oneworld airlines like American Airlines, British Airways, and Royal Jordianian as well. If you include two different oneworld airlines (not including Cathay itself) in your award, they'll price the total trip based on distance as follows:
While first class long haul gets expensive in either chart, flying Cathay's first class is cheaper than flying a mix of partners. That's great because Cathay Pacific offers one of the best first class experiences in the sky (they have my favorite bed for sleeping, and excellent service).

Cathay Pacific First Class

Cathay Pacific First Class
Emirates
Emirates flies to an extensive list of destinations in the U.S. Having them as a transfer partner is useful because most US frequent flyer programs do not partner with the airline. In the U.S. only Alaska Airlines has miles which can be redeemed for Emirates flights. Capital One points transfer at a rate of 2-to-1 into Emirates miles.
The Emirates Skywards frequent flyer program gets you access to Emirates flights from New York JFK; Newark; Boston; Washington Dulles; Chicago O'Hare; Dallas Fort-Worth; Houston; Fort Lauderdale; Orlando; Los Angeles; San Francisco; and Seattle. And they don't just fly to (and through) Dubai. They operate New York JFK – Milan and Newark – Athens as well.
Their Airbus A380s have a phenomenal product in both business class and first class. Business class is fully flat seats, and there's an onboard bar. First class is enclosed suites and there are even on board showers. The Emirates food and beverage program is superb.

Emirates First Class Suite

Emirates Shower Suite
And because their US partnerships are limited, I find that award availability and upgrade availability is strong.
Emirates awards are priced based on distance (longer flights cost more). However you can use their Dubai hub to continue on — to Asia, the Mideast, or Africa for instance.
Etihad Guest
Etihad offers one of the very best first class products in the sky which I'd never be able to fly the way that I do without miles and points.
There's an onboard shower, an onboard chef (generally a flight attendant with real restaurant kitchen experience who can customize your meals as you wish), solid internet and good amenities.
But for me it's the spacious suite that makes the product shine.

Etihad First Apartment is Huge

First Apartment Bed is Separate From the Seat
One of the things I like about first class over business even as business has improved so much on the best carriers is fewer people in the cabin, not feeling cramped. Elbow room isn't just literal but also metaphorical, about how you feel with personal space around you for 15 hours and how relaxed you can be.
I find it much simpler to redeem Etihad travel on Etihad's website, using Etihad points, than the hoops I've gone through to make Etihad bookings with their major U.S. partner.
EVA Air Infinity Mileagelands
There's nothing cooler in aviation, in my humble opinion, than Star Alliance member EVA Air's Hello Kitty jets where all the details of the flight are Hello Kitty-themed… right down to the toilet paper.

EVA Air Shining Star Boeing 777-300ER
And there are very few business class products in the world that exceed's Taipei-based EVA Air's Royal Laurel Class. I consider it a top 5 business class experience.

EVA Air Royal Laurel Class
Flying business class between the US and Asia on EVA Air costs a reasonable 75,000 or 80,000 miles each way depending on the US gateway used. One real hidden gem is that they charge just 25,000 miles each way for business class intra-Asia awards.
They also offer Star Alliance round-the-the world awards

Economy: 180,000 EVA Air miles

Business: 325,000 EVA Air miles

First: 480,000 EVA Air miles
And a real treat for Gold elite members or higher is the option to use miles for time in a flight simulator.
Air France KLM Flying Blue
I've covered before how good award availability can be on Air France when using miles from their own Flying Blue program.
Air France offers more availability to their own members than they do for partners, and it can come at better prices too.
Air France has some unique partnerships as well with Air Mauritius, Aircalin, Air Corsica, Bangkok Airways, and Ukraine International Airlines.
Air France does add fuel surcharges to award tickets. And they've been known to have super-aggressive anti-fraud procedures. They may put an account on hold or require a customer to go to the airport to issue tickets that opens an account, transfers in points, and immediately books travel.
So my recommendation to reduce the likelihood of any problem is always to:

Open an Air France KLM Flying Blue account now, so that it isn't brand new when you need it.

Book over the phone the first time you transfer points and immediately redeem for an international award. I've had success over the phone in the past with award holds as well.
Qantas Frequent Flyer
The very first international destination I visited as a kid was Australia. My uncle and his wife moved there when I was 5 years old, and I visit their family often. I plan to go back shortly for a cousin's wedding, and I'll be flying Qantas' Dallas – Sydney route.

Qantas First Class
I haven't been nearly as active in the Qantas Frequent Flyer program as they have, of course. Their primary use of miles is upgrades for their trips back to the States. Though upgrades clear within days of departure, their track record securing seats in business class is excellent.
Where I've found the greatest use for Qantas points is redeeming for medium-distance travel on Emirates. Qantas and Emirates are partners. Qantas awards are distance based. You can fly Emirates from New York JFK to Milan for 60,000 Qantas miles (plus taxes and fees) each way in business class. In contrast if you were spending Alaska Airlines miles it's 105,000 miles each way.

Emirates Business Class Bar
Hainan Airlines Fortune Wings Club
This is one of the largest airlines for flights between the US and China. They fly out of 7 US cities to 5 Chinese destinations.
They fly between:

Beijing and Seattle, Chicago O'Hare, Boston, San Jose, and Las Vegas

Shanghai and Seattle, Boston

Changsha and Los Angeles

Chengdu and Los Angeles, New York JFK

Chongqing and Los Angeles, New York JFK
The Fortune Wings Club is also the frequent flyer program for Hong Kong Airlines, the second largest carrier in Hong Kong. As a result the program is useful for flights within Asia.
One thing I'd point out is that they have a partnership with Alaska Airlines. The award chart is reasonable, and since award pricing is distance-based short haul awards up to 500 miles on Alaska Airlines are just 5000 Fortune Wings Club miles each way in coach, 9000 in first class.
Singapore Airlines
There are a couple of really useful features to the Singapore Airlines Krisflyer program.
You can redeem their miles to travel on their Star Alliance partner like United Airlines — and some awards can fewer miles than United would charge.
Singapore Airlines offers much better award availability to travel on Singapore's own flights when you're using Singapore Airlines KrisFlyer miles than if you're trying to use miles from a partner frequent flyer program.
If you were to redeem United miles to fly between the mainland U.S. and Hawaii miles costs start at 45,000 miles roundtrip in coach or 90,000 in first class. However Singapore's award chart offers those same flights for 35,000 miles roundtrip in coach or 60,000 miles in United's forward cabin.
Meanwhile the ability to actually fly Singapore Airlines on long haul flights is very limited unless you are using Singapore Airline's miles. You can transfer points from Capital One to Singapore and get access to better award availability.
Singapore Airlines has announced the introduction of Singapore – Seattle non-stop service and that will give them four non-stop cities in the U.S., adding to San Francisco, Los Angeles, and Newark. Singapore also flies Houston – Manchester (U.K.) – Singapore; New York JFK – Frankfurt – Singapore; and Los Angeles – Tokyo Narita – Singapore.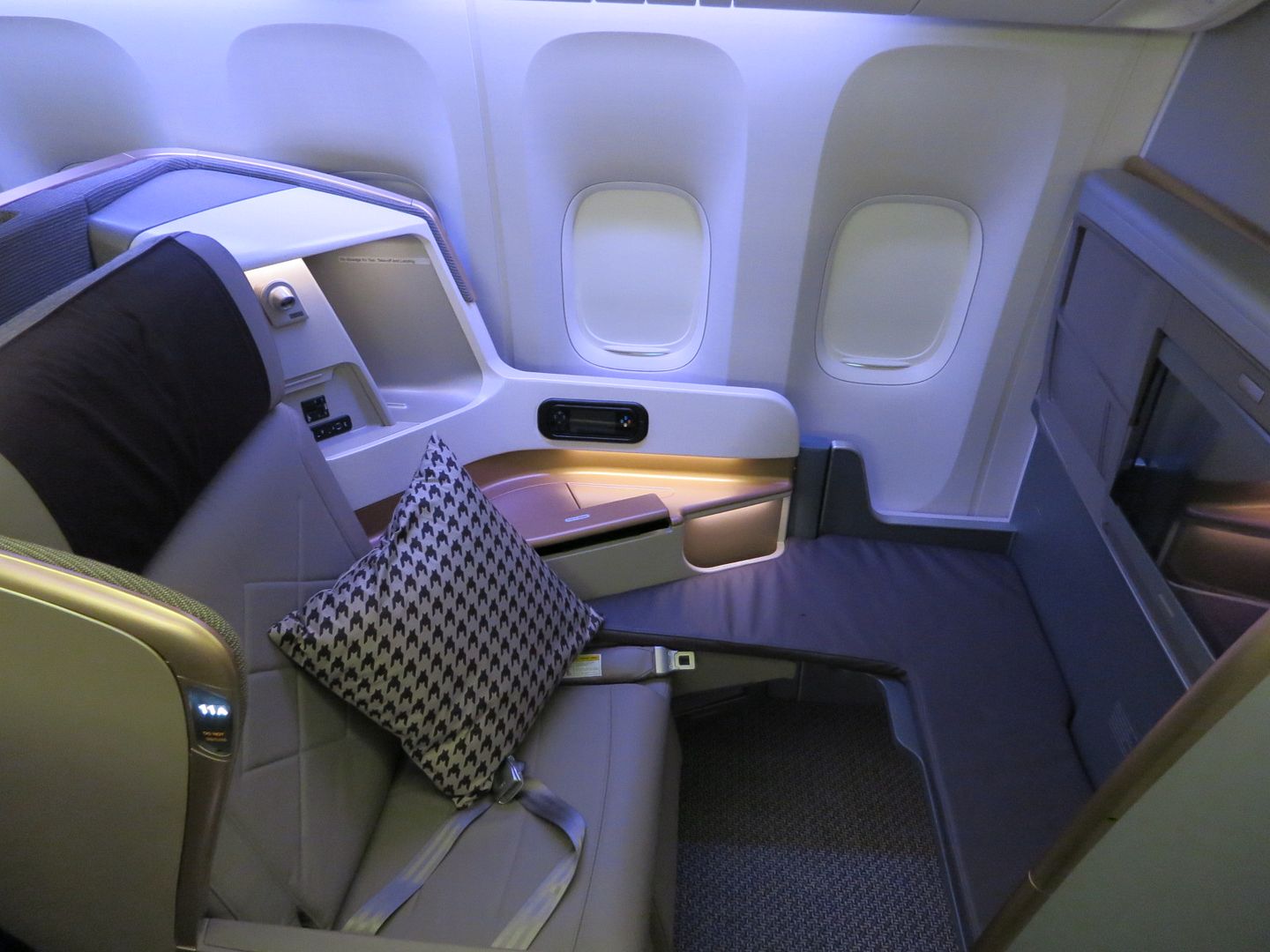 Singapore Airlines Business Class
Additional transfer partners
The reason I like really well-rounded transfer programs — inclusion of airlines around the world, even when there are other carriers within the same alliance that are transfer partners — is because there are situations where you need a given airline's miles. One of the most common reasons is upgrades. While airlines frequently make award space available to their partners, upgrades either aren't offered at all or frequently have strict fare class requirements (you may need to be buying a full fare ticket, as with Star Alliance awards, before you can use miles from one program to upgrade on another airline).
As a result having the option to move miles to programs like Alitalia, Finnair, and Qatar Airways becomes useful. Qatar, of course, has one of the world's best — if not the world's best — business class products as I've written many times. Their QSuites allow two and four passengers to travel together as if in a single suite. And I find their food and service to be excellent.
Having Qatar as a transfer partner directly could become even more useful if the airline were to leave the oneworld alliance as their CEO has suggested is a possibility.
What These Options Do for Capital One
These transfer partners are just the start. Capital One has said they plan to add additional transfer partners on an ongoing basis. In fact they've already added partners since first announcing the program in mid-November.
This was already a strong card for travel rebates.
You earn 2X miles on every purchase which made this a good card for most people looking to use their miles for domestic and economy travel without restriction.
Adding frequent flyer programs as transfer partners means their miles are also good for premium cabin international travel. It's a one-card solution for flexible domestic travel and for special trips abroad. And you can put the points where you need them later rather than focusing on a single airline program, based on where you want to go and who has availability at the time.
Most Capital One airline partners at 2-to-1.5. These rates are current as of December 6 and may change, so if you're consulting this article in the future check for current transfer rates.
Earning 2 Capital One miles per dollar spent and then transferring those to 1.5 airline miles is huge. It means earning 1.5 miles per dollar spent — and putting those miles where you want. As an added feature of an already strong card which offers an effective rebate of 2% towards paid travel it's a game changer.