Lucky writes this morning about Cathay Pacific's AsiaMiles being added as a transfer partner in the U.S. American Express Membership Rewards program.
He does a big 'meh' arguing that since you can claim the same flights through Amex transfer partner British Airways Avios as you can through AsiaMiles, there's not much to get excited about.
As it stands you can redeem British Airways Avios points for travel on Cathay Pacific (or any other OneWorld partner), and while their award chart isn't especially lucrative for longhaul flights, Membership Rewards is offering a 50% transfer bonus for British Airways through May 31. Still, even without the bonus their award chart is still more lucrative than Asia Miles' in most instances.
I think he's missing the boat here, AsiaMiles is a great addition to the Membership Rewards program. And the main reason for that is that British Airways Avios charges separately for each flight segment on an award, meaning that anything but a non-stop award trip can get really expensive (and it's frequently the case that in order to find award availability, you're having to add a connecting flight or two). Cathay Pacific's award charts allow you to take multiple flights on an award, and even combine partners while doing so.
Now, American Express Membership Rewards is still hurting in several dimensions. They have lots of airline transfer partners (and transfers to airlines remain the best use of the points) but since most of those transfer partners are non-US programs, you're facing fuel surcharges in addition to taxes when you're making most flight redemptions. They do have their fingers in all 3 airline alliances — Star (Aeroplan, All Nippon, Singapore), oneworld (British Airways, Iberia, AsiaMiles), Skyteam (Delta, Flying Blue, Alitalia, Aeromexico), plus non-alliance (Vrgin, Hawaiian, El Al, Virgin America, JetBlue).
Adding AsiaMiles isn't as beneficial as bringing US Airways Dividend Miles back into the program would be, or American. But in many cases it'll be the best oneworld transfer partner to use. And AsiaMiles will often have access to inventory on Cathay Pacific flights that British Airways is unable to book as well.
Cathay Pacific AsiaMiles has two different award charts.
The first is for flying only a single partner, or one partner airline plus Cathay Pacific.
The second is for any combination of partners.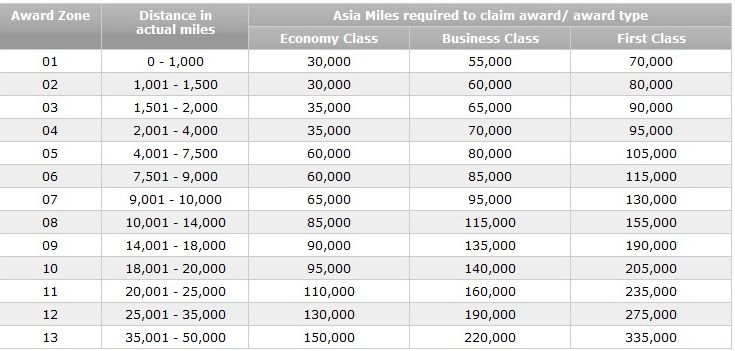 In both cases, the mileage price of the award is based on the distance flown.
For the multi-partner chart, you can make up to five stopovers, two transfers and two open-jaws "at either origin, en-route or turnaround point."
Let's compare.
JFK- Los Angeles – Sydney in business class will cost 250,000 Avios roundtrip. At just under 10,000 miles flown each way, AsiaMiles charges either 145,000 miles on a single partner airline or 140,000 miles on the multi-partner award chart. Even when Amex is offering a 50% bonus on transfers to Avios, AsiaMiles is a better value.
Los Angeles – Hong Kong – Sydney is 240,000 Avios roundtrip in business, or 160,000 on the AsiaMiles multi-partner chart. You need no bonus on AsiaMiles transfers and the 50% bonus on Avios transfers to make those equivalent. And that's if you can do the Avios award as a one-stop Los Angeles – Hong Kong – Sydney. Add a connection, like through San Francisco or Tokyo, and you're fine with AsiaMiles but it's costlier with Avios.
The issue of connections is especially a big deal if you don't live in an international gateway city. Consider using Avis points to Bangkok, you want a first class award and let's say you live in Oklahoma City. You may fly Oklahoma City – Dallas – Los Angeles – Tokyo – Bangkok. That's 225,000 Avios roundtrip for Los Angeles – Tokyo – Bangkok and 60,000 Avios for Memphis – Dallas – Los Angeles, remember that Avios is billing you triple the cost of coach to go first class, and billing you separately for each flight segment. That's 285,000 miles for one person for this award. The routing is 19,501 miles flown, so costs 205,000 miles with the AsiaMiles distance-based chart.
Avios is the better value for non-stop short-haul awards. That's the Avios sweet spot.
The only way to make Avios a better value proposition for long-haul travel is to posit a large transfer bonus to Avios (the current 50% bonus expires May 31) and no such bonus to AsiaMiles.
And of course we don't know what kind of bonuses, if any, will wind up in place with AsiaMiles. Add in any bonuses here and AsiaMiles will often be the far superior option. I wouldn't be surprised to see bonuses, Amex has them with several partners (like Delta though not yet this year, like Air France/KLM Flying Blue, like Virgin America) and it's something they seem to do to promote new partnerships which this one is.
AsiaMiles has long been one of the better options for transfers via Points.com which tells me they sell the points rather cheaply. My own personal redemption experience with AsiaMiles comes from the old eBay Anything Points program. You used to be able to transfer Anything Points into Asia Miles, and my primary method of earning eBay points was Priceline bids. Back in the day about 35 successful four-star hotel bids would yield a business class roundtrip ticket to Europe. So I was always happy to do Priceline bidding for others. I redeemed a British Airways business class ticket with these points when I flew to Barcelona for dinner at El Bulli.
All in all I'm happy to see AsiaMiles added to the Membership Rewards program. It's not the game changer that American, US Airways, or Alaska Airlines Mileage Plan would be. But it's an improvement, and we shouldn't understate that.