Index:
Cathay Pacific First Class, New York – Hong Kong
The Pier Lounge and Cathay Pacific Business Class, Hong Kong – Bangkok
Conrad Bangkok Deluxe Suite
Bangkok Airways Business Class, Bangkok – Koh Samui
Conrad Koh Samui, 2 Bedroom Ocean Pool Villa
Conrad Koh Samui, Resort
Bangkok Airways Business Class, Koh Samui – Bangkok
Cathay Pacific Business Class, Bangkok – Hong Kong and Marriott SkyCity Hong Kong
Cathay Pacific First Class Hong Kong – Chicago
United Airlines Back Home
Cathay Pacific first and business class check-in is with British Airways at the end of Terminal 7, it's quiet and has its own dedicated security so no real waiting.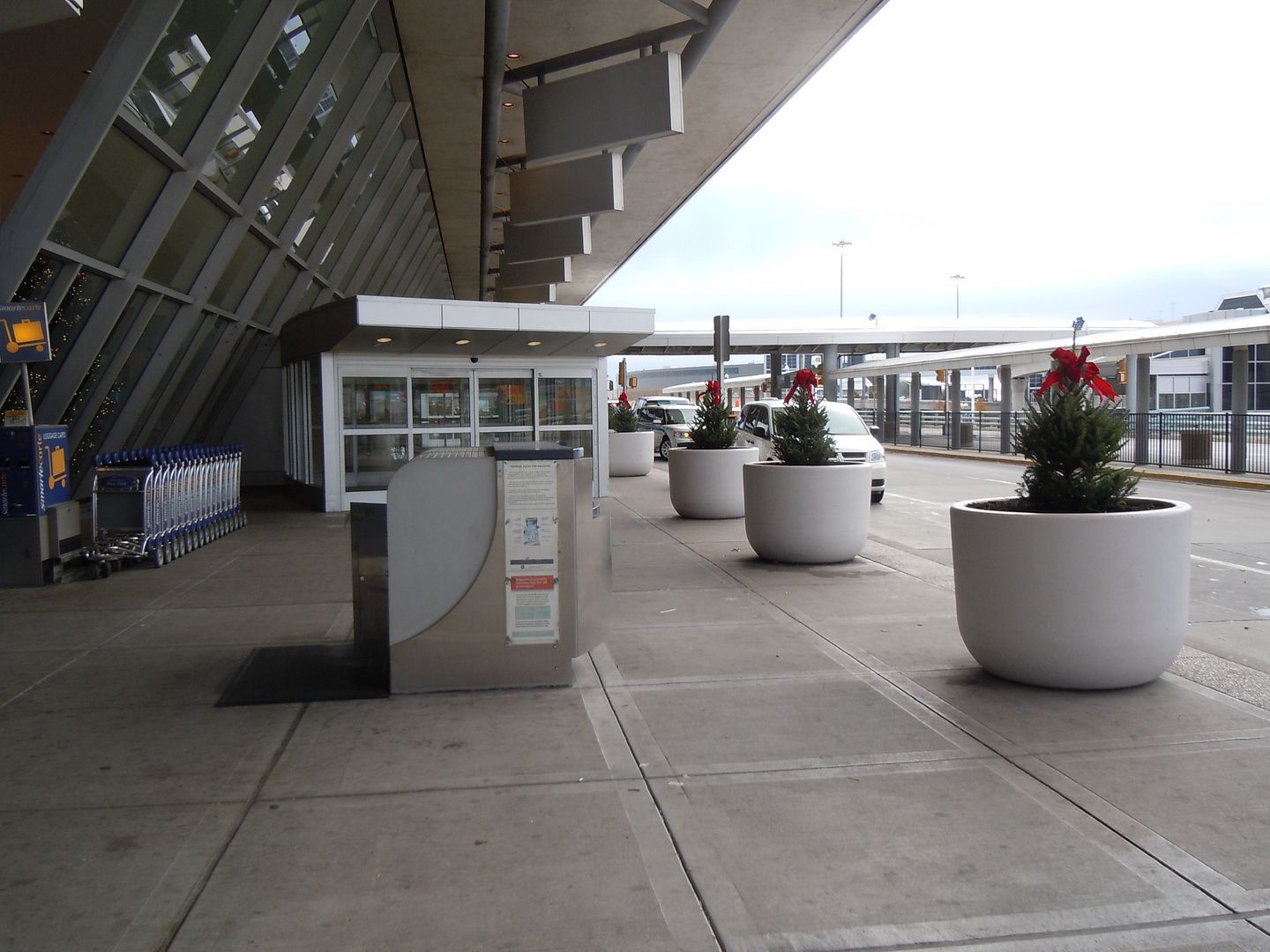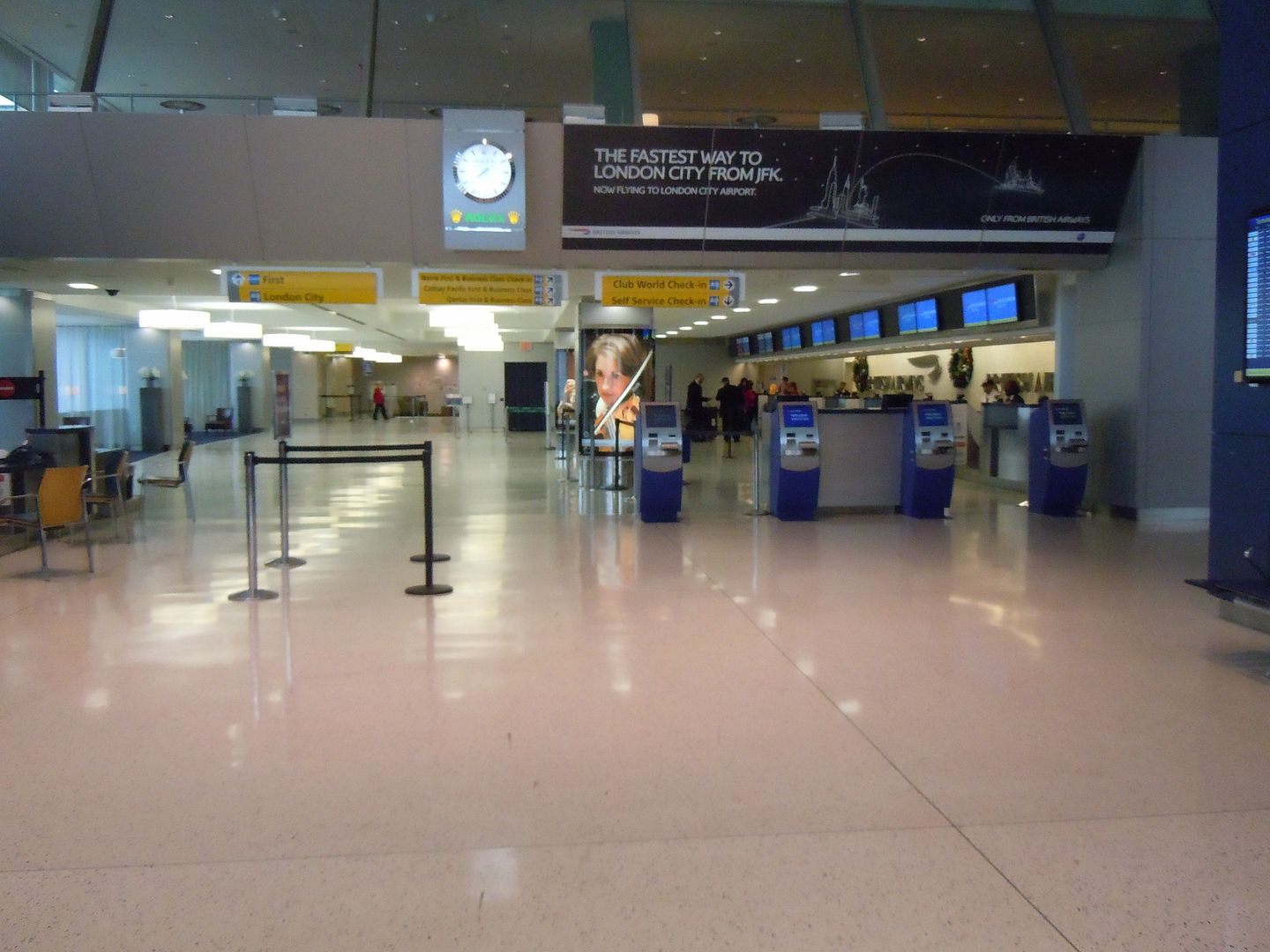 With no one ahead in line it took a surprisingly long time for an agent to free up, and then a surprisingly long time to check in. The only bit of confusion came when I asked them to print a lounge invitation for Hong Kong. I explained that we were in first class for the transpacific segment, on a first class (award ticket), our onward flight to Bangkok had been downgauged to an aircraft with no first class cabin. In the past I've had no problem getting access to first class lounges in Hong Kong based on arriving first class boarding passes.
The agent printed a lounge invitation for Hong Kong. It said business class. I explained the difference and she seemed unsure of what to do, "I'll have to talk to someone to ok it." I mentioned I even had an email from Hong Kong explaining that this was permitted, she asked to see it, and then said "well, if I'm asked I can say he had an email!" She tried to print first class lounge invites and said the computer wouldn't let her without approval – and she didn't want to get approval, "just ask in Hong Kong." Great…
The single security line is also up a surprisingly steep gradiant, it's like walking up Nob Hill in San Francisco (albeit for a very short distance).
Off to the lounge, Cathay Pacific uses the British Airways Terraces lounge and as a first class passenger I was directed left to the first class side. It's not real first class lounge, since BA first class passengers have access to the Concorde Room. Instead, it's really an Executive Club Gold lounge that's called first class.
They had coffee, juice, tea, and a stocked bar, they had internet access, cereal, and they had smoked salmon. No hot items, no service, and the place was packed when we walked in. A London-bound flight was departing, though, and the place quickly cleared out.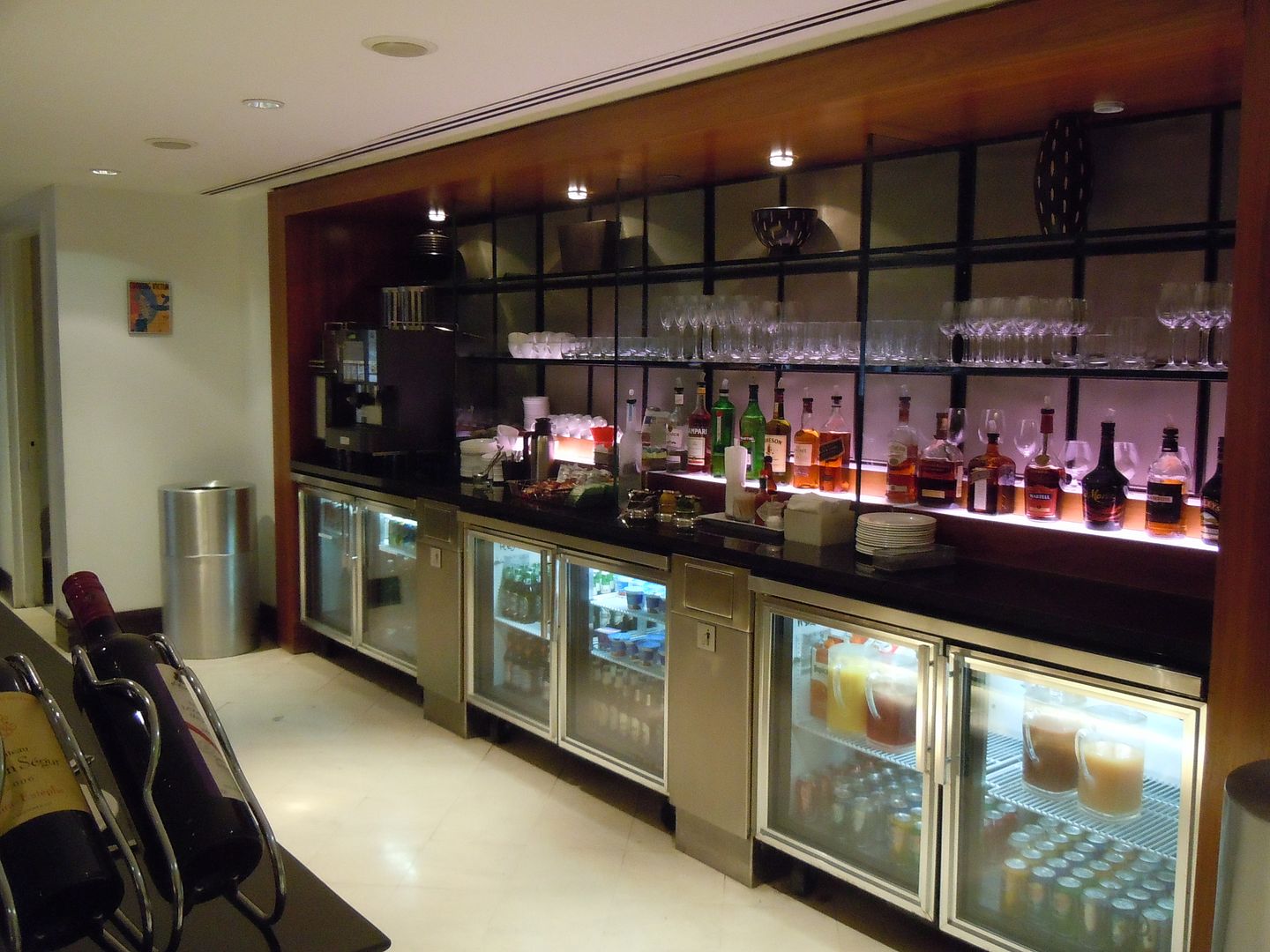 Ultimately, the lounge was perfectly serviceable though non-descript, there wasn't really anything 'first class' about it, certainly not anything that lives up to the overall Cathay Pacific first class experience. Still, it's better than departing on the midnight flight from Toronto where they use the KLM lounge. I find Cathay Pacific to be really outstanding in the air, but I'm not at all impressed by their service on the ground.
Since I hadn't had any internet access since boarding my US Airways flight to New York 14 hours earlier, I tried to catch up on things in the lounge knowing that I'd be offline again for at least 16 hours. Boarding was called, and I hurriedly finished a document for work, sent it off, and was the one of the last two or three to board the flight. On the way to the gate I stopped at Starbucks, wanting another coffee and knowing that Cathay Pacific doesn't serve hot beverages on the ground or until the seatbelt sign is turned off. Only when I got to the front of the line they informed me that their espresso machine was broken. Why they didn't say something to folks standing in line I'll never know, other than the fact that this is New York and it's a Starbucks at JFK.
The little Starbucks delay meant a backup on the jetway by the time I made my way over to the gate.
Once onboard, though, I was at peace. Cathay Pacific's seats aren't the newest anymore and they don't have 'doors' but they're holding up exceptionally well. I stowed my carryons in my seat's closet. I do like the spaciousness that comes from not having any overhead bins. And the way you can lean against the seats while standing makes it one of the few cabins where it feels 'normal' to stand up and talk.
The load was 5/6 with only one of the two middle seats open. Sad, just days earlier my wife I had had appeared to be alone in the cabin. Alas, not a repeat of our February Asia trip where we had two first class flights to ourselves up front.
Pre-departure beverages, pajamas and amenity kits were distributed, we pushed back, and we were airborne in no time.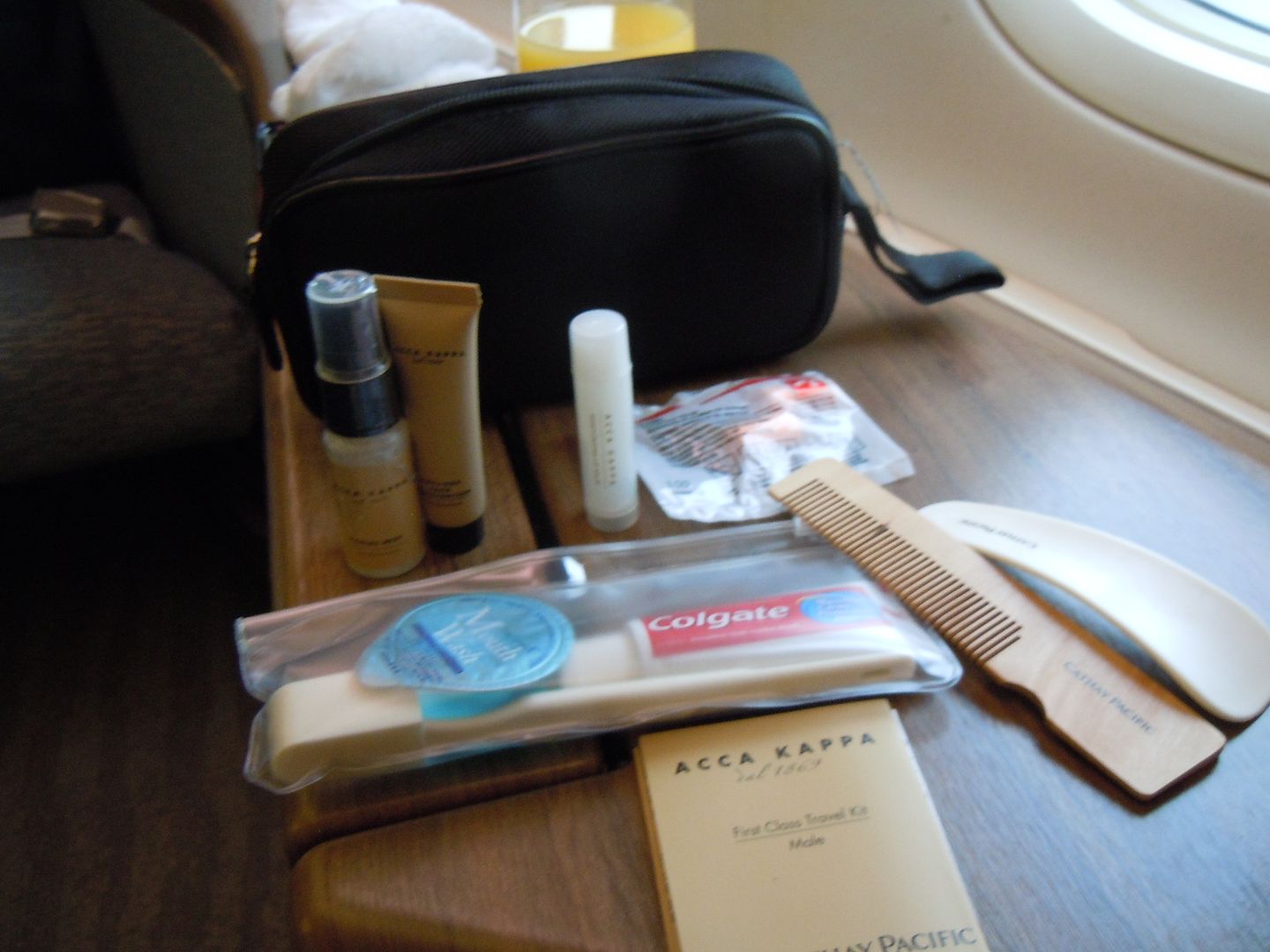 Taxiing at JFK is always interesting for plane spotting, here's an El Al 747.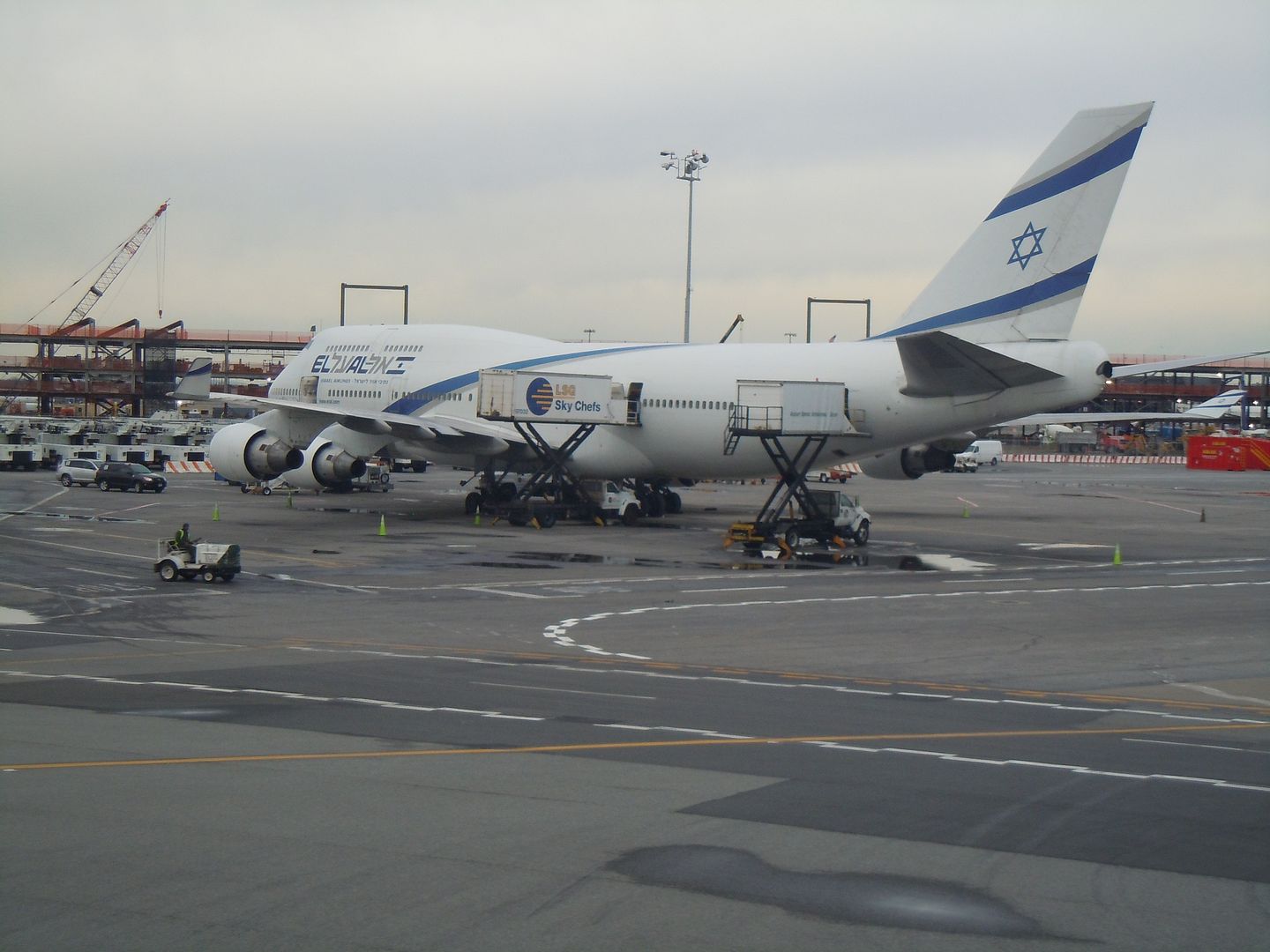 I quickly made my way across to the ottoman of my wife's seat, while a flight attendant set up her table for us to dine together, across from each other as though in a restaurant. They add a table extender and have a tablecloth that fits across the entire double-length table.
We began with brunch, and would end the flight with lunch as the second meal. Here's the brunch menu:
BRUNCH

Starters

Orange or apple juice

Mango energizer

Fresh seasonal fruit

Natural or fruit yoghurt

Assorted cereals

Main Courses
Free range eggs-freshly scrambled, fried or boiled
Served with grilled pork sausage, Breakfast steak, home fried potatoes, grilled tomato and sautéed mushrooms

Dim sum with chili sauce
Shrimp dumpling, siu mai, scallop dumpling, glutinous rice wrapped in lotus leaf

Seafood congee, steamed mushroom rice roll with imperial soy sauce

Bread Basket
Assorted breakfast bread and fresh toast
Served with Mrs. Bridges Scottish preserves, Tasmanian meadow honey and butter

Tea and Coffee

Pralines
As always, a welcome note from the cabin crew:
Fruit starter:
I had the dim sum: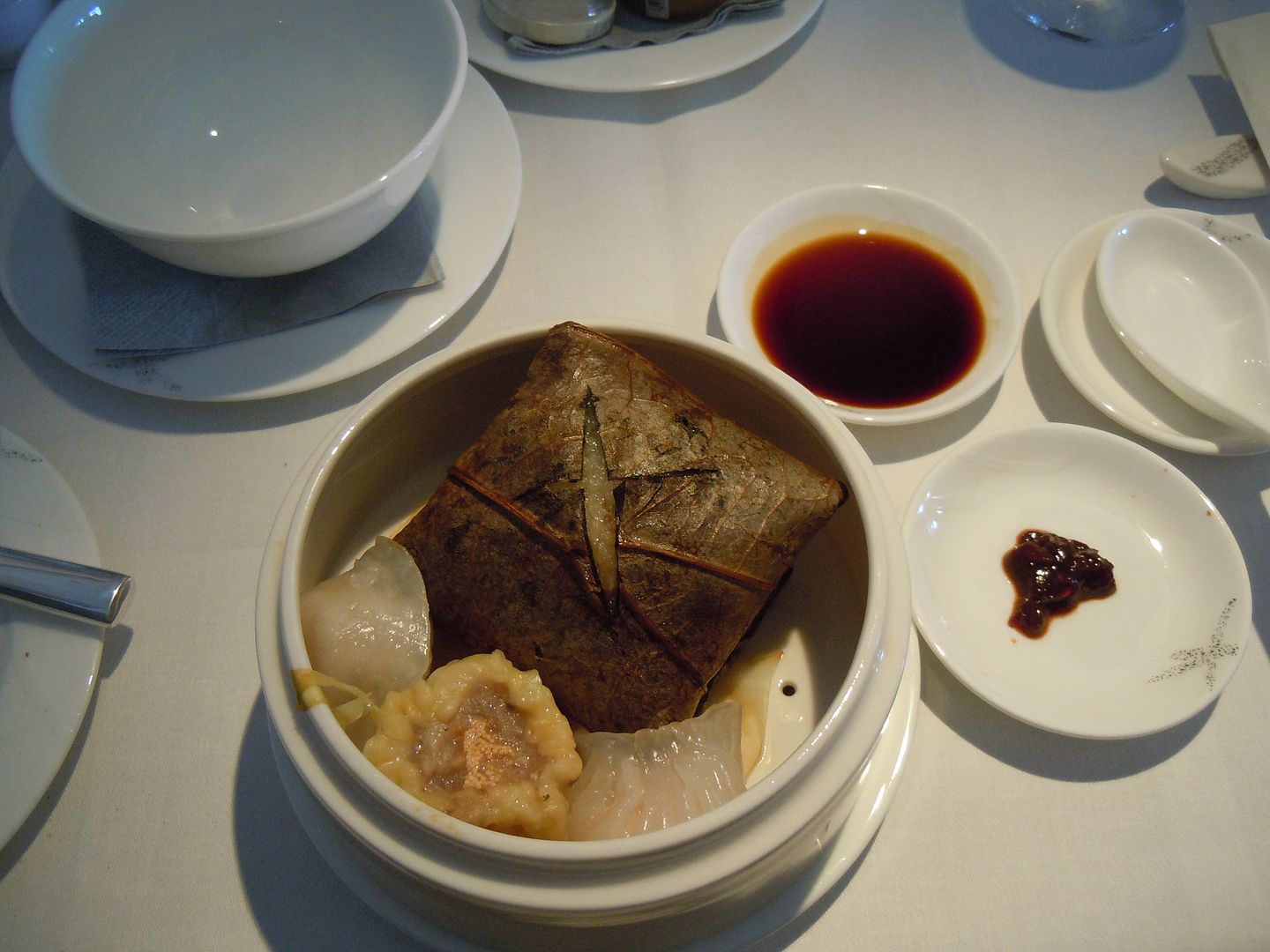 My wife had the congee: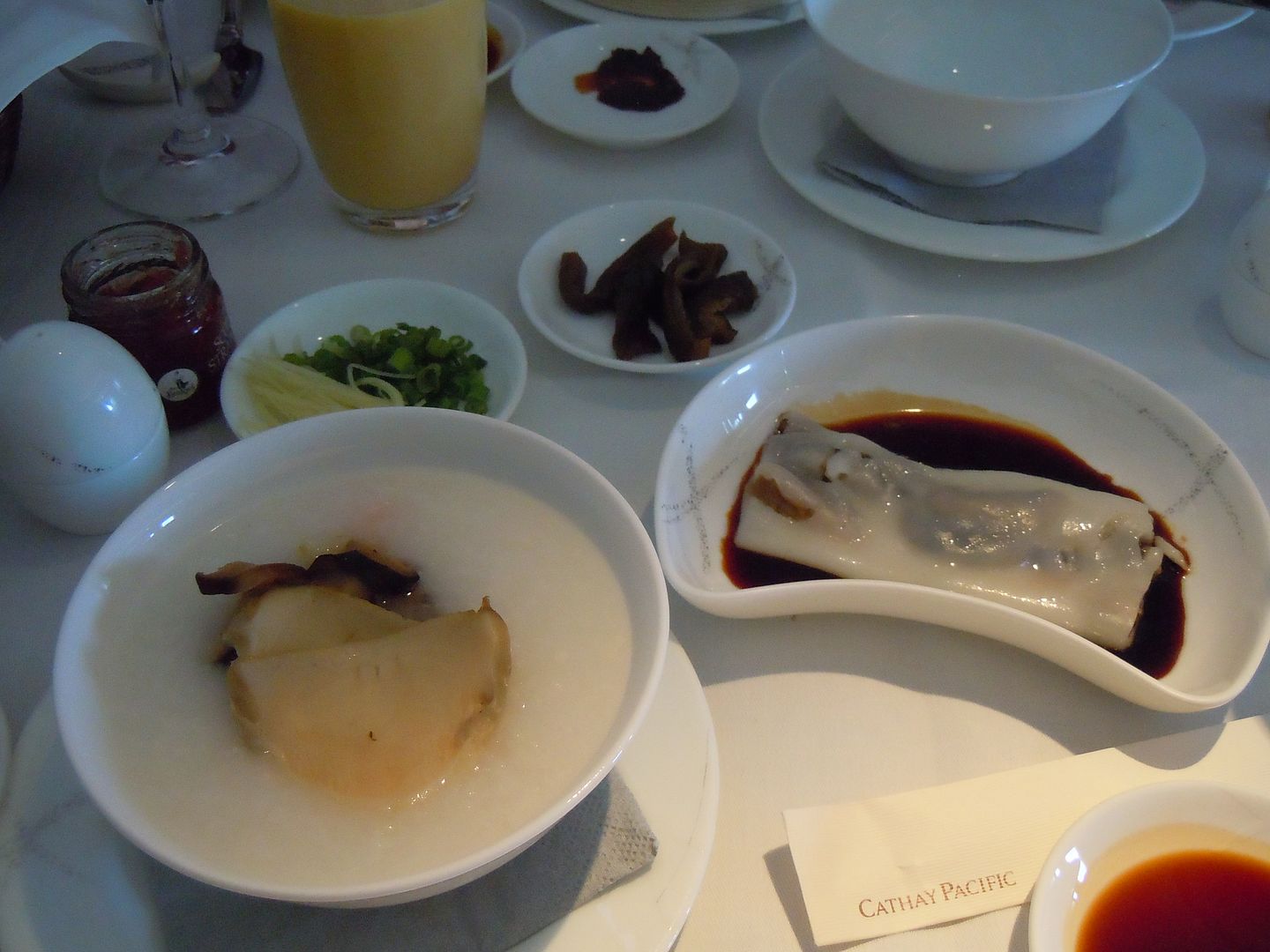 After a short meal, not taking advantage of all the courses, I changed into my Shanghai Tang pajamas, a flight attendant made my bed (leaving it semi-upright for lounging), and I settled in and began exploring the extensive options in the StudioCX system. Cathay really does have a deep selection of movies and television shows. The only thing I find annoying is the array of commercials which play at the start of each one, though of course you can fast forward through them.
I watched a couple episodes of the final season of Entourage and the Keira Knightley film Last Night, worked for a bit, and the flight was somehow halfway through its expected 15 hours and 15 minutes. Time for a look at the snack menu:
SNACKS
Braised beef brisket in noodle soup

Brie cheese with yellow peppers and chives on multi-grain corn spitz roll and mesclun salad

Chicken tikka with mint yoghurt sauce

Hot pot rice with cured meats, served with chicken broth

Ice cream
It's important to remember that Cathay Pacific's service standard is to avoid disturbing the cabin. Unlike on some airlines, where flight attendants roam the aisles throughout the flight looking for something they can do for you, or even observe you discretely, Cathay Pacific first class flight attendants stay in the galley until called.
Now Ben has been known to push the call button and time how long it takes a flight attendant to respond. On this flight, I wouldn't have been able to do that, I'd push the button and before I'd have been able to even start a clock someone was by my side. I ordered the beef brisket:
A brief nap, a bit more StudioCX, and we were about an hour and a half outside Hong Kong, my wife and I decided to have lunch together.
LUNCH

Caviar and Fine Smoked Salmon
Caviar and fine smoked salmon

International Favourites
Saffron cream soup

Lobster and mango salad with lemon olive oil dressing

Grilled double bone lamb chop with rosemary jus, polenta roulade and grilled zucchini
Or
Pappardelle pasta with white asparagus sauce, toasted peanuts and grilled asparagus

Chinese Favourites
Double boied quail with Chinese yam soup

Cold plate – marinated gluten with dried mushroom

Stir-fried seafood in X.O. sauce
Or
Braised chicken with chestnuts

Served with steamed jasmine rice, stir-fried pak choy, black mushroom and carrot flower

Cheese and Dessert
Cambozola, Taleggio, Manchego, Chaumes

Fresh seasonal berries with rose syrup

Pistachio pudding cake, vanilla ice cream and chocolate sauce

Red bean soup with lotus seeds

Tea and Coffee

Pralines
Naturally, a bit of caviar to begin:
I had the saffron cream soup, and my wife had the Chinese yam soup:
I then continued the Western menu with lobster and mango salad…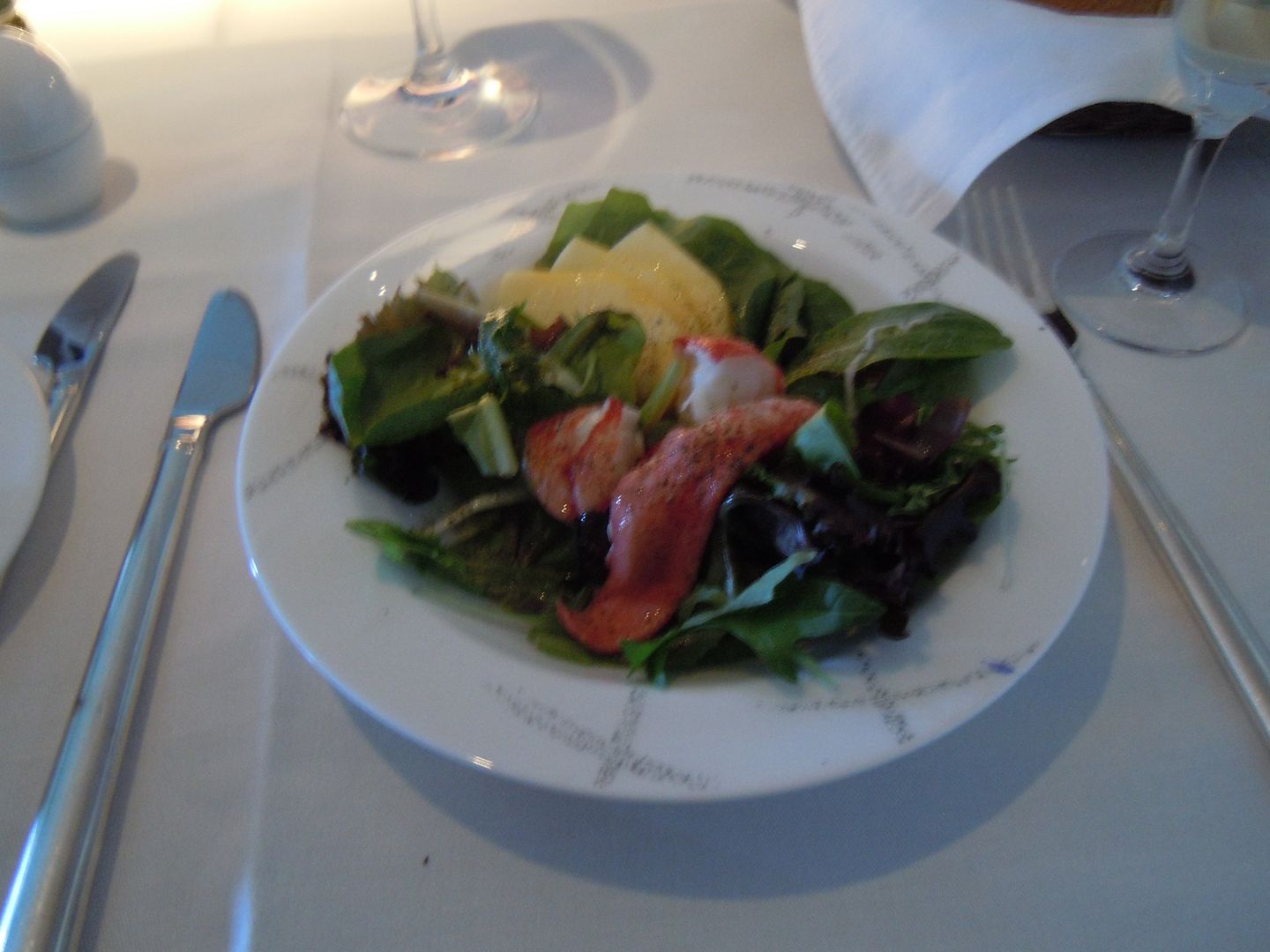 .. then my wife and I both went for the Chinese meal.
And I had dessert (Pistachio pudding cake) back at my seat. The menu said it came with vanilla ice cream and chocolate sauce but it was served with chocolate ice cream, sans sauce, and the cake was a bit dry.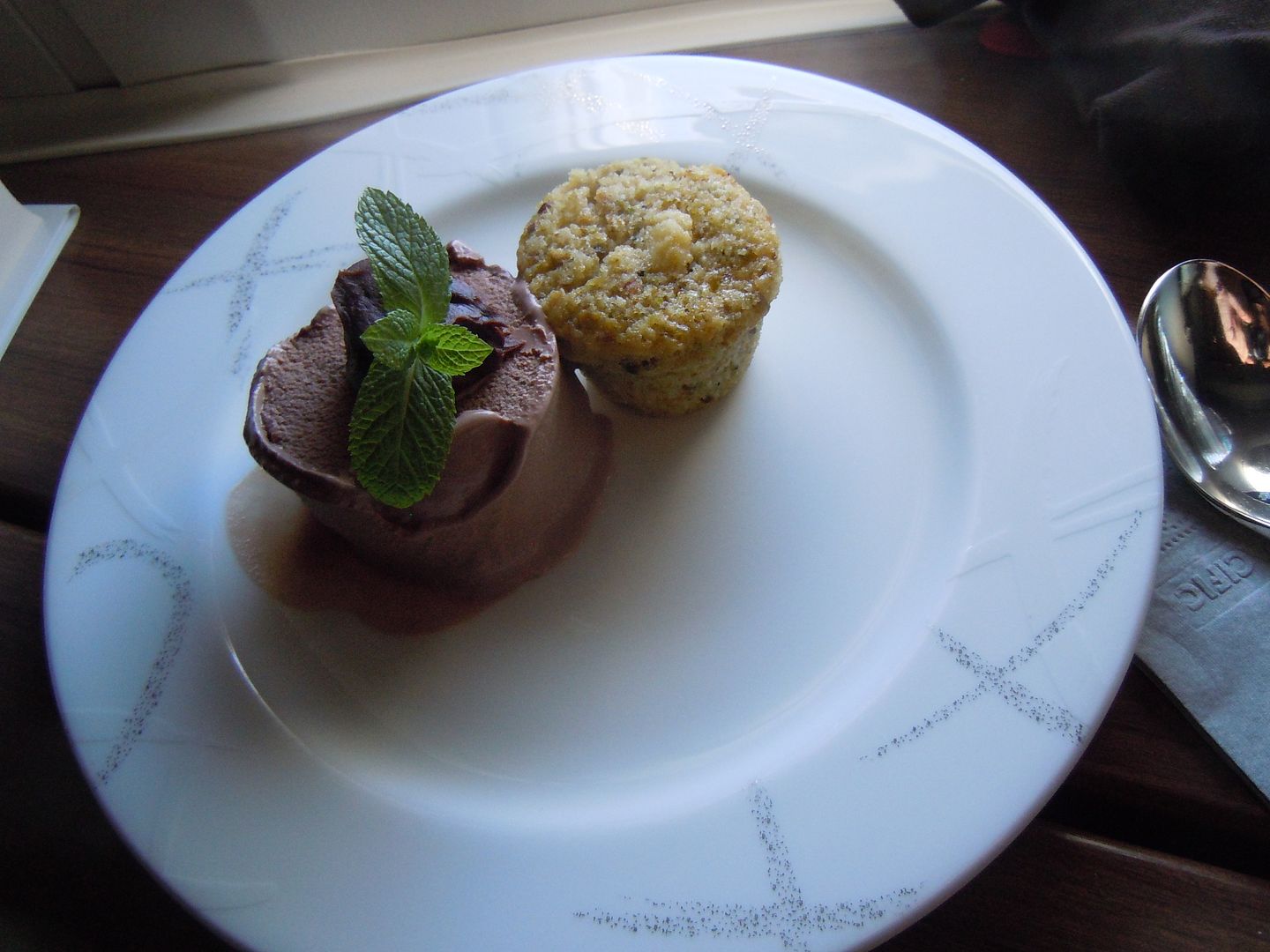 It was time to change out of my pajamas for landing in Hong Kong. By the time I returned to my seat, my bedding was removed and everything was back into place for landing. We were a few minutes early, and I was very much looking forward to clearing transit security and heading off for a shower.