Last weekend I stayed at the Conrad Miami. Hilton isn't especially known for their Diamond treatment. Diamonds get full breakfast, access to a lounge when not on the executive floor, and promised upgrades aren't meaningful (i.e. they don't offer suite upgrades as part of the rules of the program).
Then again, do I really count as a real Diamond? I made my status with a quick $40,000 churned through a Hilton Surpass American Express. In other words, it was earned quickly with a bit of credit card spend, not through loyalty to the chain. So I'll take what I can get!
And at the Conrad, I got more than I was paying for (a $220 rate, I believe): a one-bedroom bay view residence.
Valet parking on arrival was excellent, a staff member read my luggage tag and addressed me by name. Staff guided us inside, to the elevators and up to the 25th floor "Sky Lobby."
There was no wait at checkin, I was initially told that I was given a bay view, but the agent at the desk typed a bit and gave me a better room. He then gave me a wifi code for complimentary internet, and informed me of complimentary breakfast in the restaurant (no coupon, they have a list, but this didn't work entirely smoothly). We were then walked from reception to the elevators — a different bank of elevators than the ones we came up in. We weren't escorted to the room, however.
The room smelled a bit of smoke though I was told it was non-smoking. I quickly got used to it. There was a full kitchen, washer/dryer in a closet in the entryway, a living room with small round dining table, decent-sized bedroom and large bathroom plus a guest bath in hallway. There was a large closet in bedroom, and this confused me because that's where they put the bath towels!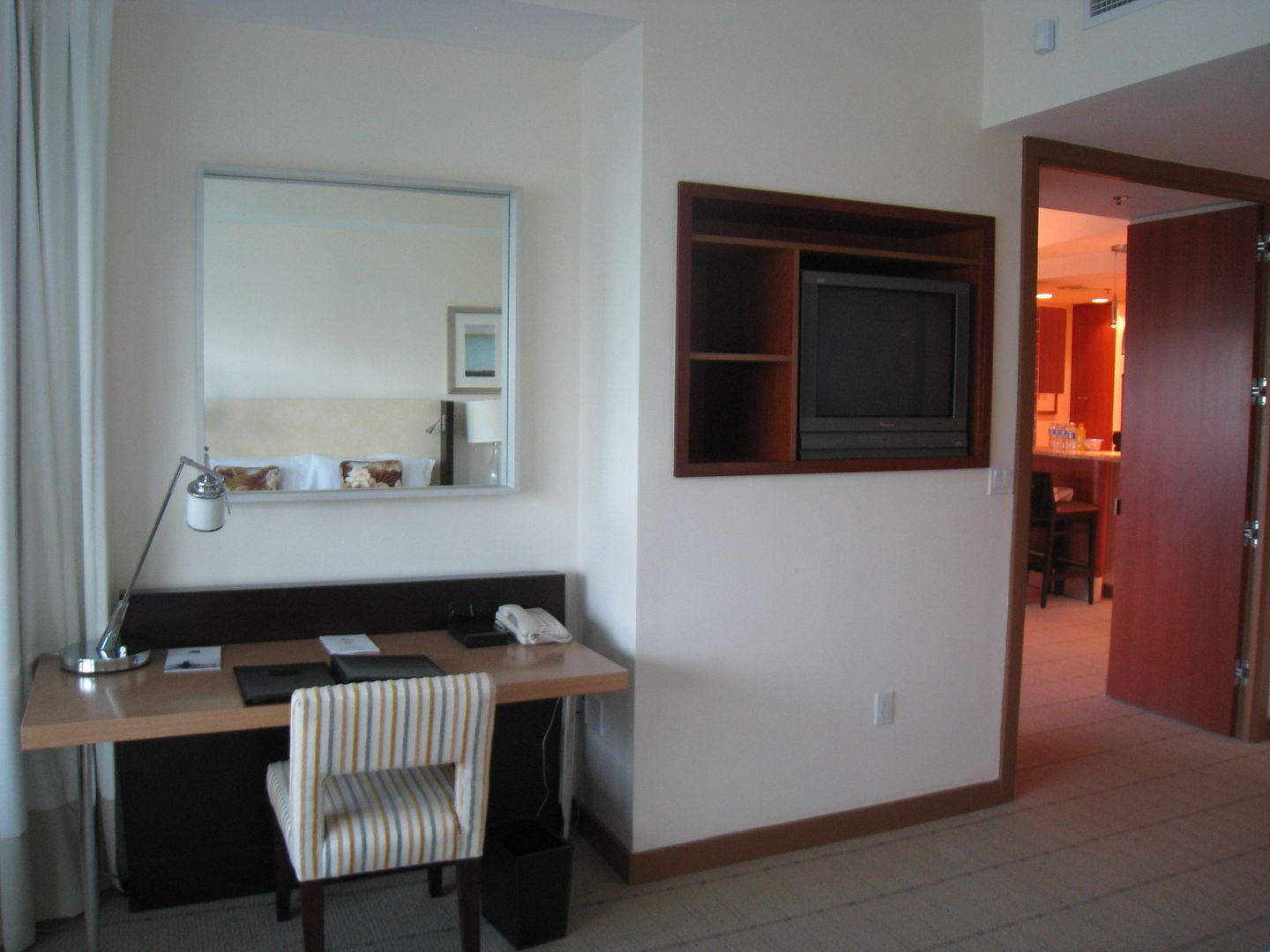 The balcony had plastic furniture, which could have been improved, but it looked directly out at Miami, and over to the right between the buildings it looked out on the bay.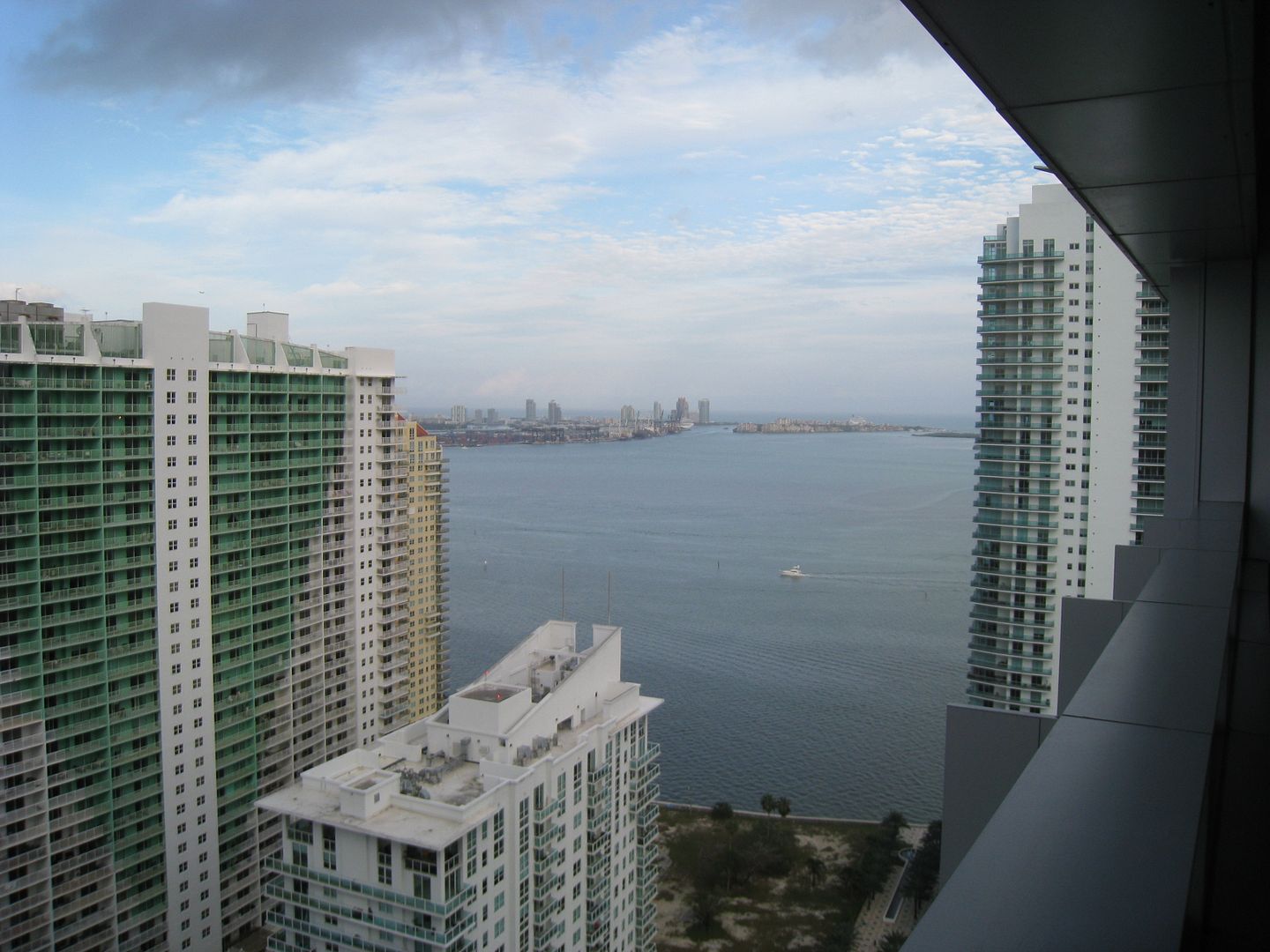 Furniture in the room was a bit worn around the edges. Ancient and not especially large TVs, surprising, I would have expected a proper flat screen. But as a faux HHonors Diamond via Amex spend, I'll take it.
Service at the hotel unfortunately was at its highest point at checkin, so it had nowhere to go but down.
The phone in the room rang about twice an hour, half a ring only, no one was there.
I had arranged specifically for 1pm checkout the morning of our departure. I watched the desk agent enter this into the computer. At noon there was a knock on door, a staff member wanting to know when were we leaving? The knocking woke me up from a nap before I was to head off to the airport.
Breakfast was in the restaurant on the 25th floor. We had to wait a few minutes while they cleared a table, there were half a dozen tables all left dirty but they tidied one up near the window looking out onto the city. It was a buffet, there was lox – so I'm happy – but no bagels. A staff member brought me a couple of small bagels. Service was slow. It took about 10 minutes to flag someone down to bring me coffee. It turned out he was our server. He proceeded to have a lengthy conversation with the next table while I sat waiting for coffee. Anyone who knows me knows I need my coffee. Getting refills wasn't easy, either. Time for the check. I had given my room number when entering the restaurant. I had been told they 'keep a list' of what rooms are to receive complimentary breakfast. They brought a full price check. I asked the waiter, "oh, do you want me to check the list?" He came back, "yeah, you're fine."
At checkout I stopped by the desk, let them know I was leaving. I needed to stop by the computers (available for any guest's use) beside the checkin desk, so that I could print boarding passes anyway. They asked me how my stay was. I told them. "Oh, I'm sorry." Nothing more was said.
Great reception, very good room for the rate, good physical plant, but consistent mashups in service. For Miami it was pretty good, though.