Quietly and against all conventional wisdom Delta has been making some positive changes to their frequent flyer program and to their website used to search for award space.
Back in May they added searching for Virgin Australia award space to their website. Virgin Australia offers better award availability than anyone else between the US and Australia (without connecting in Asia), and exceptionally so on their Los Angeles – Brisbane flight. It's a good business class seat, too, often available in prime holiday season as well. Delta also stopped billing fuel surcharges on these awards. Do not rely on Delta's award calendar to find the space, search it day by day for the dates you are interested in.
About a week ago Delta began allowing Korean Air awards to be searched at Delta.com. That's huge because you couldn't search the space online anywhere else, even the Korean Air website requires having enough miles in an account to search for an award. And because Korean Air has excellent award availability. Back in July Delta started adding fuel surcharges to Korean Air awards but has since stopped.
Last month Delta completely stopped offering business class award space on Skyteam partner Air France through the end of May 2013.
However, Delta appears to allow booking of Air France business class award space again. Here are two Air France flights from Atlanta to Paris in business class, as shown on the Delta website:
In fact, the Delta.com award calendar even seems to be working, showing low (green) award inventory in business class for this Atlanta-Paris route in February:
Here it is on my go-to Houston-Paris route as well:
And as Ben pointed out yesterday, Delta stopped charging fuel surcharges for Delta flights when an award starts in Europe. This doesn't affect most US members, but for members in Europe this was huge — Delta figured they could hit members with huge surcharges because European programs did the same (even though other US programs did not). But for some reason — and for Delta flights only — they've stopped doing that.
Here's a Delta award originating in Europe, no fuel surcharges.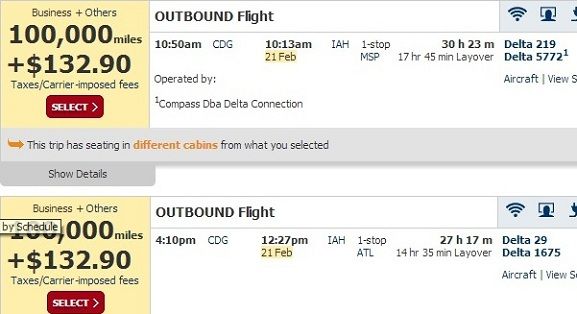 Sadly, taking Air France from Europe to the US still incurs fuel surcharges.
You'll see above that the one-way Air France flight costs $240 more than flying Delta on the same route, because the international origination surcharge still applies when booking Air France but not when booking Delta.
Taken together these changes are making Delta miles more valuable and easier to use.
There's still a long way to go if anyone is comparing the value of Delta miles with miles in the US Airways or Alaska program let alone the United or American ones. They do not allow one-way awards for half the price like United and American do. They do not allow international first class awards like those other four programs do. Award space on Delta flights as opposed to partners is still very tough to get, you can often find international business class flights on partners but finding seats on Delta to get to the international gateway city can be the biggest challenge. My top 12 complaints about the Skymiles program were outlined in my debate with The Points Guy back in April.
But I appreciate the improved website functionality, the reduced fuel surcharges, and especially the return of Air France business class award space very much!