Airlines have long been willing to give you status or at least an easier path towards status if you have already demonstrated value as a customer by earning status with a competitor.
Since they want your business, they don't want there to be barriers to getting it — like that you are treated well with your existing status but would have to start from scratch if you switched.
What's interesting though is that even in a changing world of what airlines view as being a valuable customer — both United and Delta have introduced revenue-based minimum spending requirements to earn elite status — there haven't been similar changes in what it takes to be viewed as a valuable customer of someone else.
Now granted, at least United is not doing this well since it cannot seem to figure out how to properly track revenue.
But even Delta is interested in you if you've merely flown for status and not just spent for status.
Delta will match both United and American, and of course United now has a revenue requirement for earning status from scratch though American does not.
They've renewed their status match challenge and even made it easier to complete with fewer miles required. And if you take them up on it now that we're in July, status will last through January 2016.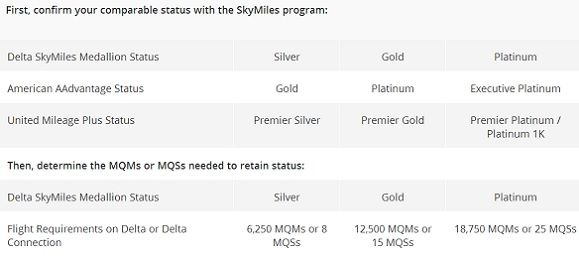 The requirements were dropped from flying 8000, 16,000 and 26,000 qualifying miles to 6250, 12,500, and 18,750 for Silver, Gold, and Platinum status respectively.
The segment qualification method was dropped from 10, 20 or 35 to 8, 15, or 25 for Silver, Gold, and Platinum as well.
You get the benefit of the status you are matched to for 90 days although they won't send you a physical card unless you meet the challenge necessary to keep the status longer. That means you could be denied access to Skyteam partner lounges.
If you match to Platinum you do not get Platinum 'choice benefits' (such as confirmed domestic upgrades) until you meet the challenge requirement to keep the status.
The temporary match and challenge is offered one time per Skymiles account.
Although I don't know why you would choose to switch your business to Delta, since you'd be earning Delta miles, unless of course you live in Atlanta or the Upper Midwest (but then you were probably already flying them rather than earning status with a competitor).
---