For two days before my trip began, I checked the weather obsessively.
I was connecting up to Toronto to begin my first class oneworld award. Missing the start of the trip would be a serious pain. Fortunately oneworld awards are pretty changeable, even after travel begins, but there are no changes to routing. And if I don't even start the trip, then I'm at the mercy of award availability… from the looks of things I could fly Toronto – Hong Kong – Manila in first class the next day if I missed my outbound flight. But certainly that availability could have changed, especially with Cathay Pacific where availability sometimes seems to come and go for no logical reason at all. I certainly didn't want my first class flight to Hong Kong to turn out to be business class and lose a day of the trip no less.
So it certainly mattered that I make it up to Toronto in time. But the weather was looking like it might not cooperate — severe storms with significant winds, and here I was flying United Express with no likely backup flights that could get me to Toronto if my flights cancelled.
I thought about catching an earlier flight up to Toronto, it'd be easy to do, the United flights were wide open and I was on an award so it was fully changeable. But I didn't want to, I had people visiting from out of town for just a day and wanted to visit with them longer if possible. Still, the costs of missing my connection were high. But knowing my luck, I'd switch to the earlier flight… it would cancel, the other flight I was supposed to be on would go off just find but it'd be sold out and I wouldn't be able to get on it!
So what to do?
I shot off an email to Cranky Concierge. I figured if there was a good time to give Brett's new service a try, it was now, when I had a flight that was likely to give me problems. I could simultaneously review his offerings, and get someone to bounce ideas off of.
He took my flight details and my cell phone number for texts and my email address as well.
Cranky Concierge kept updated on the weather, the big factor that would influence our strategy. The afternoon before he let me know..
this could turn into a 4 to 5 inch event. That's crazy, but it's not snow so it's good. Most of the discussion I'm seeing is not predicting thunderstorms, but that doesn't mean it won't happen. It will be windy, and that could be the problem. I have one source predicting east-southeast winds from 20 to 30 kts gusting to 40 kts. That could mean they can only use the one cross runway and that would spell trouble.

.. So, it's going to be ugly tomorrow no matter what. We can see tomorrow if United is planning on doing a lot of canceling or not.
Then late the night before I got an update with the planned operating schedule for the aircraft I was supposed to fly, and also for the earlier flight I was considering.
Both flights were coming to DC from Montreal, where weather looked good, and flying to Montreal from Chicago. So as long as the schedule held, and these planes made it out of Chicago which was expecting rain, we should at least have aircraft at our disposal.
Then at 8am, updated weather — indeed, the storm was hovering North of DC, we'd get lots of rain but the worst of the storm wouldn't hit, and it didn't look like United was cancelling lots of flights. The aircraft in question were beginning their flights just fine. A prediction that we'd be ok.
Still, I decided to make my way up around noon instead of 5pm, figuring in the absence of perfect knowledge better to have time on my side. Besides, with the uncertainty of the weather I wouldn't have been much of a lunch companion for out of town guests.
I got an update that my new earlier flight took off from Montreal on-time. And indeed everything was smooth as can be. Off to Dulles, that place was deserted. Nothing going on in the Red Carpet Club (by the D gates, the one that used to have the rat problem if I recall correctly). The departure monitors showed a good 95% of flights operating on time.
Another email from Cranky Concierge with departure and arrival gates, offers of suggestions on wireless internet, restaurants, or shops…
But this was the end of the line for working with Cranky, though I did receive an arrival email in Toronto I didn't have him monitoring the rest of my trip.
Flight to Toronto went off without a hitch, but then so did the original flight I was scheduled for. The pressure was off at least. Would I have been ok without Cranky Concierge? Sure. But it was nice to bat around strategy with someone. And no doubt for a traveler who isn't me (no arrogance intended), it's a huge value at $25.
Now we were in Toronto with a better than 10 hour connection. Toronto weather was awful, hovering just above freezing and raining sideways. Didn't want to head into the City, I just grabbed a room at the Sheraton attached to the airport.
We arrived Terminal 1 so took the airport train over to Terminal 3, which is the same stop as the Sheraton. Walked into the hotel (with brand spanking new reservation), they had already blocked me into a large room on the club floor and let me know my benefits in lieu of the club, since the lounge is closed on weekends.
Strictly speaking the lounge was still accessible via keycard, there's just no service, but the coffee machine was operational and there's a refrigerator with drinks which was great for grabbing a few waters.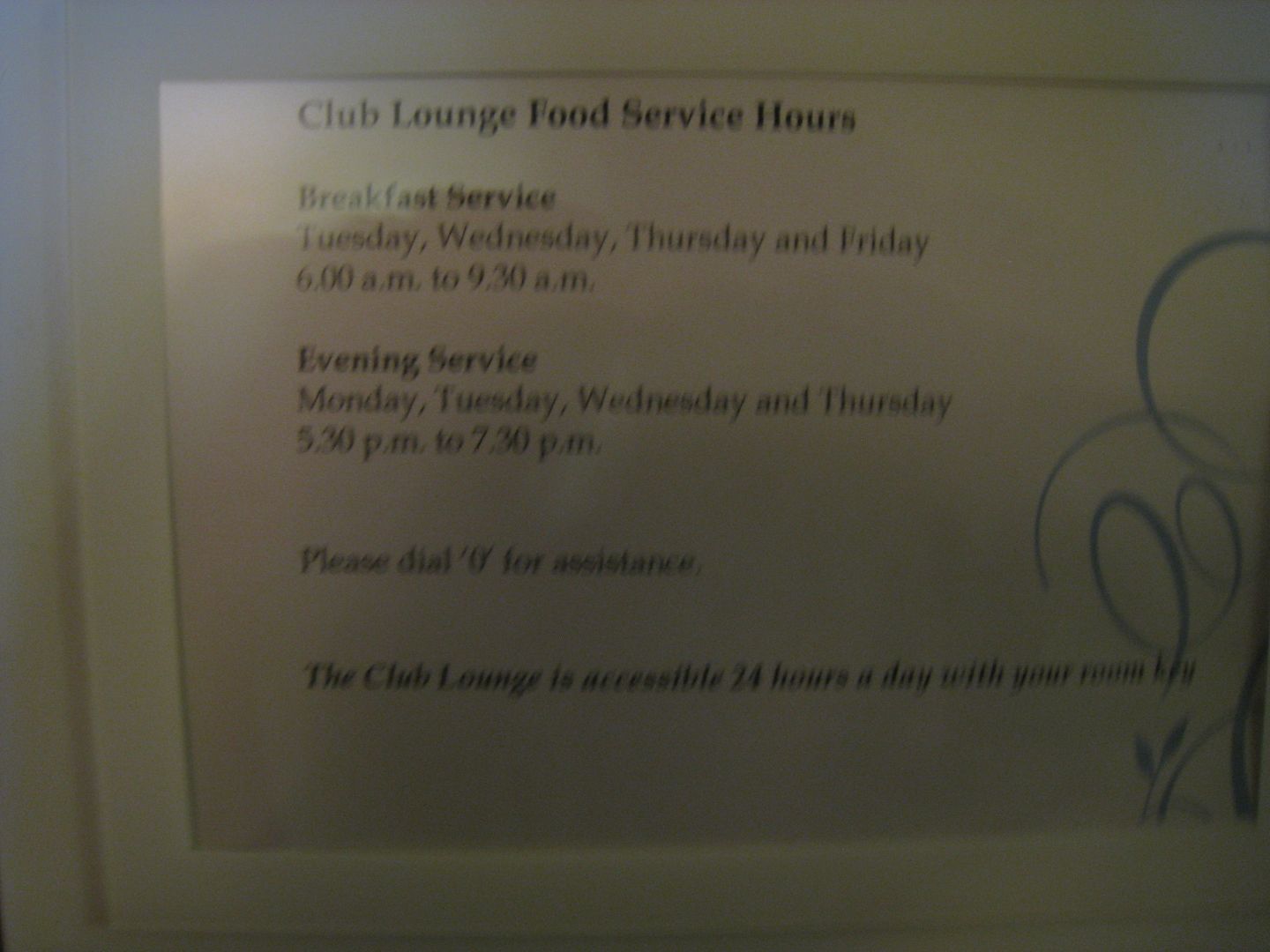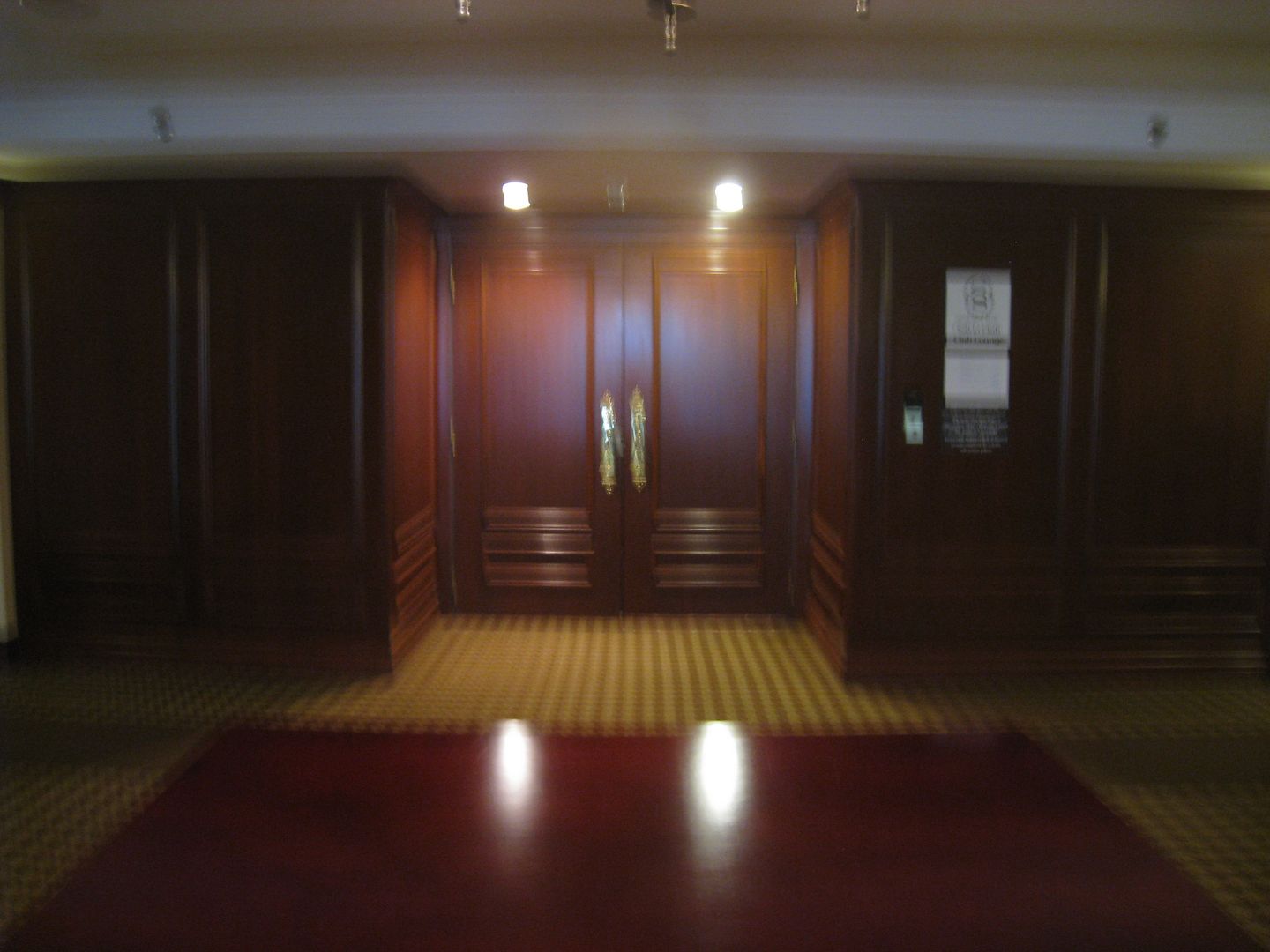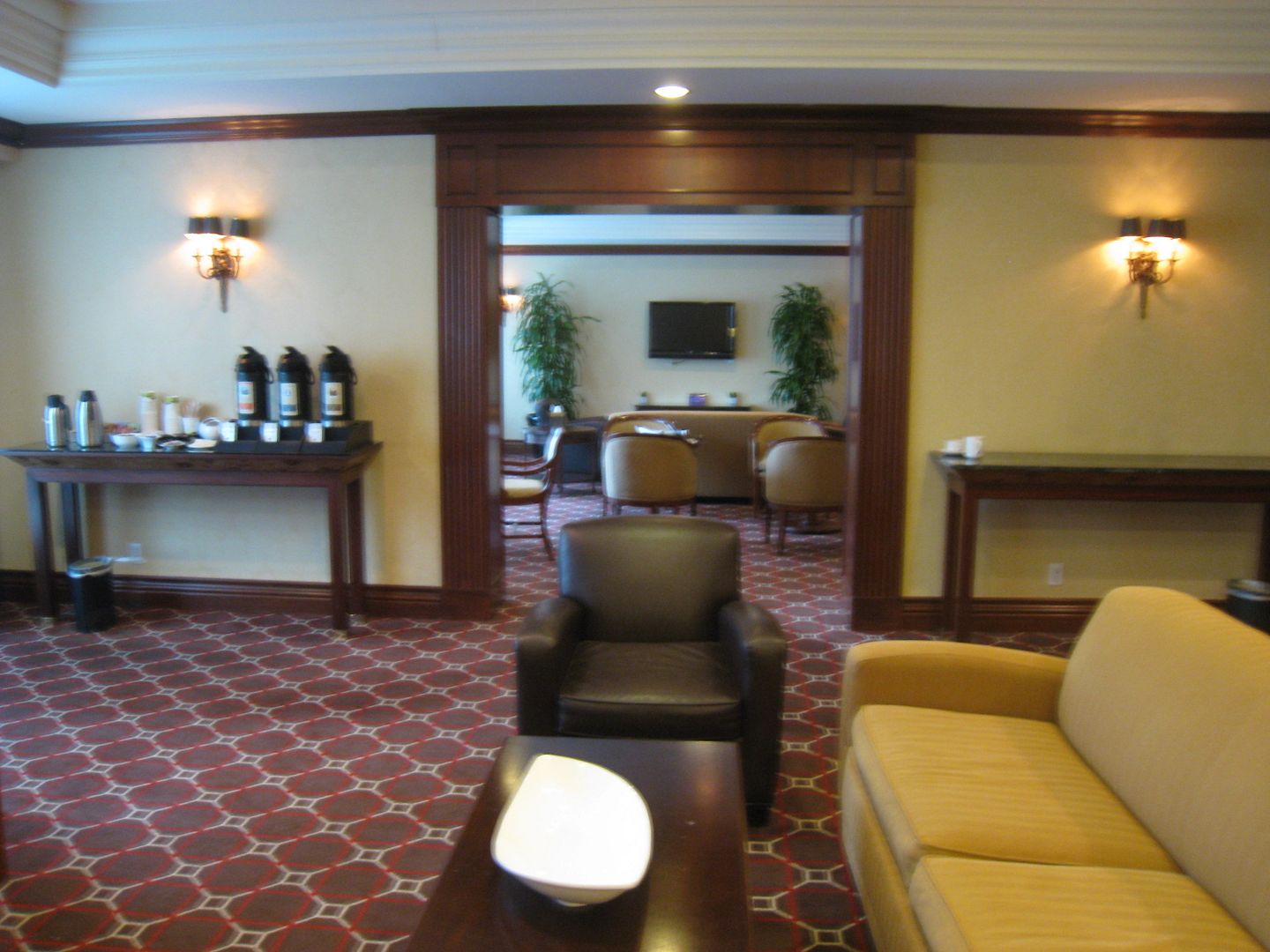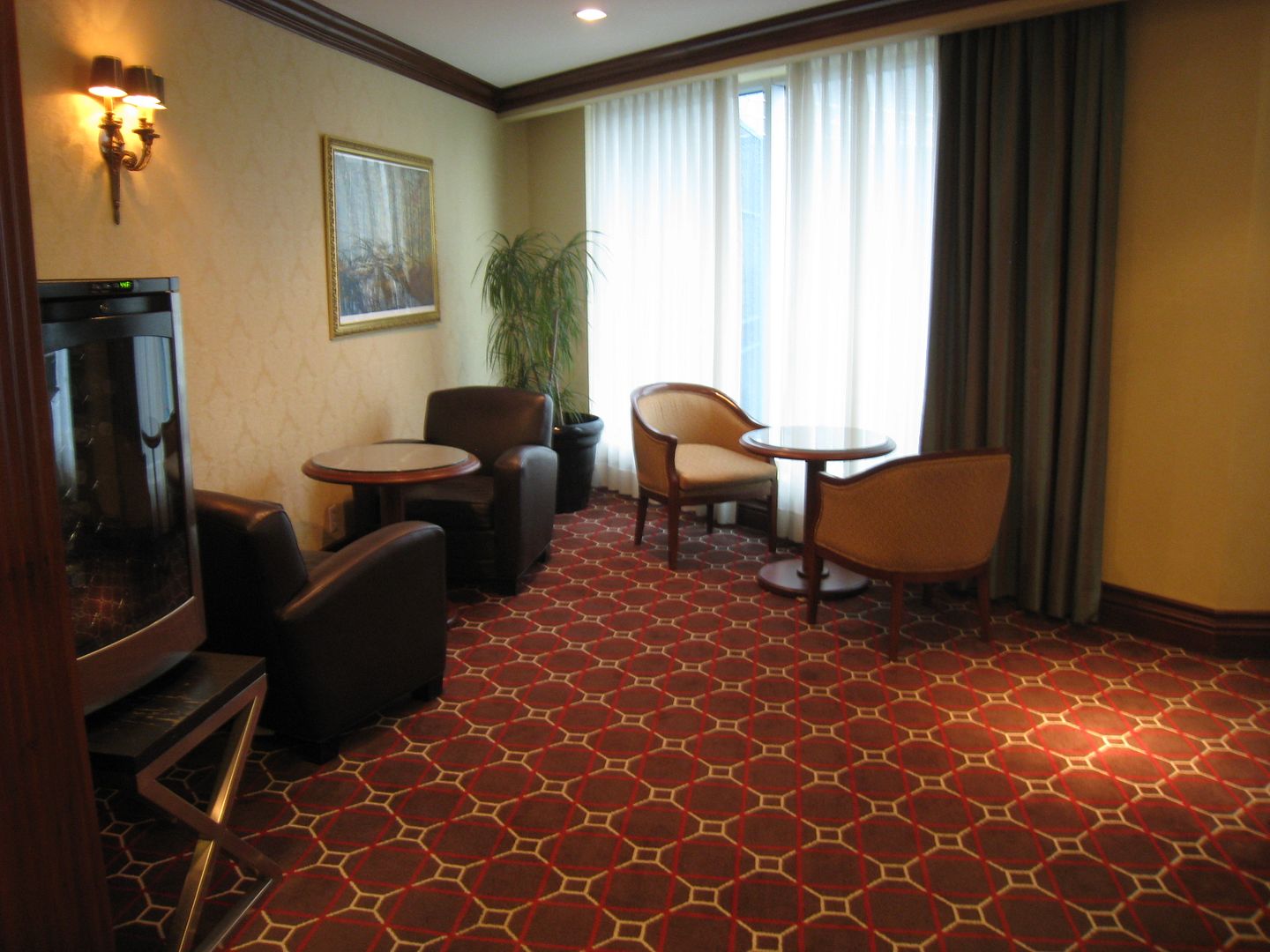 They provide breakfast in the restaurant via vouchers (we'd be long gone), and instead of happy hour a CDN$40 credit for use in the bar or restaurant. Great, a nice lunch. And free internet. Well worth it, we were fed and could relax until it was time to head into the terminal.
It was just your average Sheraton room, though in a corner so a bit oversized with a very long hallway. The bathroom was by the entryway, and the bedroom on the other end of the hall.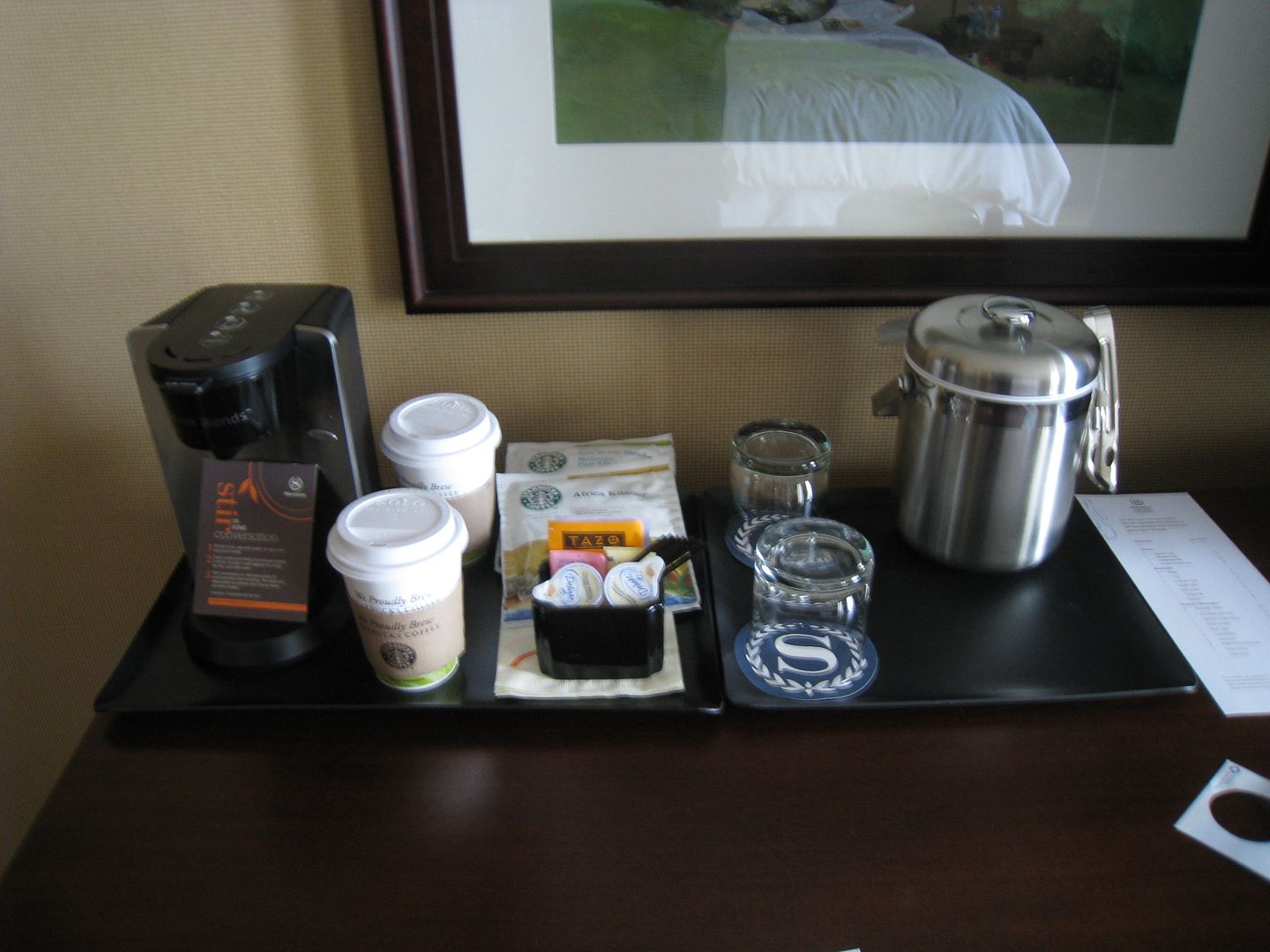 The view from the room was just of the parking lot, but you can see the rain. We stayed here on the way back as well with a room overlooking the runways. Out the window by the elevators though on this stay we saw the Terminal 3 action.
Then around 10pm it was off to the terminal to check in for Cathay Pacific. I won't go through details of the check-in process besides saying that there was no line for Cathay First, but nothing special to the experience. We checked our bags through to Manila, were handed boarding and lounge passes, and headed over to security. Only a few people ahead of us but that process took at least 25 minutes as nearly everyone got full patdowns and hand swipes and several folks had full searches of their bags. Not to mention the requirement to take out laptops, my Checkpoint Flyer laptop bag is of no use in Canada!
Once through we headed to the utterly mediocre KLM lounge and prepared for our just past midnight Cathay Pacific First Class departure.
Now that piece was worth waiting for, and sadly you'll have to wait to read about it…