On Friday I received an email from American Express.
Hello Gary,

Adding funds to your Bluebird Account is easy. Now, Bluebird is adding another no-fee way to add funds online to your Account.

Effective immediately, you can add funds to your Account from your debit card for no fee (previously $2.00 per transaction). Click here to learn more about adding funds with a debit card.

You can review the updated fee chart by clicking here.

Should you have any questions about this change, please visit Bluebird.com or call 1-877-486-5990.

Thank you for your Membership,
The Bluebird Team
You can now load an American Express Bluebird card with a debit card and not pay any fee.
If you have a mileage-earning debit card, you should earn miles for the transaction. And of course Bluebird lets you transfer money straight back to your checking account.
That's a way to generate miles at no cost, there's no need to find Vanilla Reload cards, and you can do it right from your computer.
This doesn't help you meet minimum spending requirements on a credit card, of course. And the mileage-earning is going to be pretty limited for two reasons.
There aren't many mileage-earning debit cards. Most earn one mile per $2 spent. The only 1 mile per dollar debit card I'm aware of is the Delta co-branded card from Suntrust bank.
The loading limits this way are very low. You can only load up to $100 per day and $1000 per month. You can load $12,000 per year in 120 separate transactions. That's a decent amount of effort for the miles.
Earning 1 Mile Per Dollar With the Delta Debit Card
Suntrust Bank issues the Delta Skymiles World Check Card and offers 1 Delta mile per dollar spent.
Suntrust will let anyone open an account online, but they seem to shut accounts down for many people who do not live in their business areas of Alabama, Arkansas, Florida, Georgia, Missouri, Mississippi, North Carolina, South Carlona, Tennessee, West Virginia, Virginia, and Washington DC only. Suntrust is strong in the South and Mid-Atlantic.
Frequent Miler, who doesn't live in a Suntrust state, had his account closed after initiating a $7000 funds transfer. I've seen that large funds transfers initiated from a Suntrust account that's just been opened seem to raise flags.
There's a 5000 mile signup bonus and a $75 per year annual fee. You need to keep a $3000 average balance in the account to avoid monthly fees.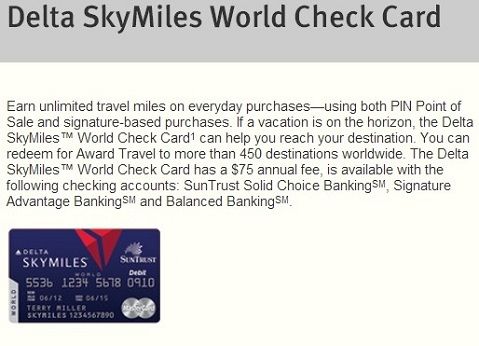 I have a Delta debit card from Suntrust which I use for paying taxes. So if I can build this into my routine it's even more Delta miles. Now I just have to figure out what to do with all those Delta miles I accumulate!
---
You can join the 30,000+ people who see these deals and analysis every day — sign up to receive posts by email (just one e-mail per day) or subscribe to the RSS feed. It's free. Don't miss out!