The easiest way to search for award space is with the Alaska Airlines website, since Alaska is a partner of Emirates and allows searching their space online. They also show an award calendar.
Historically they have only shown a subset of the space that Emirates makes available. Expertflyer shows space, at least as offered to Emirates' own Skywards members (and Emirates Skywards is a transfer partner of American Express Membership Rewards — but does add fuel surcharges where applicable).
What's interesting is that the Alaska Airlines website seems to be showing availability hat matches Expertflyer.
Right now, even to Alaska Airlines Mileage Plan members there appears to be very very good award space this winter in first class for two passengers on several routes between the US and Dubai — routes served by Emirates Airbus A380, even, which is one of the most aspirational products in the world since it features onboard showers in first class.

When you search the Alaska Airlines website for flights, 2 passengers, and pick the award availability calendar you can see an entire month of award space at a time. Choose first class once the award availability calendar comes up and between the US and Dubai you will either see a price of 90,000 miles one-way plus about $20 in taxes, or 80,000 miles and a ton of fees.
Whenever you see 90,000 miles as the price you know it's Emirates first class!
When you see 80,000 miles, that's the low mileage price. The 80,000 miles plus big fees means British Airways first class is available. Emirates first class might also be on those dates, for more miles.
Let's take a look at Dallas – Dubai on the A380 in February, first class two passengers.
Let's take a look at Houston – Dubai on the A380 in January, and then February, first class two passengers.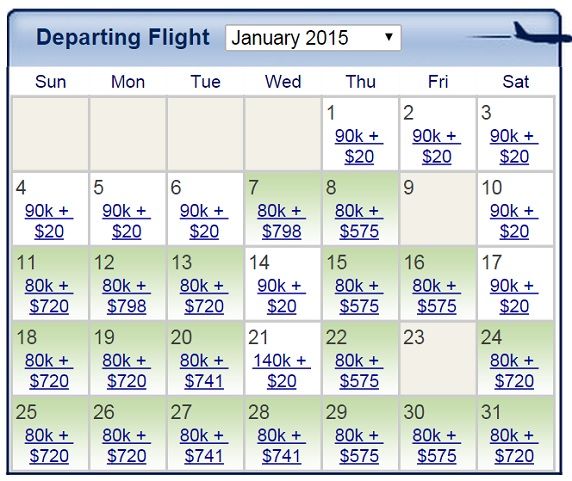 Here's San Francisco, January through March, first class on the A380 for two passengers.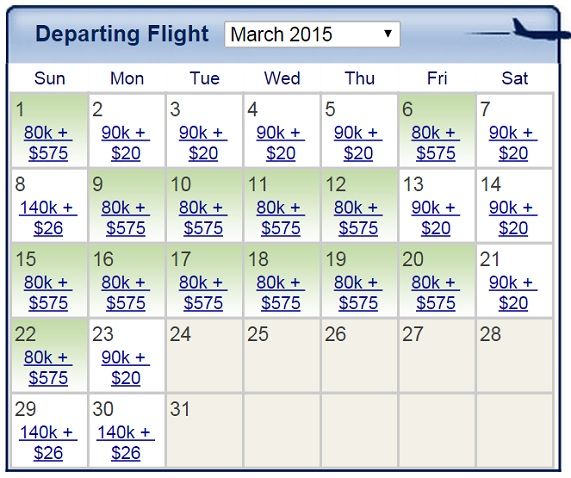 New York JFK doesn't have much space for 2 passengers, but there's a couple of dates.
How many miles?
Alaska Airlines charges 90,000 miles to fly Emirates each way between North America and the Middle East (including connecting beyond Dubai) and also connections to India.
If you want to connect in Dubai to Africa or to Asia it's 100,000 miles one-way for a first class award. The incremental 10,000 miles to Asia could represent a good value.
In some cases, Japan Airlines' Mileage Bank may be a better program to use for these redemptions. Starwood points transfer to JAL, and they have a distance-based award chart.
Japan Airlines is one of the programs you should pay attention to, you can save over 40,000 miles roundtrip between New York and Asia redeeming for Emirates first class.
(HT: MileValue)
---