Etihad offers my favorite first class in the world onboard their Airbus A380 — the "First Apartment." There are two apartments across the cabin with a single aisle between them upstairs on the A380, in contrast on the same plane Emirates — known as one of the world's best airlines for first class — has four suites across.

Etihad First Apartment — Single Aisle
There's an onboard shower, an onboard chef (generally a flight attendant with real restaurant kitchen experience who can customize your meals as you wish), solid internet and good amenities.
But for me it's the spacious suite that makes the product shine over all others. Last month I had a Dubai – Sydney non-stop award in Qantas first class. I traded it for Abu Dhabi – Melbourne on Etihad in the first apartment, even though it meant a long drive from outside Dubai and a connection to Qantas domestic to reach my family in Sydney. That's demonstrated preference.

Etihad First Apartment is Yuge
A year ago I compared the world's 3 best first class products and declared Etihad's A380 Apartment best.
While recognizing its limitations — Emirates' shower is better, plenty of airlines do more premium liquor — the key for me:
The scarcest resource on a plane is square footage. Every inch counts. The greatest luxury, therefore, is space and privacy. And Etihad offers that in a way that no other carrier can come close to.
And to be clear, having personal space isn't only about how that space is used. One of the things I like about first class over business even as business has improved so much on the best carriers is fewer people in the cabin, not feeling cramped. Elbow room isn't just literal but also metaphorical, about how you feel with personal space around you for 15 hours and how relaxed you can be.
Ben Schlappig of One Mile at a Time takes issue with my claim that Etihad's A380 first class is best. He offers several arguments about its shortcomings.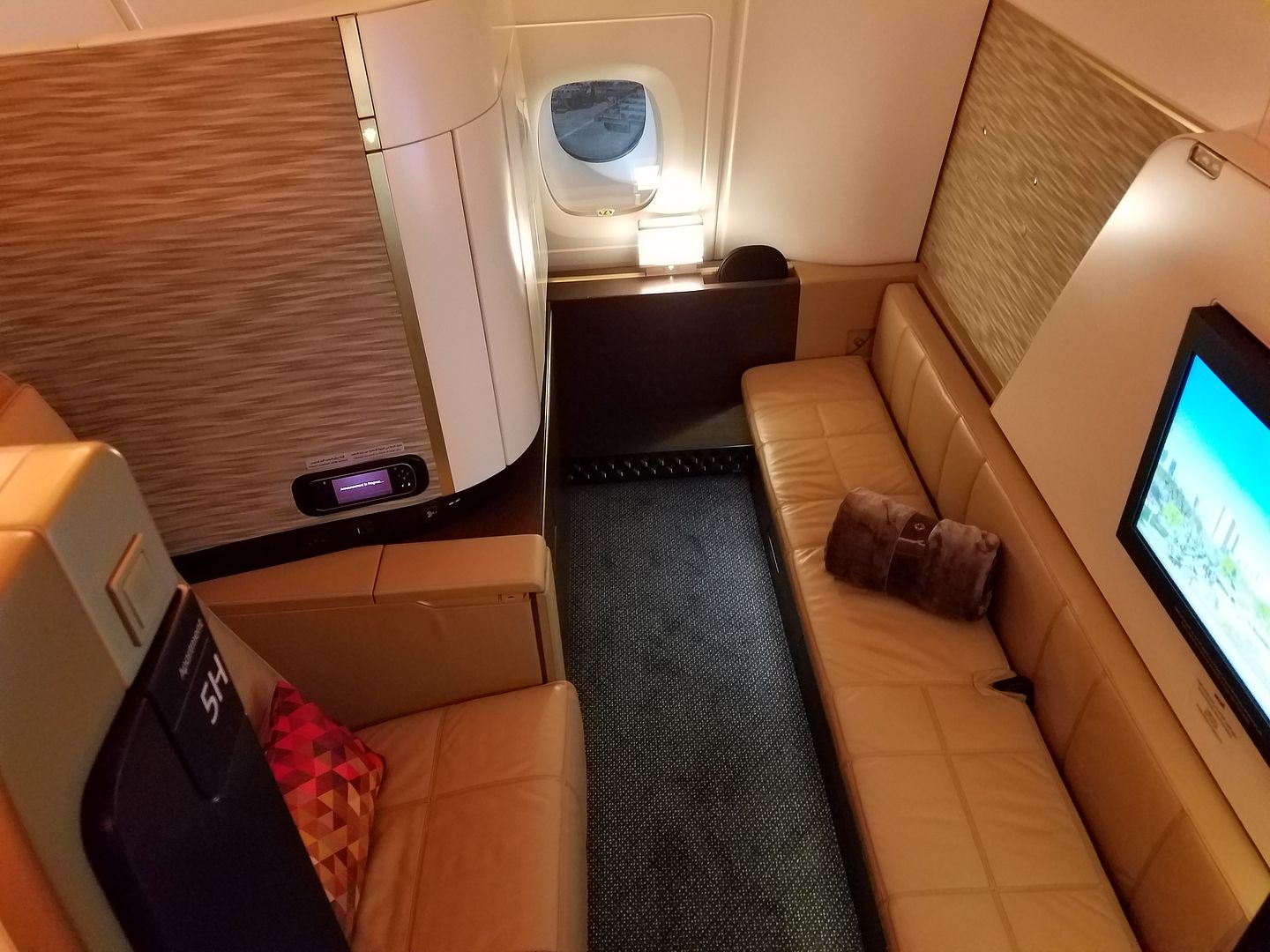 Ben is a friend, and one of the most knowledgeable people in the world about airline premium cabins.
While I think he overstates some of the ways that Etihad's first class is imperfect, I don't think he offers any sort of case for which airline is actually better or the standards by which you'd know.
So I take his critique as room for a first class to be better than what Etihad offers today which is actually exciting, imagining what's possible. And it makes me even more excited for instance to see what Singapore Airlines has in store at it updates its 10 year old Suites Class in the coming months.
Criticisms of Etihad First Apartment
While acknowledging Etihad's "fantastic first class product" for "the amount of personal space, the great coffee-based drinks, the stunning design" he contends it "is in the top five first class products" and identifies six shortcomings.
1. Variability in Service
Ben finds Etihad first class service variable. Overall I agree, however I've found it much improved over the last 18 months and uniformly great on half a dozen First Apartment trips during that time. In fairness, I've only flown the New York JFK and Melbourne routes so I can't speak to crews working London for instance. (I also find the advantages of the First Apartment less significant on shorter flights like Abu Dhabi to London or Mumbai.)
Three and four years ago flight attendants might take a long time to come in response to the call button, or forget items I've ordered. That's simply not been my experience, and I know the airline has made conscious efforts to improve along these lines. So I wouldn't anchor to older experiences.
I don't think Etihad's onboard service is as polished as Singapore's necessarily, but I don't think there's much to knock here on their long haul A380 routes. Of course the Etihad Residence has been occupied on only one of my flights, so the crew member who would have been the dedicated Residence butler has worked first class in each case too.

The Butler Uniform is Worn Only For the Residence
2. Poorly Designed Space
Ben suggests first that the bed is too hard "and certainly not as comfortable as the bed on Cathay Pacific and Qatar" and that the separate bed (the bench folds out to become a bed) from seat means that the seat doesn't work as a recliner. There's some recline but it doesn't move slowly all the way flat until becoming a bed like many suite products do.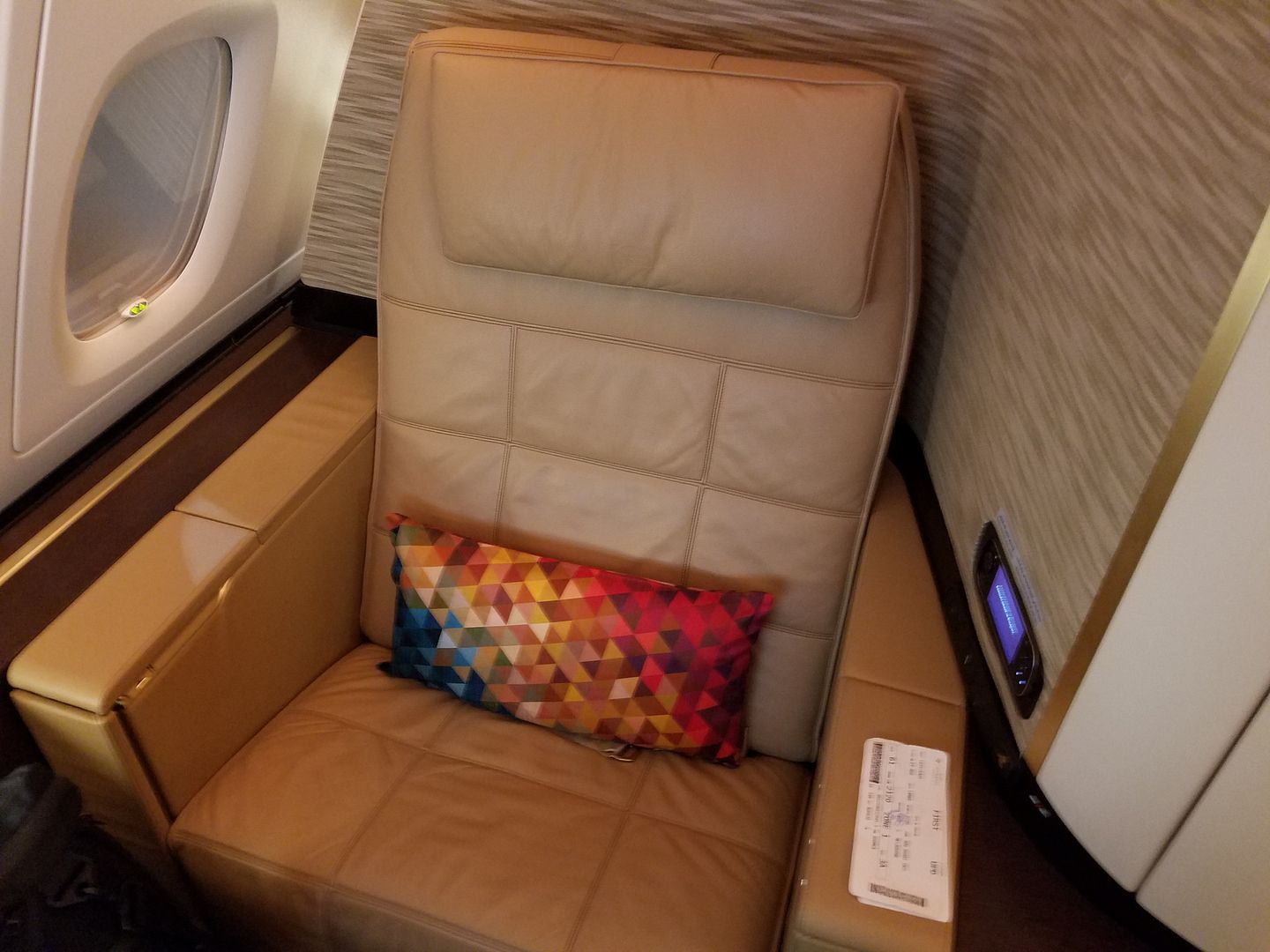 That said, I find the seat very comfortable. It does have some recline. It works much better for comfort than the Singapore Airlines first class Boeing 777 seat which 'flips over' to become a bed rather than reclining into one.
I have never been the slightest bit uncomfortable in the seat or the bed on Etihad's A380. In fact, the bed is thoughtfully designed so that the television swivels around and there's a separate controller for the TV when you're laying down. There's even a cup holder that pops out for a drink when you're using the bed. And the seat works for me wonderfully for watching tv and working, even though I like to be quite relaxed doing so on a long flight.

First Apartment Bed
3. Weak Ground Services
Etihad's lounges are gorgeous, and their new flagship first class lounge in Abu Dhabi even more so. They took the entire main business and first class lounge directly in front of premium security and passport control and turned it into a new first class lounge with sit down dining and tasting menu and spa. (There was already dining with menu service before, but they've really ramped it up.)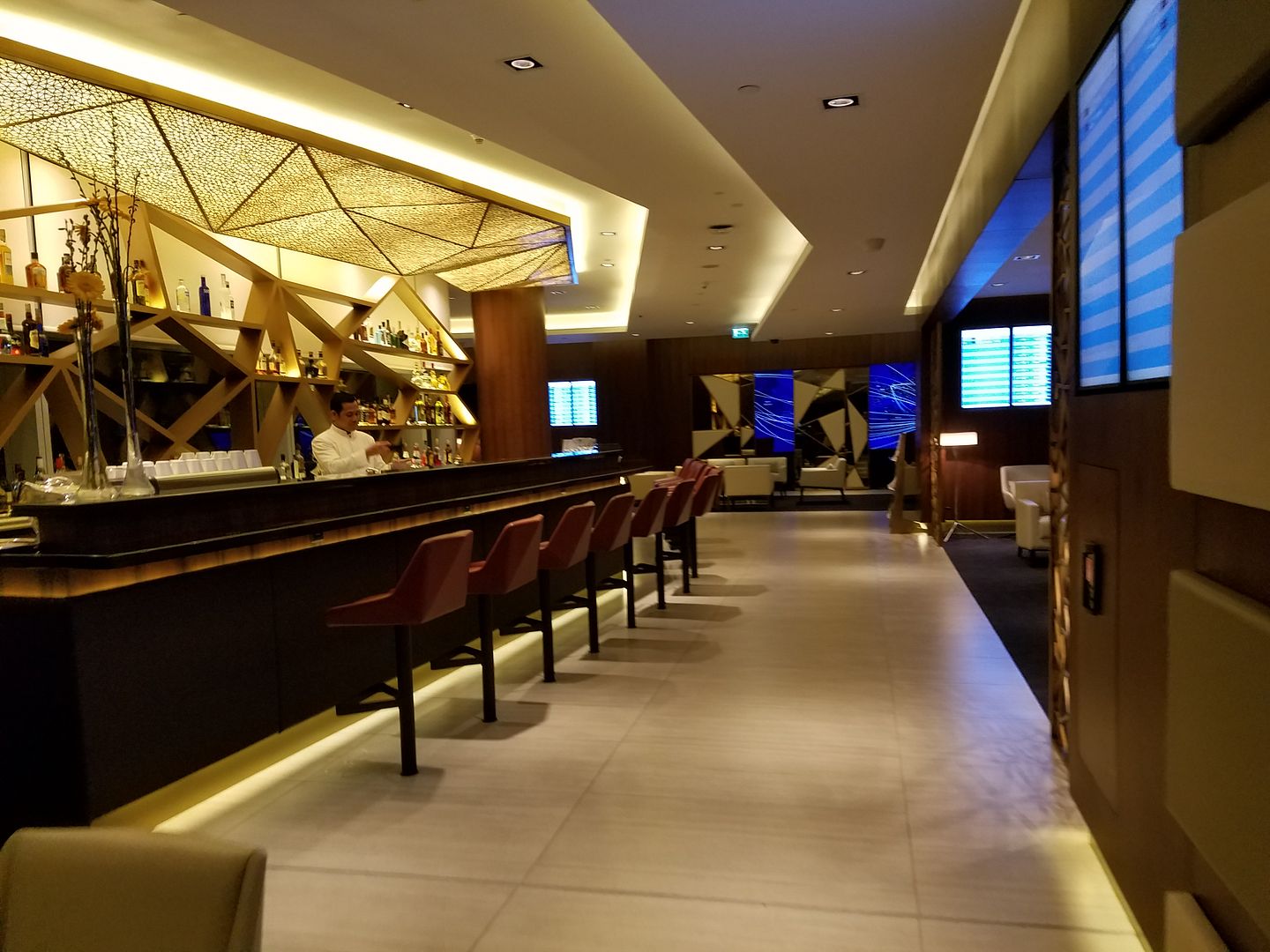 There's dedicated check-in and porter services, chauffeur service even for business class (which was even still available for American AAdvantage award tickets at the time I wrote my post, but no longer),
I'd rate it as a top 10 provider but not the world's best here. The thing is that most of the airlines I'd rank as having the best first class products don't outshine Etihad either.
Etihad's ground services compare favorably or are at least on par with Singapore, Emirates, and Cathay Pacific. They lag Lufthansa for those passengers who receive tarmac transfers (first class terminal, or certain first class lounges when your flight departs from a non-gate position), Thai in Bangkok, Gardua Indonesia, and Air France.
4. Disappointing Food
Ben finds "Etihad's catering sort of boring" and "the creativity to be limited." And they don't serve caviar.
I'd submit that he's doing it wrong.
Because of the onboard chef Etihad's first class dining is more customizable than anyone else's. Just pick something that's listed on the menu any time in flight. Or take advantage of the 'chef's special' described to you but not printed in the menu.
What I've started doing in Etihad first over the last couple of years is scanning the menu for ingredients and then decide what I wanted to eat, rather than ordering specific menu items presented to me.
So my eggs in the morning scrambled with lox? Sure. Or steak and eggs, and the eggs scrambled with emmental cheese? Sure. I want my risotto with mushrooms? Why not.
When the menu is just 'a set of suggestions' rather than 'the list of things you can have' you can really start to eat well in the sky.
It's true that some onboard chefs are far more creative and proactive in offering to design things to your taste than others. People have different personalities and interact with passengers in different ways. But they can be as flexible as you ask them to be, and can do whatever you suggest within the confines of a galley that's larger than you'll find on other A380s with more ingredients than you'd expect.
Etihad's first class meal service lets you really mix and match whatever you wish. Think ingredients, not menu choices. The menu is just there to give you some ideas, because for most people if they were just asked "what do you want?" they wouldn't know what to say.
Singapore offers better main meals, and their pre-order options especially out of Singapore are unrivaled. But for fully flexible dining I'm not sure how to beat Etihad.
5. Not the Most Premium Liquor
Qantas is the third largest buyer of Australian wine. Emirates is said to have spent $500 million acquiring wine for its flights, and they've served $700 cognac onboard.
Etihad's champagne is good and wine selection thoughtful but they aren't investing nearly as much in their onboard beverage program. They serve Al Ain brand water, and not a premium brand. There's no Jamaica Blue Mountain coffee.
They can customize coffee for sure, I'll often take cappuccino with a couple of extra shots onboard. But I'm not calling my coffee selection as I do on Singapore.
There's an incredible moment when you're offered champagne onboard Singapore Airlines in first class, you say yes, and then the flight attendant asks you, "Would you prefer Dom Perignon or Krug?" (My preferred response to that is, "That depends, what year is the Dom?")
So you don't go purely from wow to wow to wow here, when you reach the beverage list there's plenty to drink but there aren't the famous name super premiums that you might drink in the sky as pure luxury. Still, on an Etihad first class flight last month I had the Duffau Lagarrosse Croix de Beauséjour 2012 which is a lovely Saint-Emilion Grand Cru.
That's what I mean by Etihad having a thoughtful list. It doesn't focus on the biggest names, and not everything on offer is expensive — there was a $25 Calera Central Cost Pinot on offer as wel — but there's certainly wines to enjoy.
In any case for me this doesn't even come close to factoring into my choice of a first class product, but Ben's criticism here that "Etihad's first class drink selection is a notch below other top carriers" is certainly true.
6. You're Not The Most Important Passenger on the Plane
Etihad's first apartment is an incredible product, I choose it over any other airline 'first class' on the market today. However it's not the top product that Etihad offers on that plane. There's an exclusive 3-room 'Residence' which can accommodate two passengers. There's a sitting room for taking your meals or relaxing, a private bathroom with shower, and a bedroom.
They've taken what would otherwise be a first class seat and extended it into what on some airlines is another lavatory and on others dead space to create the most exclusive commercial product in the sky. The only way to redeem miles for this is to use Etihad Guest points at about a penny each, you cannot use American AAdvantage, ANA, Korean or other partner points and there are no saver awards either.
Ben's point is that you're technically a second class citizen on the plane, although I do not care what others are getting when my own experience in the First Apartment is so bountiful. I've never felt neglected, and in fact only once have I been onboard where the Residence was even occupied.
How Etihad Compares to the Best First Class Products in the World
Ben compares Etihad throughout his post to seven different airlines, without committing to one that he's willing to argue for as being the very best. That makes his post a bit of a moving target. However I'll explain the strengths and weaknesses of each one which should underscore why I prefer the Etihad A380 First Apartment over each of the other first class offerings in the world today.
Singapore Airlines has a gorgeous suite, and I'm excited to see the unveiling of their new A380 suite in a few months. Sadly it will have just 6 suites, perhaps making awards even harder to get than they are today. There's no shower. Main meals are fantastic although not super customizable. Midflight snacks are weak, and while you can have your meal when you wish they don't really offer a true 'dine anytime' concept in that they don't really cater enough entrees from a main meal to offer variety throughout the flight. Singapore suites also have a seat that doesn't recline fully into a bed, although the A380 Suite has better recline than the 777 first class.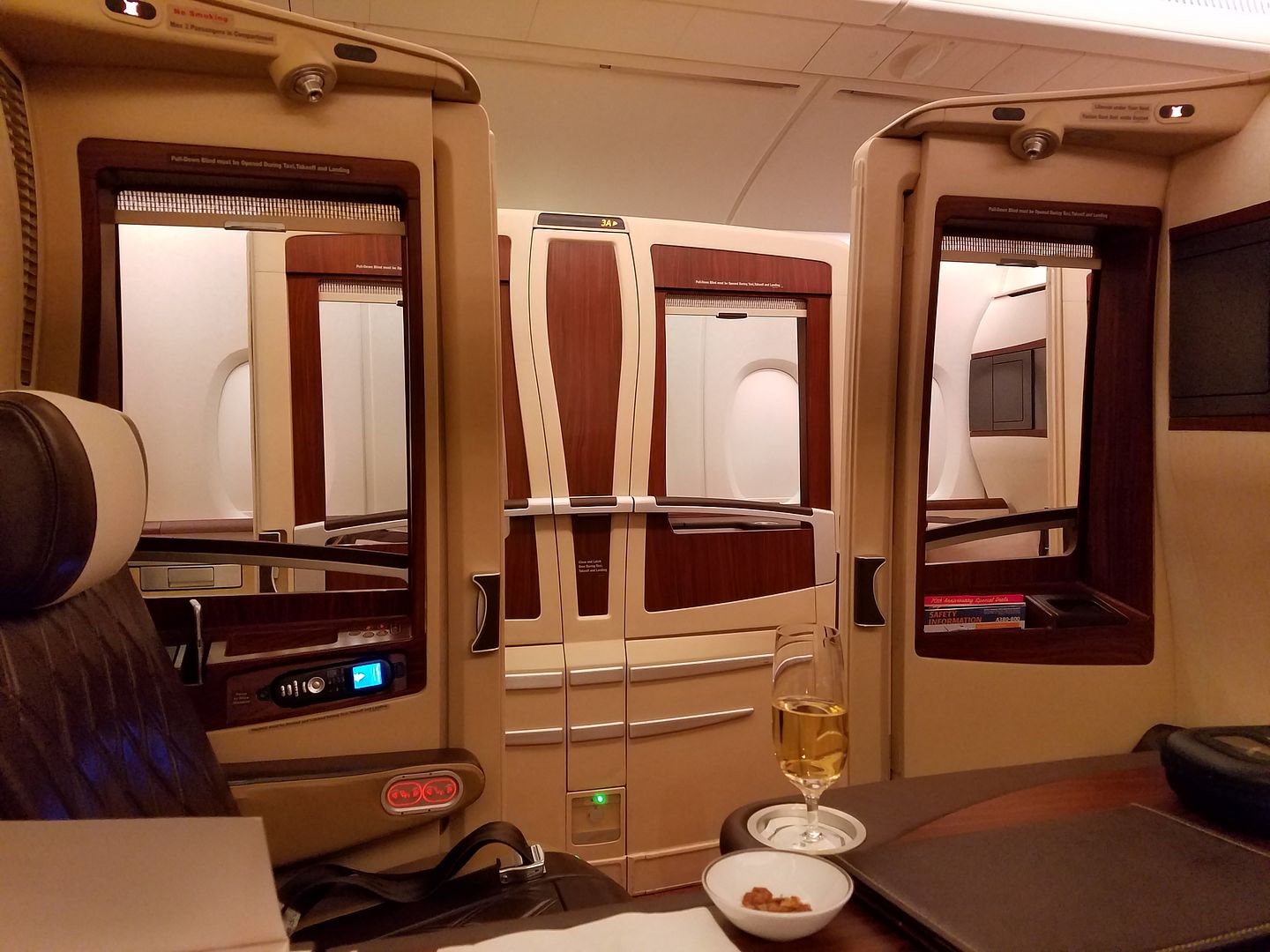 Current A380 Singapore Suite
Emirates has the best showers of course. Their shower spa is amazing on the Airbus A380. But the suites are narrow, four-across on the upper deck (Singapore is currently four across on the wider lower deck). It's just not super spacious.

Emirates Four-Across Upper Deck
Air France has better ground service but not a better seat, their newest first class isn't even a true suite but has curtains (neither of us has flown this product yet).
Cathay Pacific has one of the most well-rounded first class products, though no ground services to speak of outside their lounges. I like their snack services, but main meals are only ok — the Chinese dishes are usually better than Western entrees, but I've almost never had a standout item outside of the snack menu. Their beds are super comfortable but they do not offer suites or showers.

Cathay Pacific First Class
Garuda Indonesia's four-across suites on their Boeing 777 look lovely. Their ground services are clearly outstanding. And they even sell the product at somewhat reasonable prices. I'm at a disadvantage here because I haven't flown their first class, though in fairness Ben hadn't flown it either yet when I wrote the post he's criticizing. Still, it comes down to what you value most and I will privilege spaciousness over everything else every single time.
Qatar's first class seats aren't even suites, just nice open seats. There's no shower. The first class al Safwa lounge in Doha is magnificent architecturally but hit or miss on service. You have to pay for spa treatments, and even getting a shower can present challenges.

Qatar First Class, Not Suites

Strikingly Gorgeous Al Safwa Lounge
Thai Airways does a wonderful job on the ground in Bangkok. They have numerous different first class products in the sky and given their penchant for aircraft swaps you never know what you're going to get. Their crews provide equally variable levels of service in the sky. They have a top tier first class on the ground, not in the air.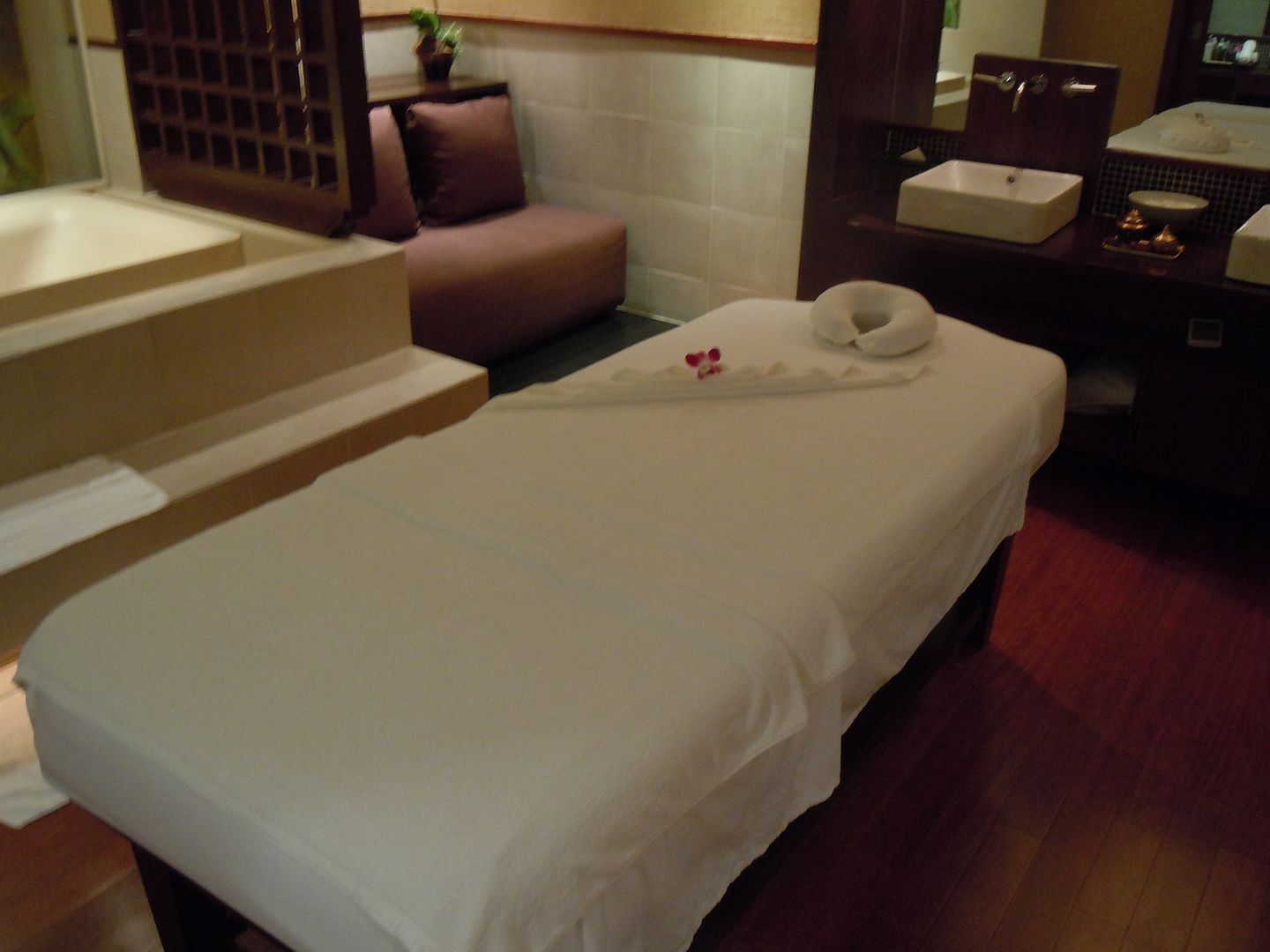 Thai Airways First Class Spa
Etihad's First Apartment Isn't Perfect — But I'd Still Pick It Over Any Other
Last month I dropped a Qantas A380 first class award for a non-stop, drove farther and took a connection, because the Etihad A380 first apartment was so much better for a 13 hour flight. I wouldn't make the same choice for Abu Dhabi or Dubai – London since that's so much shorter.
Etihad gives you substantially more room to get comfortable, to spread out, to really create your own personal sense of space compared to anyone else. They're suites with doors, but the doors don't make you claustrophobic. You aren't sitting right beside the doors. That is something that no one else in the sky offers. It's what I value — over choice of liquor — and it's why I consider them to offer the best first class product in the sky. And it's my favorite way to use miles.
Note of course that while Etihad makes Abu Dhabi – New York JFK awards in the First Apartment available mostly as the schedule opens, they often don't open it up for the flight originating in the U.S. And if you're using American AAdvantage miles trying to book the New York flight, you'll likely need to dial their Australia number (which rings to Fiji) in order to get an agent who sees the award availability correctly.