The Hyatt Regency Jersey City has a phenomenal location. It is directly beside a PATH train station, a direct shot into the city, and right on the water looking out at the Manhattan skyline. The views are spectacular.
It could use a refresh in some ways. For instance, the bathrooms are dated. And the highlight of the rooms are the windows, I was really surprised the blinds weren't electronic. But the bed was super comfortable, and the couch in the window was large (if a bit stained).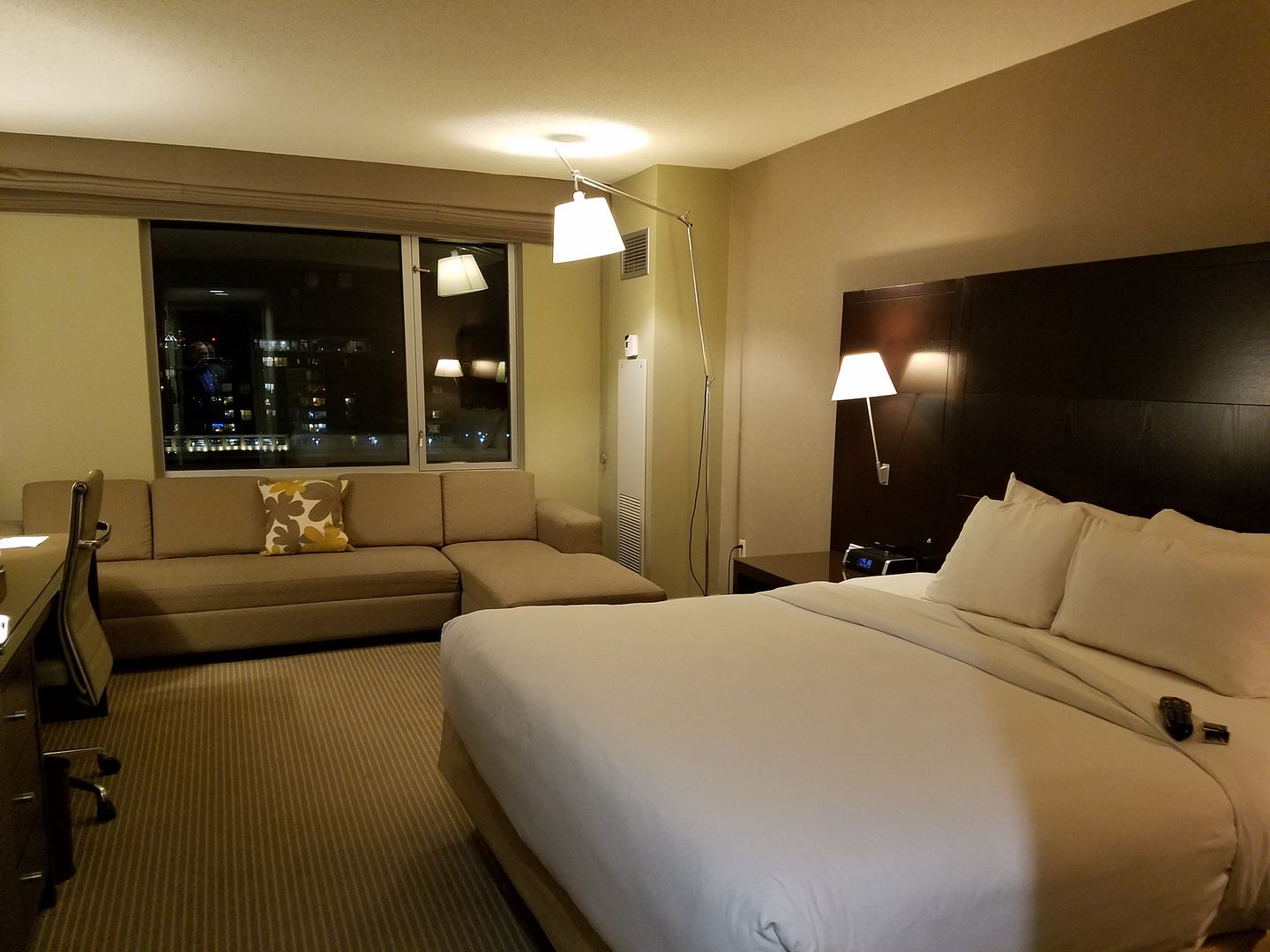 I like the public spaces on the property — more windows — and tastefully decorates.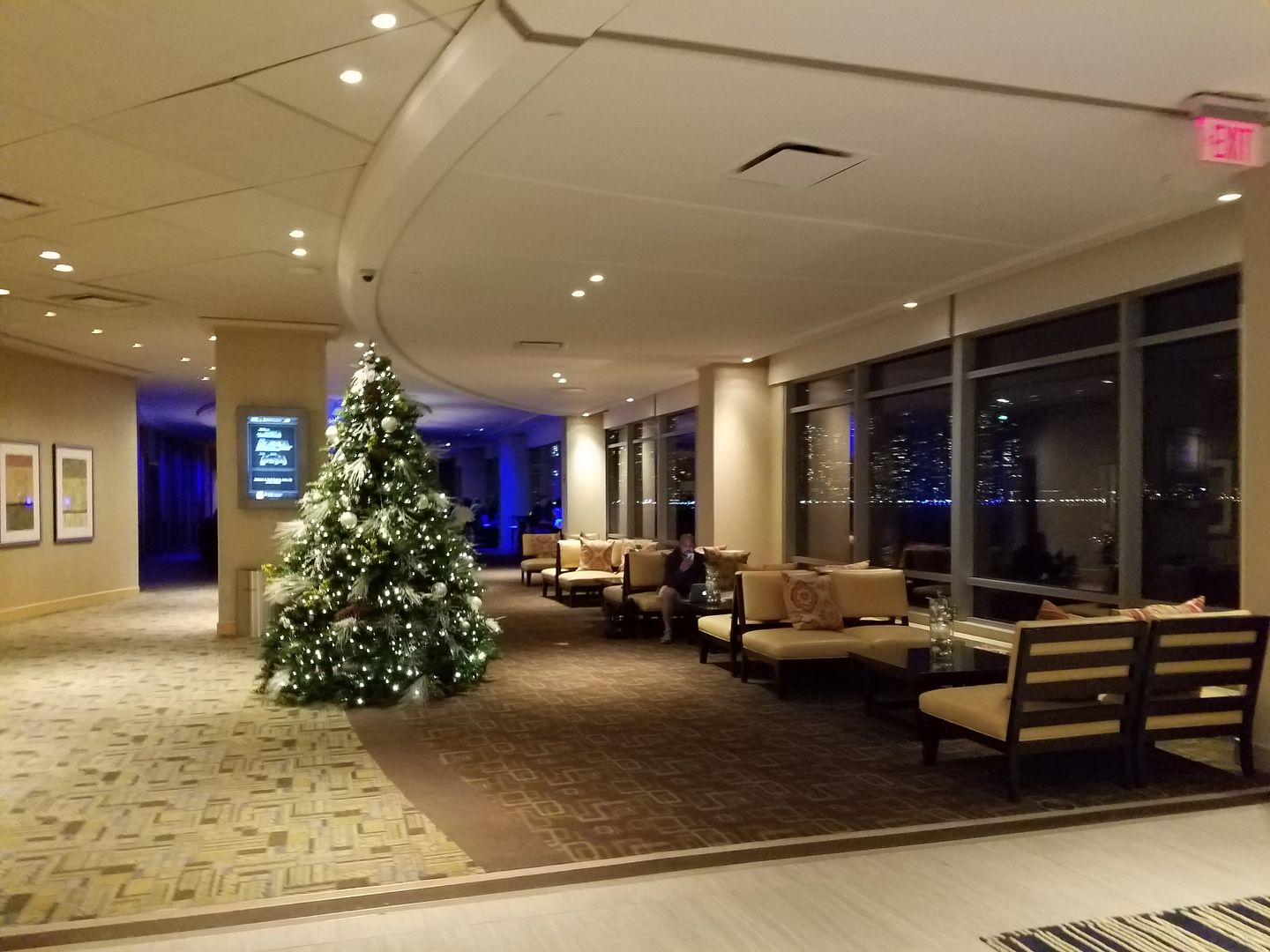 Here's the thing: a water main broke, and the hotel was without water. I woke up in the morning to this note under my door:
Here's the bathroom I couldn't use.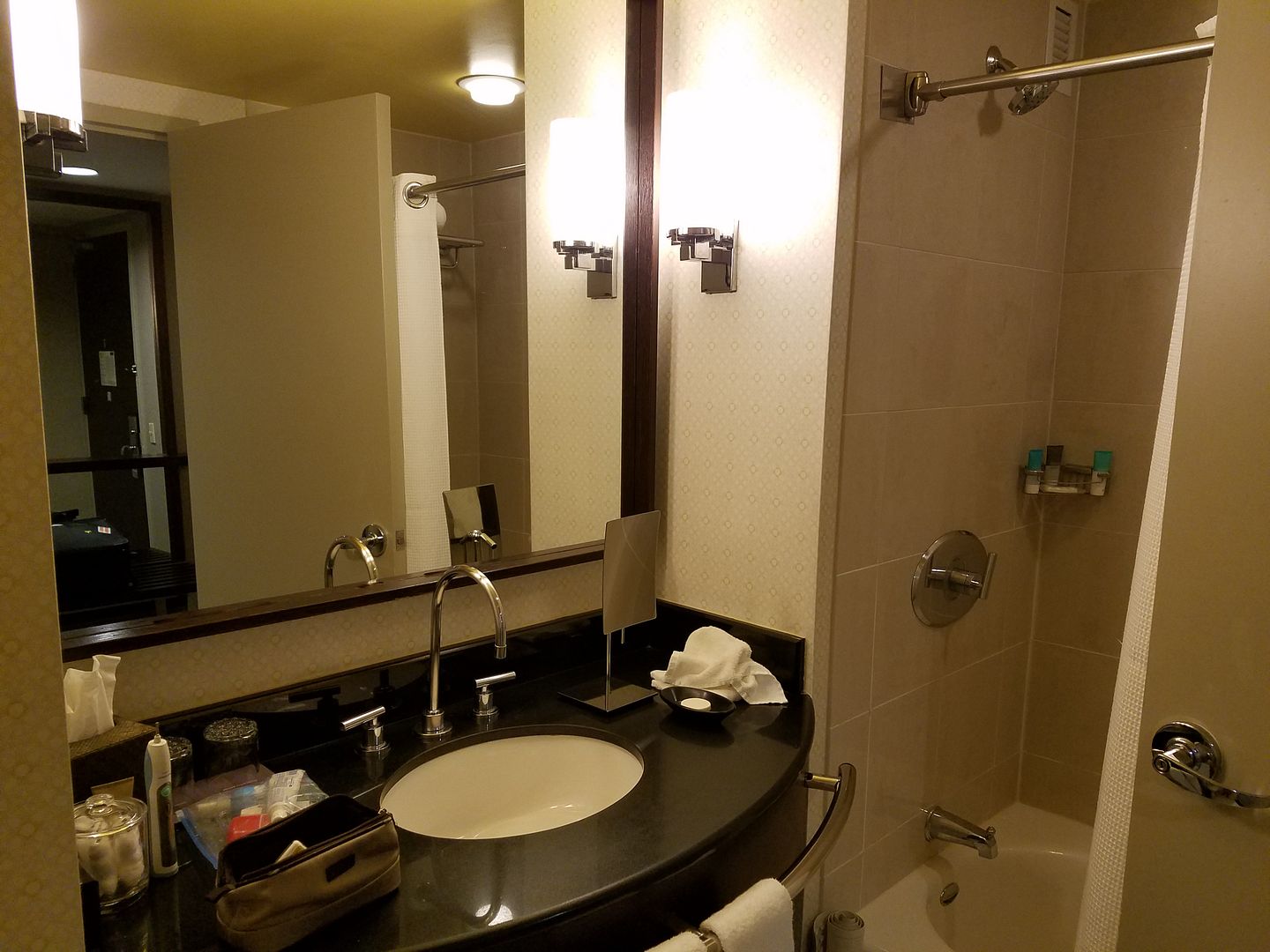 That's not quite fair. I couldn't use the shower, but I used the sink, washing my hands by pouring some water over soap to lather my hands and then pouring bottled water over my hands.
And I was able to use the toilet, I got one flush only so I used it… judiciously.
This is how the hotel handled the situation — there were flats of bottled water by the elevator (no signage, but I assumed these were for the taking since they were sort of left there).
My room rate for the night was $359. I sort of feel that for $359, I'm not just buying a bed I'm paying for a shower in the morning too.
This was not the hotel's fault. And goodness knows compensating every guest in the hotel for the night would be expensive. On the other hand, it wasn't my fault either and I only got a portion of what I was paying for, a real part of the service was missing.
So what should a hotel do in this sort of situation? I heard second hand (no one from from the hotel told me this) that they were comping breakfast for guests, but I got that anyway as a Diamond member.
About five minutes before I checked out I received an email from the hotel:
Thank you for choosing Hyatt Regency Jersey City on the Hudson! We hope you have enjoyed your visit.

We would like to inform you that the downtown Jersey City Water Main Break that occurred at approximately 4am this morning has been resolved by SUEZ, the local water authority. While out of the hotel's control, we understand the inconvenience this may have caused to the start of your day, and for that we apologize . All water related systems and functions are currently operating, and you should not have any concerns about using the water of the hotel

We thank you for your patience and understanding in an event like this, and hope you will return to stay with us again soon!
I never did get a chance for the day's shower. What would you expect?