Yesterday I wrote about how to find business class award seats for a family — not just one or two seats, but four seats on a single flight.
Basic principles,

More seats are harder than fewer seats. If you can split up (a family of four might fly 2+2) that makes things much easier.

Roughly six months out is a good sweet spot for searching award space.

Shorter flights are in less demand. East Coast – Europe is far easier than West Coast – Europe. West Coast – Asia is far easier than East Coast – Asia. If you're on the opposite coast, be willing to connect domestically or even buy domestic connecting flights if needed.

Multiple flights a day mean more award space. More total seats between a city will usually make it easier to get awards. But if the flights are ones that tend not to sell out that's even better.
Yesterday I looked at specific routes where availability for four passengers in business class was really good using Star Alliance (eg United, US Airways, Aeroplan, ANA, Singapore, Avianca) miles for travel between the US and Europe.
I will get to other alliances in future posts. Today I will look at using miles from Star Alliance airlines to get a family of four to Asia in business class.
Remember that you can transfer Chase Ultimate Rewards points to United, and you can transfer American Express Membership Rewards points to ANA, Aeroplan, and Singapore AIrlines. Starwood Preferred Guest mileage transfers add the option of using US Airways Dividend Miles too.
Here are some of my go-to cities when searching for award space. I'm looking at March because of the number of months from now that represents. Some schools have breaks then, though of course not all families are traveling with school age children — they may be younger, it could be adult families as well. Summer isn't inherently challenging to Asia, though Christmas break can be — especially returning from Asia just after the New Year.
San Francisco – Beijing on Air China is almost a gimme, this is what searching for four business class award seats looks like.
Air China's Los Angeles route has good availability for two passengers, not four. However their new Houston – Beijing route which operates four times weekly has outstanding availability as well. Here's that route, along with a smattering of dates where United's Chicago-Beijing flight is showing availability for four.
Seattle as a transpacific departure gateway is a really easy get. Here's United's Seattle-Tokyo flight along with EVA Airways' Seattle-Taipei but note that this flight is operated by a 747 and not their new 777-300ER. And also that this really works only if you aren't trying to depart on a Friday or Saturday.
Asiana is really generous with business class award availability. Here is Asiana's Seattle-Seoul and also their San Francisco-Seoul flights.
More Asiana generosity, here is Los Angeles – Seoul and Chicago – Seoul.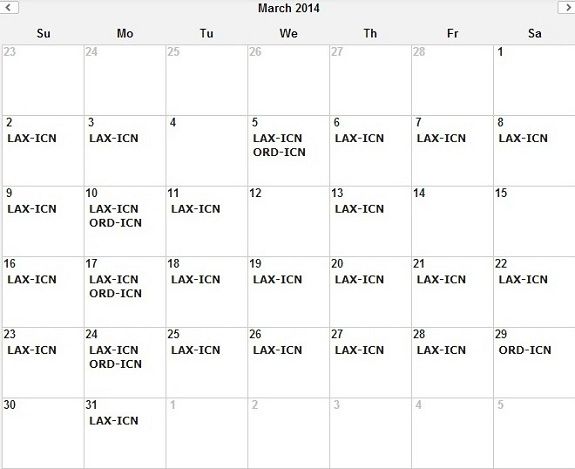 United is reasonably generous flying San Francisco to Japan. Nothing will ever match the availability we used to see on United's long defunct San Francisco – Nagoya service (That's why it's defunct! Actually, that route had more to do with a Toyota contract and cargo I believe).
But United still has good business class space open for the whole family on San Francisco – Tokyo and San Francisco – Osaka.
Other options exist, too. I haven't gone through United's transpacific flights and while those aren't available all the time I've certainly gotten four seats on Chicago – Beijing and even Chicago – Hong Kong when that flight was operated by a 747.
Sometimes you'll find award seats from your home city to the international departure city (if not, it can get pricey to buy some of the domestic tickets to do that). .
Having Chicago options and also Houston helps, it's not a strictly West Coast affair.
With a bit of flexibility and advance planning you can use miles for the whole family.
Note: All award calendars generated using Award Nexus.
---
You can join the 30,000+ people who see these deals and analysis every day — sign up to receive posts by email (just one e-mail per day) or subscribe to the RSS feed. It's free. Don't miss out!