American slightly exceeded Wall Street expectations with its second quarter results earning pre-tax profit of $1.3 billion.
They're touting the increase in non-GAAP accounting earnings per share year-over-year but of course that's largely driven by having fewer shares (they've been using profits to buy back shares). Profits are actually down compared to the second quarter of last year.
Revenue is up, especially in Philadelphia in Miami (Latin America passenger revenue per available seat mile up 15% year-over-year). Fuel costs are up and continuing to go up. Employee raises are driving up costs as well. And new aircraft continue to be expensive.
American is Paying Employees More But Doesn't Have Metrics to Know If That Benefits the Company
A couple of financial analysts asked questions about pay increases that American unilaterally offered to employees prior to last quarters earnings call. CEO Doug Parker argued that increased pay and increased revenue are "correlated." So analysts want to know whether the investment is yielding results.
Parker's response is that they committed to pay employees comparably with other airlines, and they're keeping their commitments outside of the bargaining process. They didn't get anything contractually in exchange for raises. They believe their other investments aren't as helpful if employees are unhappy, so giving them raises makes them excited and they'll do better.
But there's no mechanism to weed out employees who shirk, and no mechanism to reward those who perform well. And crucially, it appeared, no metrics to determine whether it appears Parker's theory of value creation is being borne out.

Cockpit of an American Boeing 787
American is Among the Most Profitable Airlines in the World But Doesn't Pay Income Tax
American was able to disgorge itself of many liabilities through the bankruptcy process, but it got to keep past losses to write off against current profits anyway.
As a result it opened the year with $10.5 billion in net operating losses to write off against current federal taxable income, and $3.7 billion in net operating losses to write off against state taxable income.
That's a huge current and ongoing subsidy to their business from the U.S. government. Ironically the airline's quarterly report complains about heavy taxation of the airline industry ("For example, as permitted by federal legislation, most major U.S. airports impose a passenger facility charge per passenger on us" yet they don't mention the benefits of those funds in terms of airport facilities they use).
American Charging Ahead With Basic Economy in Order to Help United Make More Money
United Airlines says they're losing business to American because American has not rolled out Basic Economy fares across their system. As a result American offers more value to customers. United says they will make more money, taking business back from American, as Basic Economy fares continued to spread at American.
United has said that American's continued adoption of Basic Economy is good for their business, but American continues to play the greater fool being goaded into what's good for their competitors instead of themselves even though they do acknowledge in the call "some share shift" they benefit from today. They expect to roll out Basic Economy across the rest of its domestic network by the end of September.
American has convinced themselves it's better to offer less value to consumers at the same price, because when they do so 50% of consumers faced with the choice spend more. However that's 50% of the customers actually buying American tickets who are spending more with the airline, and they don't give us indication of how many customers are choosing not to buy tickets on American when presented with Basic Economy restrictions.
That's the phenomenon United's President identified which is costing them money as they charge ahead with their own Basic Economy offerings. Southwest, JetBlue, and Alaska continue to allow their customers to bring on a full sized carry on bag on the cheapest fares. JetBlue and Alaska continue to offer advance seat assignments on their lowest fares. Southwest even allows free changes and free checked bags. And all 3 will offer more legroom in coach on an ongoing basis as well.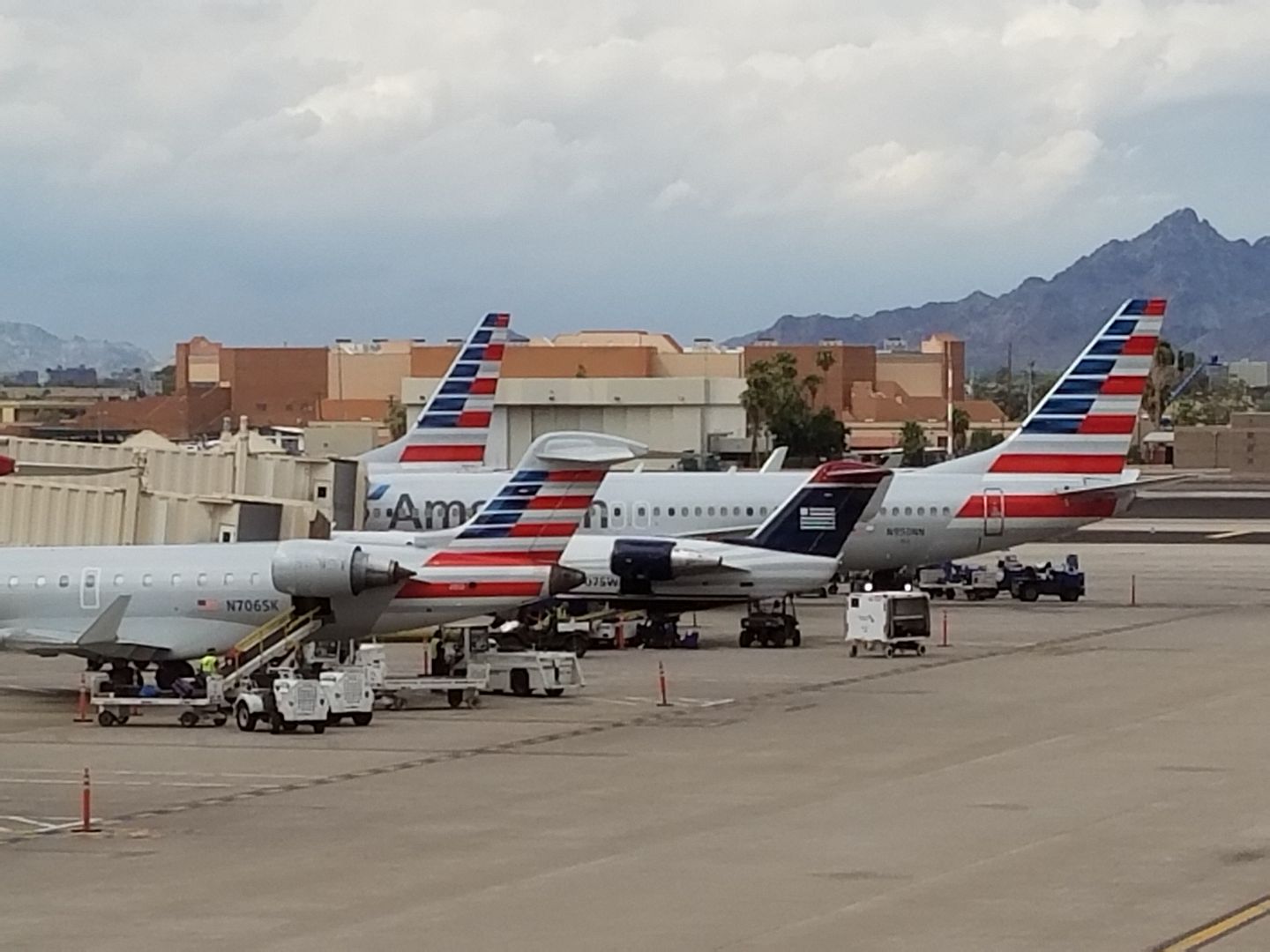 American's Fleet Plan
American should bring on 57 new mainline aircraft and 63 regional aircraft this year. They're retiring 42 mainline aircraft and 71 regionals.
Here's the breakdown:
Why American's New Less Comfortable Coach Seating Won't Offer 29 Inches of Pitch
Conor Shine of the Dallas Morning News asked about the process by which they rolled back a plan to put 29 inches of pitch in three rows of the new Boeing 737 MAX, down from a 31 inch standard today. Instead American is going to offer 30 inches of pitch throughout regular economy, made possible through one fewer row of Main Cabin Extra.
Doug Parker began by complaining about leaks. He then highlighted that these are comfortable (sic) slim line seats that feel more spacious.
30 inches is still less room from seat back to seat back than offered today and in my experience and the experience of nearly all customers I've spoken with slim line seats are less comfortable not more comfortable as a result of having less padding. They're bearable for short flights but the new Boeing 737MAX aircraft that will have these seats and less pitch are designed precisely for longer flights.

Seatback TVs are Going Away, Just Like Legroom
When the news came out about their plan for 29 inches of pitch Parker said they got pushback from customers and team members. Flight attendants worried about having to explain the poor product to customers.
Notably American is still densifying its cabin to the same number of seats, they're just reducing the number of extra legroom seats that customers have an opportunity to escape regular economy into. So this shouldn't be read as a willingness to do anything other than squeeze in more passengers.