Three weeks ago Hack My Trip wrote about Aerolineas Argentinas offering status matches in their program.
The reason this is interesting — because why would you care about having elite status in the Aerolineas Argentinas program unless you're actually going to, like, fly Aerolineas Argentinas, right? — is that they are a Skyteam airline. Which means having status in their program confers certain benefits when flying other Skyteam airlines. Like Delta.
This is even a published offer from Aerolineas Argentinas.
You have to join the Aerolineas Argentinas program first.

You have to have status in a competing program that you can demonstrate.

You aren't allowed to already have elite status in a Skyteam frequent flyer program (but how would they know?).
How to Get the Status Match
They've published a chart to illustrate what status you'll get in the Aerolineas Argentinas program, based on the status you currently have: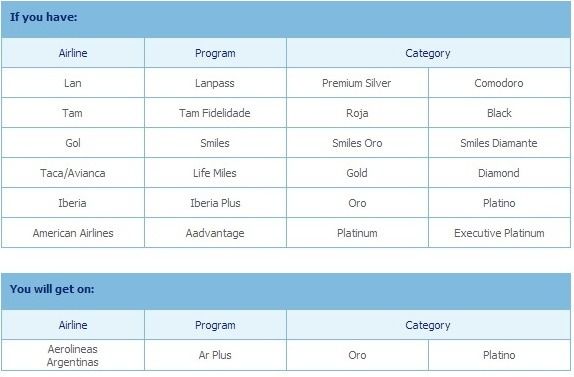 Live From a Lounge contends that while the list of airlines they illustrate for status matches above includes only a few carriers (including American Airlines), that list is not exhaustive. Rather it just lists the above airlines as examples of how existing status matches into their own program.
Instructions for obtaining the status match are as follows: email elitematch@aerolineas.com.ar with subject line Elite Status Match and include your Aerolineas Plus membership number, full name and email address in the body of the message. Include a scan of your online account summary and membership card from the program you have status in and wish to match.
The Benefits of Your New Status
Aerolineas Plus Gold status equates to Skyteam Elite status, and comes with priority check-in and boarding and extra baggage (meaning a free checked bag with Delta domestically).
Aeroplinas Plus Platinum status equates to Skyteam Elite Plus status, and also comes with lounge access for the member and guest, and priority baggage handling (which isn't always honored, especially domestically in the US).
The trick and an area that seems to be of great confusion is the lounge access benefit. This is the reason I've titled this post that the status match gets you free checked bags and not that it gets you lounge access. Skyteam lounge access benefits are different from those in oneworld and Star.
Skyteam lounge access benefits will apply to international itineraries only. If you are flying a purely domestic itinerary in the United States, your Skyteam status will not entitle you to Delta lounge access although there are always reports of exceptions being made (usually on a 'one time basis' although offered over and over).
Star Alliance Gold gets lounge access when flying a purely domestic US Airways or United itinerary (although United's and US Airways' lounges are exempt from admitting their own elites). Similar status with oneworld gets you lounge access when flying a purely domestic American itinerary (although American's elites are not so entitled).
Top status in oneworld — oneworld has three status levels not just two — gets access to first class lounges so I use my British Airways Gold status to access American's Flagship lounges and not just Admiral's clubs in Chicago, New York JFK, and Los Angeles with regularity. I could use that or my American Executive Platinum status to use the first class side of Cathay Pacific's The Wing and The Pier lounges even if I were flying coach.
Skyteam is not so generous, and Aerolineas Argentinas status will not be a backdoor to free Delta Skyclub access for US based members most of the time.
On the other hand, it can't hurt to have this status. It'll last a year, and though status matches are usually once in a lifetime that limitation is generally per account and not something you'd much worry about with an account with zero miles in it.
Occasionally international status might be useful to leverage towards status in other international frequent flyer programs. And it could come in useful. It's just not as handy as initially promoted in some quarters, since Skyteam Elite Plus doesn't have the same sort of lounge benefits that similar status in Star or oneworld would provide.
How to Use This Status — Even if You Don't Want to Accrue Miles with Aerolineas Argentinas
The way you use this status — if you don't want to credit miles to the Aerolineas Argentinas program — is to enter their frequent flyer number when you book the tickets or at least prior to check-in. Use the number when you check-in for the baggage benefits, and even print your boarding pass to show the status (and thus take advantage of priority boarding more easily than having to show your membership card).
Then once you've checked in, have an agent change your frequent flyer number over to Delta or whatever airline you're crediting to.
Get a new boarding pass in case the flight doesn't post to your Delta account automatically and you need to submit for credit later (it will be much easier to get if you have a boarding pass showing your Delta number on it — rather than one that showed another airline's number!).
After the flight if it's a roundtrip, add your Aerolineas Argentinas number again to take advantage of benefits. Rinse, repeat.