Reader Jake emails that TopCashBack is offering 100% casb back at GiftCard.com.

When you click through there's a potential caveat, suggesting that there's a 'Visa Gift Card sale' with the 100% listed next to that.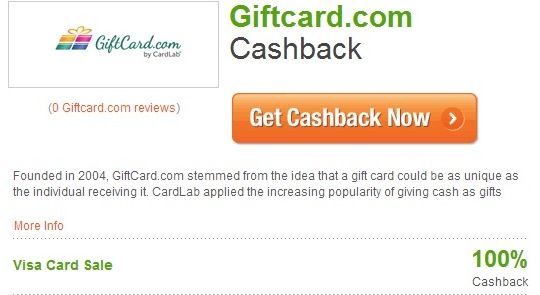 It will be interesting to see how this plays out, as it's hard to imagine that they intend to let you buy gift cards by credit card and give you all the money you've spent back — free money, essentially.
While I have not had any problems getting paid by TopCashBack, several readers have reported difficulty getting credit for transactions there.

Since the website flags this as a 'Visa Gift Card sale' I would not assume this applies to all purchases at GiftCard.com

It is possible that the 100% rebate will be applied to the purchase fee only and not to the amount of the gift card itself

And also possible that 100% is simply a mistake, that he site will seek not to honor
A short-term deal for sure if honored, and will be interested to see how this unfolds.
---
You can join the 30,000+ people who see these deals and analysis every day — sign up to receive posts by email (just one e-mail per day) or subscribe to the RSS feed. It's free. Don't miss out!