Ted commented on a recent trip report post,
Gary I share your passion for aspirational travel in Asia. I followed your lead and went to the Conrad Koh Samui, Maldives and Hong Kong. Have you found anything else that compares? I am looking to book my next trip.
This reminds me a little bit of a classic line from a classic 1980s movie, and a more philosophical take on the same problem — the problem of actually doing everything you set out to do.
In the movie Die Hard, the villain Hans Gruber (played by Alan Rickman) declares,
And when Alexander saw the breadth of his domain, he wept, for there were no more worlds to conquer. Benefits of a classical education.
This turns out to be a misquote, perhaps of Plutarch, and Alexander the Great never said it exactly… he was either depressed over his father's victories leaving no more world's that he might conquer, or lamenting the notion that there might be many worlds while he had not yet conquered a single one.
And yet it captures something. What if you've reached all of your goals, how can you possibly go on?
John Stuart Mill was as much a child prodigy as there ever was, and for around six months at age 20 contemplated suicide over the notion of accomplishing all of his goals. And he wrote of realizing that achieving his goals wouldn't actually bring him happiness.
From chapter 5 of his autobiography.
Suppose that all your objects in life were realized; that all the changes in institutions and opinions which you are looking forward to, could be completely effected at this very instant: would this be a great joy and happiness to you?" And an irrepressible self-consciousness distinctly answered, "No!" At this my heart sank within me: the whole foundation on which my life was constructed fell down. All my happiness was to have been found in the continual pursuit of this end. The end had ceased to charm, and how could there ever again be any interest in the means? I seemed to have nothing left to live for.
Here's the problem. If you limit yourself to

the most aspirational hotel properties

that can be booked with points

that are good value redemptions
Then there's probably a pretty limited set. You can visit them all. And then what is left?
There are plenty of places that will meet or exceed the sorts of hotels I've reported on here. The challenge is to get these fantastic stays as a good value on points, which is why I will be returning to the Park Hyatt Maldives for a third time.
Here are the biggest challenges with the major chains.

There aren't many Marriott properties I want to stay at.

The Hilton ones are now priced astronomically (I still want to try the Conrad Sanya).

IHG Rewards won't let you redeem for better than a base room and doesn't require elite benefits to be honored on award stays.

There are some fantastic Hyatts, mostly city hotels though (Tokyo, Sydney, Paris).

Starwood has some amazing resorts but the pricing can be choke-worthy at 'double points' category 6 or 7.
But there are better hotels outside the chains if you will pay cash of course..
Nonetheless, the best aspirational properties where you can get really fantastic rooms at top notch hotels in special locations while also receiving great value for your points are probably:
Intercontinental Thalasso Bora Bora
I stayed at Bora Bora Nui in 2005 when it was a part of Starwood. I spent 186,000 Starpoints for 5 nights in an overwater bungalow, and had one of only three with a view of Mt. Otemanu.
The property moved over to Hilton, and was a fantastic value in the HHonors program until redemptions shot up about 90%. Still, it's a reasonable redemption route.
But this hotel, the Intercontinental Thalasso, lets you book into an overwater bungalow as the base room on points. That means you're looking at a ~ US$1000 a night room for 50,000 IHG Rewards points per night.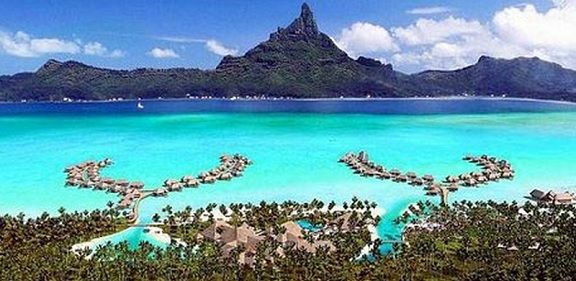 St. Regis Bali
I stayed here on points when the hotel was SPG category 6. It's surprising to me that it's gone up to category 7 which means most of the year it's 30,000 points per night.
But all of the rooms are suites and they do not charge double points (my biggest beef with SPG redemptions is hotels that have a high award category because high rates are driven by being all suite, and yet since the rooms are suites they charge double points).
What's more, the base-level room can be upgraded for 2500 points per night (with 5th night free) to a Plunge Pool Suite.
They probably have the most over-the-top breakfast in the world, included for all guests.
Airport transfers are included for all guest, and so is internet.
Park Hyatt Hadahaa Maldives
A lot of people love the Conrad Maldives, and it was a fantastic redemption value before last year's monster devaluation. It remains perhaps one of the better uses of Hilton points.
Starwood has a couple of properties in the Maldives. I exclude the W here because of it's shockingly high redemption prices. There's a Sheraton which is category 6 (20,000 or 25,000 points per night), so a reasonably points value.
I personally love the Park Hyatt, it's both a gorgeous high-end property and accessible on points.
The hotel is a category 6 redemption, which recently was bumped up from 22,000 to 25,000 points per night. All of the rooms are basically the same, except that some rooms have pools and others are placed over the water.
(I've bought up to an overwater villa, and have fortunately had Hyatt Gift Certificates obtained at deep discount.)
I've stayed here twice and I plan to return. See here, here, here and here.
This isn't a cheap hotel, even on points. You have to take a domestic flight and a boat once you make it to the Maldives, and there are no points options for those (other than points that reimburse cash travel costs). And that runs ~ US$500 per person roundtrip. Food and activities aren't cheap either. But without points I'd never make this journey, and I am able to stay at a fantastic property that I'd never otherwise book. And instead of once in a lifetime, I go more than once.
Conrad Koh Samui
I stayed here in November 2011 and thought it was a fantastic hotel.
Before the hotel opened it was a 'category 6' redemption and with a multi-night elite redemption discount I was able to reserve it for just 32,000 points per night.
The hotel has nothing but standalone villas, each with its own pool, and each with an ocean view.
Prior to my trip the hotel opened up its 2 bedroom villas for award redemption (at the base redemption price). The hotel was up to category 7 at that point, so I rebooked and paid 40,000 points per night with the multi-night 20% discount.
That was an amazing value, for an amazing room. The hotel won't suit everyone though because you really are going to stay focused on your villa. The hotel is built into the side of a steep hill, there's pretty much no walking around the resort, any time you want to go anywhere (restaurant, spa, resort pool) you're going to call for a buggy. They come quickly, and there are plenty around to take you back to your room. But this isn't a place for meandering around the hotel grounds.
Since the devaluation we've seen redemption pricing go up about 90%. But you can still get close to a penny per point in room rate sometimes, so it's still reasonable (I value Hilton points at about 4/10ths of a cent). And it's one of the more aspirational places you can use your points because there's no getting stuck in a mediocre 'award room'.
This Isn't an Exhaustive List, and Elite Status Can Help
When I stayed at the Intercontinental Bali in 2008, my Royal Ambassador status got me a Jimbaran Bay Suite which was huge and fantastic. The hotel's club lounge then had complimentary 24 hour menu service.
I wouldn't consider the hotel itself to be aspirational, and wouldn't necessarily want to travel all the way to Bali for a 'standard' room there. But I was thrilled with what I got.
I'd put the Westin Siray Bay in that same category. I had a Sala Pool Villa there, and was thrilled, but I wouldn't have had the same sort of stay without such an amazing room.
What Do You Consider the Best Value Redemptions for Aspirational Hotel Properties? I would love your ideas, because I'm not ready to start spending real money for top notch hotel properties. Like John Stuart Mill, I need something to live for!
---