Delta has the most punitive international upgrade program of any major US frequent flyer program. United, American, and US Airways let you upgrade any fare with a cash co-pay in addition to miles. Delta requires you to buy nearly full ("M") fare coach to upgrade to business class, anything less is ineligible. Period.
Delta's M fares are often as expensive or more expensive than discount advance purchase business class fares, when those are available.
Delta doesn't treat its elites any better, top tier elites get international upgrade certificates that can be used on… nearly full fare "M" tickets as well. United doesn't let its elites upgrade all fares internationally, low-ish "W" fares are permitted though. American allows its 100,000 mile flyers to upgrade any fare.
One neat workaround used to be that you could upgrade any premium economy fare on Air France to Air France's business class. That was great because a discounted premium economy ticket could be half the cost of a Delta "M" coach fare, it was cheaper to buy premium economy and upgrade to business on Air France using Delta miles than it was to buy an eligible coach fare on Delta and upgrade to Delta's business.
Naturally Delta closed down that opportunity. And then last week they apparently took away the ability to upgrade to business class on Air France at all.
Now the situation gets even worse than that.
Perhaps the best, most reliable use of Delta miles for years has been Air France business class. You can't often get two passengers across an ocean in Delta's premium cabins (except for a few routes), but Air France availability has been reliably good.
On Friday, around the time that word was breaking about Delta eliminating the ability to upgrade with miles on Air France, my award booking partner relayed to me that Delta agents received a memo on Thursday that effective immediately, Skymiles award space in both coach and business class was reduced for Air France and KLM flights.
I never take a single or even a few agents at face value, especially with Delta.
But there have been real changes — now, Air France itself has been making less and less business class award space available in recent months. It's still been better than Delta's inventory, though.
Now it seems that most space has completely dried up, at least in so far as what Delta is able or willing to book. (There does seem to be some space for next summer.)
And while Air France is offering up business class space, Delta won't even book what's available.
To test this, I went to a real "go-to" route for business class award space. Here's October 1 through October 31 for Houston – Paris on Air France in business.
Delta's website award calendar is 'broken' — it purports to show what's available but doesn't do so reliably. Still I thought what Delta shows on its calendar was telling for Houston-Paris:
They show a few days of availability, compared to plenty of space that Air France shows as available for award redemption. But click through and none of what Delta is showing is actually Air France non-stop, it's all connecting space on KLM. The Air France non-stops, that are showing available on the Air France website, do not come up.
Delta is simply not showing any availability for Air France business class space, even though Air France is clearly offering business class award inventory.
It's good to know that KLM seats, though, do seem to be bookable. KLM inventory has certainly dried up on some routes, compared to what had been on offer in the past.
Here's October 1 through November 1 for Washington Dulles – Amsterdam on KLM in business.
On the other hand, there are a few go-to routes, as I noted with Air France above the Texas flights have long been pretty reliable for getting premium cabin space to Europe (although not as good as when KLM operated an all-business class Privatair flight).
Here's what September 24 through October 28 looks like for Houston – Amsterdam award space on KLM in business: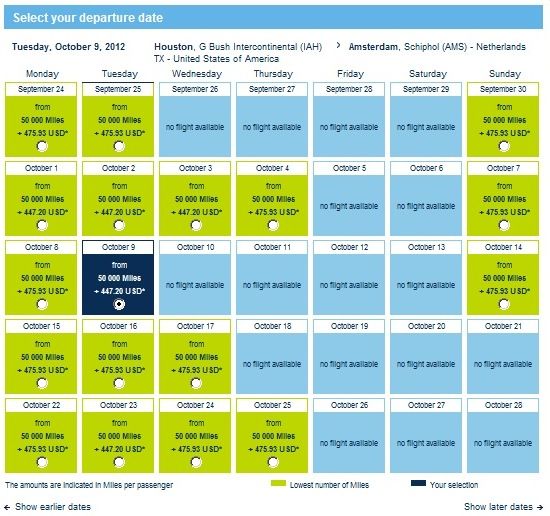 So unlike the DC route, the space is still out there. Get that at least while you can.
So what's going on?
I reached out to a contact who is usually pretty good for Delta backstory, but haven't heard anything back. It could be a busy weekend, but it could also be that I've been ultra-hard (justifiably, I think) on Delta recently. So I don't know for certain.
But in early May 2005 Delta imposed blackout dates on Air France and KLM award redemption across-the-board for all of June 1 through August 31 that year. This was implemented systemwide, the rapid and unannounced (sound familiar?) blackout dates were put into effect because Delta had decided they simply already had redeemed too many seats on these airlines (that they would have to pay for).
Later in the decade United had 'Starnet blocking' where they'd simply program their computers not to show award space that their partners were offering. Delta's solution was just to declare blackout dates to keep their spending on partner awards down.
Back in March, Delta had an IT glitch where they were temporarily unable to book awards on Air France.
One Mile at a Time thinks the current state of Delta access to Air France awards is either that Air France will no longer release any business class space to Delta, or that they plan to only release a subset of their space and that the current total block is part of that transition.
With the caveat that I haven't gotten hard information at this point, I'd venture to guess that this isn't coming from Air France, that it isn't Air France blocking Delta but Delta blocking Air France space just as they had done in the past when it was costing them too much.
Ben titled his post, "Has Air France completely stopped releasing business class award space for Delta SkyMiles members?"
I've titled mine, "Has Delta completely stopped offering business class redemptions on Air France?"
There's a subtle but important difference in the questions we're asking. My hypothesis, then, is that Air France business class availability will come back — in some form — once redemptions catch up to their budget.
I've checked Alaska Airlines, their space doesn't seem to match what Air France is offering on their website at the moment but I am finding transatlantic business class space with Mileage Plan miles to fly Air France business class, for instance I found some going Los Angeles – Paris.
It could be something fishy going on with Air France. But it's also clearly the case that it's affecting Delta more than it is Air France's other partners…
In the meantime, you might wait for another Membership Rewards transfer bonus over to Air France KLM Flying Blue.