My paid travel has been relatively light so far this year, I've flown far more award miles so far than paid miles. Of course we're only six weeks into the year, and that balance is about to change.
But I care a great deal about my American Airlines Executive Platinum (100,000 mile flyer) status. So to make sure I'm in a position to keep it I'm doing all I can — and I don't really mileage run, the cost of my time is just too high independent of the cost of tickets.
I prefer to mileage run from home. With credit cards.
My US Airways MasterCard gives 10,000 elite qualifying miles after spending $25,000 in a year. I've done that, and my 10,000 status miles have already posted.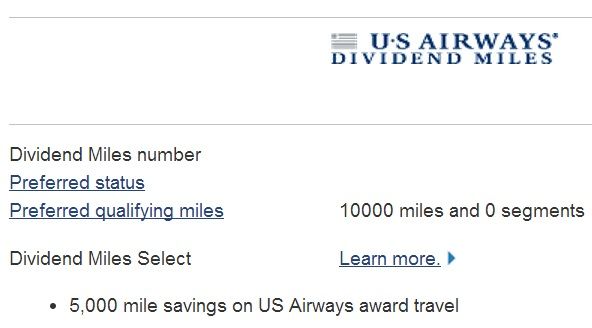 So now I am working on earning elite qualifying miles through the Citi American Airlines Executive Card. It's their expensive card that comes with lounge access, and I have it also. (I wonder why…)
I have to put $40,000 in spend on that card and I will earn 10,000 American AAdvantage elite qualifying miles.
And I am completely confident that qualifying miles earned both in US Airways Dividend Miles and in American AAdvantage during 2014 will combine to count towards 2015 elite status with American.
I'm thrilled that the US Airways card issued by Barclays is going to stick around (for existing cardholders only) after the two airlines merge. I do not know that its benefits remain the same, but having both cards could be a mechanism over the next 2-3 years to earn 20,000 qualifying miles per year based on spending, rather than just the standard allowable 10,000 qualifying miles.
And for folks who aren't going to generate enough spending (a combined $65,000!) to earn qualifying miles from both cards, the US Airways offerings gives you 10,000 status miles at a lower spending threshold and lower annual fee than the Citi Executive card.
For me, I figure the extra credit card spending for status miles is a cheap way to avoid having to buy up 10,000 qualifying miles towards status.
Once I'm through with the $40,000 spend requirement for 10,000 qualifying miles with the Citi Executive card, I may turn to the Hyatt Visa where $40,000 spend will help me with 10 qualifying nights towards keeping my Gold Passport Diamond status…
The funny/ironic thing? In the end I probably won't need the extra nights or extra qualifying miles at all, I certainly didn't in 2013. But I'm pretty conservative by nature and value my status quite a lot. I don't want to get into the year and find myself behind.
Are you as elite status-obsessed as I am? Do you take measures like this to ensure you'll maintain your airline or hotel status?
---