Yesterday I took a media flight from Chicago to San Francisco on United's brand new Boeing 777-300ER, the first plane to actually offer the airline's new Polaris business class seats.
Since December 1 United has offered their new soft product – meals, bedding, etc. – but no flight has had the new seats. This confuses many customers who see Polaris on their reservations and expect fully flat direct aisle access seating. That is coming, the first plane will fly its domestic inaugural this week before going into international service initially on San Francisco – Hong Kong.
I arranged my own travel up to Chicago and back from San Francisco and covered my own hotel night. The flight itself wasn't for sale but consistent with my practice of not taking free flights I made a donation to charity in more than the cost of a first class segment between the cities.
Bottom line is that the product is nice, the seat is a big improvement for United, and I think it closes the gap enough that it will no longer be necessary to book away from the United business.
American has the better seat still — I'd take American's Boeing 777-300ER seat, their Boeing 787-8 seat, and their Boeing 787-9 seat over the Polaris seat — but United has a much much nicer soft product. And the new United seat is certainly good enough.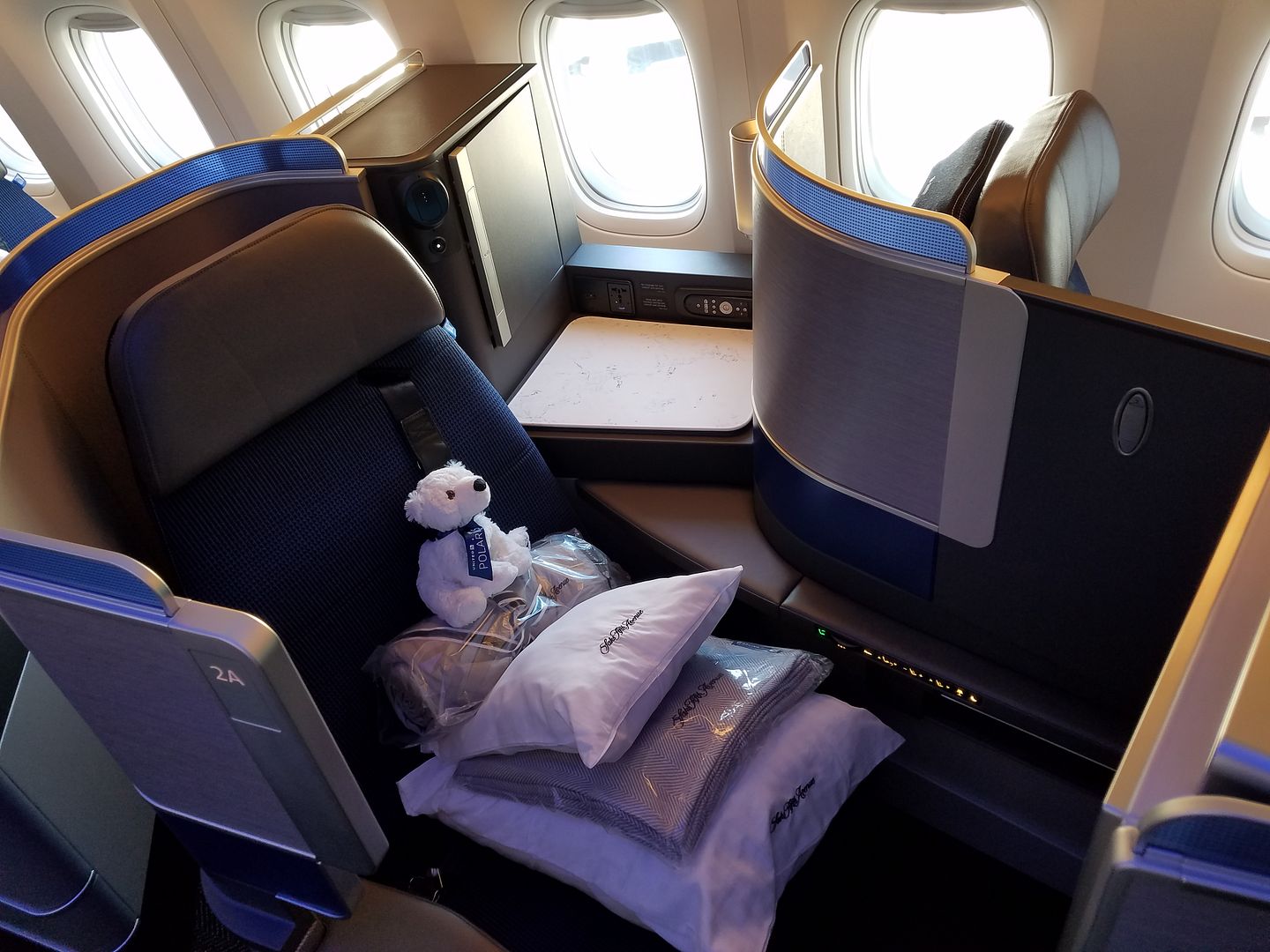 Now, as I review the experience I will disregard some of the excellent service I got on the flight, the crew was fantastic but I have to assume hand-picked. I was thrilled to be able to experience the seats in action and not in an event space.
As for choosing seats: You need to decide if you like being more open to the cabin, with the extra table space on the inside of the seat (my preference) or if you prefer it on the outside which is either more cocooning or a bit claustrophobic.
I recommend taking a bulkhead seat for a bit of extra surface space at eye level in front of you which is great for all the 'stuff' you are given and since the seat really has almost no storage (but the foot well can be used during takeoff and landing … at least on the 777).
The business cabin is huge, a sea of seats, it isn't the most intimate but this many seats should make getting awards and upgrades eventually quite possible at least compared to a smaller cabin.
The event began in the new Polaris business class lounge in Chicago, where CEO Oscar Munoz spoke briefly. Then we all headed to the gate where he played gate agent and scanned all of our boarding passes and joined us on the plane before getting off prior to doors close.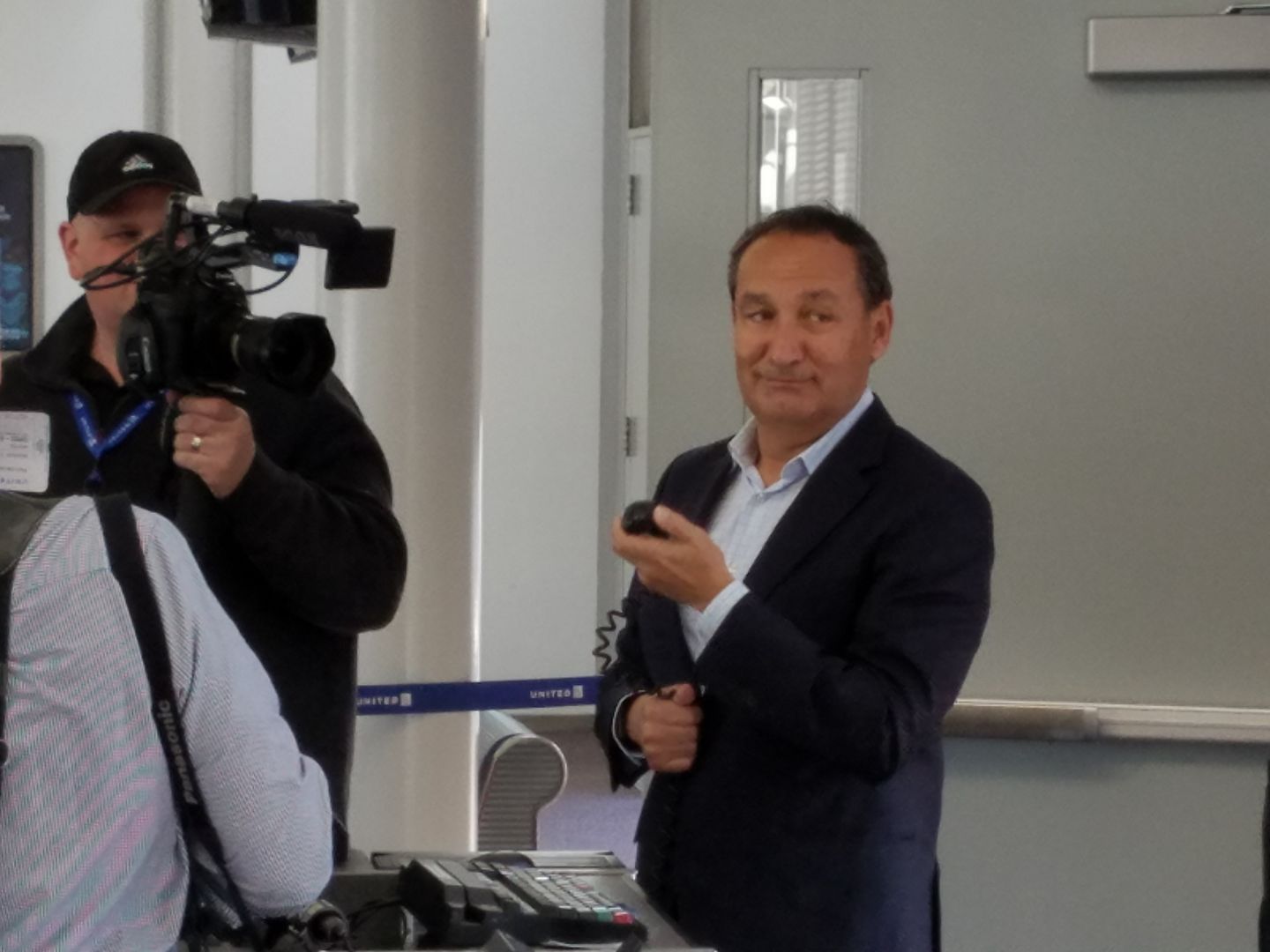 There were plenty of things at the seats — blankets, two pillows, slippers and then amenity kits were distributed along with menus, pajamas were distributed (these aren't going to be offered on transatlantic flights) and flight attendants informed us about optional items we could have like gel cooling pillows.
Everyone was up and in the aisles while predeparture beverages and a chocolate were served. I don't envy the flight attendants trying to perform service under these circumstances. We were all encouraged to take our seats, and we managed to figure out the seatbelts (you're required to use a shoulder strap on takeoff and landing) and we pushed back four minutes early. Your foot area is a permitted storage area during takeoff and landing on this aircraft.
The whole business cabin was full between media, United staff, and product partners. There were a few staff in the economy plus section, and not a single passenger in regular coach. I wouldn't be inclined to sit back there in 10-across (3-4-3) seating, a configuration many airlines including American have but that's quite tight.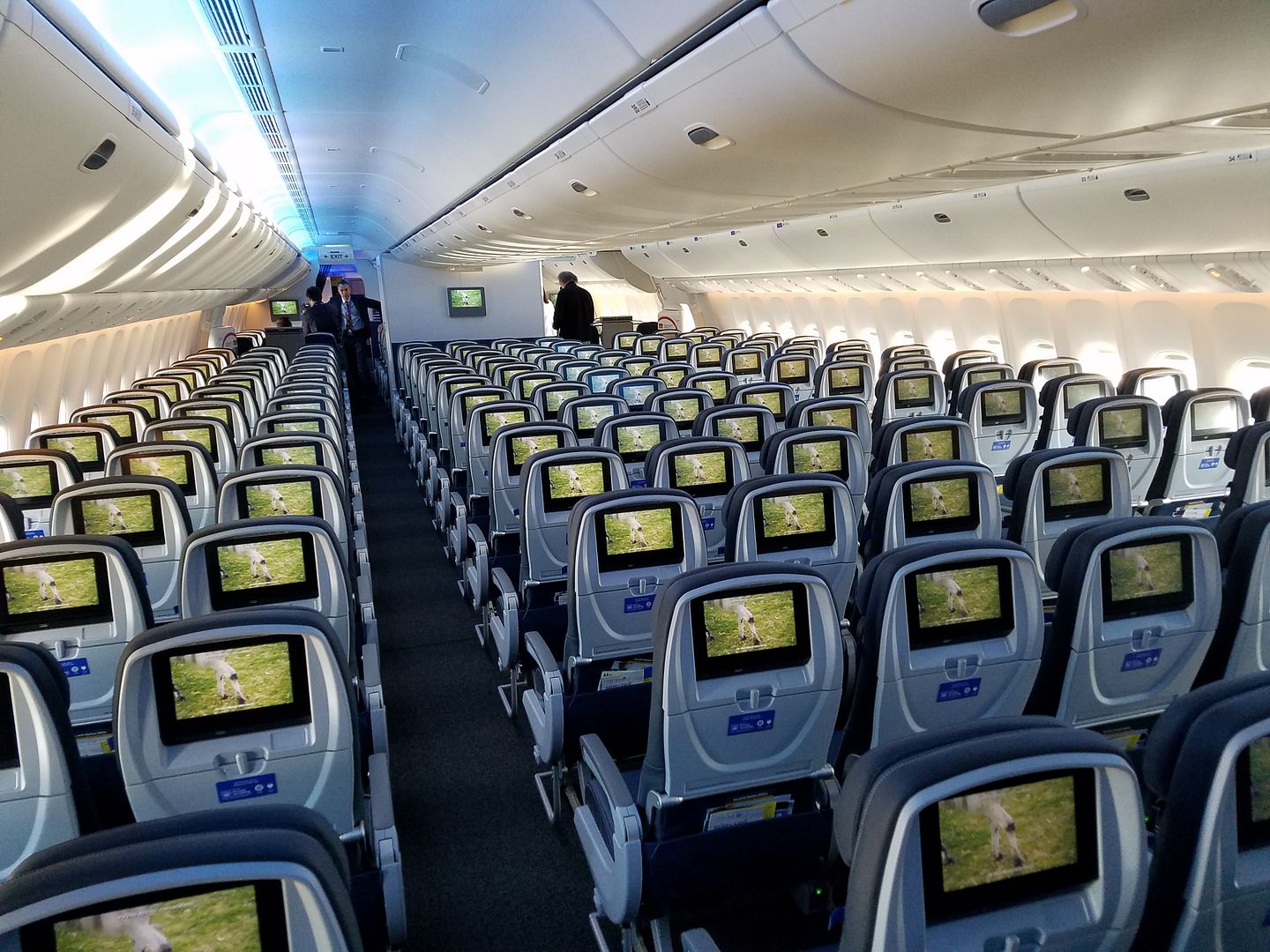 The full international meal service was offered, which was great but on the other hand everyone really wanted to be up in the aisles socializing.
I had a wine tasting, both a flight of white and of red. The Perrier Jouet champagne is a great choice for business class, the rest of the wines a bit less expensive but I was pleasant Washington state Colby Red blend that was quite nice and enjoyable (~ $12 in a bottle shop). La Crema is an archetypal California chard, Columbia Crest is fine though hardly special. I took a glass of the Colby Red with my main.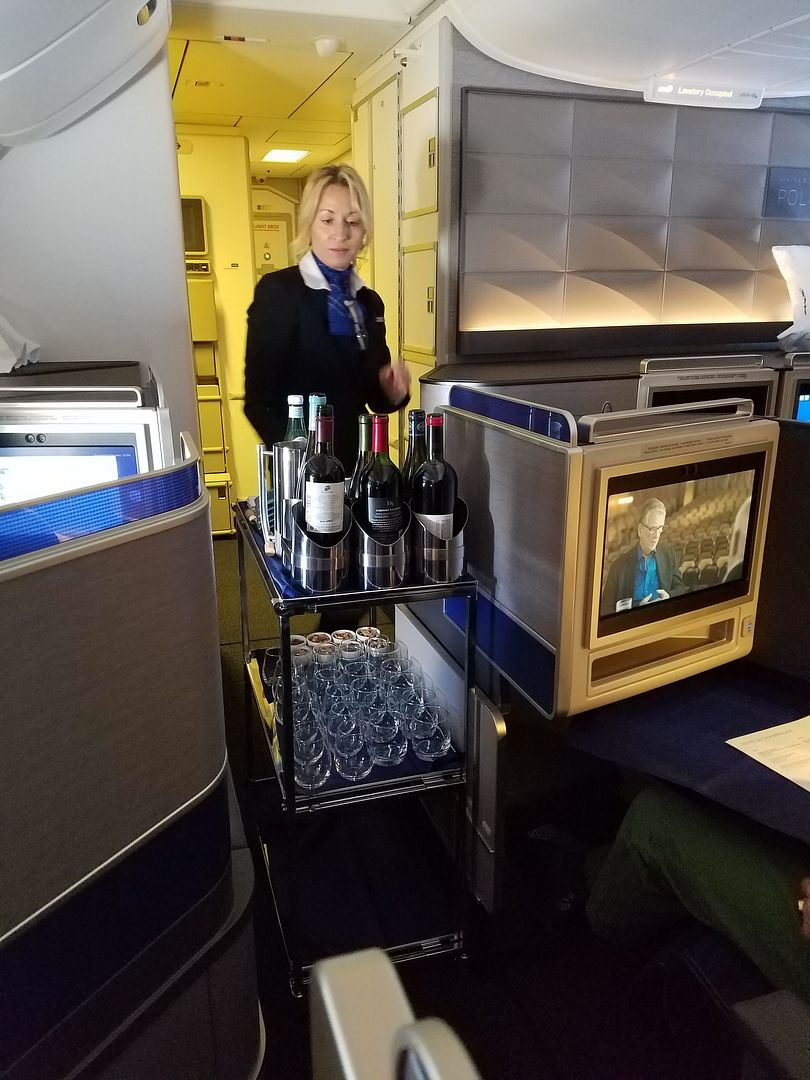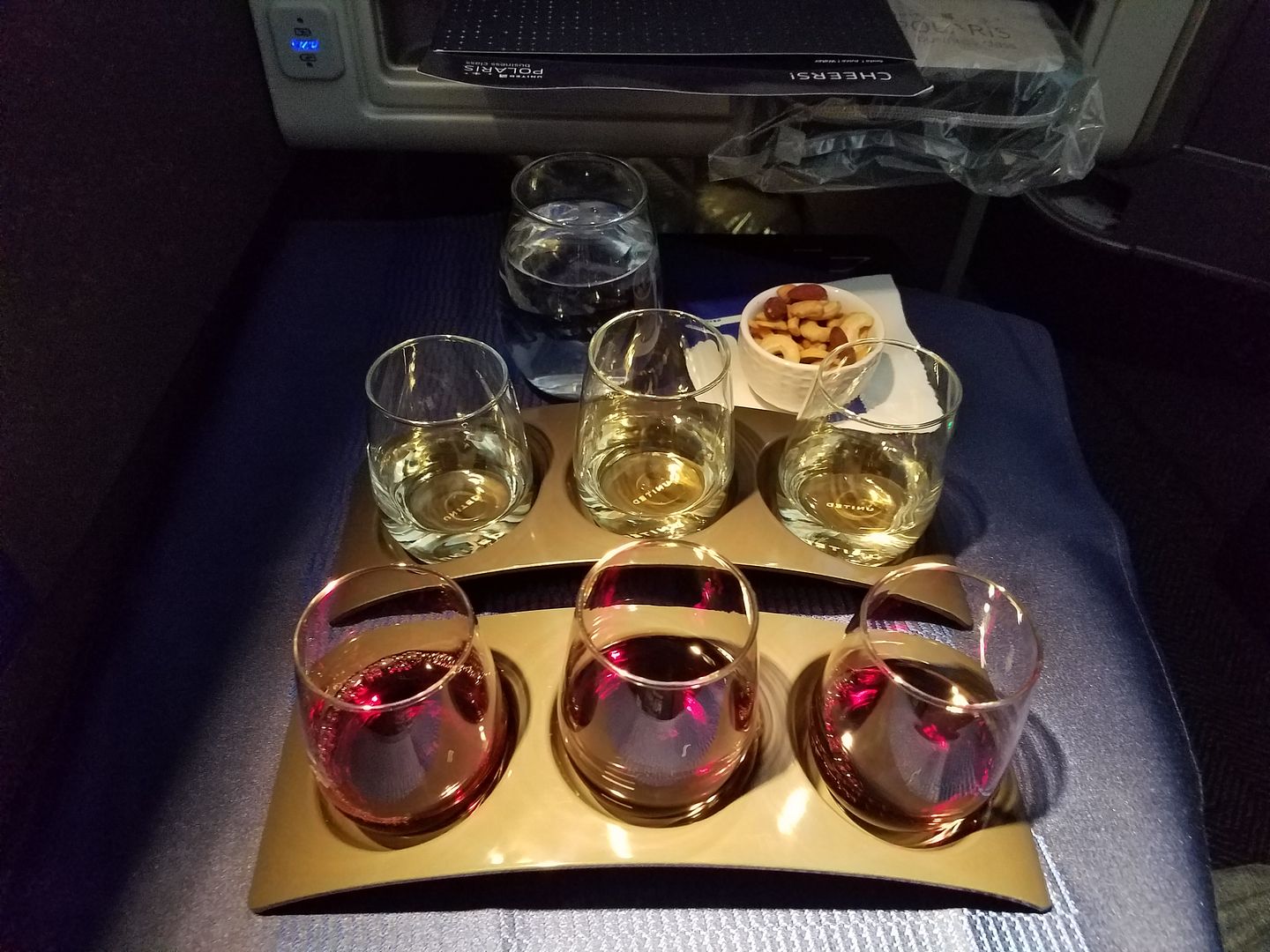 The starter was fine, a salad and two shrimp. I was impressed though that I had a United flight attendant offering me fresh ground pepper.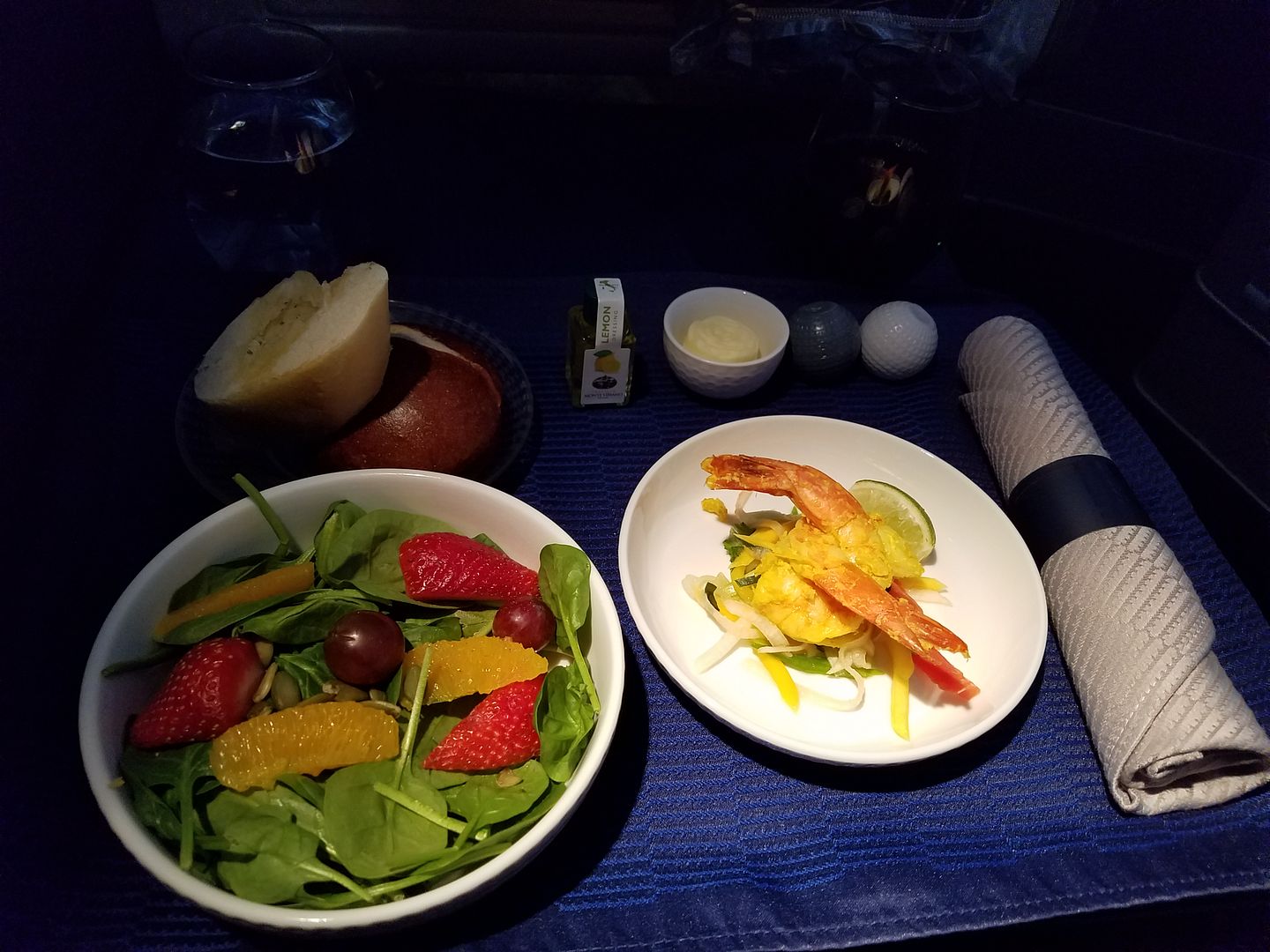 At a flight attendant's recommendation I tried the beef, which was overcooked albeit beautifully presented.
I also tried the lobster mac and cheese off the midflight snack menu.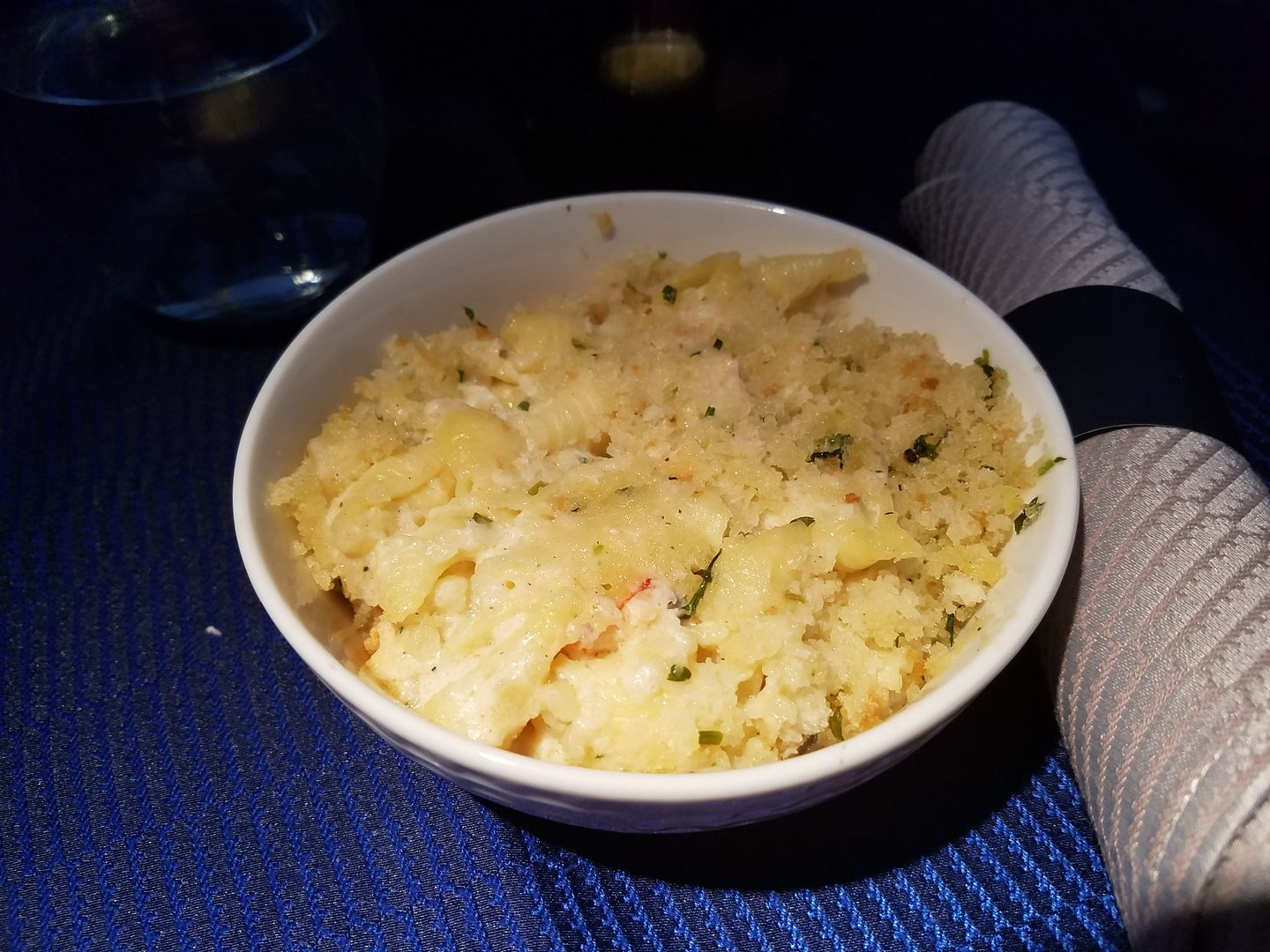 There were of course snacks in the mid-galley as well, but you could order off the snack menu and I think that's really great compared to American's offering.
The dessert cart is perhaps the most impressive piece of the service.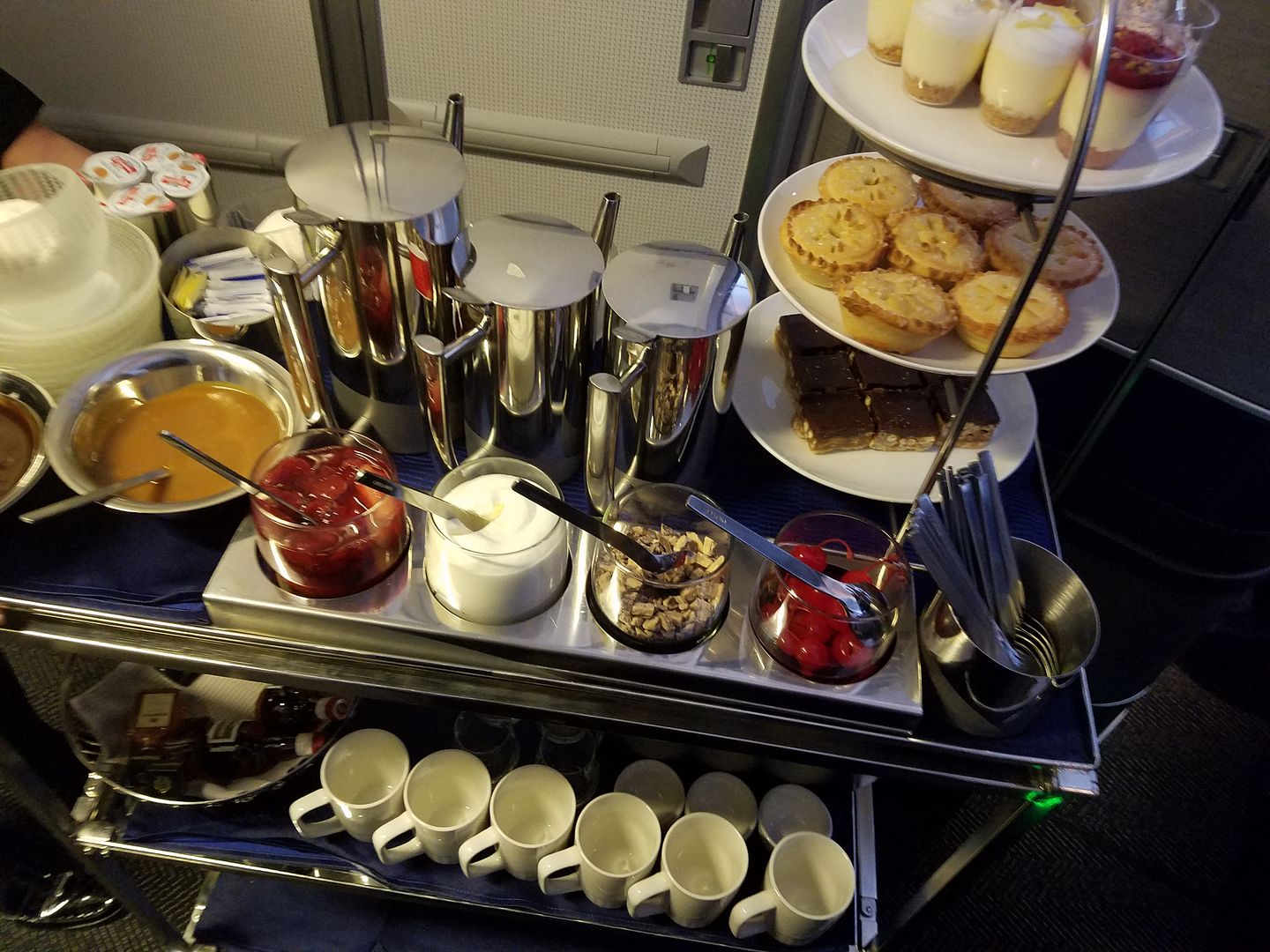 I really loved the custom dishware, from the predeparture beverage designed not to spill to the wine tasting glasses and base they sit in. A ton of thoughtfulness went into the product.
After the meal service there was just enough time to have the bed turned down but not enough to actually nap, nonetheless the seat is comfortable and surprisingly spacious especially once you put the arm rest down which prevents it from being claustrophobic.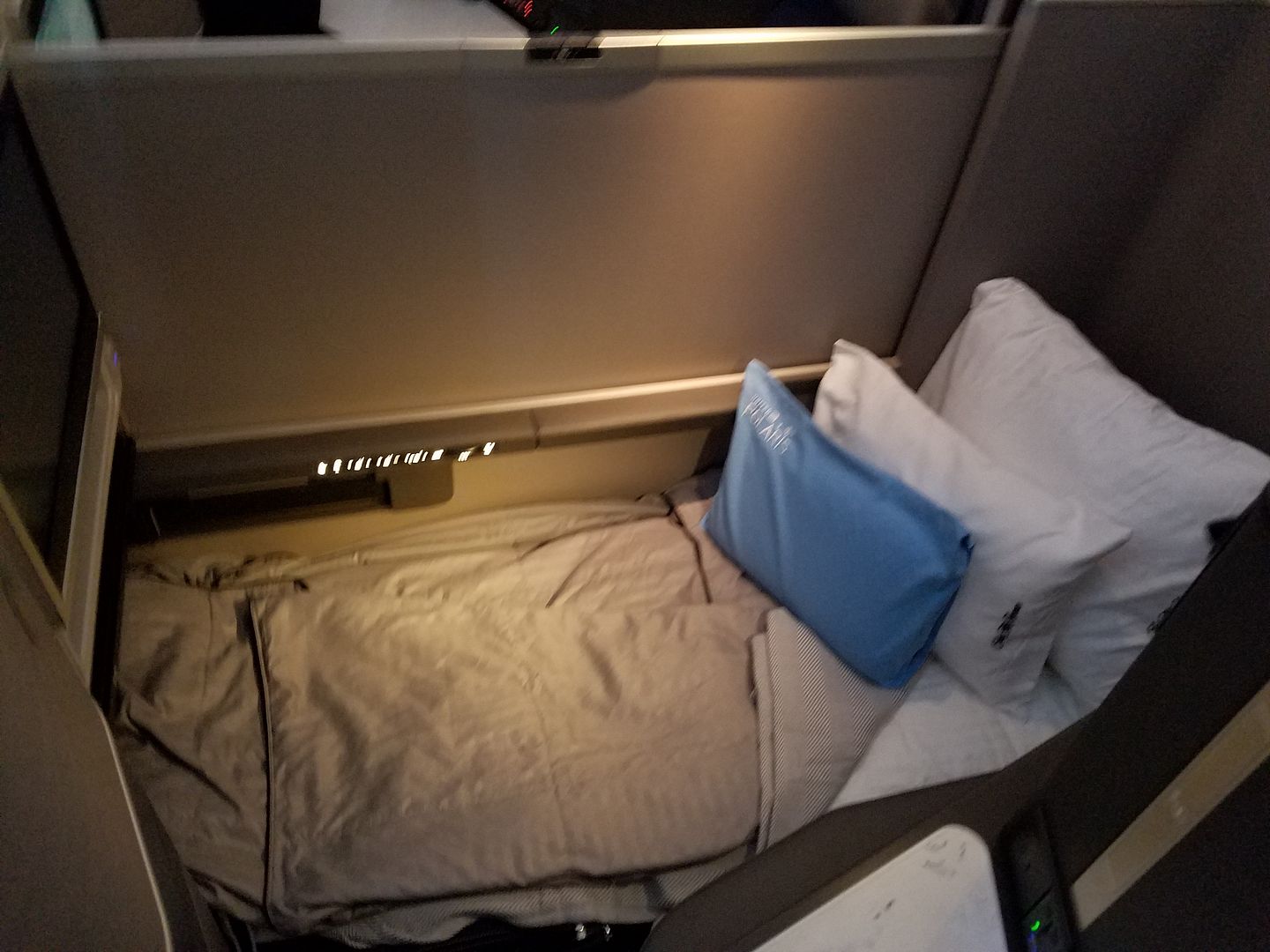 A quick trip to the lav before landing, in the middle of the cabin you've got a larger one than in front so great for changing into pajamas.
Finally a quick stop to see the crew rest space before landing, and a visit to the cockpit once we were on the ground and the special flight had come to an end.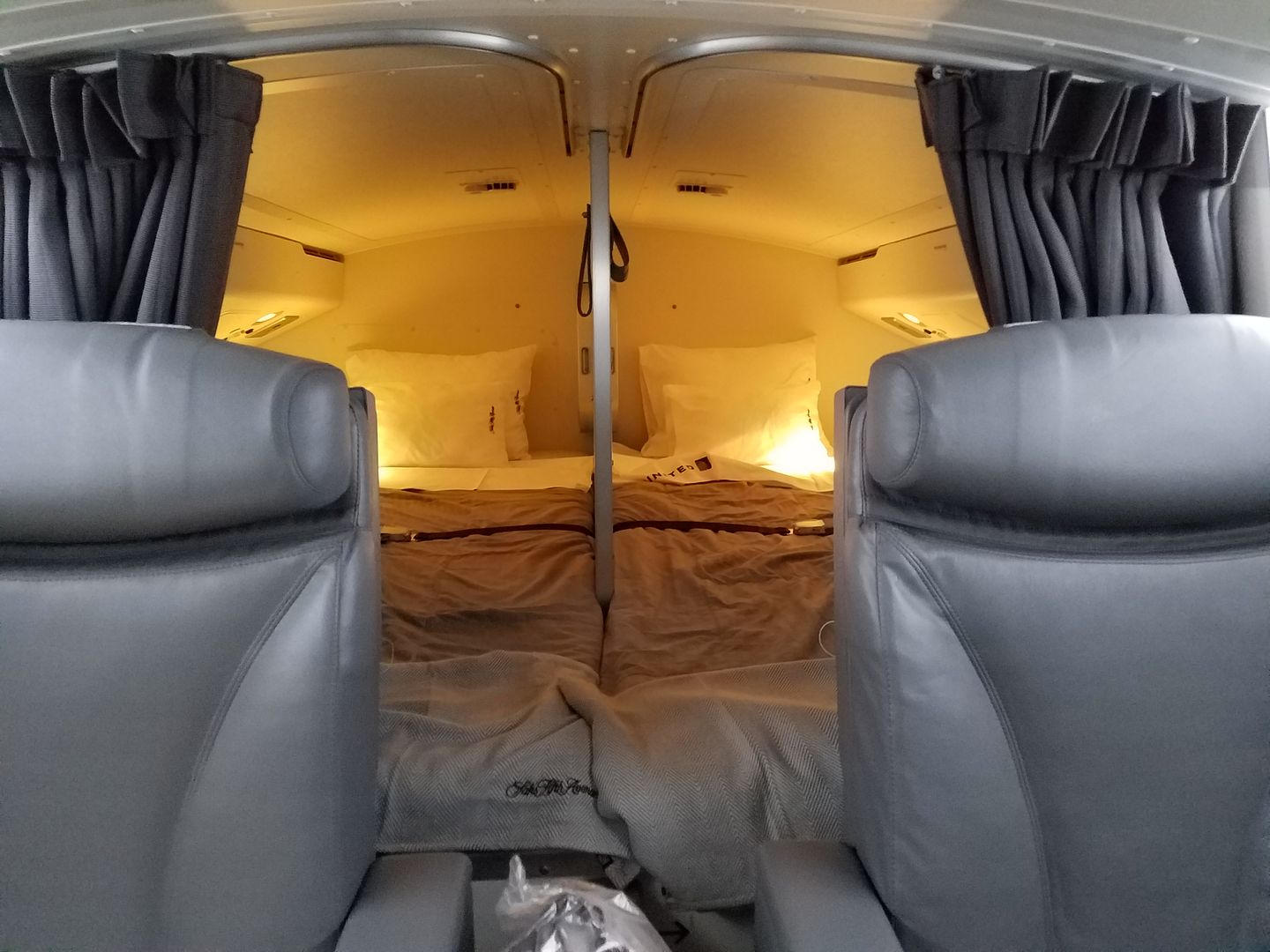 Polaris is not going to be one of the world's leading business classes, but it is a very good product and makes United competitive. There will be no reason to avoid flying United in business class, and it will even be enjoyable. And they've done this while maintaining significant cabin density. I'd prefer a larger footprint for the seat, but I also prefer for there to be enough seats that upgrades are possible. It's a good compromise.
The biggest frustration is how long it will take for the rollout. If you have a Boeing 777-300ER of course those are being delivered with the new seats. But it will be sometime in 2019 before half the fleet has the new seats, and years after that before nearly all the fleet does.