Back in March I shared my frustrations with the Marriott Rewards program.
I had some upcoming Marriott stays, I figured i would do an elite challenge and add a few nights to the reservations I was locked into, but I quickly realized the program wasn't a match for what I look for in loyalty and rewards.
Breakfast benefit only applies during the week (though some properties go above and beyond)

Late checkout on request only, day of departure

Suites are excluded from upgrades per terms and conditions

Free health club access isn't a top tier benefit

Virtually no benefits on resort stays — late checkout (even based on availability) doesn't apply, breakfast doesn't even apply. And it's those resort and leisure stays where I often care the most..
A Marriott Platinum at a resort still gets free internet and a welcome amenity (I pushed for and got the $100 guarantee after the amenity wasn't offered on my last stay). That for the toughest elite level to quality for at 75 nights.
My two most recent stays didn't post to my Marriott Rewards account on their own, so I had to go online to request credit. Much to my surprise the procedure for doing this is… so 90's.
You need your hotel receipt to request credit. I'm sometimes asked for this with other chains and it's frustrating, they ought to be able to scrounge it up for me, but if they can't do so fair enough. With Marriott, if you don't have your receipt, they tell you that you must "Fax or mail a signed request to the hotel" in order to get it.
Then you use the website to generate a printable form. Seriously, you don't just submit the form online. You don't attach the receipt and email it.
Instead, "After printing the page, fax or mail it with your hotel receipt to a Guest Services Location shown on the page."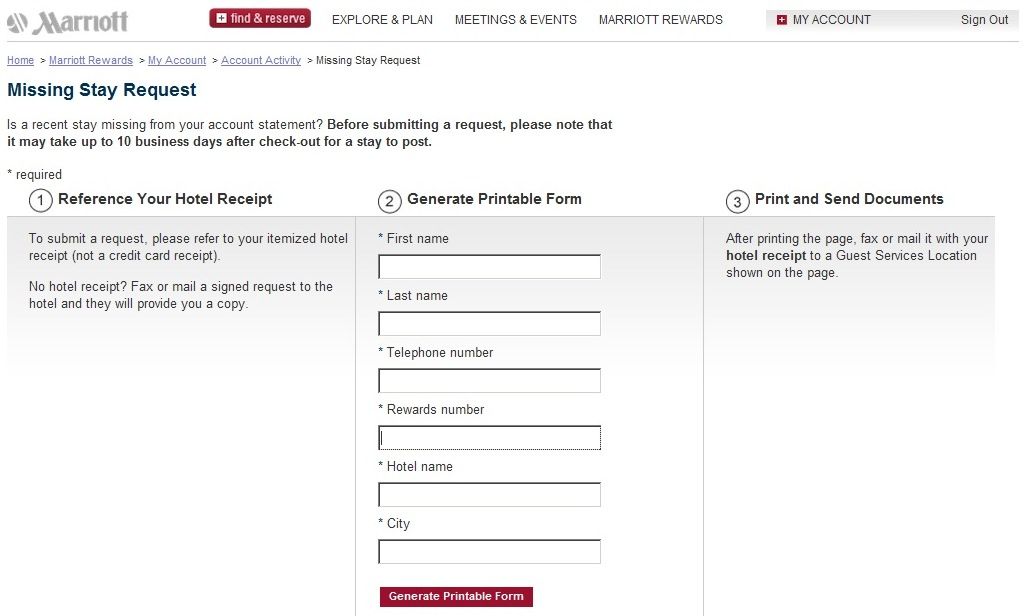 Marriott Rewards, the program that the dot com bubble passed by?