Hotel programs got super generous during the Great Recession. Hyatt — the lone major program not to significantly devalue its points in the first quarter of 2013 — was so generous in the fall of 2009 that they were giving away a free night at any hotel in the world after any two stays plus 5500 United miles. Two $75 airport hotel nights could earn a night at the Park Hyatt Vendome in Paris plus 11,000 miles.
Other programs were generous as well, free nights in addition to points became common.
The programs were trying to goose occupancy when rooms were empty. But hotels are now full and rates are up, so there's no reason to spend as lavishly.
Via Calculated Risk: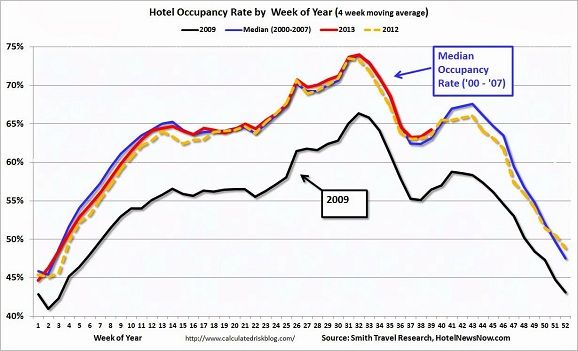 The red line is for 2013, yellow is for 2012, blue is "normal" and black is for 2009
This one chart tells the story. 2012 was more or less a return to normal. Hotel chains were forecasting that the trend would continue n 2013, and so far it has.
---
You can join the 30,000+ people who see these deals and analysis every day — sign up to receive posts by email (just one e-mail per day) or subscribe to the RSS feed. It's free. Don't miss out!