Things went very smoothly this morning departing Austin the morning that US Airways transitioned to publicly become American Airlines.
Computer systems were working, passengers were getting processed, flights were taking off. My own flight pushed back on time and even landed almost 15 minutes early in Phoenix.
Our gate was still occupied, and it only pushed back right at our scheduled arrival time. Still we were only a minute or two behind schedule.
Granted it was still 6:30 in the morning local time. But no one was in line waiting for customer service. That was a good sign.
The moving walkway from my the high B gates over to ticketing was closed. So something didn't work, but that wasn't related to the integration.
Initially check-in lines were even short. No doubt a function both of the hour and that American had both cut flights from the schedule (about 20 in Phoenix) and added extra employees, including employees experienced with American's system who had come in for the event.
Check-in lines did pick up around 7:30am as passengers were arriving for departures that cluster around 9 o'clock. But systems were all working and everyone kept moving.
And customer service still had no lines.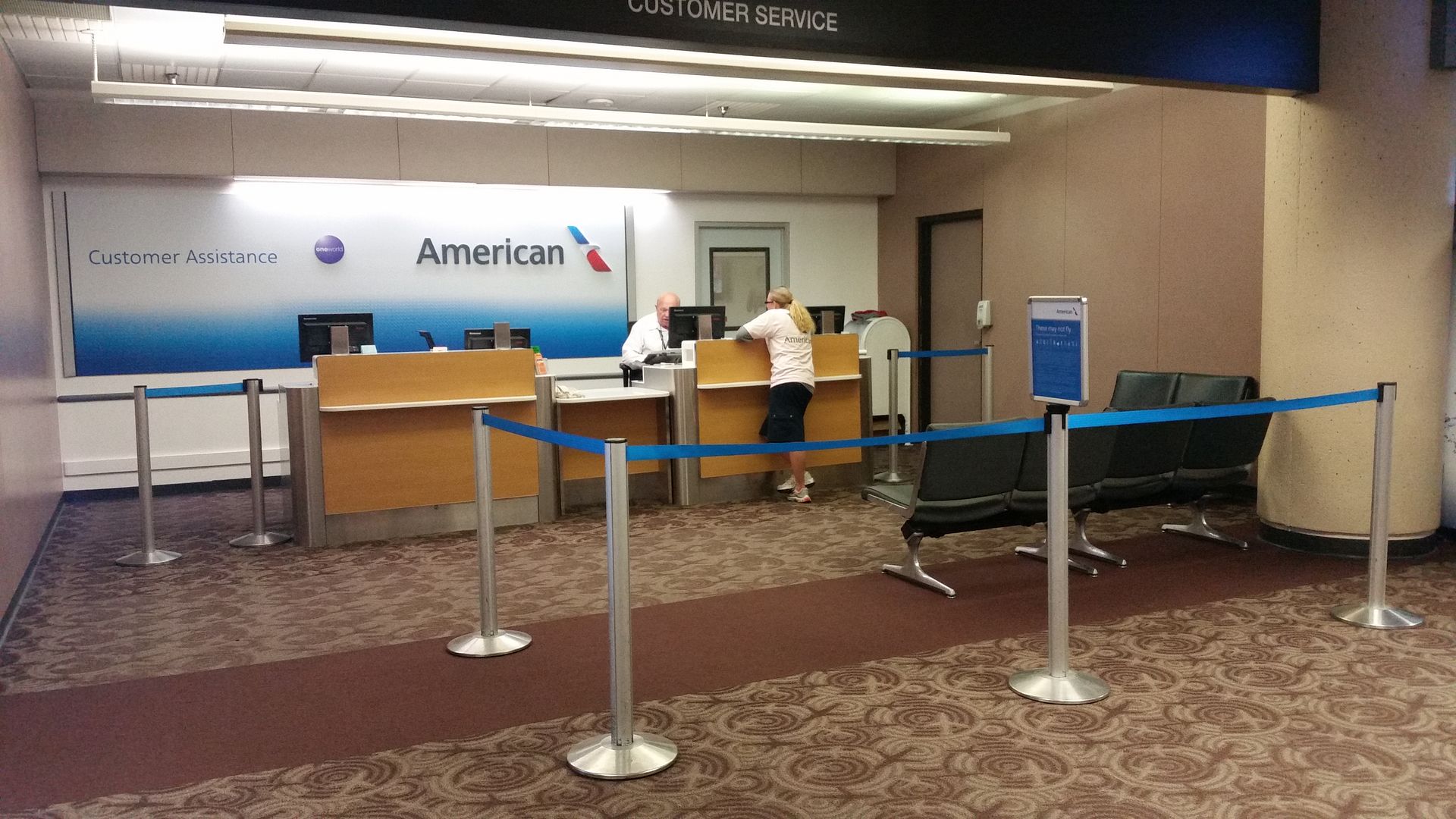 Elsewhere customer service agents were just standing around waiting, with no problems to fix.
One thing which was noticeable, aside from by its absence: everything was already in American Airlines signage. The last of the signs at least that I saw were switched overnight.
Things That Did Go Wrong
Telephone wait times were long, that started over the past couple of days. As an Executive Platinum I was getting offered callbacks (in about 10-12 minutes). Some general members were reporting hold times of 40 minutes. Hold times seemed to have returned to normal.
As peak morning time approached, TSA security lines approached 40 minutes for the A concourse, with customers being advised to clear security by the B gates.
The Phoenix airport's flight monitors (which apparently pull their information from FlightStats) weren't showing gate numbers for many American Airlines flights. American's monitors were working.
Staff were posted by airport monitors to help direct passengers. That impressed me.
What Agents are Saying About Their Training and the New System
The gate agent who boarded my flight this morning from Austin to Phoenix was a little nervous, it seemed like stage fright, but everything worked out fine.
Reservations is easy, more or less, for US Airways agents coming onto the American Airlines plaform. While some of the acronyms are different, the Qik overlay that legacy US Airways agents are using on the American Airlines Sabre reservation system is very similar to the Qik overlay they used with SHARES.
Agents went through training at various times. One that I spoke to had just done her training, she wanted to be fresh for the cutover. Another who trained in August told me she assumed that she would go to training and that would be it — she was surprised to be emailed her account credentials immediately after, and she had two months to practice.
I spoke to a third agent that was over for the transition from American. All talked about the company wanting to be well-prepared for the integration of US Airways onto American's reservations platform. They were all being encouraged to work and take overtime.
The legacy American agent works in 'native Sabre'. Some of the US Airways agents I spoke to had initially been apprehensive they would have to learn those commands. One told me she figured she could do it since he had experience in SHARES without the graphical interface. But she was glad she didn't have to.
There's definitely chatter amongst those working in native Sabre about whether they'll lose access to it at the end of the year. I doubt it will happen so fast. American does want their agents to adopt the graphical interface because it better enforces the airline's business rules. Customers won't like that — it will be harder to get rebooked into a different fare class, or backed up on extra flights (ie adding flights to a reservation and not reissuing the ticket). Those agents used to working in native Sabre will be loathe to give it up.