Last week Hyatt announced a modest devaluation of their award chart — a new category 7 for their six most expensive hotels, a slight bump in cost for award nights in categories 5 and 6, and an increase in cost of upgraded rooms.
This week starts again with news from Hyatt, and this time three new features to their program going into effect January 7.
Discounted room rates for elite members of the Hyatt Gold Passport program.

Cash and points awards

24 month expiration of points, instead of 12 months
New Discounted Rates for Elites
Hyatt is introducing "My Elite Rate" which will be 20% off the Hyatt Daily Rate, cancallable (not prepaid), and available to all Platinum and Diamond members. This will be a capacity-controlled rate, so not always available, but better than booking the AAA rate. It will be available through Hyatt's booking channels only, and will be offered for standard rooms only.
Cash and Points Awards
Whereas free room night awards are available whenever a standard room is open at a hotel, with no capacity controls, Hyatt has entered the fray of cash and points awards and is offering theirs in a manner similar to Starwood's — awards that Hyatt intends to be available most of the time but that hotels will capacity manage.
Here's the cash and points award chart — you pay half the number of points and a cash co-pay.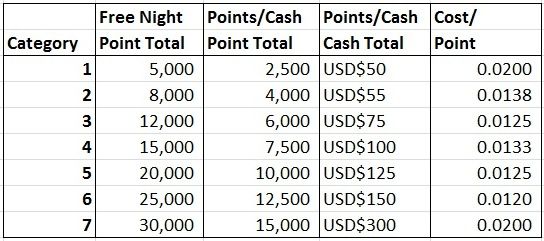 I've included with the chart the price at which you are 'buying' the difference in points. For categories 2 through 6 this is an exceptional value, and one I would take advantage of every time.
Even at two cents a point this is a discount relative to what Hyatt suually sells points for, but higher than what i like to acquire them at. At below 1.5 cents this is a no-brainer to me.
What's especially interesting is that you earn Gold Passport points on the cash component of the cash and points award. So spend $50, earn 250 points plus elite bonus. In effect, the points price of the award is reduced even further.
Cash and points awards are available for standard rooms only. But here's the game changer for me — Hyatt doesn't count award stays towards elite qualification. But they will now count cash and points awards as elite qualifying.
Starwood and Hilton count awards stays towards status, Marriott doesn't. (Update: IHG Rewards added award nights as qualifying for status on July 1.)
Cash and points awards are presumably capacity-controlled because the hotel will not always receive as big a reimbursement from Hyatt on these award nights as they will on standard awards, likely centering around times when the hotel is fully booked. Full hotels get regular room rates reimbursed by Gold Passport on free award nights. If that was the case on cash and points awards, too, one imagines they would book out of the same inventory as free award nights.
Cash and points awards like standard award nights, will be cancellable, and can only be booked by phone (so if you're interested, you'll have to call to find out if there's availability). Hyatt Gold Passport will deduct the points component at time of booking, and you'll pay the cash co-pay directly to the hotel. If I had to guess, the cash co-pay is effectively the hotel's reimbursement for the award night.
Category 2 through 6 cash and points awards are a great value (as good and even better than Starwood's cash and points awards used to be), and elite qualification means that when available I'll book category 7 awards as cash and points as well.
24 Month Expiration of Points
Hyatt's terms and conditions currently say that points expire after 12 months of inactivity. They're extending this to 24 months.
On the surface that's a really generous thing. In practice, it's a devaluation.
Hyatt hasn't often enforced its points expiration policy. With this change to 24 month expiration, they're going to actually start expiring points. So while the formal policy is getting more generous, in practice they are going from non-expiring points to points that expire after 2 years.
Availability Will Determine How Good These New Features Are
24 month expiration of points is very fair, and most members didn't know that their points weren't already going to expire after 12. Marriott Rewards doesn't enforce its points-expiration, and Priority Club points don't expire. But expiring points are common, American and United have 18 month expiration. And I'd rather the program spend on engaged members (it's not hard to have some account activity every 2 years) than un-engaged ones.
The new elite rates are great. Currently I book a lot of AAA rates, which are usually 10% off the Hyatt Daily Rate and equivalent to advance purchase rates but are cancellable. 20% off is better and I love that they're also cancellable. The question is how available the rates will be, and that's something we'll have to see in practice.
Similarly, cash and points are great especially for categories 2 through 6. It's not ideal that we'll have to call to check availability and book, and we'll have to see how much availability various properties offer for cash and points. Hotels that sell out most of the time probably won't offer much cash and points inventory.
These new features all strike me as reasonable or good, but how good will be something we can only learn in the weeks and months ahead.
---