Hyatt has eliminated free breakfast at some Hyatt Place properties in what they're calling a 'test'.
At the very least the Hyatt Place Dallas North/by the Galleria and Hyatt Place Detroit-Utica are no longer offering a full, free breakfast. They're testing a $10 price point:
for breakfast, period

as a buy up to hot breakfast, while including cold items complimentary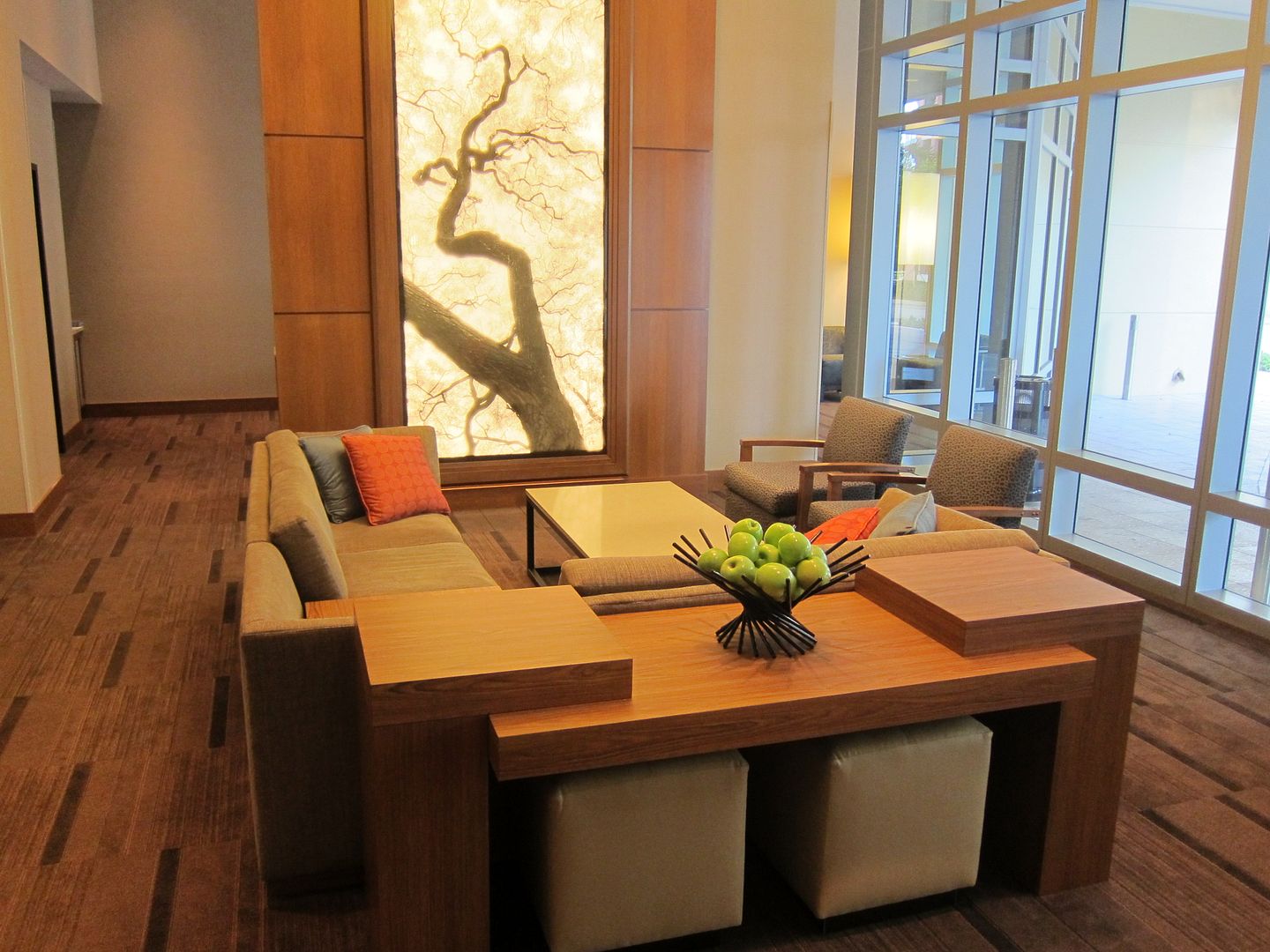 Hyatt Place Lobby
This test apparently began last month, at least changing the websites of the individual properties to no longer promise free breakfast did. The Dallas property began charging for breakfast this month.
Top tier elites still receive full complimentary breakfast at these properties as a function of their elite status. Hyatt's terms and conditions say that breakfast isn't a benefit at Hyatt Place hotels, of course, but that's because Hyatt Place provides breakfast to everyone. If the Hyatt Place brand standard changes then they'll need to update the World of Hyatt program terms.
Not valid at Miraval, Hyatt Place, Hyatt House, Hyatt Residence Club hotels and resorts, Oasis Homes, or M life Rewards destinations.
Breakfast vooucher from Hyatt Place Dallas North – Galleria:
A Hyatt spokesperson tells me,
A small number of Hyatt Place hotels in the U.S. are currently piloting different breakfast options, including a complimentary continental breakfast and a pay-for breakfast with more extensive options. Guests with reservations made at these hotels before February 1, 2018, as well as guests at other Hyatt Place hotels throughout the country, will continue to enjoy the free hot breakfast. Following this pilot, we will look at guest feedback to determine the best breakfast offering for Hyatt Place hotels in the U.S.
Much like the changes to the World of Hyatt program they seem to be continuing their focus on cutting costs for properties.
In order to find out whether a given hotel is still offering free breakfast you might think you'd just go to that hotel's home page. But it isn't that simple. Go to a hotel's page on the Hyatt website, navigate to 'Hotel Info' and then 'More Hotel Features'.
The Hyatt Place Detroit-Utica which is no longer offering free full breakfast lists as a feature,
In contrast the Hyatt Place Detroit-Livonia — similar to most properties — still says
I've asked for a complete list of properties and will update if they provide one.
I wonder though how valid a 'test' this will be since I'm guessing many Hyatt Place guests aren't aware their stay doesn't include breakfast at the time of booking.
So if the question is, do bookings drop as a result of charging for breakfast? the answer may be 'no' but that's only because customers have come to expect breakfast and the fact that it isn't included is fairly well hidden from them.
If they want to know whether they will suffer a drop in occupancy or average room rate, they need to do a valid test — educate customers about what to expect and then see whether it influences their behavor. Because otherwise the test will tell them customers continued to book because they were hoodwinked and if they roll out the change across the brand they may be surprised when customers balk.
(HT: M.F.)