Hyatt has announced changes to hotel award category assignments that will go into effect March 18 at 11:01 p.m. Central time. A total of 259 hotels change category, about a third of Hyatt's portfolio, but this is balanced with an equal number going up (130) and down (129).
You can book future stays at hotels going up in award price and lock in their current price up until March 18. If you have a future stay at a hotel that's going down in price, Hyatt will refund the points difference to you automatically. They'll be doing a sweep starting March 19.
How the Changes Stack Up
On the whole it's nice that a roughly equal number of hotels will go up as down. No hotels move more than 1 category in either direction.
The changes are fairly balanced, however it's noteworthy that the increases cluster more towards higher-end hotels while decreases are focused more at the lower end of the spectrum: 39 hotels move up into categories 5, 6, or 7 while just 18 from those categories move down.
Specifically, of the 130 hotels going up in category:

49 go from 2 to 1

36 go from 3 to 2

23 go from 4 to 3

12 go from 5 to 4

6 go from 6 to 5
And of the 129 hotels going down in category:

18 go from 1 to 2

39 go from 2 to 3

34 go from 3 to 4

18 go from 4 to 5

17 go from 5 to 6

4 go from 6 to 7
There are no hotels dropping out of category 7. Four hotels are being added to category 7. No Hyatt properties move up to the new category 8 that was created to accommodate some of the more expensive Small Luxury Hotels locations that have been added to World of Hyatt.
How the Changes Compare to Competitors
Other chains are much, much worse. That's why I was holding my breath a bit waiting to see Hyatt's changes.
New Hotels Bookable With Category 4 Free Night Certificates
Hyatt hands out myriad category 1-4 free night certificates. They offer one after staying 30 nights each year. They offer one each time a member cumulatively stays at 5 unique brands. They offer one each year at card renewal on their co-brand credit card, and another after spending $15,000 on that card each year.
So the hotels in category 4 — and those leaving category 4 — are crucially important.
Hotels being added to category 4 (i.e. that are dropping from 5 to 4) include the Andaz San Diego; Hyatt Centric Chicago Magnificent Mile; Hyatt Centric The Loop Chicago; Hyatt Centric Waikiki Beach; Hyatt House Jersey City; Hyatt Regency Chesapeake Bay; Hyatt Regency Jersey City on the Hudson; Hyatt Regency Kiev; Manchester Grand Hyatt San Diego; Park Hyatt Hangzhou; Park Hyatt Istanbul – Macka Palas; and Park Hyatt Zanzibar.
It's great to see 3 Park Hyatts added, the Andaz San Diego, and the Hyatt Regency Jersey City on the Hudson a short PATH train ride from downtown Manhattan especially.

Hyatt Regency Jersey City
Hotels That Won't Be Bookable With Category 4 Certificates
Unfortunately we're losing more category 4 hotels than we're gaining, and several of them are personally disappointing — the Andaz Papagayo Costa Rica, the Grand Hyatt DFW, the Hyatt Olive 8 in Seattle especially. We also lose two Park Hyatts.

Restaurant at the Hyatt Olive 8
Here's the list of hotels moving from category 4 to 5:

Andaz Costa Rica Resort at Peninsula Papagayo

Grand Hyatt DFW

Grand Hyatt Seattle

Hyatt at Olive 8

Hyatt Centric Fishermans Wharf SF

Hyatt Centric South Beach Miami

Hyatt House Virginia Beach/Oceanfront

Hyatt Place Dewey Beach

Hyatt Place Nashville Downtown

Hyatt Regency Amsterdam

Hyatt Regency Boston

Hyatt Regency Coconut Point Resort and Spa

Hyatt Regency Cologne

Hyatt Regency Guam

Hyatt Regency Hong Kong Tsim Sha Tsui

Hyatt Regency Sochi

Park Hyatt Busan

Park Hyatt Hamburg

Andaz Papagayo Reception
As an American Airlines flyer perhaps the biggest sting is losing the excellent Grand Hyatt DFW, which is landside in the airport's D concourse. It's a genuinely nice hotel with runway views, room service breakfast for top tier elites, and great convenience when stuck at the airport (DFW is known as 'Doesn't Function Wet').

DFW D Concourse
Notable Hotels Becoming More Accessible
The Grand Hyatt New York, which has been drawing some pretty low room rates over the past couple of years and is slated for demolition, goes from category 6 to 5. I'd have loved to see it a 4.

Grand Hyatt New York
The Hyatt Herald Square would ideally be a category 4 as well. It has tiny rooms and the chain took this hotel as part of a package of properties, it wasn't originally intended to be a Hyatt.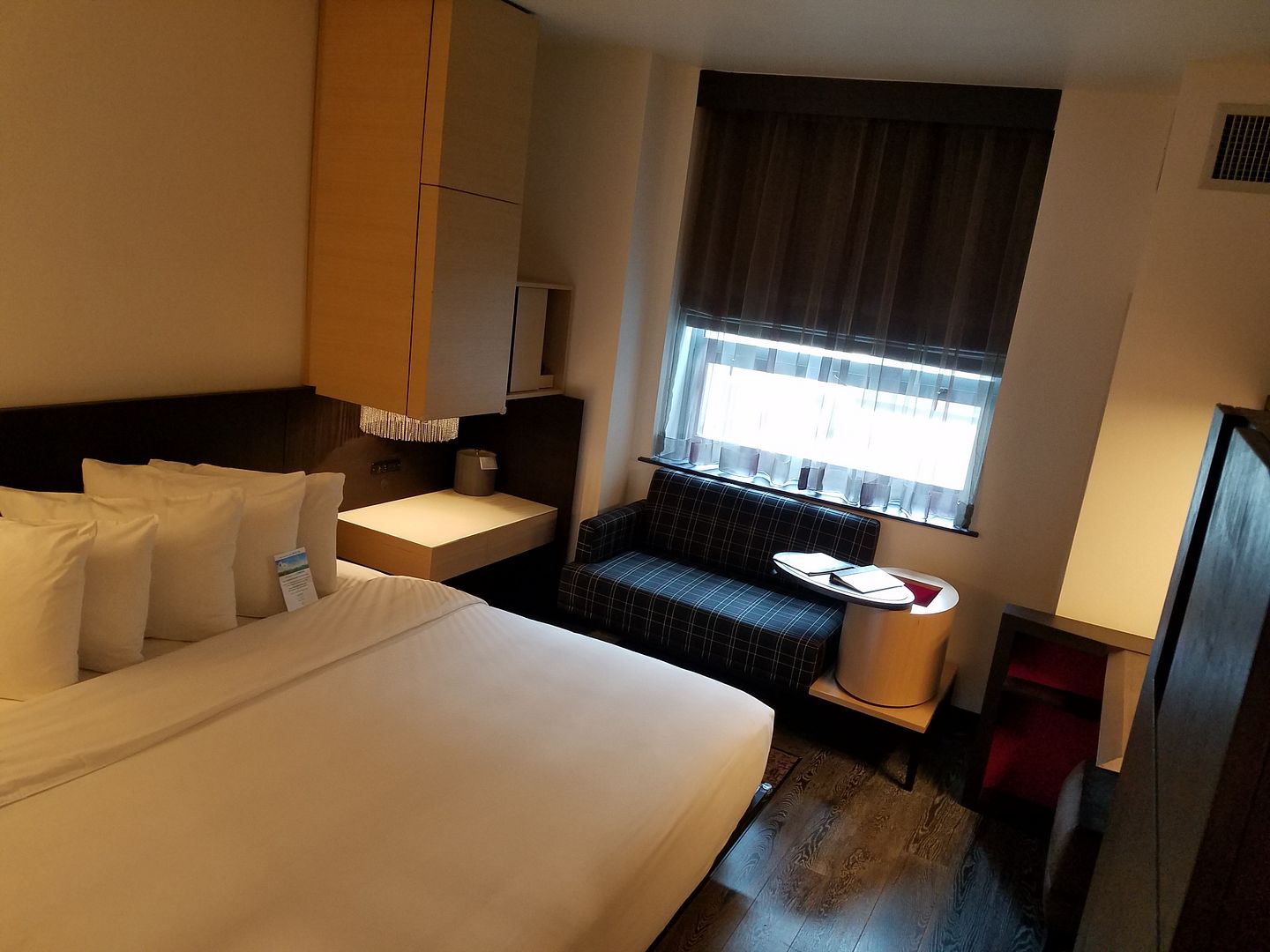 Hyatt Herald Square Room
Nonetheless it — and the Andaz Wall Street — combine for a trifecta of New York properties dropping from category 6 to 5.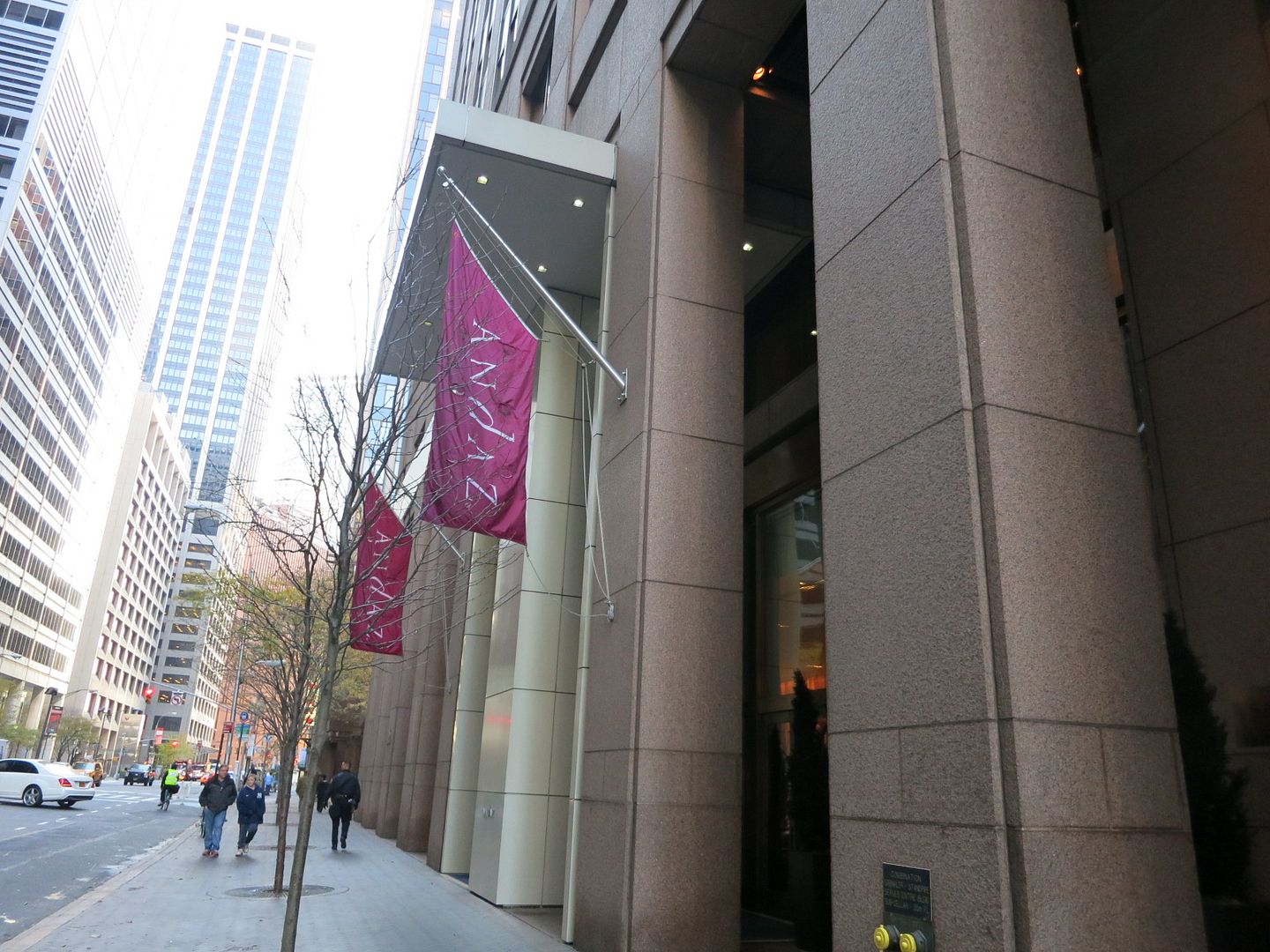 Andaz Wall Street
Two other Andaz properties dropping from 6 to 5 are Liverpool Street London and the Andaz Singapore.
Notable Hotels Becoming More Expensive
The Andaz Mayakoba Riviera Maya, Andaz Napa, and Carmelo Resort & Spa all go from category 5 to 6.
So does Grand Hyatt Playa del Carmen, the Hotel du Louvre in Paris, and the Hyatt Centrics Ginza Tokyo and Park City Utah. Surprisingly the Hyatt Regency Clearwater Beach becomes a 6, I didn't realize it was pulling those sorts of room rates.
The Hyatt Regency Maui, Hyatt Regency Lake Tahoe, and Hyatt Regency Kyoto all go from category 5 to 6.

Hyatt Regency Maui
So do the Park Hyatt Abu Dhabi, Park Hyatt Jeddah Marina, Park Hyatt Mallorca, and Park Hyatt Sanya.

Park Hyatt Abu Dhabi
The Park Hyatts in Seoul and Buenos Aires also go from 5 to 6.

Park Hyatt Buenos Aires
The Andaz Maui, where you can rarely find award rooms and I get the sense they don't want you there even if you do, becomes a category 7. So does the Andaz Tokyo and Hotel Martinez in Cannes.

Andaz Maui
It's surprised me for some time that the Park Hyatt Maldives Hadahaa has been just a category 6. That ends next month when it gets bumped up to a 7, certainly appropriate relative to the rooms rates any time you'd actually want to stay there. I consider it a value even at category 7.

Park Hyatt Maldives
The Value of Hyatt Points Has Remained Stable for Years
It's been five years since Hyatt last devalued, introducing a new category 7 and raising the price of many awards. The best hotels became more expensive, suite redemptions became more expensive, but overall the weighted average of free night award prices went up just 4%.
Since that time there have been remarkably few changes to the earn and burn side of the Hyatt program. Even the total revamp and introduction of 'World of Hyatt' nearly two years ago was a change only to the elite program.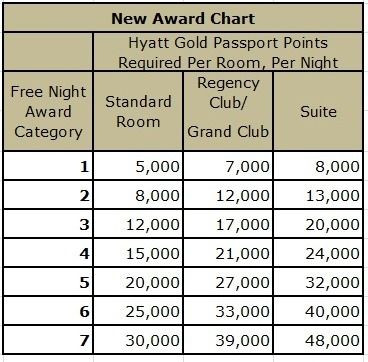 New Award Chart Effective 1/7/14, Since Then They've Added a Category 8 (some SLH Hotels only) and Premium Suite Awards
A year later 15% of hotels changed category with more hotels going down in price than up. A year and a half later 16% of hotels changed category with increases balanced by decreases and overall the most expensive hotels got less expensive. Residence Club redemption prices went up too.
For 2018 Hyatt announced only 9 hotels would change category and then they added two hotels going up in category to the list.
In other words — aside from undercutting the value of cash and points awards — the value of Hyatt points has been remarkably stable over the last 5 years, much more so than Marriott, IHG, or Hilton. I suggested in the fall that I didn't see a devaluation of Hyatt's currency coming and that remains my working belief.