The U.S. Senate is sometimes called the "world's greatest deliberative body."
The Senate of the United States was formed on the example of the ancient Roman Senate. The name is derived from the senatus, Latin for council of elders
In this grand tradition, Senator Chuck Schumer wants airlines to reverse their recent increases in change fees on non-refundable tickets.
The New York Democrat said on Sunday that higher fees recently implemented by Delta Air Lines, United Airlines, American Airlines, and U.S. Airways make it difficult for families on budgets to travel, according to the Associated Press.

The four carriers recently raised fees on ticket changes from $150 to $200
The distinguished Senator Schumer's Wikipedia entry describes his political style,
Schumer's propensity for publicity is the subject of a running joke among many commentators. He has been described as an "incorrigible publicity hound".[19] Bob Dole once quipped that "the most dangerous place in Washington is between Charles Schumer and a television camera",[20] while Barack Obama joked that Schumer brought along the press to a banquet as his "loved ones"
But is it fair to say that the airlines are making travel unaffordable?
In inflation-adjusted 2000 dollars, the average airfare in 1979 was $442.88. In those same 2000 dollars, the average airfare plus related fees in 2011 was $279.60.
What's more, the average trip distance has increased over 33 years from 1947 miles roundtrip to 2351 miles roundtrip.
The inflation adjusted cost per mile (fare plus fees) was 23 cents in 1979 and 12 cents in 2011.
I had this exchange on Twitter about Senator Schumer's call for rolling back change fees.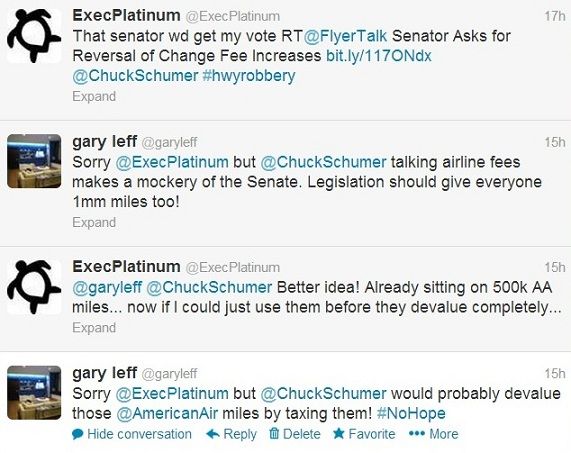 Do you really trust Chuck Schumer to make your travel fantasies come true?