I needed a flight from Philadelphia to Austin on Monday evening. Since the US Airways merger American has shifted to a more US Airways-like scheduling practice, with flights varying more by day of week. There's just not nearly as much Monday night travel as Monday morning or evenings later in the week. So there's no flight between 5:45pm and after 8pm that I could take on American to get get home. And I had a meeting in Wilmington that would go until 5.
So instead of spending the night in Wilmington, or flying late to Dallas and overnighting there, I decided to get home late with a 7pm Southwest flight. Five days out the one-way cost me $182.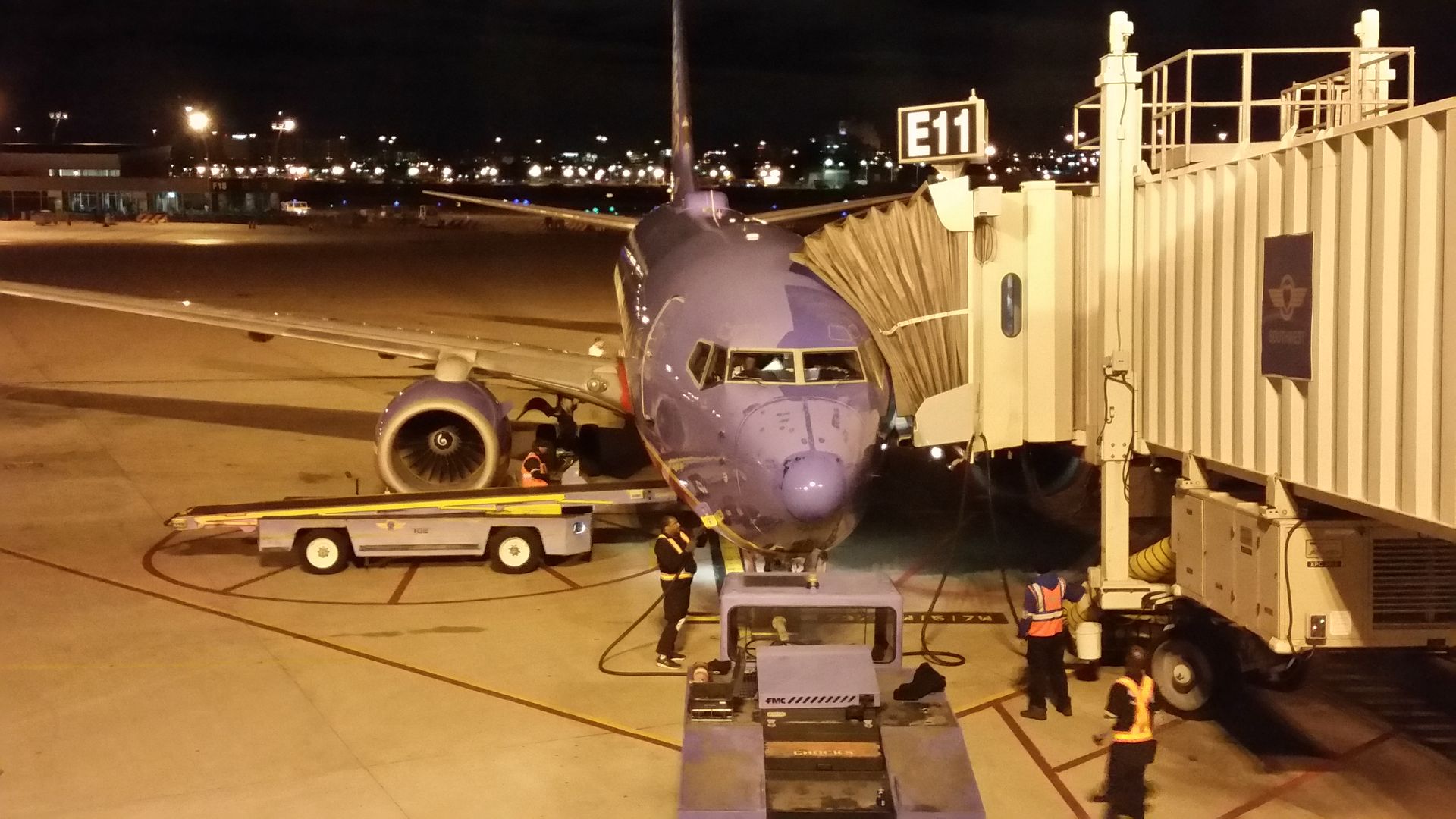 I'm a real Texan now. I hadn't flown Southwest since 1993, but I'm glad I did, especially since I had the opportunity to correspond semi-regularly with Southwest founding President Lamar Muse a decade ago.
Still, I steeled myself to rush for an aisle seat and overhead space, and to fly for several hours without extra legroom seating. Fortunately they took my Known Traveler Number, so I'd have TSA PreCheck.
TSA PreCheck was closed, even though I arrived slightly before 6 and the line supposedly stays open until 6. But whenever I've gone through security where there's been no PreCheck, TSA has offered 'expedited' security (no shoes come off, liquids stay in bag, but laptop is supposed to come out — and I go through the metal detector, not the nude-o-scope).
I was even able to board early in the process, which can matter on a full Southwest flight since there's no assigned seating — and I want to make sure I have overhead space, and ideally an aisle seat.
I didn't even know that Southwest offers to 'automatically check you in' 36 hours prior to flight for a fee. I obviously do not have 'A list status' and I was buying a 'Wanna Get Away' fare (just a few days out!). Sure, I could be sure to check in right at 24 hours. But I paid $12.50 for a better shot at aisle seats and bin space than that would have provided, and not needing to be quick with the trigger finger.
I was unexpectedly prepared for my Southwest flight because Thursday morning, as I boarded my American Airlines flight from Austin to Dallas, my seat assignment suddenly changed from an exit row aisle to 'null'. I hoped it was because I had cleared the upgrade list. In fact it was just because my seat was now in another passenger's possession. And I was given a non-"Main Cabin Extra" window seat.
It almost seemed like my Thursday morning American Airlines flight was foreshadowing that evening's leaks about American's plans for the AAdvantage program.
Southwest also wanted to prepare me for my flight. A little over 24 hours prior to departure I received an email letting me know about wifi and free TV, and subtly letting me know there's no seat power on the plane ("Charge and pack your device"). But… Hello Valued Customer, really? They can sync up my reservation and email but can't merge in name fields?
In the end the flight wasn't full. I'd have had no problem getting boarding group A check-in if I logged on immediately when it became available in a day in advance. As it stands, I had position A35 (so behind A-List and Business Select, but ahead of all but 4 of the rest of the passengers). I'd have gotten an aisle seat just fine. A flight selling cheap 'Wanna Get Away' fares within a week of travel probably isn't full, so the $12 wasn't necessary. But it did help not to worry about checking in as soon as the opportunity opened.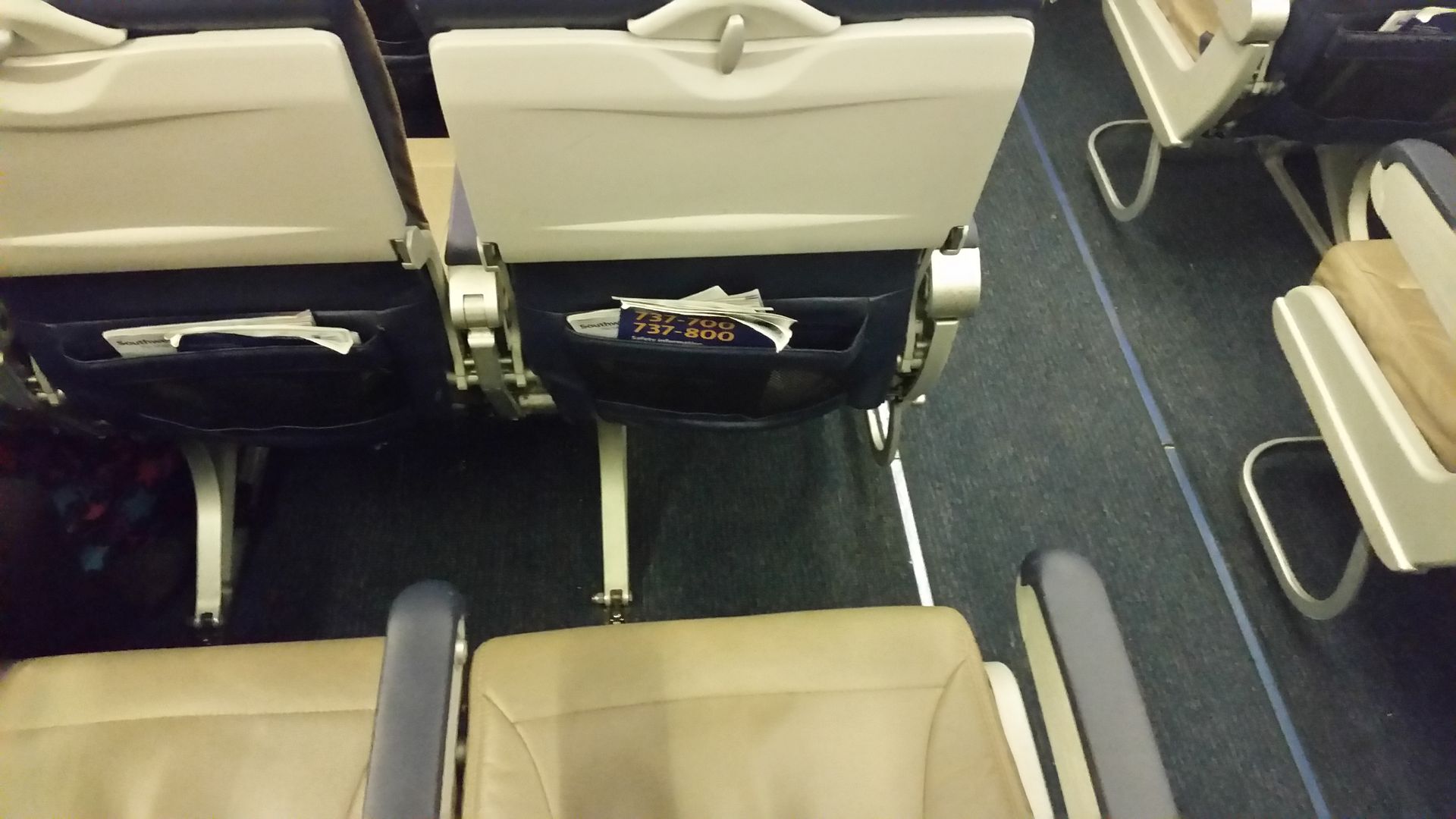 I relaxed and texted a bit waiting for the flight to take off. I had been working all day and hadn't seen any news, checked my email, read blogs. I had a lot of work ahead of me, and was looking forward to catching up on the day during six hours of flying. I figured I'd get serious once we got in the air.
The aircraft was a few minutes late in, but it didn't take long to turn. While we taxied out came the announcement, "unfortunately the internet is inoperative on this aircraft." All my hopes were dashed. I slouched into my seat, defeated. I decided to give it a shot once airborne though, it worked!
Smooth flight, perfectly comfortable, and into St. Louis 20 minutes early. I actually wondered how my connection there would work since my paper boarding pass was collected as I boarded in Philadelphia.
On arrival a flight attendant announced that passengers continuing to Austin:

Should stay in their seats and let connecting passengers off

Could stay onboard he aircraft if they wanted

Or would be given a pass to get back on the plane
I switched to an exit row aisle once everyone else deplaned, and left my stuff on the seat to claim it. I got off and was told I would just identify myself to the agent on the way out. I was asked my name as I deplaned. When it came time to reboard an hour later they didn't check ID, she just recognized me. Returning passengers were boarded first, prior to A group. I headed for my new exit row seat, and no one sat down beside me.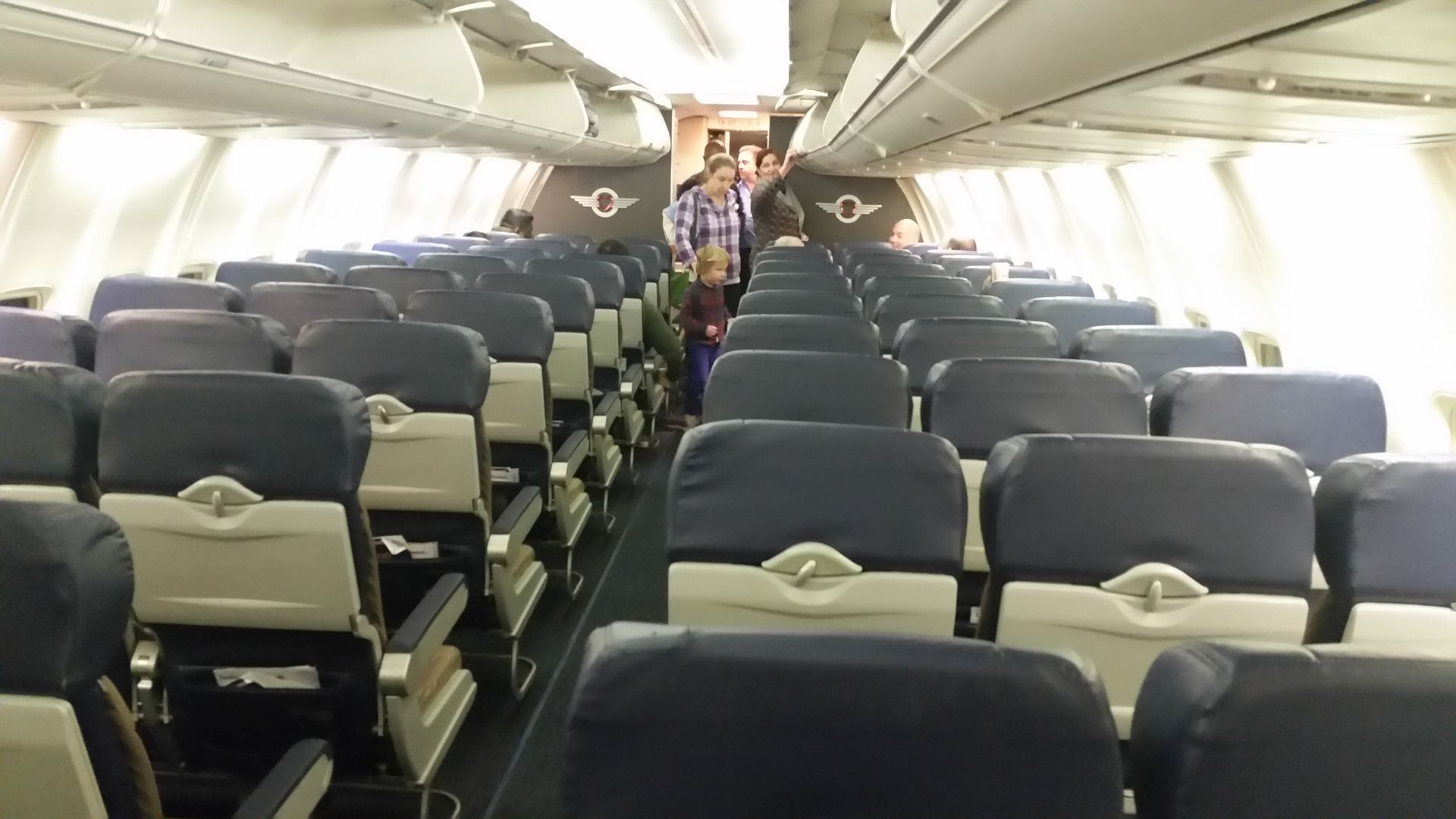 This second flight was only about a third full. We pushed back several minutes early. The only thing not to like about this final segment was.. the internet wasn't working. But I asked to have the system reset, and things came back online.
We landed 35 minutes early. All in all, Southwest was fantastic. It helped of course to have light loads and as a result an empty middle seat next to me each time. A full flight might not have been as comfortable. But I walked away happy with the experience.