Alitalia's business class award availability between the US and Italy is really good. And their business class product is much improved, too.
But if you believe Delta.com, the award calendar is going to make you think there's nothing available.
Here's a search at Delta.com for two business class seats, New York – Rome, in June. It's all blue which means high level awards only.
The entire month, which means 162,500 miles each way or 325,000 miles roundtrip per person.
But it isn't true.
There are two problems.
The calendar isn't reflective of partner award space. There's actually some Air France award space bookable by Delta (not nearly as much as is bookable by Alaska Airlines and other partners, but it's bookable). But Alitalia space in particular is really good right now.
The website, even searching particular dates, only sometimes shows flights that are available to Delta. Search the same thing multiple times and you'll get different results. Some obvious flights that Delta can book won't come up.
That's why you often need to use a different tool to search, try Delta.com's multi-city search so that you are only searching non-stop segment-by-segment, and then possibly call.
Here's business class award availability for New York – Italy, 2 passengers, on Alitalita for the first 4 weeks of June.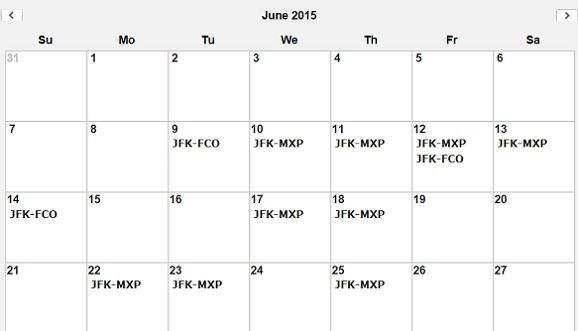 It's not amazing, but it's pretty good for Delta miles and it's much better than what the Delta website will reveal through its award calendar!
Alitalia flies Boston, Chicago, Los Angeles, Miami, New York JFK, and Toronto – Rome and New York JFK – Milan. Each route is worth checking for business class space next summer especially if you want to redeem Delta miles.
For the most part, Delta has access to the same award space Alitalia offers to its other partners. That means you can search for space on Expertflyer.com (pay service) or AirFrance.us and then call Delta to book.
Not all intra-European routes will show up at Delta.com, and those that do may only show up intermittently when searching for award space. And if the flights won't come up, it may just be a website limitation.
You can get any of those flights by calling, but Delta agents are in general the worst of the US carriers. They don't know their partners, their partner booking classes, and they just assume there's no saver award space because in this program there so rarely has been. So if your agent doesn't see the space you're looking for you'll need to hang up and call back. (And when you're tempted not to hang up and call back, do it anyway.)
(HT: to my own award booking service, to several reader emails, and also written about recently by MileCards)
---