On Thursday I wrote that IHG Rewards (formerly Priority Club) would be bringing back their 'Big Win' promotion for the first quarter and that the website to register would be up by some time over the weekend.
And indeed the registration website is now available.
I logged in to find out the offer I was targeted for.
To remind, members receive customized offers based on their stay histories. With the last round of the Big Win I was offered just over 70,000 points which could be earned in a minimum of 7 nights. Some people were offered more than double that amount with varying requirements. And of course these points are stackable with other bonuses that the program may be running.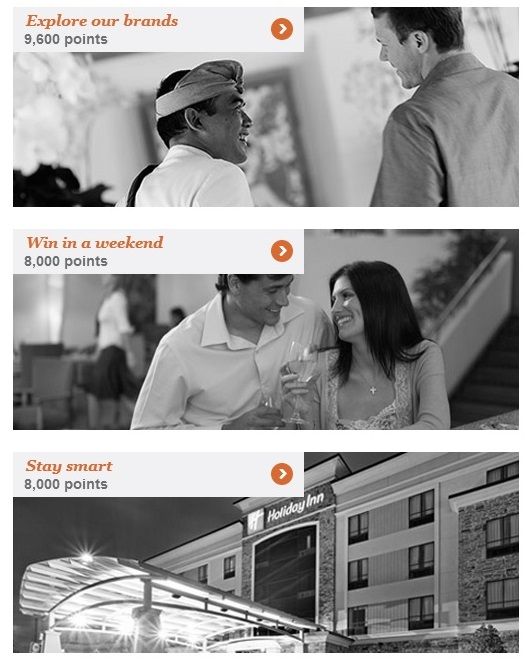 Stay more and earn. 5 nights for 8400 points.

Explore our brands. Stay at 2 brands for 9600 points.

Start the day off right. Book a stay at the Best Flexible Rate with Breakfast for 2000 points.

Win in a weekend. Stay 2 Saturday nights for 8000 points.

IHG Mobile App booking. Book 2 stays through the app for 4800 points.

Stay smart 2 Holiday Inn hotels for 8000 points.
If I meet all of these, plus stay at 2 InterContinental hotels ("Authentic Experiences" 9600 points), then the "Big Win" final bonus for completing all of the challenges is 50,000 more points in my offer.
By booking two Saturday night stays at Intercontinental hotels through the mobile app, one at Best Flexible Rate with breakfsat, plus a 1 night stay and 2 night stay at different Holiday Inn hotels I could complete the offer — in just five nights.
Since two of the nights have to be at InterContinental hotels, and at non-discounted rates, I clearly wouldn't come out ahead by making these four stays and five nights that I wouldn't make anyway — even at cheaper InterContinentals (even at the two in Cleveland) with an intention to redeem at the most expensive properties, because of how inexpensively I could otherwise just buy the points.
In other words, I would spend more to complete the promotion (especially factoring in time and transportation) than it would take to just straight up acquire the points online: IHG Rewards points can be effectively purchased at 7/10ths of a cent per point.
That means that for most members and with most offers it isn't worth mattress running from scratch to earn the points.
But it could make sense to (1) make an incremental stay to earn the final bonus and bonus for doing all of the included activities, or (2) shifting some incremental business over to an IHG Rewards hotel if it's going to help you earn a big bonus (choosing to stay at their hotels instead of with another chain).
---