Star Alliance member EVA Air has launched service from Taipei to Houston.
The inaugural flight was on Friday, and I turned up for its arrival and the launch party that the airline held in conjunction with the airport.
EVA flies to Los Angeles, San Francisco, New York JFK, Seattle, Toronto, and Vancouver in North America as well. And they have one of the best business class products in the world. Frankly as well, as far as their economy service goes, it doesn't look half bad either. But the onboard product is actually the subject of the next post.
Here's the Houston schedule.
Houston service makes good sense considering that United operates a hub there, and it covers a gap in their route network.
Most notably – and what interested me enough to fly out to Houston was that they were introducing a brand new Hello Kitty jet and placing it on the route. This will be the only Hello Kitty jet in the US market. (Full disclosure: I did not accept flights or hotels for this trip, I paid out of pocket, the only things I received were light refreshments at the event and a couple of Hello Kitty items I will give away.)
Arrival of the Hello Kitty Shining Star Jet in Houston for the First Time
Media were bused out to see the plane arrive and receive a water cannon salute.
Welcome Ceremony for EVA Air Houston Service
Then we were bused to anther end of the airport where the celebration and official speeches would be held.
On hand were local officials like the director of Houston's airports and several politicians including Congressman Blake Farenthold (a member of Flyertalk who joined in 2006, last posted in 2010 just before entering Congress, but who last logged on in late 2014).
Also there were Houston Astros cheerleaders. EVA Air has become an Astros sponsor now that they serve the city.
Hello Kitty — Throughout the Inflight Product
On display were all the Hello Kitty items onboard as well as some that are for sale onboard (duty free). They've gone to really extensive lengths to integrate Hello Kitty into the soft product, from pillows to meals and all of the small items onboard.
How awesome is it that there are separate branded snacks for economy and business? They don't just toss one on board.
My own personal favorite, of course, is the Hello Kitty toilet paper in the lavatories.
There's something special of course about Hello Kitty sick bags.
Special Events for the Evening
The EVA Air flight crew prepared themselves for the festivities.
There was beef brisket sliders, and there were noodles, the best in my opinion were the truffled edamame dumplings… and of course the Hello Kitty cupcakes.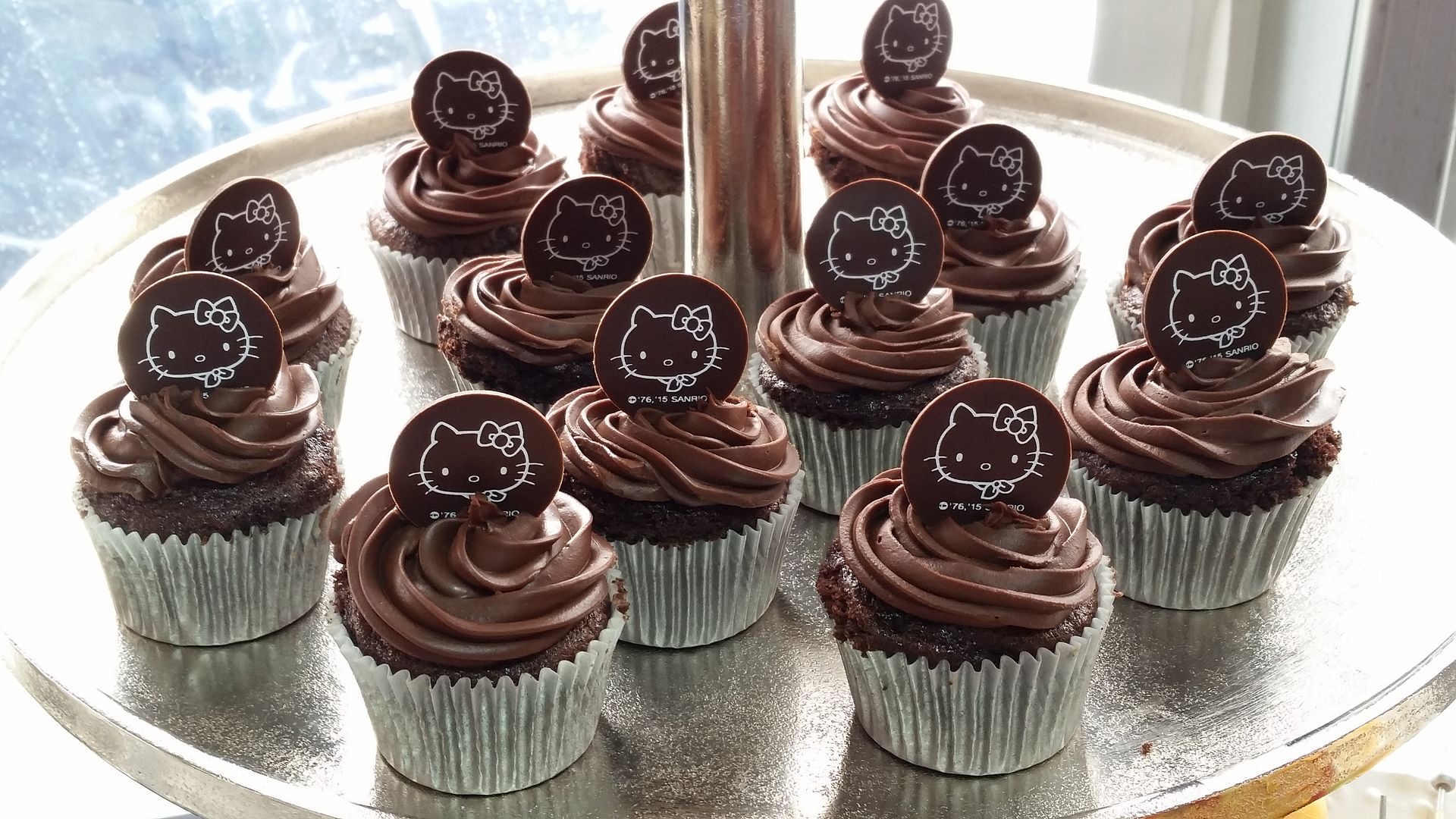 We received a Hello Kitty performance on stage.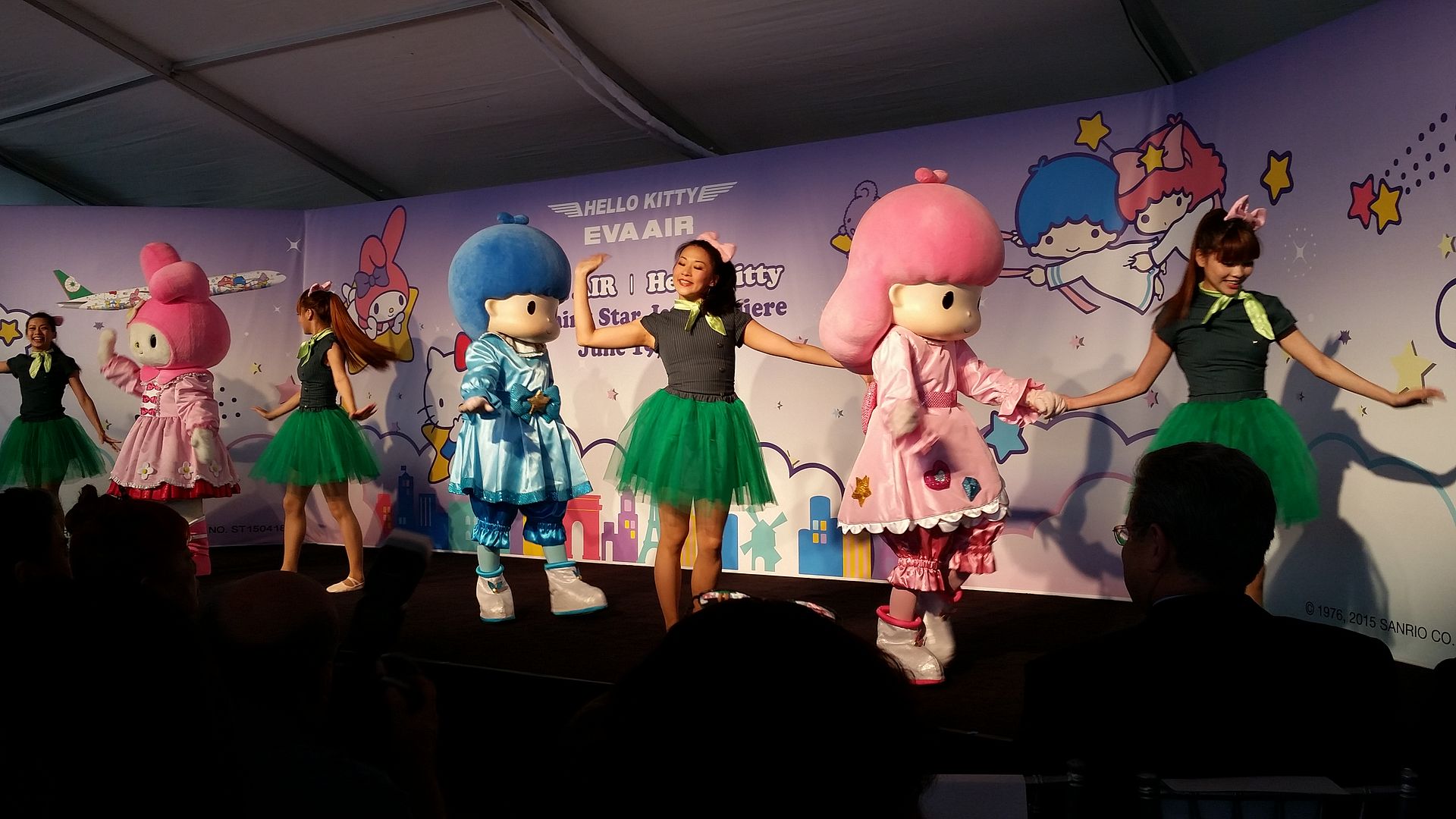 EVA Air's Chairman is also a 777-rated pilot and assumed command of the Houston inaugural. He still managed to come off very well at the inaugural festivities despite the long haul flight. Here Chairman Chang presents Houston Airports director Mario Diaz with a model Hello Kitty Shining Star Jet.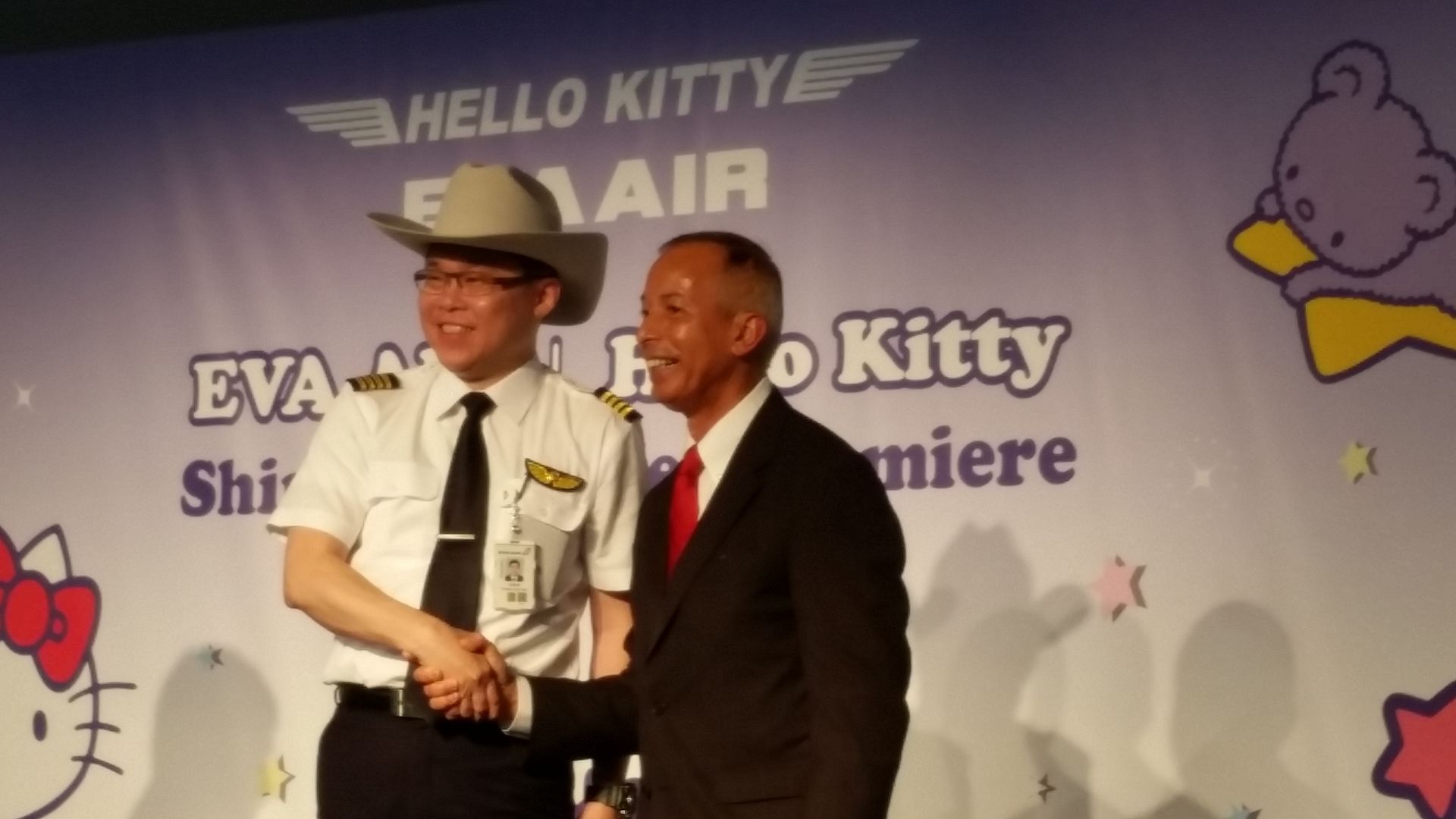 And he, in turn, is presented a cowboy hat.
Everyone was excited for the plane to pull up to the edge of the airport. We received another Hello Kitty show, in fact astronaut Hello Kitty got off the plane (because… Houston).
Then we had an opportunity to tour the plane and see for ourselves the inflight product, and the Hello Kitty enhancements onboard. The next post will feature the three cabin classes onboard EVA Air's 777-300ER Hello Kitty Shining Star jet.
As the evening closed some guests, I'm not sure if drawn at random, had cards with their badges that allowed them to have personalized Hello Kitty drawings made. I did not receive one of these. It was interesting to see that the woman doing the drawings was so serious, even as she drew such happy things.
Here's What I Think the Hello Kitty Jets Mean for EVA Air and for Passengers
EVA Air talks a lot about how much passengers like the Hello Kitty planes. It's striking to me that an airline cares what passengers think, at least as a driver of investment.
Repeated over and over was that this concept was developed by the airline's Chairman. This was an acknowledgment both to the audience at the event, and to the Chairman himself who was there. He's proud of their investment in passenger experience.
There's a real investment here, although of course I don't know the specific financials of their deal with Sanrio whose characters they feature. No doubt Sanrio benefits greatly from the exposure.
Still, it's not just the nuance of getting every detail right down to the safety cards and toilet paper (and ensuring that extras are stocked at the outstations these planes operate to) — flight attendants literally use a mold to turn pats of butter into stars. I couldn't imagine that being done for each passenger on a US airline.
They pay attention to the details. Their business class seats are the same as Cathay Pacific's, the excellent reverse herringbone product that's 4-across and all aisle access on the Boeing 777 (Seattle-Taipei is still operated by a 747 with older business seats, but intriguingly economy on the upper deck and with fantastic legroom).
They offer preorder meal service in business class (Singapore Airlines does this as well). And they offer Krug as their champagne in business. I give American props for serving Gosset Grande Reserve in their first class (help me out, I'm grading on a curve here, I'll take that over United's Nicolas Feuillatte personally). But Royal Laurel class is business class. They have unquestionably the best business class champagne in the world and one of the best seats.
My point is that their product investment and their attention to detail means that they're probably the most underappreciated airline from the US to Asia. Their substance far outstrips their reputation, although perhaps not completely for readers of this and other blogs who are paying attention.