Last week I flew United's pre-inaugural VIP and media flight for its new Boeing 777-300ER, the first aircraft with new Polaris business class seats, and got to try their new Polaris soft product for the first time as well.
Since the flight was from Chicago to San Francisco I was able to experience the new United Polaris business class lounge at O'Hare which is by gate C18. (Five more Polaris lounges will hopefully open in 2017 and three in 2018.)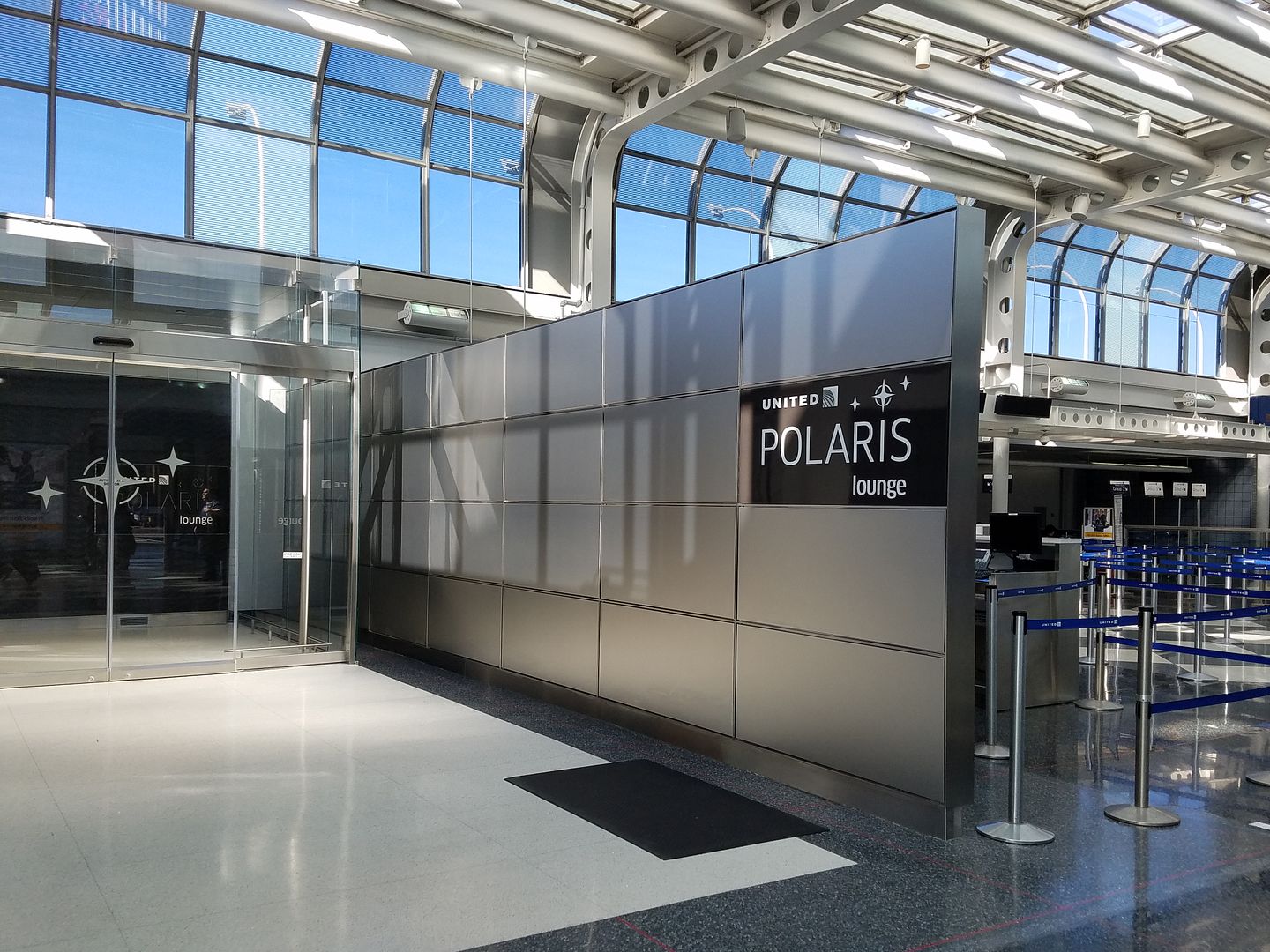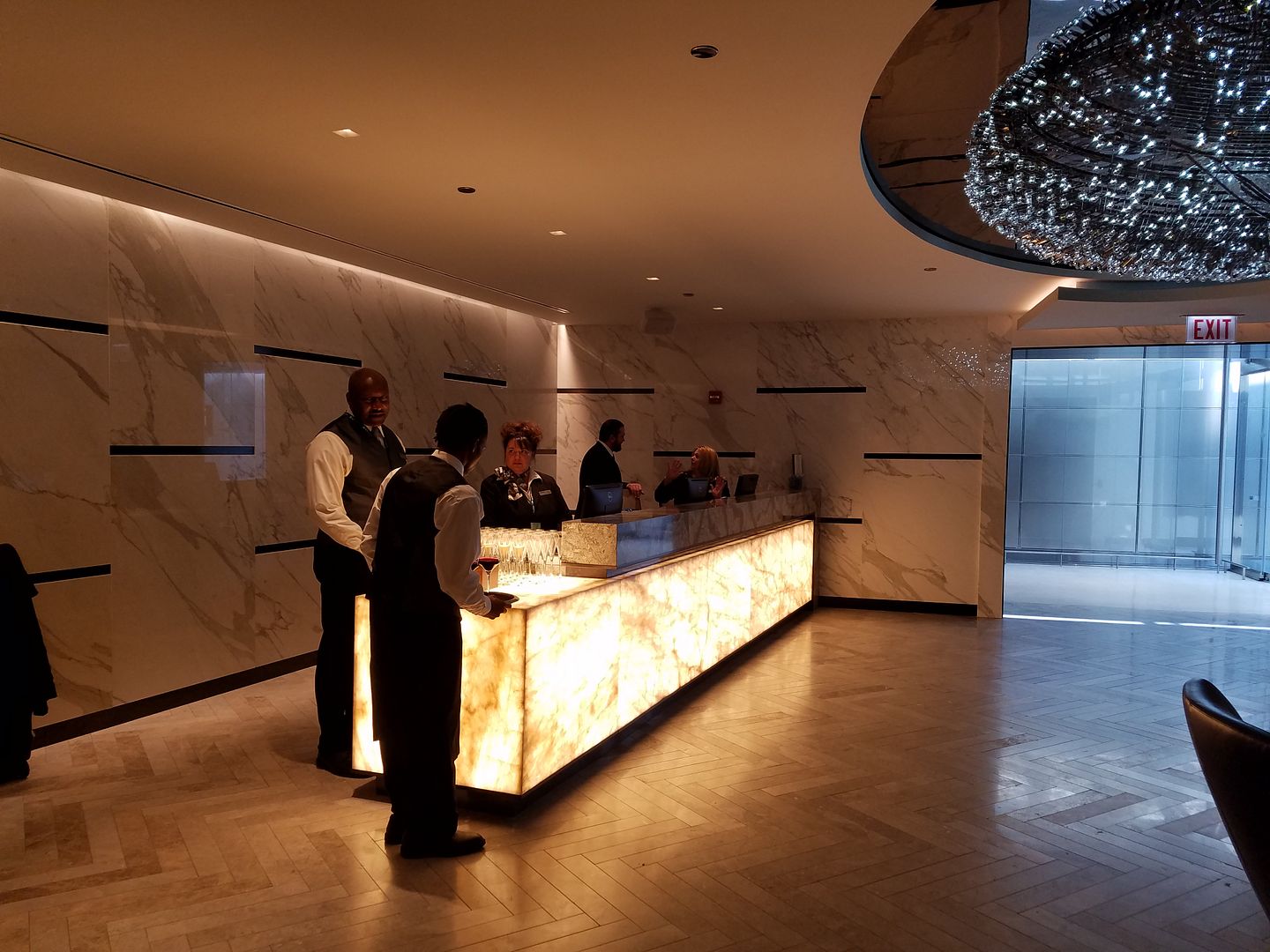 Reservations agents are off to the left when you enter the lounge. That's where United CEO Oscar Munoz spoke to our group.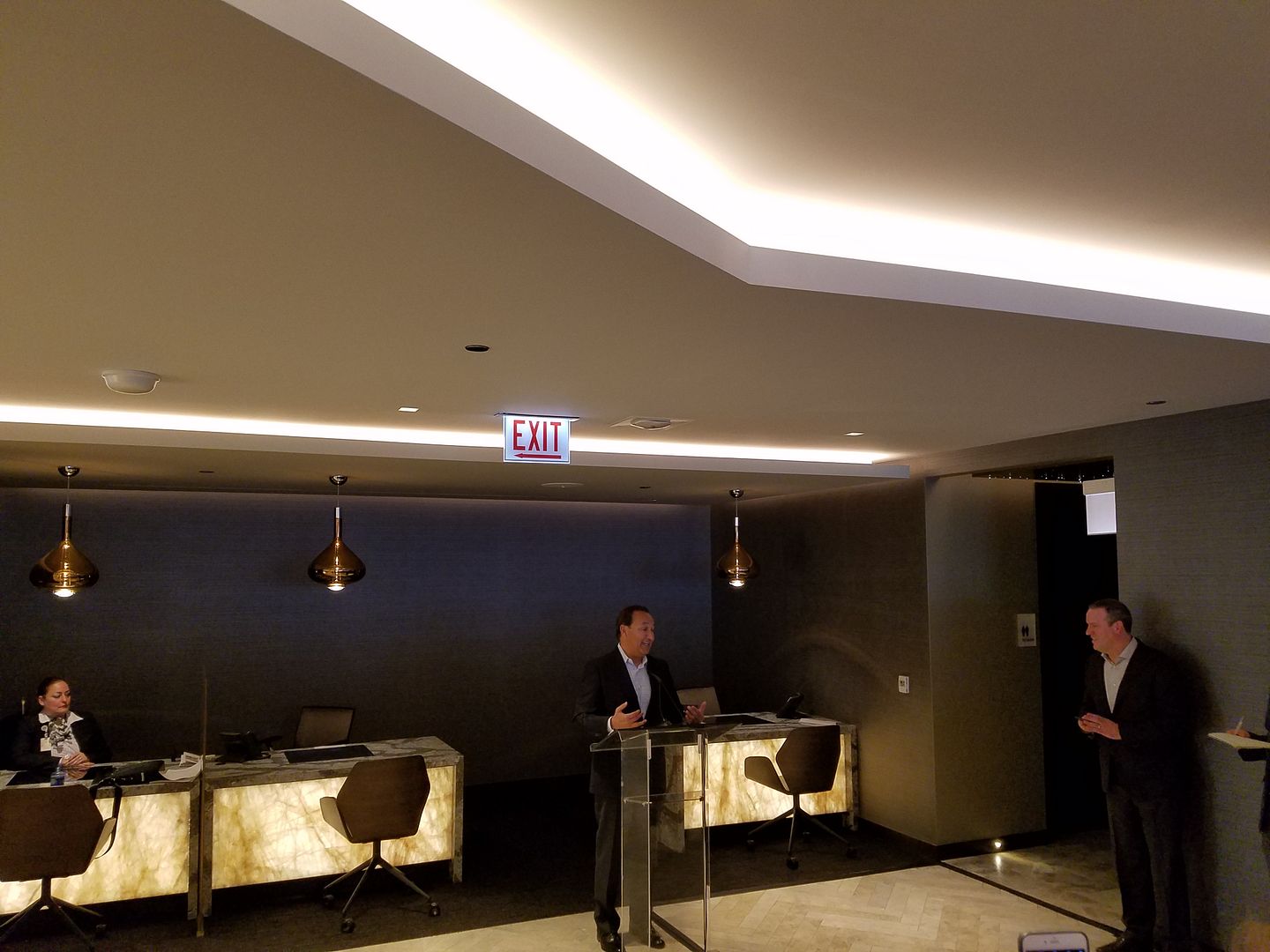 That reservations area is separate from the concierge service United offers in the lounge. I suspect most customers don't take advantage of having them book ground transportation or arranging restaurant or show bookings. I did hear about someone enroute to skiing that didn't bring appropriate shoes, and the concierge arranged for some to be waiting at their destination.
Here are the lounge's advertised features: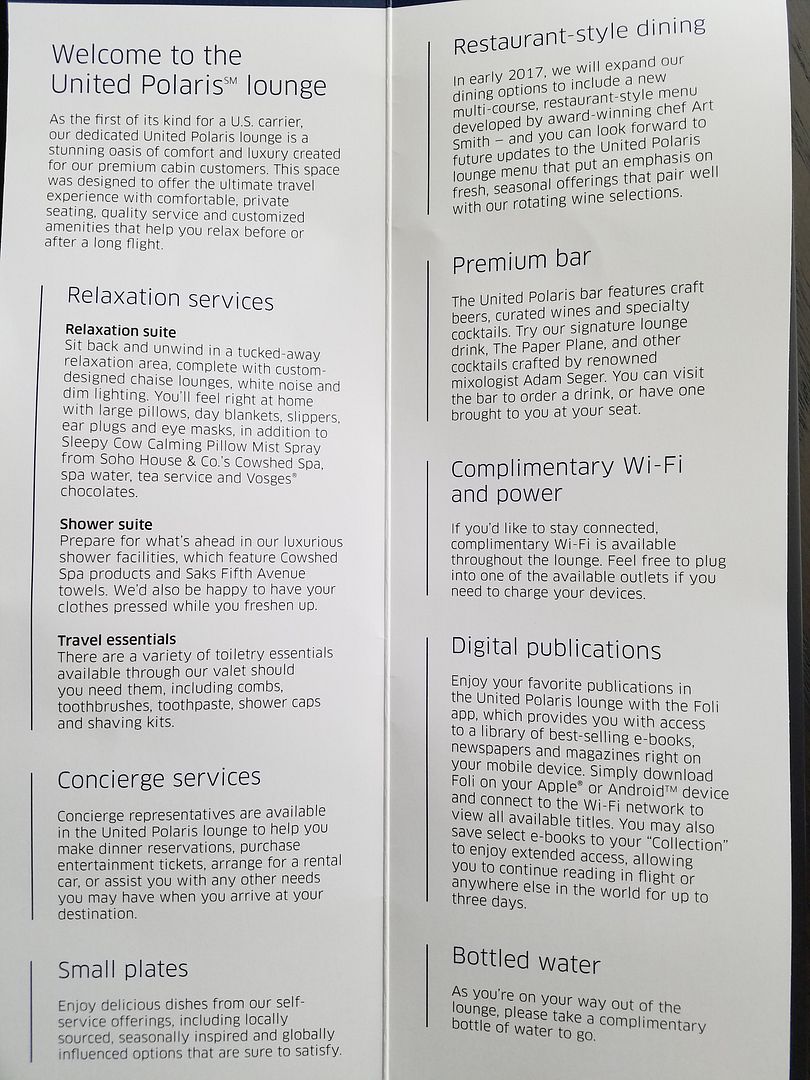 Notice that they even invite you to take bottled water with you. Hopefully you'll be well-hydrated flying international business, but I'd still take a bottle. And I'd make a special stop here on arrival if connecting to a domestic flight just for the free bottled water (but regular readers know that this is one of the most important things to me during travel).
The lounge offers both sit down dining and a very nice buffet. Menu service wasn't available when I was there, since there wasn't going to be a way to accommodate all of the media and other VIPs descending on the lounge at once.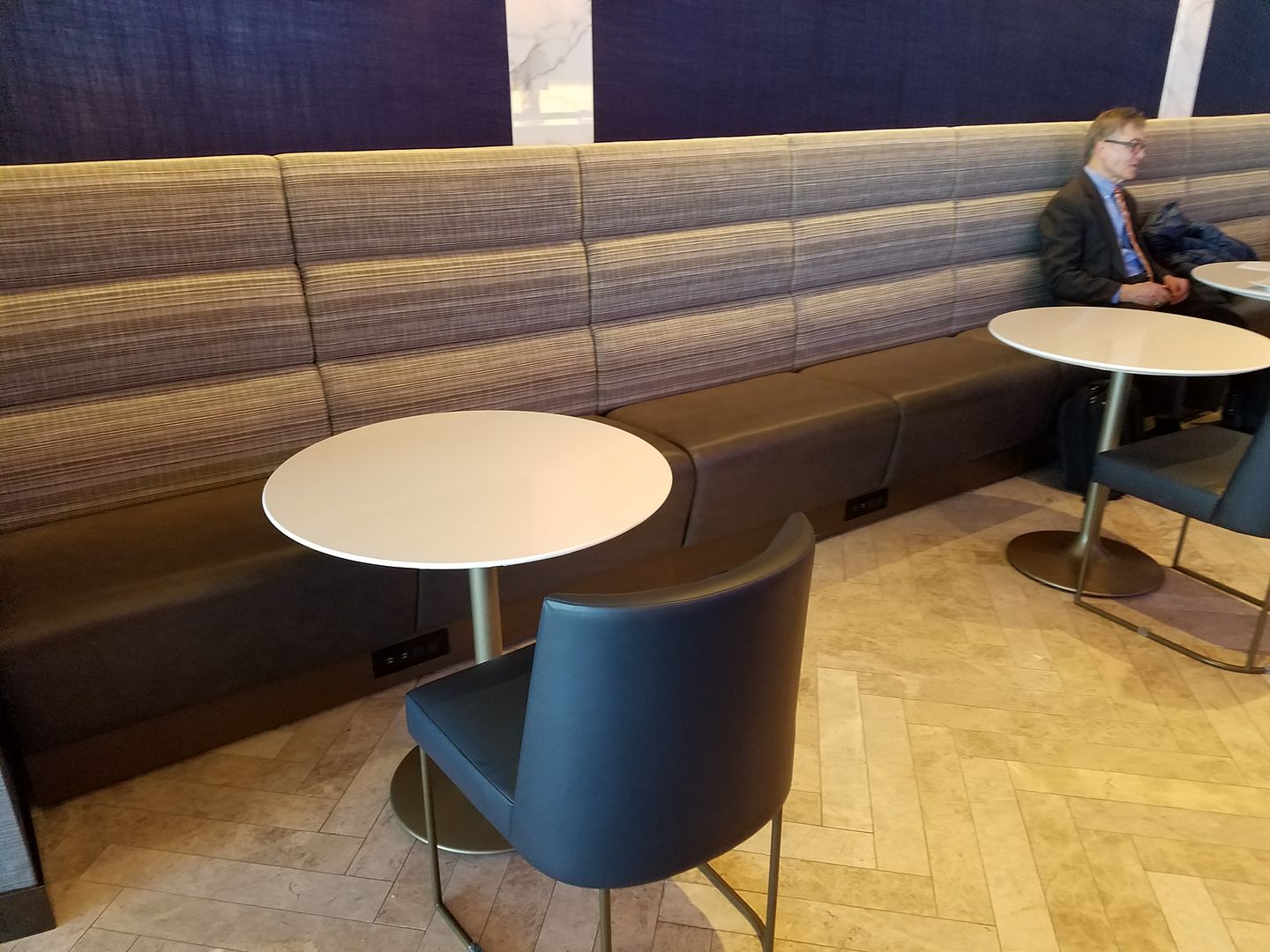 That's actually a point worth considering, sit down dining is something that the lounge has but it's not going to be something that every passenger can take advantage of. That's fine most of the time, but I do worry a little bit not just about demand for dining but also about people overrunning the lounge at peak European departure times.
I'm told that guests haven't actually ever exceeded lounge capacity, but a nice lounge is also a peaceful respite from the crowded terminal. A lounge where nearly every seat is taken isn't super peaceful. That said, a reader who was there late in the media event and who has been there during the peak departures tells me that even though the lounge fills up it never gets as loud as it was for our group which is re-assuring.
Here's a look at the buffet.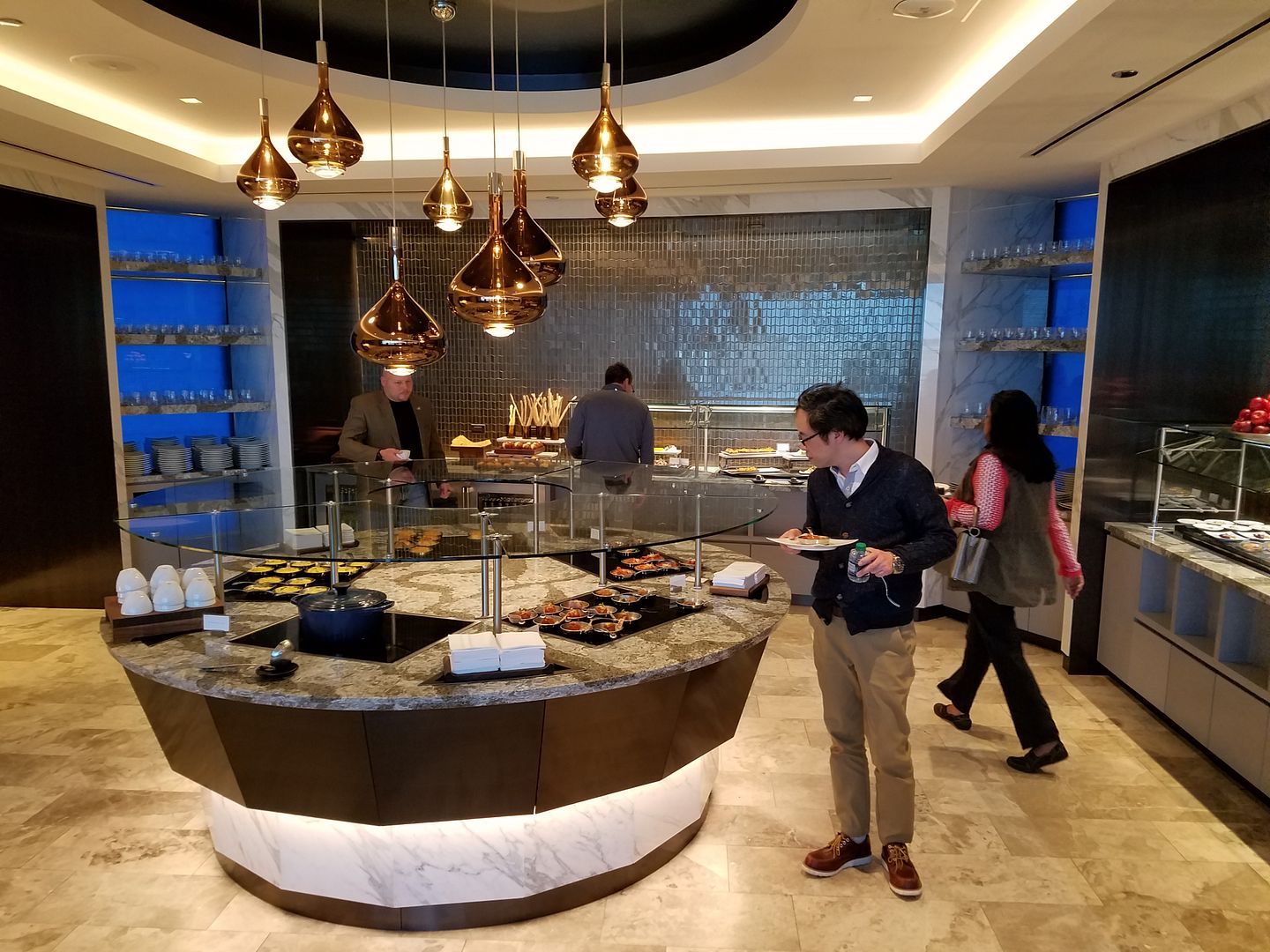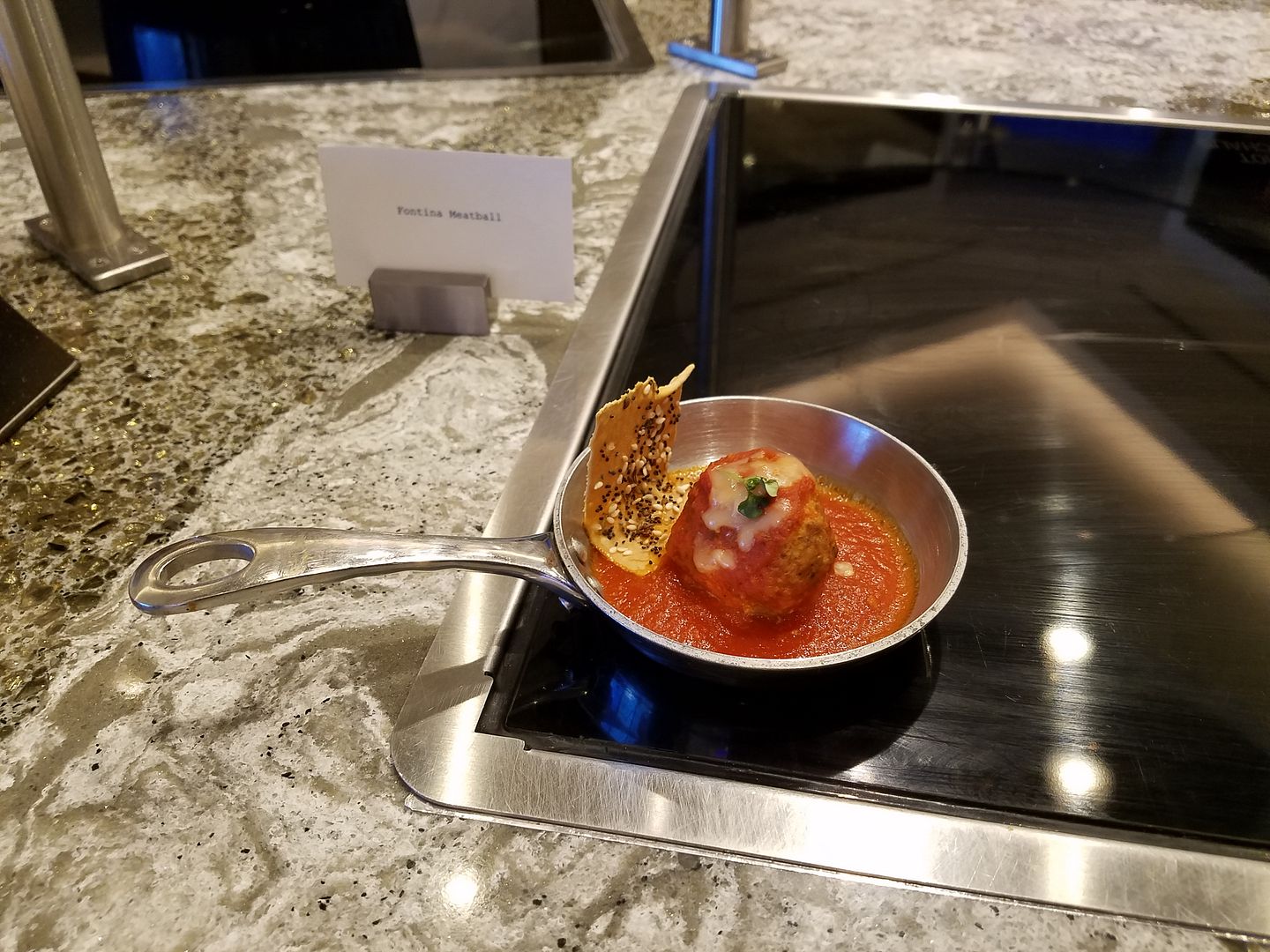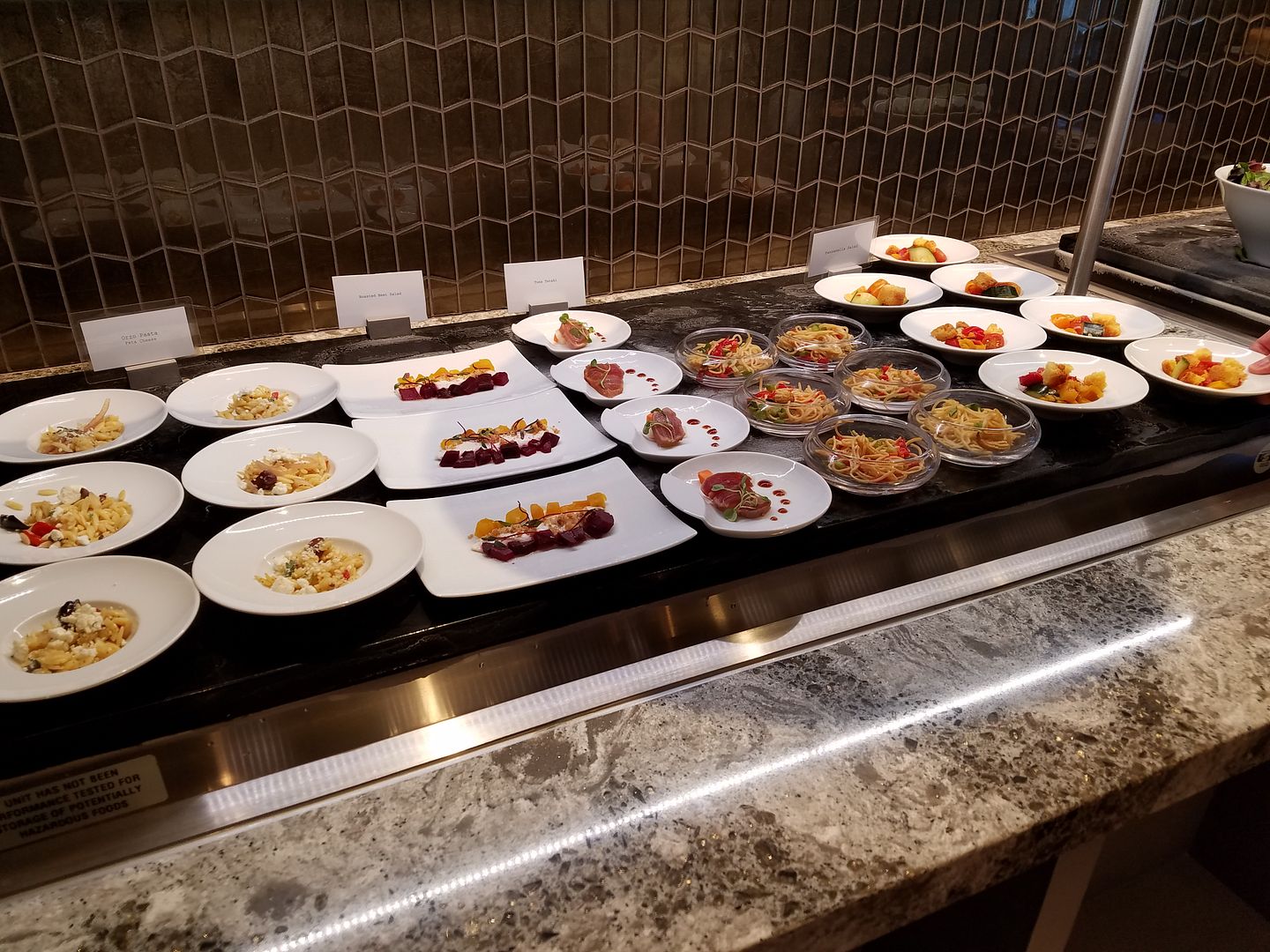 Even on the buffet, this isn't United Club food, this is quality restaurant-style hot food.
The bar is gorgeous and well stocked. Also beside the bar are lockers for liquor and wine (they're considering beer) that has been set aside for particular passengers. Right now only a few of those lockers are in use, for United's highest-revenue Chicago-based customers. They're custom-stocked with items that customers like.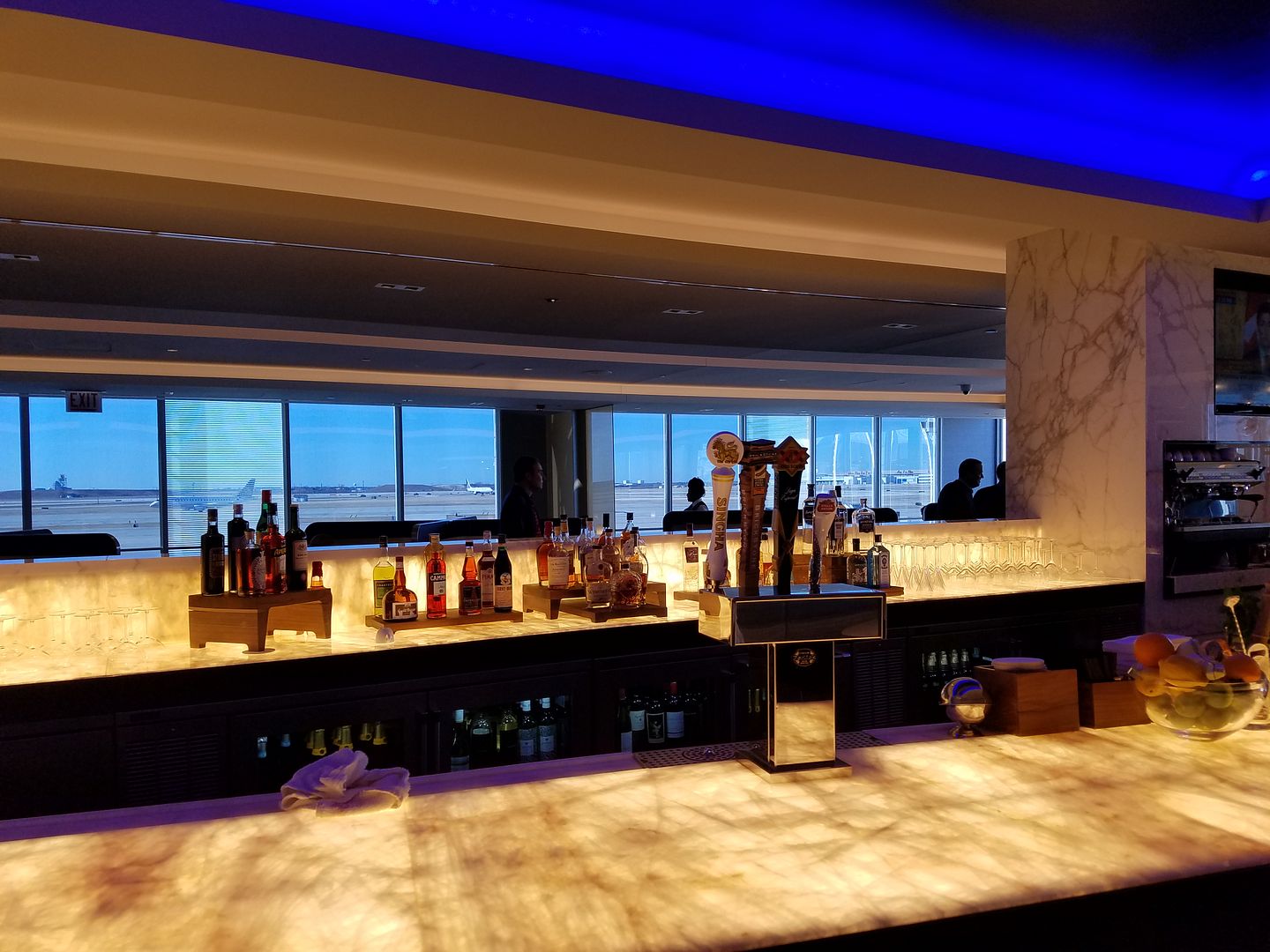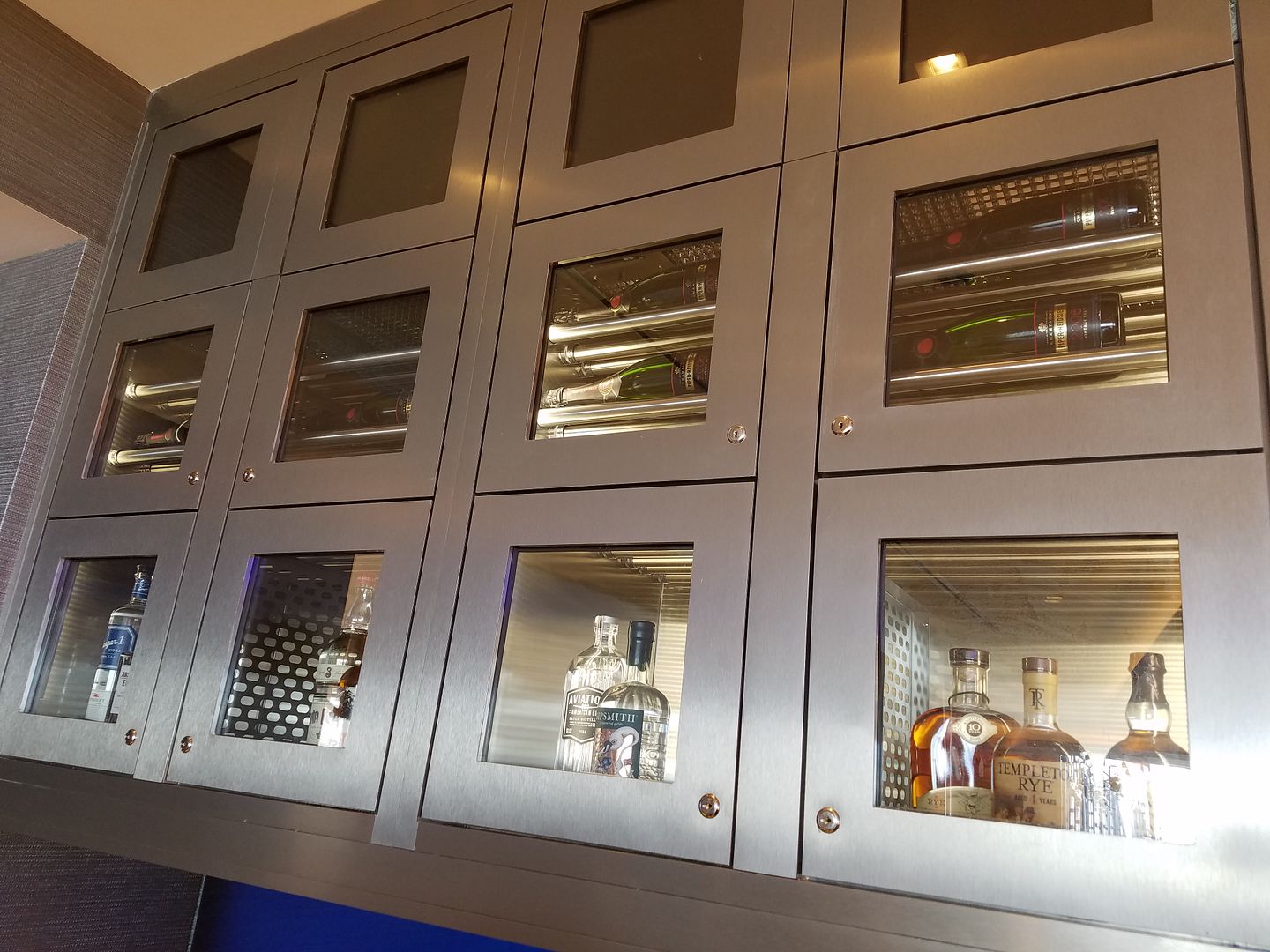 Years ago the American Airlines Admirals Club at Washington National airport used to store customers' own liquor. That was the second oldest club in any US airport (after the very first airport club — American's at New York LaGuardia), and it didn't have a liquor license. This option went away in the 1970s if memory serves. Customers would bring their own, something United doesn't offer since of course you're limited to 3.4 ounces through TSA. Instead United arranges to stock the cabinet.
Seating in the lounge is very nice, and power ports abound. I like that the overall design of the lounge matches United's new Polaris inflight product.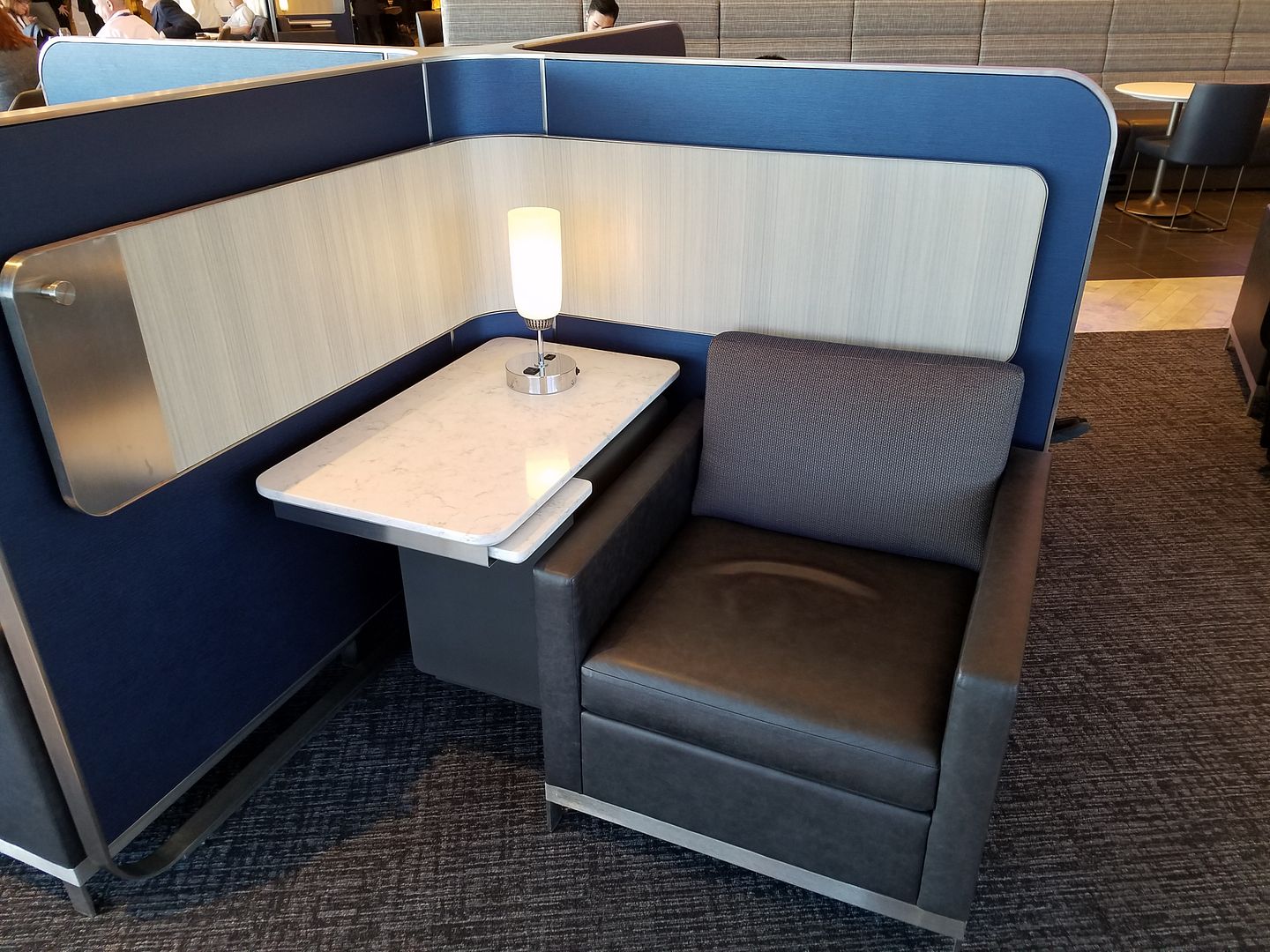 Bathroom stalls in the lounge are plentiful and each a private room. There are also several shower rooms, and they're gorgeous — a feature really geared towards arriving passengers connecting onwards (you have to clear customs and immigration in Chicago and they go back through security to reach the lounge, though your arriving long haul business class boarding pass will gain you access).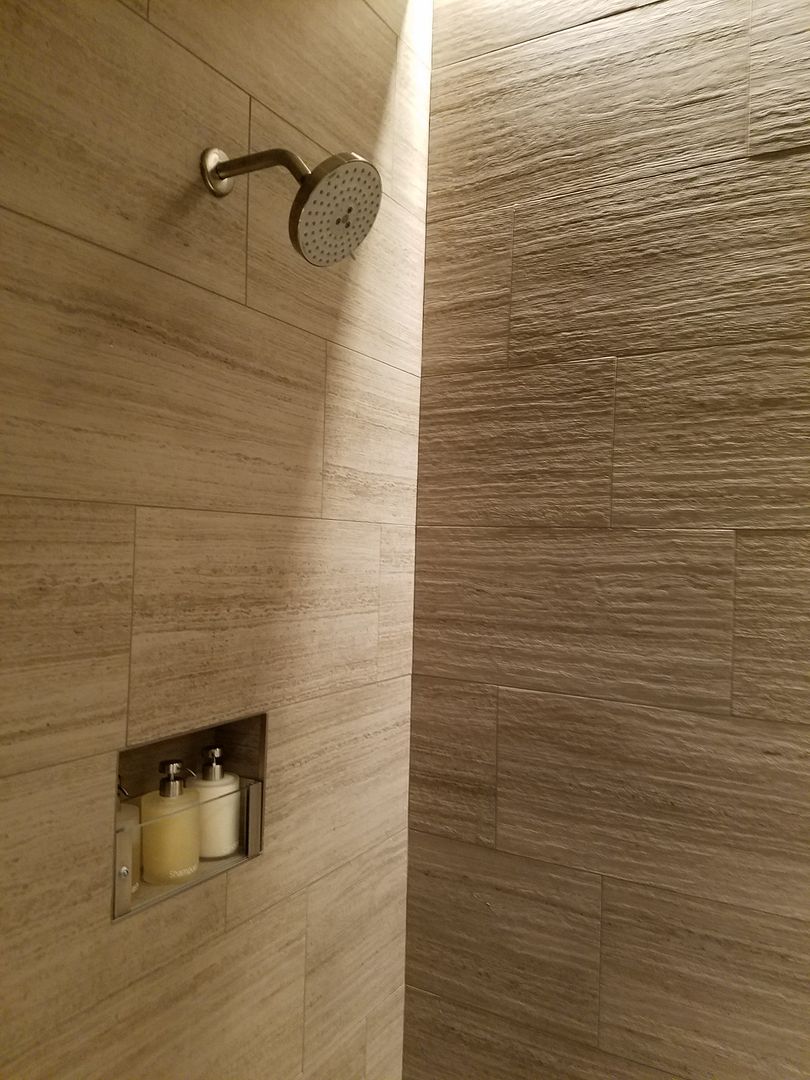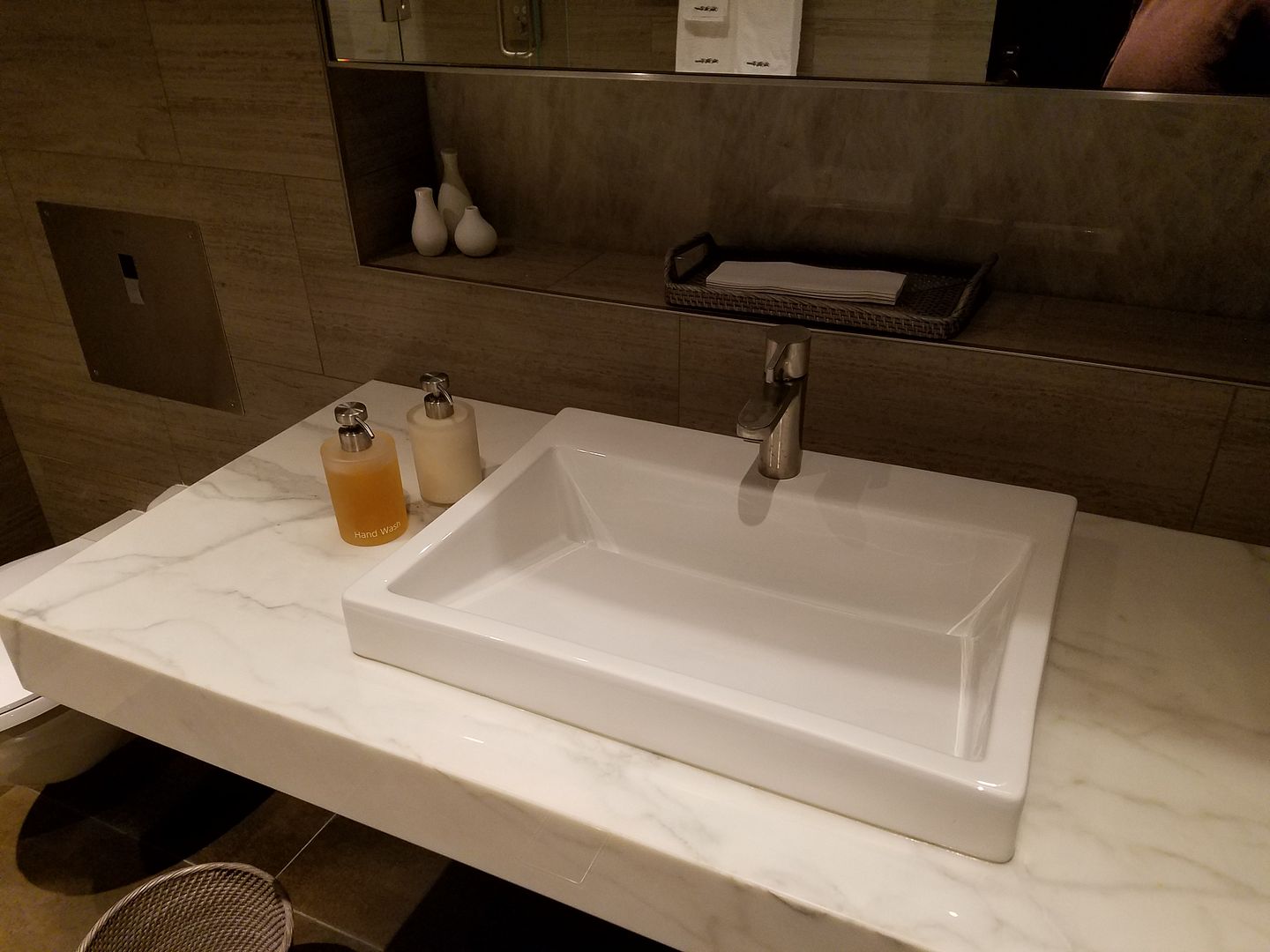 The lounge features semi-private relaxation pods. I say they're semi-private because there's no locking door and the walls between them are high enough for privacy but don't create total separation. If the lounge is busy note that you don't get one and camp on it simply until you're done, but they'll limit the blocks of time you can use it to accommodate requests of other passengers.
Nonetheless I think this is a nice feature for passengers coming off an international business class flight and with a long layover before their domestic connection. There's power beside the lounger so you can plug in your phone and use it as an alarm if needed.
Ultimately my reaction to the lounge was, this is United?? It's gorgeous and it's well-provisioned, with services you'd expect in a very nice international airline's lounge but not so much from a domestic carrier.
You won't get in with United Club membership or as a domestic passenger (except connecting off a long hual international premium cabin flight). This isn't a Star Alliance Gold lounge. But it's a nice place to visit before or after a long haul flight in business or first.
I suspect I'd enjoy it the most midday rather than during peak afternoon transatlantic departure times, just because I really enjoy a lounge that isn't overwhelmed with people and it certainly can fill up.