Loyalty Lobby highlights that Delta — like many major companies — engages with a data firm to assist them in analyzing their customers, assigning value to those customers, and targeting them for offers.
But unlike some companies, Delta isn't very good with IT (witness: their broken award calendar, broken online award pricing engine). And so they have their consumer profile data online for you to see.
Since this is getting a bit of buzz at the moment, they're likely to prioritize pulling down this information, so if you're curious what Delta's analytics folks know about you, you may want to have a look sooner rather than later.
Log into your Skymiles account.

Navigate to https://www.delta.com/databroker/bcdata.action in the same browser
You'll get a bunch of data in a long string, copy and paste it into a text or word processing program for easier reading.
Here's what Delta thinks they know about me, from Experian's Mosaic targeting (pdf):
"actvtyPref":"",
"bcInd":"Y",
"birthDt":"[They have my correct birthdate]
"chldAgeRange":"" [I don't have kids, and they do not think I do]
"cobrandCardCd":"STRW,AX,AX", [interesting they know I don't have a Delta American Express but do know that I have Amex cards – but I have more than they think I do, hah!
"ctryCd":"US",
"custID":"[redacted]
"custValSeg":"1″ [well I guess that is better than zero!]
"dgtlLangPref":"en"
"discSpndngAmt":"0″ [that's about right!]
"drvdGndr":"M" [yep!]
"drvdHmArptCd":"DCA" [also correct – I am DCA-based]
"hmArptPref":""
"homeValueAmt":"647000″ [incorrect]
"htlBrndPref":" [they could just read my blog?]
"incomeAmt":"96″
"isLoggedIn":"Y"
"isPwmElig":"N" [I guess I am not eligible for PWN! Possible "Pay With Miles"]
"isSmCust":"Y" [I am a Skymiles customer]
"mindsetSeg":"MM" [I have an "MM" mindset!]
"mosaicCd":"G25″ [I discuss this customer segment below]
"poCd": [They know my zip code]

"prefDestCity":""
"prefDestCtry":"",
"savedSrchDest":""

I'm not a Delta Skyclub member:

"skyClubFtrCntrctInd":"N"
"skyClubMMSts":""
"skyClubMbr":"N"
"skyClubRnwlDt":""
"skyPrtyInd":"N"

And more:

"smAmexCntrnInd":"N" [I don't have an Amex Centurion – relevant because Delta gives those cardholders status in the Skymiles program]
"smAmexInd":"N"
"smBalance":"24602″ [wow, they even get my Skymiles balance wrong!]
"smMqmBal":"10146″ [and they get my elite qualifying miles wrong!]
"smMqsBal":"1″
"smNbr":" [they at least get my Skymiles account number right!]
"smSunTrstInd":"Y" [I have a Suntrust account]
"smTierLvl":"FF" [No elite status with them, natch]
"stProvCd":"VA" [Yes, I live in Virginia]
Apparently church missions use this sort of data, too (.pdf)
Here's the customer segment they think I fit into: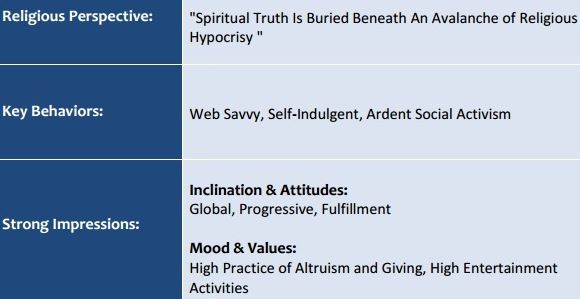 [L]iberal, eclectic, singles.. risk takers who are comfortable with insecure surroundings, and may travel off the beaten path for an extended period of time. …live in the present moment and are not particularly anxious about tomorrow. Although traditional moral norms are uncomfortable, they are notable for their commitments to peace, equality, human rights, the environment, and free speech. Most are college educated, with well paying jobs in business, education, creative arts, and healthcare.
Well I am not single, I tend to be risk averse, and while I do have a singificant commitment to peace and human rights I don't think anyone would expect to find me involved in the creative arts — and oddly enough they don't even get my geography right, I live in the suburbs rather than the city.
What's your customer segment? Have they got you figured out?