Lufthansa generally does not release first class award seats more than 14 days prior to travel to members of its partner frequent flyer programs like United MileagePlus, Air Canada's Aeroplan, or Avianca's LifeMiles.
That makes it really hard to book. Most people make their award travel plans more than two weeks out, and even if you're booking close to departure there's also the return flight to worry about.
As a result, Lufthansa first class awards don't really exist for most people anymore. Which is a shame, because Lufthansa has tons of flights from so many North American cities. And they offer one of the better products across the Atlantic, especially on the ground in Germany (to read about the incredible Lufthansa First Class Terminal in Frankfurt, including photos and menus, see here, here, and here).
So it's sort of surprising that they seem to be releasing 2 or more first class seats on both Vancouver – Munich and Montreal – Munich routes.
Space begins to trickle out over the summer and ramps up after that. Here's a search for (2) first class awards, Montreal and Vancouver to Munich, in September: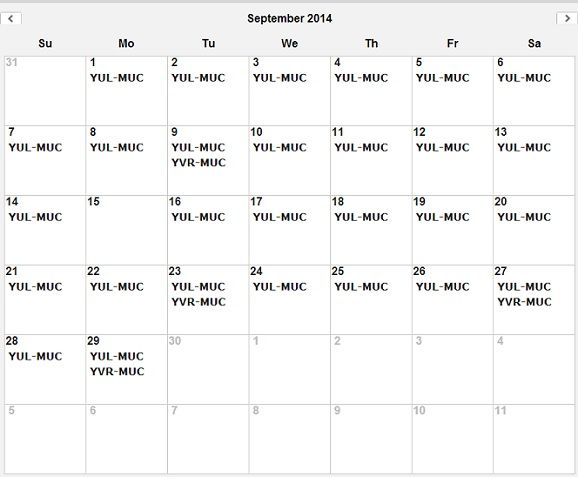 The Vancouver flight is seasonal (end of March through October), so here's a search just for Montreal – Munich in December:
These routes should all feature Lufthansa's new first class.
Canada tends to be less of a premium market for paid first class. When Swiss first withdrew partner first class awards from the market they still allowed bookings on Montreal – Zurich. So perhaps it's not really a surprise that if space opens up, it's out of Canada.
US Airways has challenges 'seeing' available Lufthansa space, an issue that originally began with first class transatlantic awards only. So naturally these seats do not seem to be bookable with US Airways miles.
The simplest way to book these seats is with United or Aeroplan points:

United now gets 110,000 miles each way for partner first class awards. You can transfer Chase points to United.

Aeroplan gets 62,500 each way for first class awards to nearer Europe plus fuel surcharges. American Express points transfer to Aeroplan.
If you're only going to fly Lufthansa's first class in one direction, definitely try to make it a departure from Frankfurt back to Canada. That will get you access to the First Class Terminal — and the coveted Mercedes or Porsche drive across the tarmac to the plane.
I realize these flights depart Munich. But you can certainly fly Frankfurt – Munich – Montreal and as a same-day Lufthansa first class passenger, access the First Class Terminal in Frankfurt.
The Munich first class lounge also offers tarmac transfers — but only to and from flights which arrive or depart from a non-gate position. And transatlantic flights get gates.
On the other hand, if you land in Munich and connect to a regional flight, you may well have a regional flight departing from a bus gate and wind up getting a tarmac transfer.
Ready.. Set.. Go..
(HT: Canadian Kilometers)
---