Using miles for things other than travel has been an increasing trend, the loyalty programs have been offering several new options over the past few years — whether it's redeeming miles for other travel like hotels and rental cars, or for LCD toasters.
The idea is that miles are a general currency, they can be spent like money. Heavy travelers may not want more flights. And if there are limited award seats available getting members to spend miles on other things satisfies those members rather than frustrating them.
But frequent flyer programs can buy saver awards (likely to go unsold, spoiling inventory) at a deep discount, a much deeper discount than they can buy toasters — especially since mileage programs aren't usually the ones in the fulfillment business actually warehousing and shipping the toaster. So merchandise rewards are rarely a great value, especially compared to travel.
One of the very first merchandise options that was introduced was magazine subscriptions. And it's remained a part of several programs for years, in part because it's an inexpensive item so folks with very few miles can get something rather than saving up longer than an individual member's time horizon (and thus the option can help such a member from getting discouraged).
When it comes to stranded or expiring miles, I always prefer to add miles to an account rather than give up and burn miles — whether to just 'use up' orphan miles (in a program where mileage expiration can be extended, earning more miles will eventually yield higher value awards) or to extend the life of a mileage balance.
But there are a few times when spending miles for magazine and newspaper subscriptions can make sense.
They are usually the cheapest redemption option there is. Maybe you have just miles from a signup bonus, a single flight, or taking some surveys — and you don't expect to build more miles. Better to get 'something' for those miles for nothing at all, you might be able to burn as few as 400 miles.
To keep an account active. Most programs with expiring miles allow you to keep that account active as long as there is some activity of any kind in that account — whether earning miles or burning miles — so spending 400 miles becomes enough to 'reset' the expiration on that account.
To earn miles in a promotion. For instance, when US Airways was running their "Grand Slam" promotion with progressively more bonus miles earned for activity with more of their mileage partners, most of the partner activity that was required had to be earning miles. But with magazines for miles, you could redeem miles to generate a credit in the promotion. That's why I used to have a subscription to Cigar Aficionado. Even though I don't smoke.
Many of you are familiar with the frequent flyer community Milepoint.com. A bit of trivia, the original Milepoint.com website more than a decade ago would let you redeem your frequent flyer miles for magazine subscriptions and also for other merchandise like 10% off coupons at Amazon.com. (The original 'Milepoint' was in the business competing with Points.com providing back-end mile transfer functionality to programs.)
Magazines for Miles options exist for Alaska Airlines, American, Delta, Frontier, Hawaiian, Spirit, United, and US Airways.
Interestingly, the mileage cost for different magazines and newspaper subscriptions are different for the different mileage currencies.
Using Delta miles I think it's actually a pretty good deal to get a subscription to the Economist (if that's your bag), 1800 miles for 51 issues: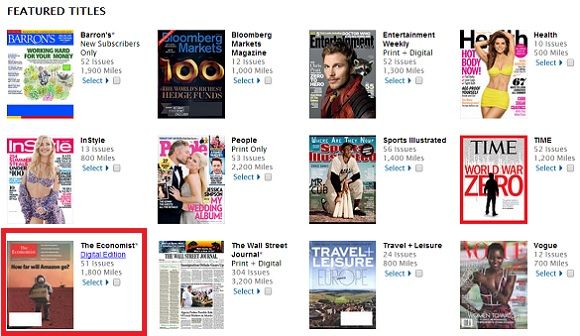 Interestingly two years ago they charged 2900 Delta miles for just 38 issues, so this is a really big improvement.
But how does 1800 Delta miles for 51 issues compare to other program offers?
2100 Alaska miles for 51 issues

1800 American miles for 51 issues

2100 Frontier miles for 51 issues

2100 Hawaiian miles for 51 issues

2600 Spirit miles for 51 issues

1800 US Airways miles for 51 issues (two years ago the offer was 2900 US Airways miles for 38 issues)

1800 United miles for 51 issues (two years ago the offer was 2900 United miles for just 38 issues)
Presumably Magazines for Miles is both (1) buying subscriptions at a discount, in bulk and as an acquisition scheme for the publishers, and (2) getting paid by the frequent flyer program, and at a set rate per mile. They negotiate different contracts with the various programs, and set their pricing accordingly in order to make a profit.
---