As a flyer based in Washington DC, about 15 minutes at most from National airport (really, most of the time 20 minutes door-to-gate with PreCheck) I'm actually benefiting from the US Airways-American Airlines merger quite a bit. First, I'm an American Executive Platinum. But second now that US Airways has entered oneworld I can use British Airways Avios to redeem for all of the short haul flights on US Airways and it's really cheap.
Flights under 650 miles are just 4500 British Airways points each way. And I find availability on these flights is really quite good. Plus US Airways is by far the largest airline at Washington National. So lots of options.
That's why I'm flying so much econoimy recently. It's too cheap not to.
One quirk about US Airways, though — it's almost impossible to get a telephone agent to change your frequent flyer number on an award booking made through BA.
(American Airlines agents are much more willing to help, but I genuinely hate the phone. I talk to agents enough as it is, and don't want to call if I can handle things self-service online.)
So I want to walk through how to get benefits like seat assignments, free checked bags, and priority boarding if you have status on US Airways or American but book at ticket with British Airways Avios.
Now one nice thing about BA frequent flyer reservations is that I find they'll automatically assign seats that may otherwise cost money to get assigned, premium seats in coach that US Airways charges for (even for elites, and even though the seats aren't 'better' in the sense of having extra legroom).
Still, I want my American Executive Platinum number in the reservation. I can do it at time of check-in online at the US Airways website. Or I can just go to the Finnar website. Finnair is a oneworld member and they let you pull up reservations and change details like your preferred account number, so it's quite handy.
Go to Finnair's website. You may be asked to select your country and language before proceeding.
Once on the home page you'll want to choose "Manage My Booking."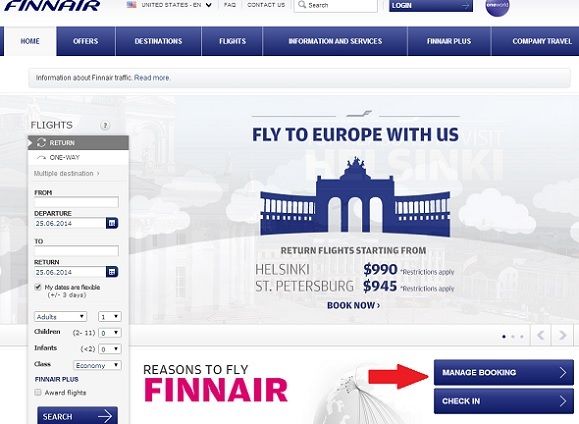 Clicking that will expand the box and let you enter your last name and confirmation number. Enter the information from your British Airways booking.
For US domestic flights you'll get a warning you have to update advance passenger information. Finnair assumes a purely domestic flight is a flight to the U.S. Don't worry about that. Choose 'update your details.'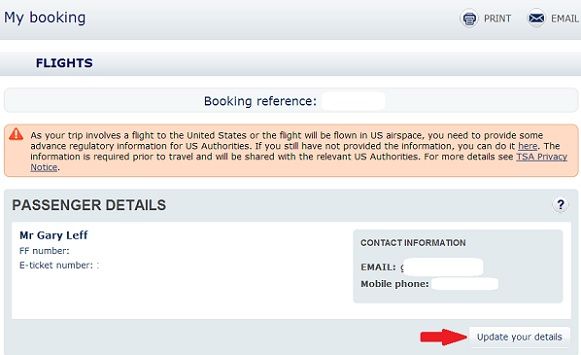 That's where you enter the frequent flyer number of your choice.
At that point it even immediately recognizes your free baggage allowance if you have elite status.
To check in, or see details of your trip on the US Airways website, you can go to the US Airways home page and select 'Your Trip' and enter your British Airways e-ticket number (no dashes, just numbers) off of your BA confirmation and date of travel.
That will pull up you reservation, which will also list your US Airways confirmation number.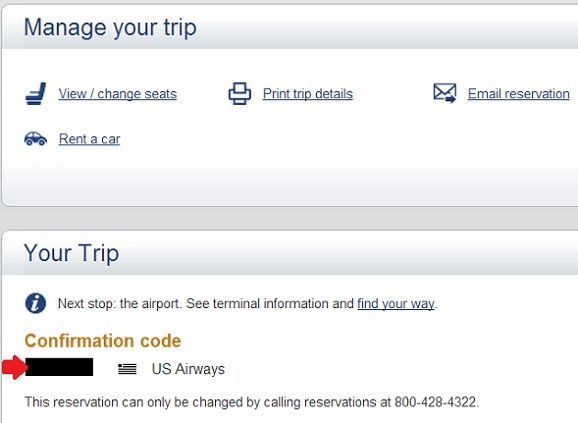 You can now select or change seats if you wish on the US site.
Now, if your reservation is made with British Airways points for travel on American Airlines you will want to find your American Airlines record locator. (You can't use your BA ticket number on the American site to pull up your booking.)
Go to CheckMyTrip.com and in the top right there's a box to enter your British Airways confirmation number and last name. That should pull up your reservation. When your reservation comes up, click "PDF" and you'll get a pdf file of your booking which will include your Ameircan Airlines record locator number. You can then use that to pull up your reservation on the AA.com home page and select seats there.
I've known this for quite awhile, having used BA Avios to book American Airlines flights for quite some time. I don't know where I first learned it, but Googling around I see that the Dan's Deals blog wrote this up about 15 months ago.
---