With Marriott acquiring Starwood — a deal that hasn't yet closed thanks to delays by Chinese regulators — a lot of members are going to be seeing changes.
Today Marriott Rewards' strongest argument is ubiquity. What members tell me most often what they like about Marriott Rewards is 'no matter where I go, I can earn my points'. In the US at least there are Marriott family properties pretty much anywhere.

Marriott Seattle Airport Atrium
However Marriott Rewards has real drawbacks.
There aren't very many 'special places', really aspirational hotels where you can have experiences using your points. There are plenty of perfectly nice properties, but not many to dream about.
It has the toughest criteria for earning top tier elite status of any of the major chains. Sure, there are a few tricks to earn status but 75 nights for Platinum, when you can't qualify just on stays or spend, is high.
Despite the high hurdle for top tier, benefits aren't competitive with Starwood or Hyatt. There's no promise that top tier members get suites even when every suite in a hotel is empty. Breakfast isn't a benefit at Courtyard properties, at Ritz-Carlton properties, or at resorts. So if your company is paying for a stay and probably picking up breakfast, breakfast is free. But if you're on vacation at a resort and you're out of pocket, you don't get breakfast.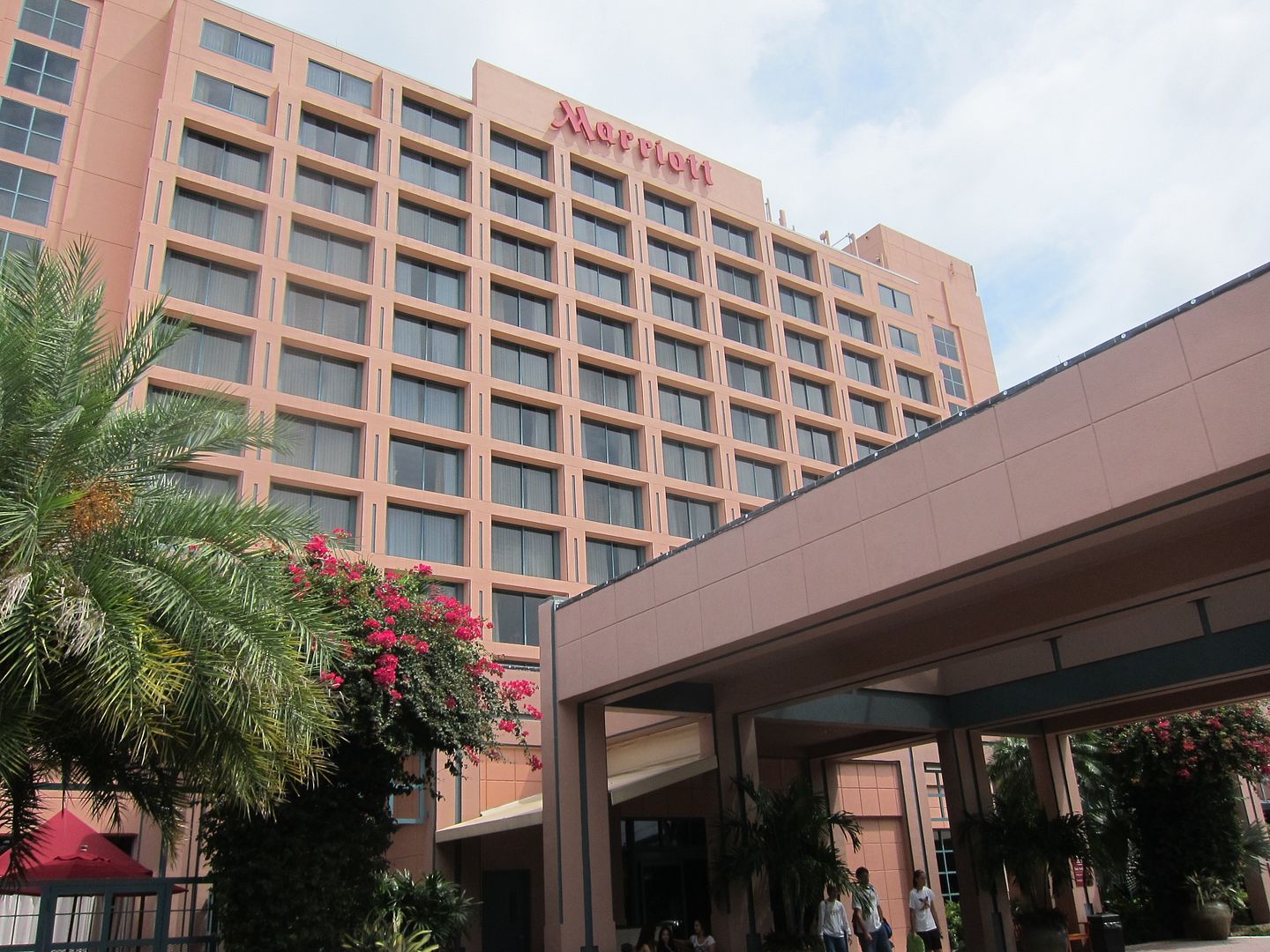 Marriott Boca Raton
Hyatt's top tier benefits are going to stay the strongest — confirmed at booking suites 4 times per year and full breakfast (not continental) for up to 4 registered guests in a room, and the ability to gift Diamond benefits when booking award stays for friends and family.
But Marriott doesn't need to compete with Hyatt most of the time given their size, which only gets bigger with the Starwood merger, while growing its international footprint.
Marriott gets the aspirational properties through the merger as well, so Marriott points will become more valuable with more and nicer placers to redeem them.

St. Regis Bali
Marriott is also already more rewarding for in-hotel spend than Starwood, and certainly clustered in the middle of the pack with competitors.
And Marriott has started to improve since announcing its deal with Starwood.

Renaissance Boca Raton
I'm hearing several (unconfirmed, and I haven't asked Marriott to confirm) reports that Marriott Rewards will ultimately add real suite upgrades for Platinum. They have to, this is non-negotiable if loyalty is a priority for the program as they say it is.
If they do this, and if they fix breakfast, they'll be a stronger program than Hilton HHonors with better hotels. And that's the major competitor.
And the key outstanding issue would be how they treat Starwood members coming into the Marriott Rewards program.
How will lifetime elite benefits transfer? Marriott's lifetime requirements are higher than Starwood's (not surprising since Marriott offers so many more opportunities to stay given its size). Will lifetime Starwood Platinums get lifetime Platinum from Marriott, or just gold? Will lifetime Starwood Golds get lifetime Gold, or just silver (which really isn't a benefit)?
At what ratio will Starwood points transfer to Marriott? Anything less than 1 Starpoint to 3 Marriott points will lead to a lot of Starwood members wishing they had lit their points balances on fire before the programs merged, blowing them on one last megastay or transferring them to airline miles.
The good news is that Marriott seems to value improvements to its loyalty program more than I'd have expected, given that they've already introduced some changes and inferring from Starwood Preferred Guest continuing to do new and innovative things even as the merger is pending and even as the rest of Starwood seems to be preparing to defer to Marriott entirely on its future.
With a merger that hasn't even closed yet and the large technological, policy, and training challenges that go along with combining major loyalty programs it's possible that Starwood Preferred Guest could have a standalone future longer than the 'through 2017' that we've been told.
And it's an oversimplification to say that when the programs do merge, these issues are all that will determine its future value for members. Starwood is fantastic at problem-solving and service recovery, while my own experience with Marriott doesn't live up to that standard. (A reader shared with me last week about the modest compensation she was offered for a bat flying into her in her room never posted thanks to lack of followup by the hotel.)
Nonetheless what we've seen so far is, at least, offering reasons to be hopeful (even if the initial handling of 4pm checkout provides reason to be cautious).