As a follow on to my discussion of how tough it is to get premium domestic cross country award flights in business class except at the last minute, a word about first class is in order.
American is the only airline offering a separate cabin 3-class first class product. You can read up on it here and also here.
A good reminder that every rule about award availability works until it doesn't anymore, I had pretty much internalized that American only releases one first class seat at a time on its New York JFK – Los Angeles and San Francisco new premium cabin A321T flights.
Here's the new pattern for finding first class award availability ofr two passengers on the premium transcon flights.
@hungariannomad points out that American has changed things up and now makes first class awards for two passengers available on Tuesdays and Saturdays, beginning in mid-August.
Here's the New York JFK – Los Angeles route for two passengers in first class.
Tuesday availability disappears right around the Thanksgiving/Christmas/New Years holiday dates. But otherwise the pattern continues and picks back up after New Years through January.
Then starting mid-February it's just Tuesdays that have the availability becoming more sporadic across Tuesdays and Saturdays around late March, then resuming the normal Tuesday/Saturday pattern for April-May through end of schedule.
Los Angeles – New York JFK, though — the other direction — seems to mostly be available just on Saturdays.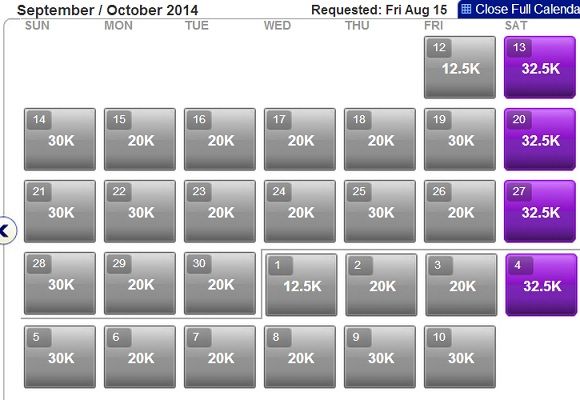 New York JFK – San Francisco follows a very similar Tuesday/Saturday pattern to New York JFK – Los Angeles, with only 1 stray Friday that I found.
It turns out that first class — though only available a couple of days a week — is a bit easier to get for two passengers than business class!
Update: You may notice availability from yesterday shown above. THat's because I managed to not hit 'publish' on the post when I wrote it. Heh.
---