The Dallas and Miami Centurion lounges offer complimentary spa treatments. I love a good spa treatment, I will take up the offer of the Thai Airways spa in Bangkok and the Qantas first class lounge in Sydney. But I generally give it a miss from Amex.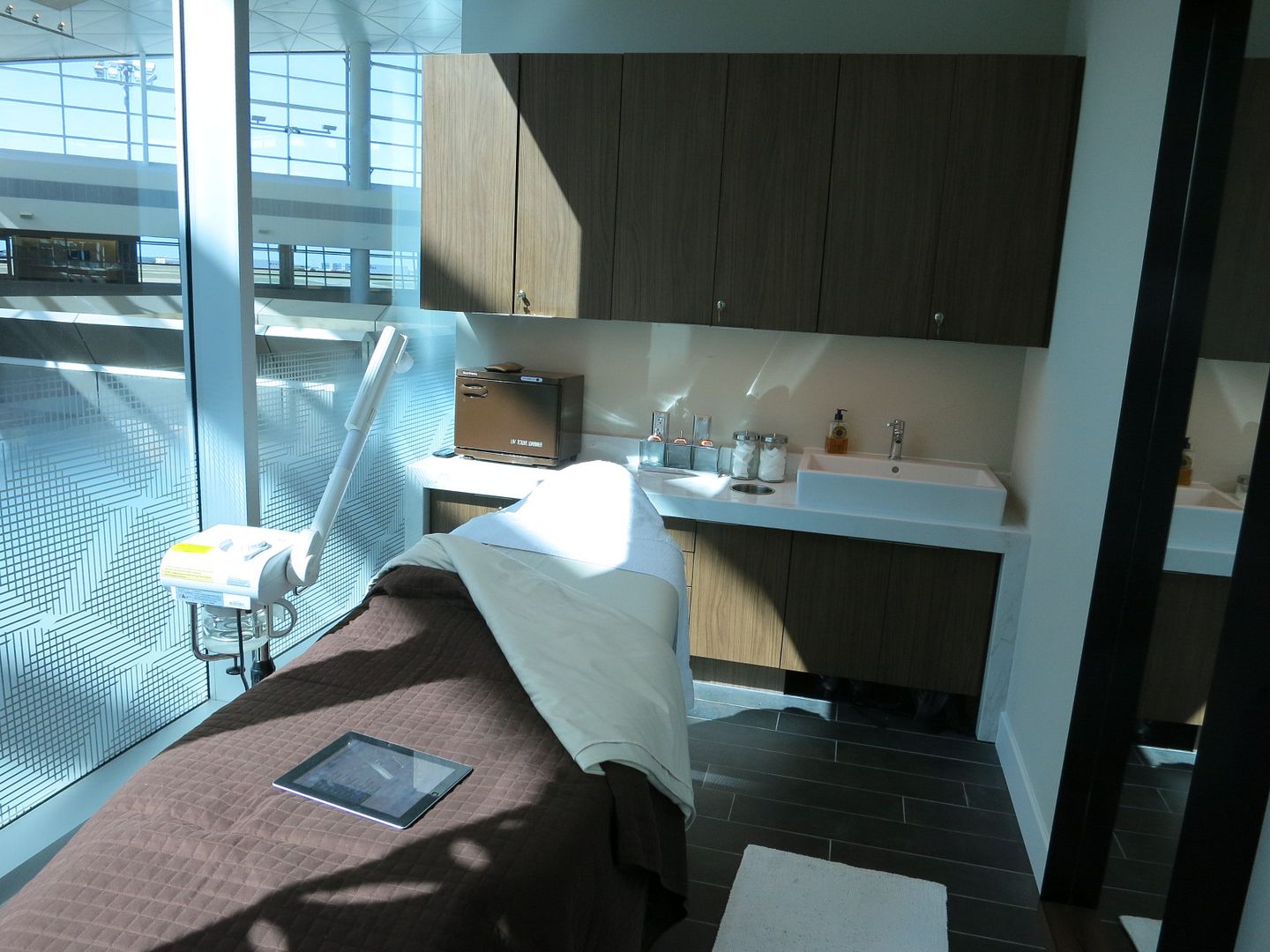 Exhale Spa, American Express Centurion Lounge Dallas Fort-Worth
I'm also not super big on kids rooms, though if I had a kid I sure might be. I enjoy the lounges mostly for their food and beverage offerings, I appreciate the ones with showers, and wish they were less crowded.
But the one 'special feature' I enjoy most out of their U.S. lounges is the "wine wall" in San Francisco. I never drink wine onboard in domestic first class, and don't touch the house wines in US airline lounges. I love nice wines but don't drink for its own sake.

American Express Centurion Lounge San Francisco

American Express Centurion Lounge San Francisco
The great thing about the wine wall is that they serve better wines than you'd expect in a lounge and it's an opportunity to be introduced to some new bottles you may not have tried before.
Since this is their Northern California lounge they've invested more in wine, and it's like you're doing wine tasting in Napa but you're in the airport.
Here's the self pour wine wall. You can get a ticket when you enter or from the bar (or both…) and do a wine tasting.
When I first visited the lounge I took several pours of the Grgich Hills Zinfandel. I was really surprised by the quality of wine on offer. I have to imagine that American Express can get a very good deal on nice bottles because wineries themselves view this as a tasting, albeit without an immediate option to purchase bottles, introducing their wines to affluent customers with Platinum or Centurion cards.
Anthony Giglio, American Express' wine expert (whom I find really down to earth for a wine guy!), tells me that they've refreshed the bottles they're serving in the lounge and he passed along the current list of bottles.
Chateau Montelena Riesling
Jayson by Pahlmeyer North Coast Chardonnay
Cakebread Cellars Napa Valley Sauvignon Blanc
St. Supery Vineyards Napa Valley Virtu White Meritage
Miner Family Winery Simpson Vineyard Viognier
Treana Central Coast White Blend
Buhler Cabernet Sauvignon
Gundlach Bundschu Sonoma Valley Cabernet Sauvignon
Hall Wines Napa Valley Cabernet Sauvignon
Peju Winery Napa Valley Merlot
Whitehall Lane Winery Napa Valley Merlot
Jax Vineyards Russian River Valley Pinot Y3 Pinot Noir
Macphail Sonoma Coast Pinot Noir
Bravium Anderson Valley Wiley Vineyard Pinot Noir
Alexander Valley Vineyards Dry Creek Valley Redemption Zinfandel
Seghesio Family Vineyards Alexender Valley Defiant
Seventy-Five Sum Red Blend
Dutton-Goldfield Russian River Valley Spectrum Red Blend
Some of these I know, others I don't, which is what makes this interesting. I haven't tried Alexander Valley Vineyards' Zin, though their Cab Franc is something I used to pair frequently with outdoor grilling. Chateau Montelena is best known for their chardonnay (winemaker Mike Grgich's chardonnay was the subject of the 2008 film Bottle Shock about a blind tasting in 1978 where it beat out french competitors). I haven't tried their Riesling.
I do enjoy Cakebread's Chard and their cabs but I'm not a big fan of the Sauvignon Blanc, but that's more about being non-plussed about Sauvignon Blanc generally (or rather not enjoying it usually on its own, finding that I need it paired with the right food to enjoy it). The Pahlmeyer Jayson Chardonnay is excellent.
New wines to try is a new reason to look forward to passing through San Francisco and visiting the Centurion lounge there near gates 74 and 75.