Chiang Rai Cooking Class at the Le Meridien: On our last morning at the resort we scheduled a cooking class.
I don't like early morning departures, I'm tired and I'm not relaxed and that really cuts against the whole point of the resort stay. But afternoon departures can leave us feeling antsy, basically just waiting around and killing time until it's time to fly. So we always try to schedule an activity for the last morning, and on Southeast Asia trips in particular that usually means a cooking class. I enjoy cooking Asian dishes, and usually do bring back what I learn in the class to prepare at home.
In advance of the stay I e-mailed Le Meridien to find out whether they offered classes. I did look into what else one might do in Chiang Rai, and there are options, but the hotel has a nice setup and I decided to take them up on it.
We met out front at the resort at 6am (yes, that meant I was going to be tired – but it was a relaxing and fun tired, which is different than schlepping off to the airport that early. For me, there's a strange logic in it…)
They'd start later if you wish, but the early a.m. meet up meant that the chef/instructor for the day would take us out to the local market first. A hotel driver was there as well, and we made our way into Chiang Rai town. The market was extensive, busy, and inexpensive and offered a plethora of things we could never get at home – and naturally would never be permitted to exist given government health department regulations. One of the reasons I love visiting other countries so much is their lack of regulatory rigor (think cheese in France! I long for unpasteurized cheeses at home in the States…).
We were able to ask our chef/instructor questions about the different fruits and meats, and then it was back to the hotel where he showed us around the Le Meridien's garden where they grow various fruits and vegetables for use in their restaurants. He also told us there's an intention to build a cooking class facility over by the garden, though I didn't ask other hotel staff members about this.
In the meantime, cooking classes are set up on the river outside the Latest Recipe restaurant. They set up our stations while we went to the other side of the restaurant (outside again, naturally) to have our breakfast.
The two of us and our cooking class instructor each had our own cooking stations set up, with portable burners and pre-prepped items that we'd be cooking with. I need to import this into my own kitchen, prepping always takes me the longest amount of time and is the least fun part of the cooking process!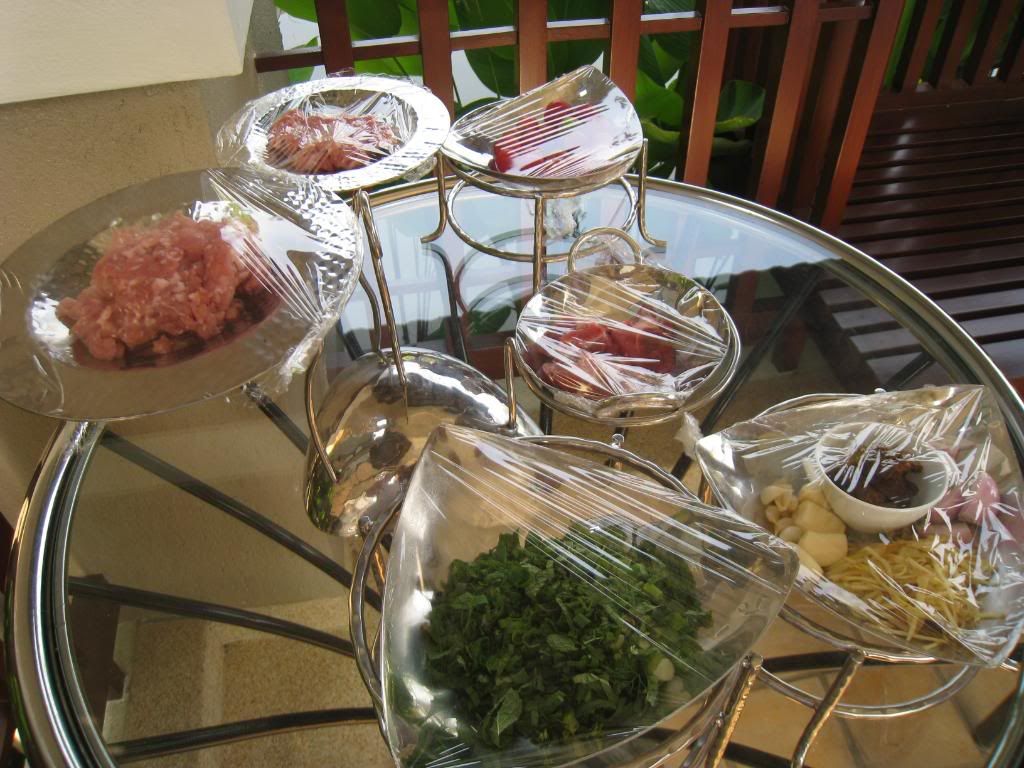 At around 8 a.m. we were ready to get started.
The cooking class materials said we would be cooking until noon, and would then eat the lunch we had prepared, but in reality the class lasted until not quite 10 a.m. Perhaps we were just expert students! (More likely their materials need updating with the plans as they actually work in practice. While we were given a 'certificate' and the recipes for each dish we prepared, the materials also told us we would receive a picture of ourselves. No big deal that we didn't, I snapped pictures of my very cute better half wearing the chef outfit they provided – an apron, towel, and chef's hat).
We opted to prepare the "Khon Muang kitchen (Lanna Khan Tok Style)" menu.
Nam Prik Ong: Northern style dipping of minced pork and cherry tomato
Yum Jin Gai: Spicy Shredded Chicken Soup with Spices
Gang Hung Lay Moo: Northern Dry Spicy Pork Curry with Pickled Pearl Garlic
Larb Muang: Warmed Spicy Pork Salad
[Deep fried banana
They offer another Thai menu, but I was already familiar with cooking the dishes on it, having taken up a few of the items after taking a class from the Thai restaurant's chef at the Le Meridien Khao Lak a couple of years ago.

Quote:
Som Tam
Green papaya salad
Tom Yam Goong
Traditional spicy and sour prawn soup
Phad Thai Gung
Thai fried rice noodles with tiger prawns, bean curd, and tamarind sauce
Gaeng Khiew Wan Gai
Green curry of spring chicken
Bau Loy
Finally they offer an Italian menu prepared in the kitchen of Favola, their riverside Italian restaurant. But I couldn't imagine coming all this way to cook Italian food, and my wife could easily teach me everything on that menu…

Quote:
Barolo Poached Pears, Taleggio and Candied Walnut Salad

Cotechino Sausage, Celery and Barley Broth

Roasted Black Cod, Red Pepper and Capers
Wilted Romaine Leaves

Rosemary and Truffle Infused Cherries
Toasted Pannetone, Whipped Mascarpone
After cooking our dishes were taken from us, we walked back over to 'our table' at the restaurant that was already set up for us (everyone at the resort knew which one 'our table' was, of course). And our food was brought out to us, along with some sticky rice as an accompaniment.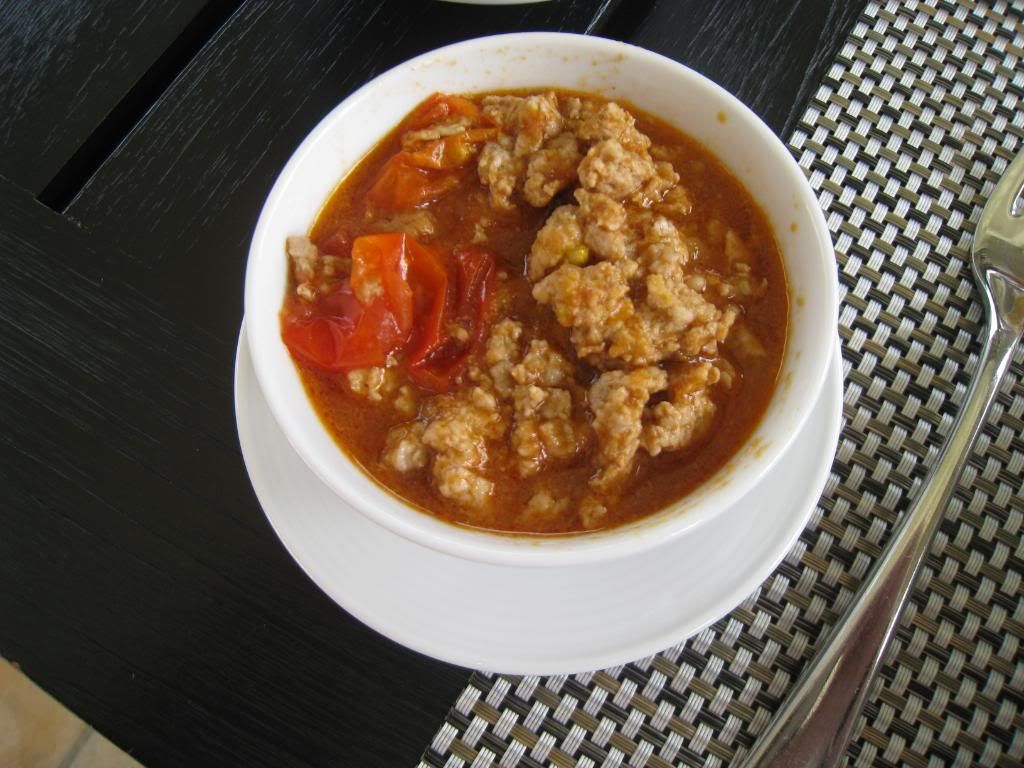 Outstanding, delicious!
Then, after our lunch – which was a little bit earlier in the morning than I had planned, I really shouldn't have eaten so much at breakfast – we went back to the room, changed, and went out to the pool for our one last visit there. Again, as in nearly every other time, no other hotel guests availed themselves of the lovely pool while we were out. Back to the room, we were already packed, and it was time to check out.