I receive compensation for content and many links on this blog. Citibank is an advertising partner of this site, as is American Express, Chase, Barclays and Capital One. Any opinions expressed in this post are my own, and have not been reviewed, approved, or endorsed by my advertising partners. I do not write about all credit cards that are available -- instead focusing on miles, points, and cash back (and currencies that can be converted into the same). Terms apply to the offers and benefits listed on this page.
---
In May I wrote that Phoenix airport would replace the small The Club lounge there with a new 9,532 square foot lounge.
Currently Phoenix Airport's terminal 4 B concourse has a Priority Pass-accessible "The Club" lounge. It opened in 2014 and it quite small, 2985 square feet. It has food and drink, but the furniture is dated and there are no restrooms inside the lounge.

The Club at PHX

The Club at PHX
At the time I speculated it would be "a Centurion lounge — or perhaps less likely could become an Escape or Airspace lounge."
Tonight the City Council will vote to approve a contract with MAG USA Lounge Management, a subsidiary of the UK's Manchester Airport Group, which operates Escape Lounges across several US airports. These are accessible by Platinum Card from American Express cardholders. Escape lounges such as the one in Reno are surprisingly nice.

Escape Lounge Reno
However it won't just be an Escape lounge that the Phoenix airport is getting. The 9532 square feet are proposed to be split into two lounges. One would be a Centurion lounge, and the other an Escape lounge. It's anticipated these lounges would open in December 2019 or January 2020.
This side would include a wall of local succulents designed to reduce noise and improve air quality. A "chef's table" would add local flair to the food. A flex zone could be closed off to accommodate a VIP dinner if needed.

The other side would be the Escape lounge for customers of partner airlines and credit cards and those willing to pay the daily fee.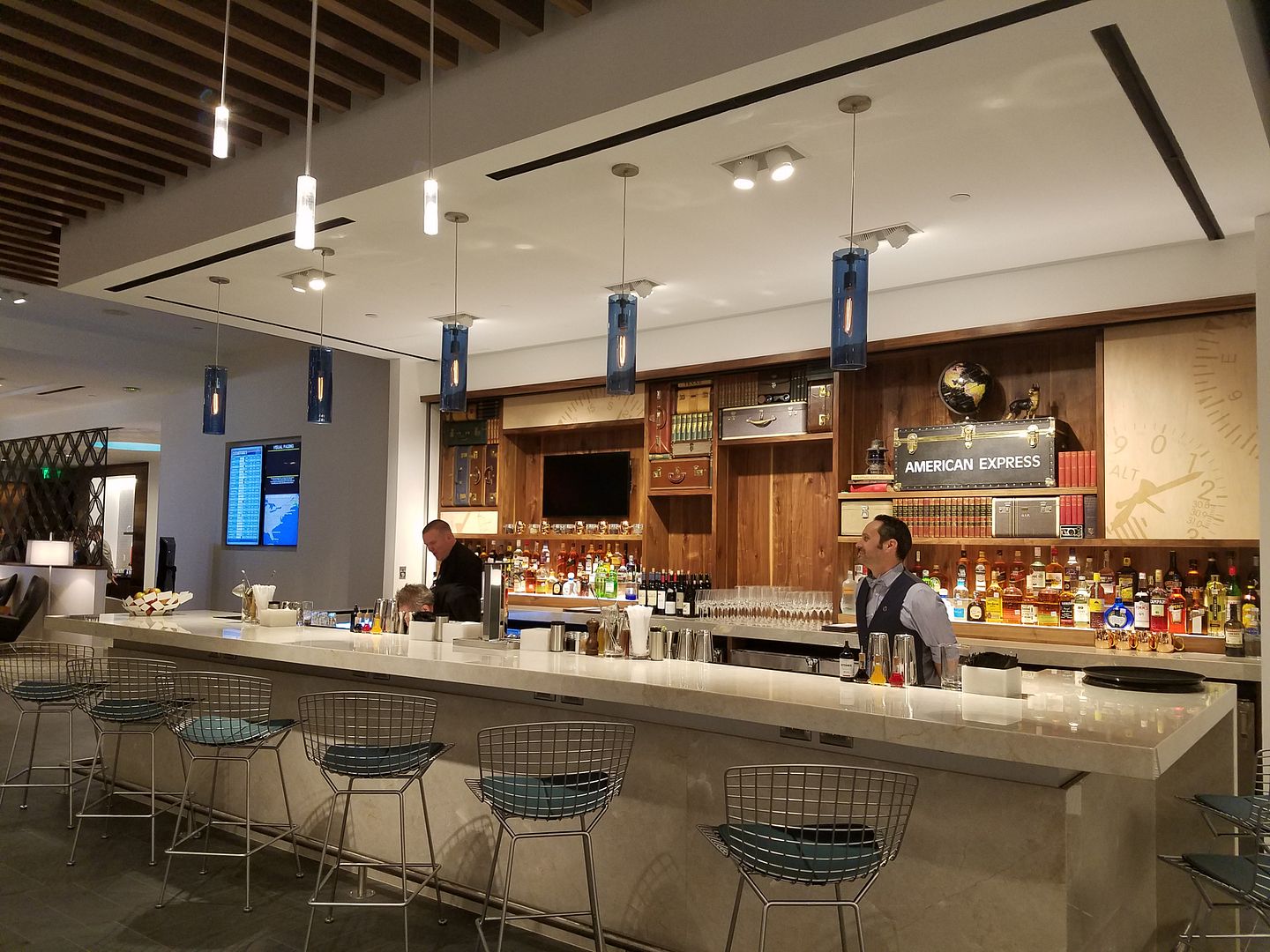 Centurion Lounge Houston
While it's a lot more lounge space than offered by The Club at PHX today, and Escape lounges aren't usually large, this would likely be the second-smallest Centurion lounge after Seattle.
American Express Centurion lounges currently open are Dallas Fort-Worth, Las Vegas, Miami, New York LaGuardia, San Francisco, Seattle, Houston, Philadelphia and Hong Kong.
Denver, New York JFK, Los Angeles, Charlotte, and London Heathrow were already confirmed to be in progress.
Priority Pass objects to being shut out, and wants to find space for another lounge at the airport:
Following the announcement that the common-use lounge at Terminal 4 at Sky Harbor International Airport will undergo a change of operator, we have written to Mayor Thelda Williams to express our concern that removing access to this lounge for our Members could have a negative impact on the 150,000 Priority Pass Members that use the lounge annually and, in turn, on revenue value to Phoenix Sky Harbor International Airport…

We look forward to working with Mayor Williams to identify an alternative lounge space for our Members, so they can continue to enjoy access to an airport lounge at America's Friendliest Airport," she wrote.
Lounge access in Phoenix is improving substantially as Delta will open a 7500 square foot Sky Club in terminal 3 next year, and American has been renovating its lounges.
---
CitiBusiness® / AAdvantage® Platinum Select® Mastercard®
Earn 65,000 AAdvantage miles.