Previous Installments:
I flew Etihad first class earlier this year both New York JFK – Abu Dhabi and also Abu Dhabi – Dusseldorf.
In some ways this Etihad first class flight was better than either of those, though my return flight to DC would be better still.
Etihad's premium cabin award availability, certainly booking far in advance, is amazing. At times they've seemed to go through cycles where their entire first class cabin or at least the majority of it on both the New York and Washington DC routes has been open for awards. Most of the time there are 2 first class award seats. And from the US they partner only with American, which means the bulk of demand for the seats comes from American's frequent flyers.
They aren't a oneworld partner, I suspect that agents don't often think to check on them as an option. And since American doesn't permit transiting the Middle East enroute to Europe, Africa, or Asia as a single award, it's really limited for the most part to folks going to the Middle East itself or to India and surrounding countries.
Taken together that means Etihad premium cabin awards are really easy to get. In fact, I helped a colleague at work to put together an award trip to the Maldives over the Christmas/New Years period for five people (using a couple of different flights) thanks to Etihad space.
I got another work colleague ("Pakistani Correspondent" for my regular readers) onto one of these same flights.
And I got still someone else I work with onto an Etihad itinerary over the Christmas and New Year's period as well, first class outbound and business class return — and then when she had Visa issues I managed to change her flights just a few days before departure. Thank you, Etihad, for making so much award space available!
Of course it seems as though Etihad schedules flights for reasons other than making money ('connecting the capital of the United Arab Emirates to the capital of the United States') and so flights may not be all that heavily booked. These subsidies are so much the better for us.
The newly announced Los Angeles and Dallas flights are for the most part wide open on points. The Toronto and Chicago flights, which do not offer first class, tend to be tougher to book.
Etihad's service isn't as polished as the better Asian carriers. In my limited experience, the crews seem trained to be helpful and they try to be helpful but they are often confused, overwhelmed, and forgetful. The level of service also depends a great deal on the number of passengers in the cabin. They get overwhelmed by a full cabin and find it easier to handle a much emptier one. So variations by individual crew and by load up front.
The really unique thing about Etihad's first class offering is their onboard chef concept. While the chef helps out as a flight attendant, they really are a chef — not someone with a few weeks' training in reheating dishes, but someone with experience cooking at a restaurant. The quality of these onboard chefs varying dramatically, presumably in their skills but most noticeably in their interactions and the extent to which they try hard to offer to put their skills to use. That really showed itself on the flight back. Our chef onboard this flight was an Aussie fellow with experience in a variety of restaurants including a stint cooking Thai.
As I mentioned in the last segment, we boarded from the lounge right onto the jetway. We proceeded onto the flight and found that there was only one other passenger in the cabin. That was surely going to make for a great flight!
I love the Etihad first class cabin, I think it's gorgeous, one of the most stylish there is (along with the British Airways first class cabin, probably the most attractive). Mostly I suspect it's the color scheme.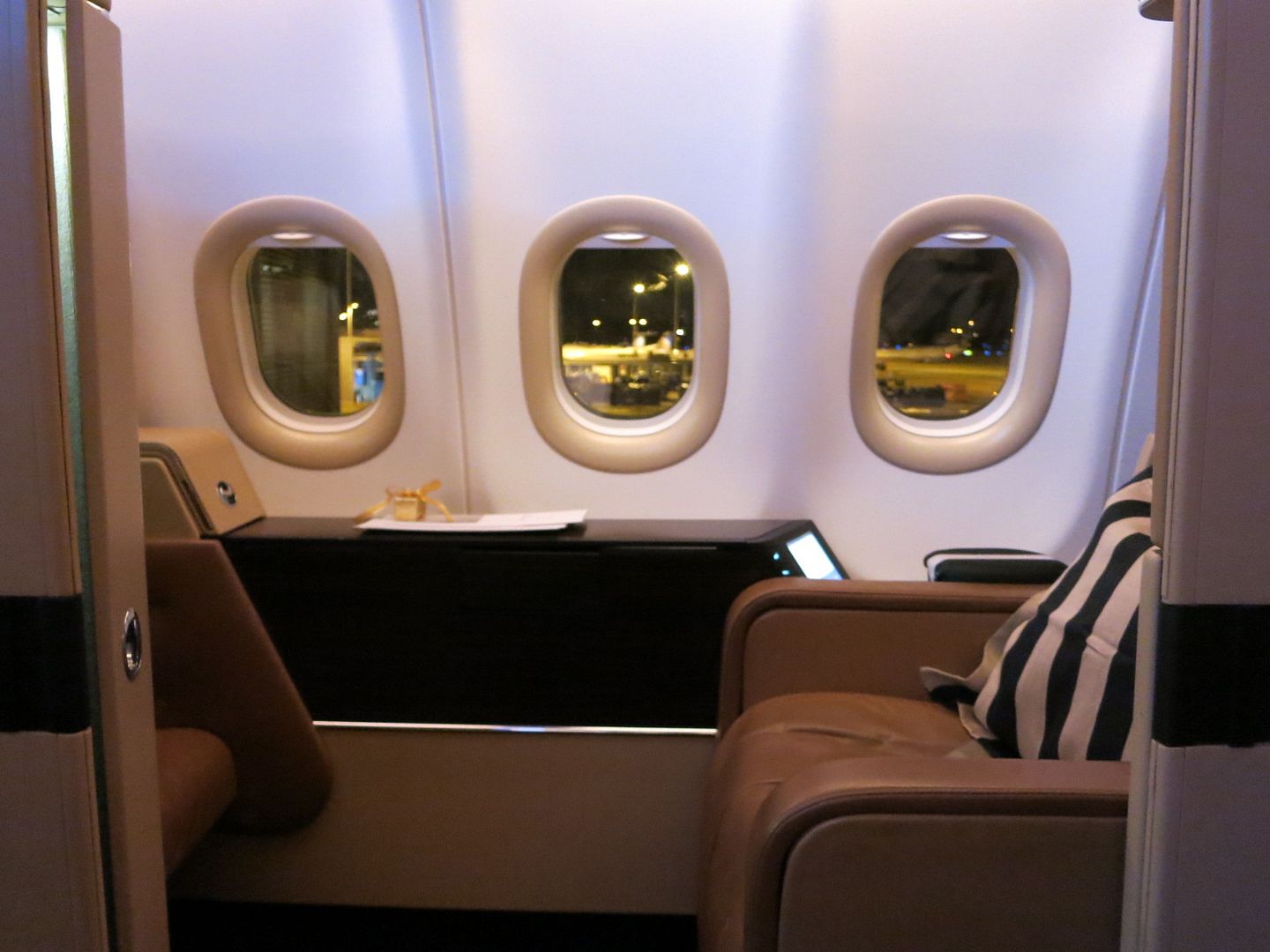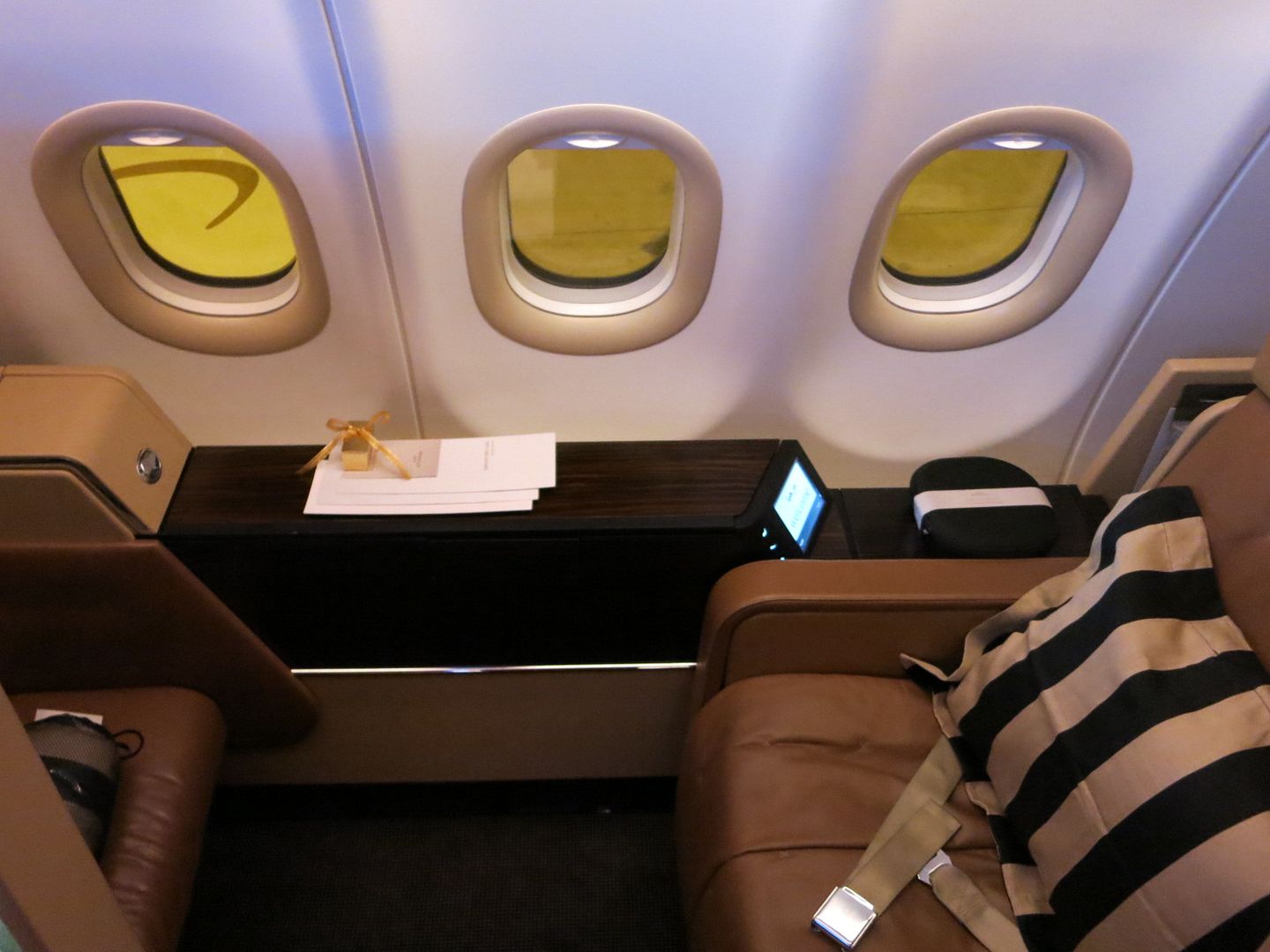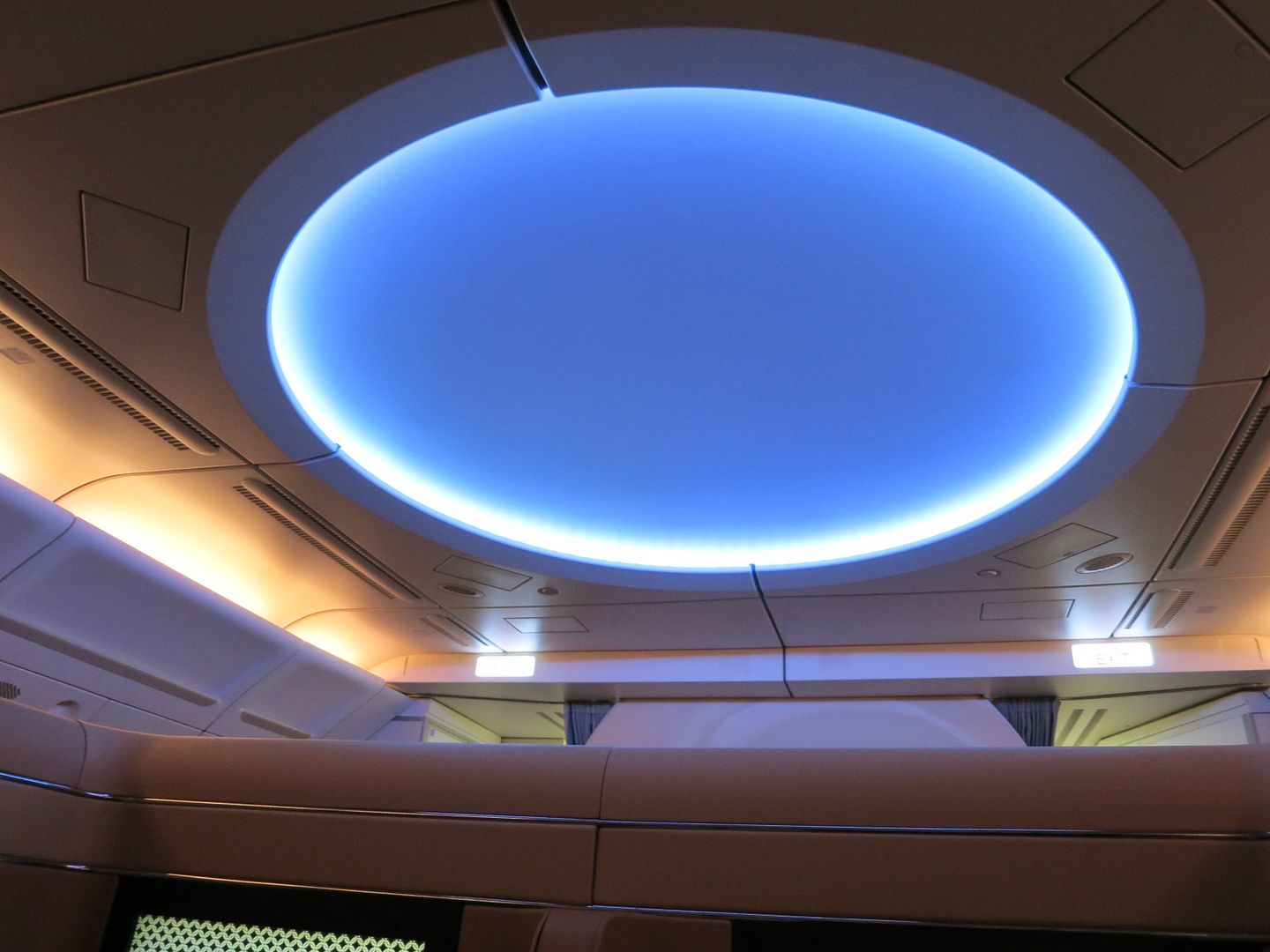 The first class seating is 1-2-1, with individual suites at the window and two suites in the middle separated by an electronic divider that you can take down for two passengers flying together. Clearly passengers together want the middle seats, and solo travelers want the windows.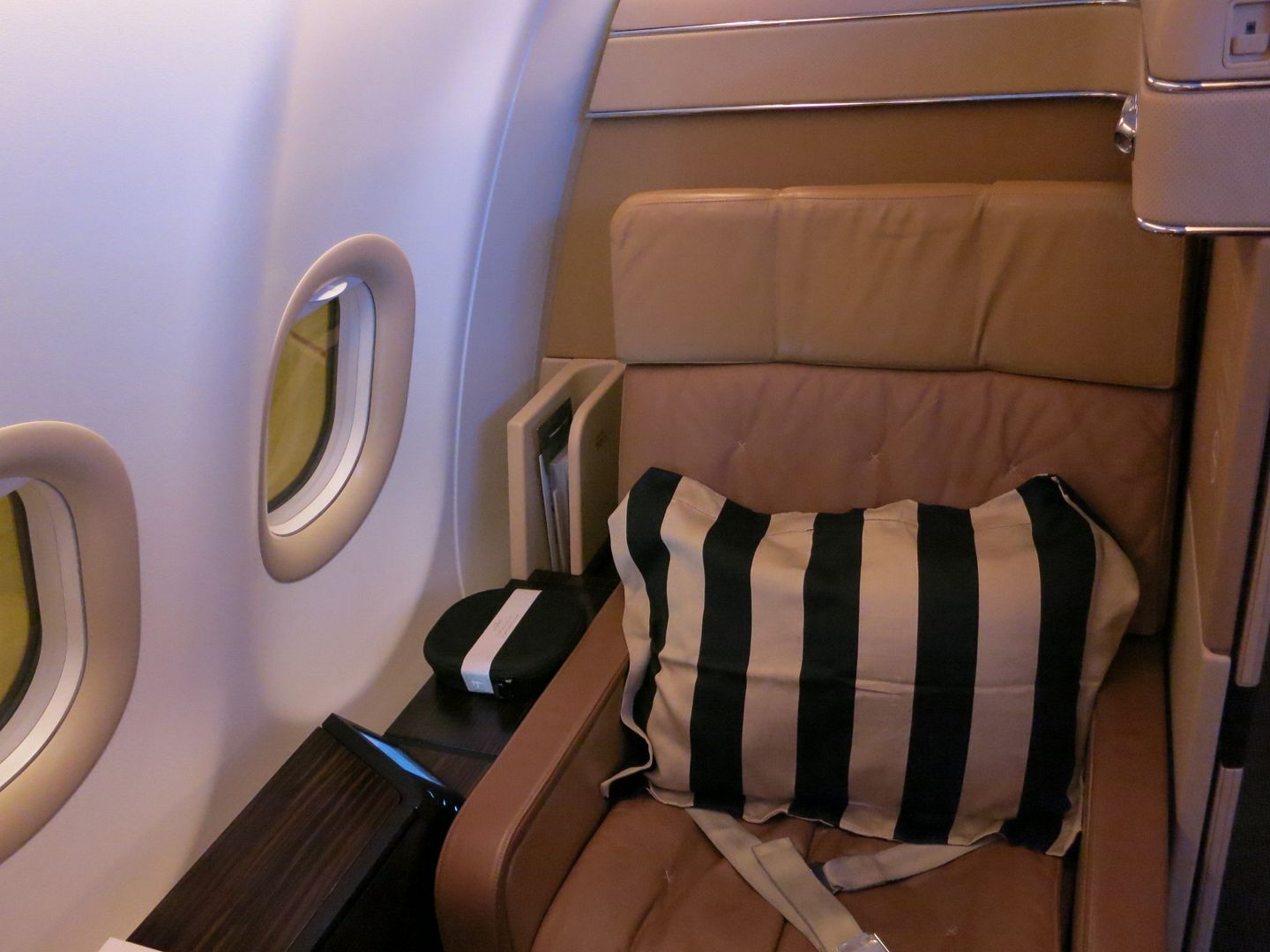 There's a large television screen. Underneath is an ottoman, below which is personal stowage space. The cabin has no overhead bins, which creates a spacious feel, but it leaves that spot inside the suite as the only place to fit carryons. It works out well, though, easily fitting standard sized rollaboards. The suite does have a closet with a hanger, but it is extremely narrow and I can barely fit a shirt and pants inside on the same hanger — too wide.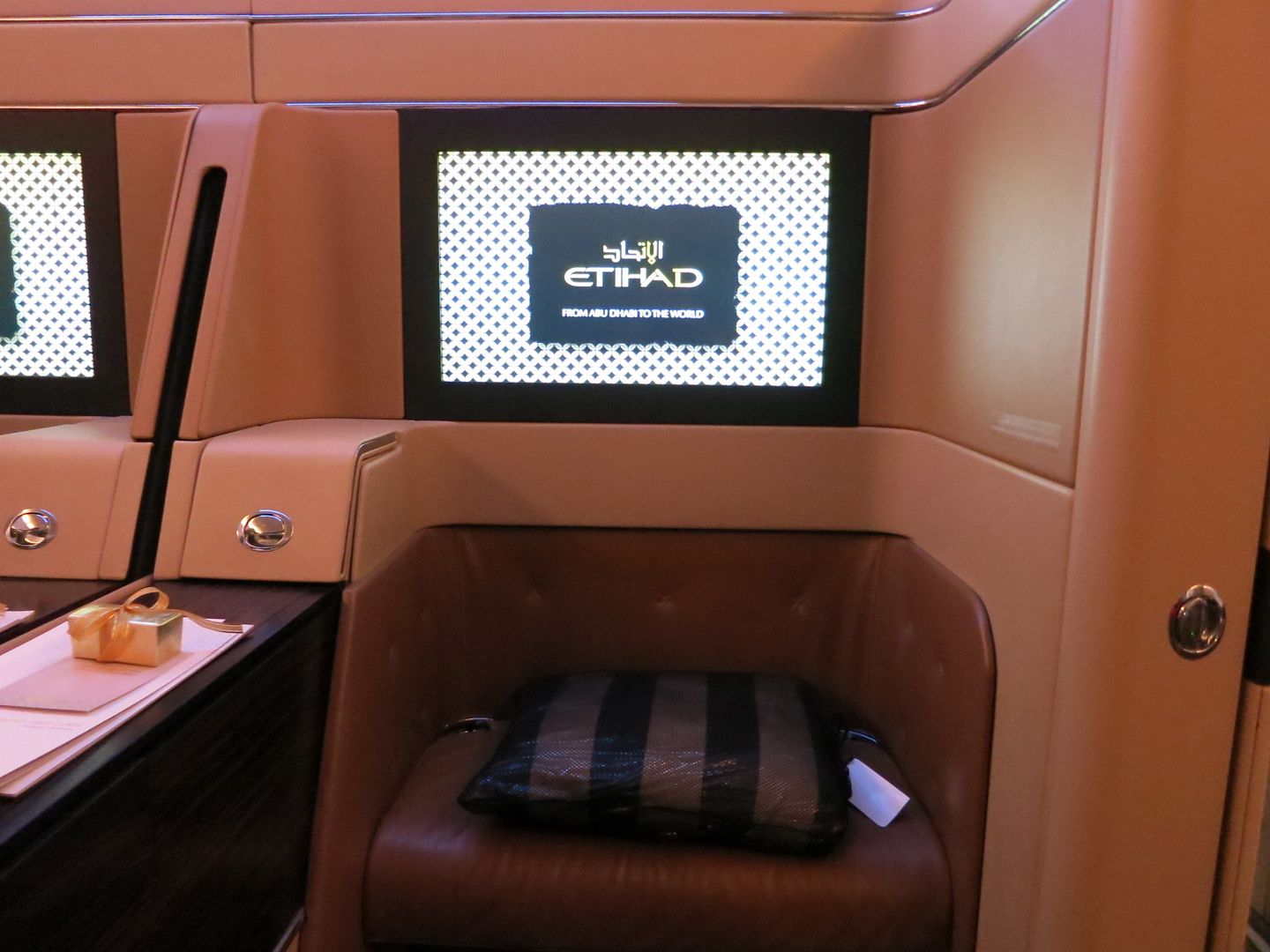 Seat controls are electronic, and touch screen on the side of the seat. There's a 'minibar' with packaged snacks and both sparkling and still water. I suppose this is a reaction to Emirates offering an inflight minibar and also presenting a snack basket pre-departure.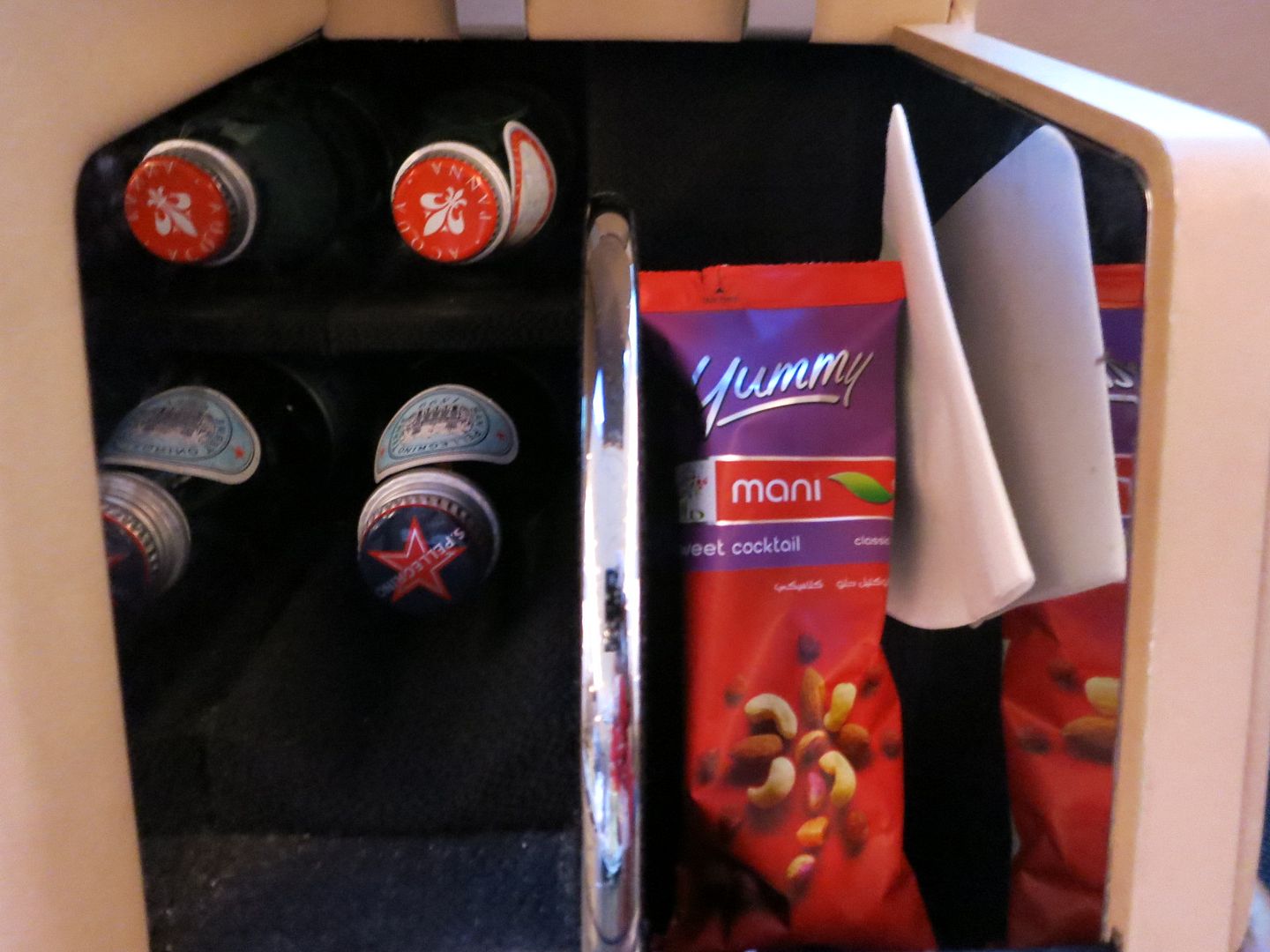 At the seat already were menus and a welcome card as well as small box of chocolates. Pajamas and amenity kits were quickly distributed along with a hot towel.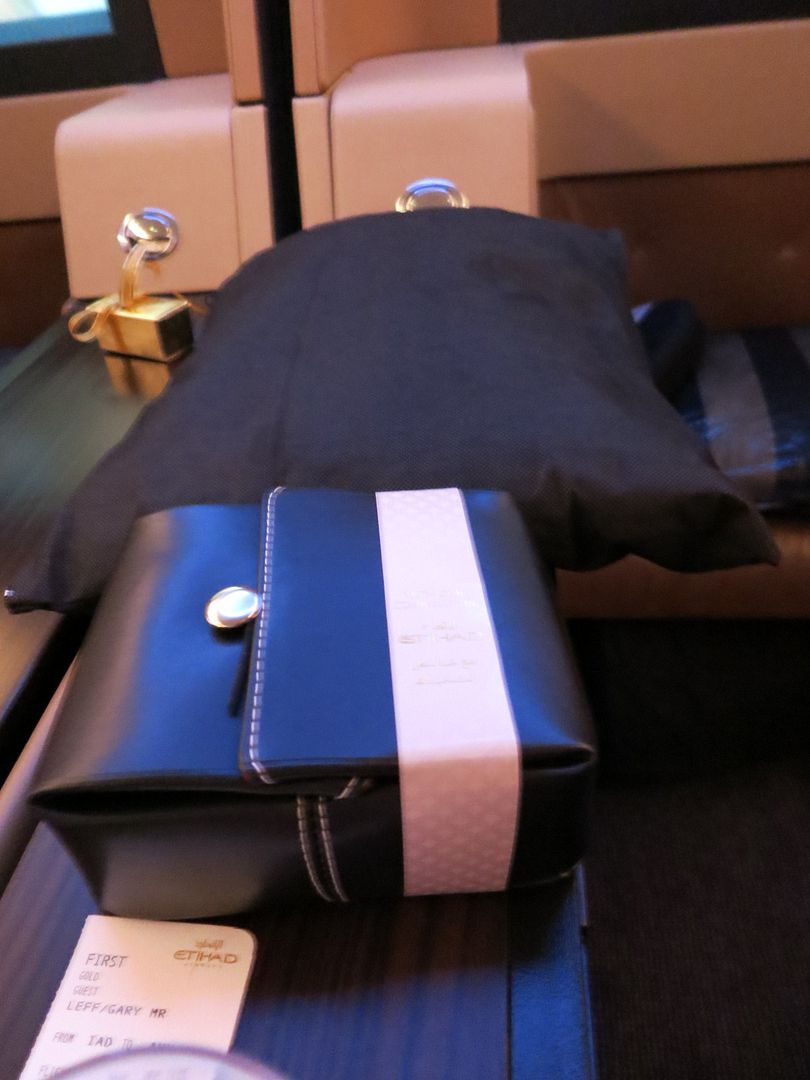 Pre-departure beverages followed by the flight attendant and chef coming around to offer Arabic coffee and dates.
The captain announced that our departure would be delayed by a woman who was not going to be able to fly — she was nearing her delivery date, she was too late in her pregnancy, and they were going to have to offload the passenger and also her checked bags.
Shortly after takeoff dinner was served.
Here's the menu from the flight, and the meal.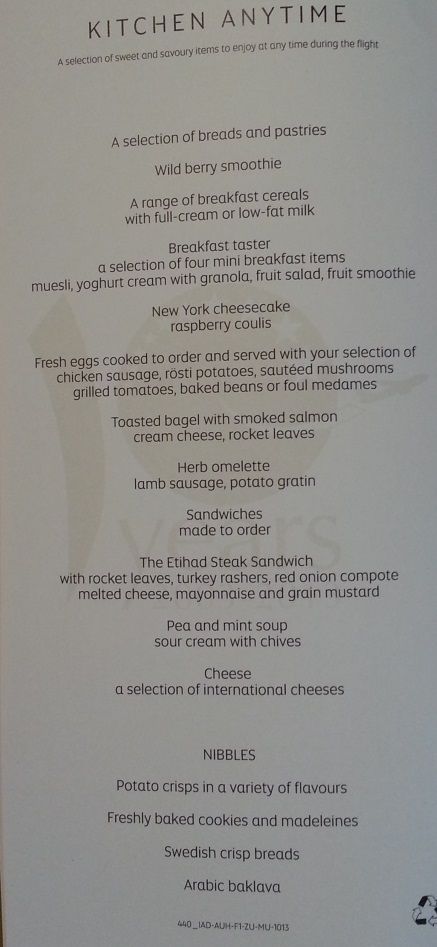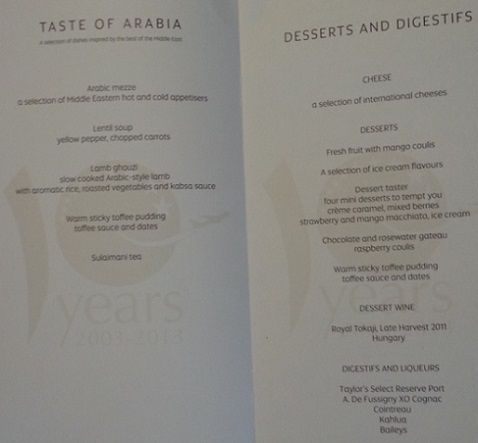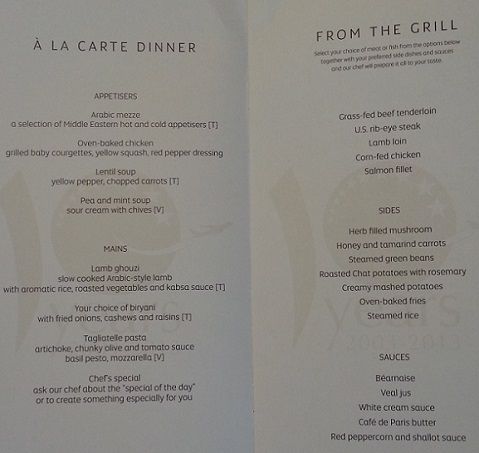 We began with a small tasting item, and I continued to drink champagne as I did for my pre-departure drink.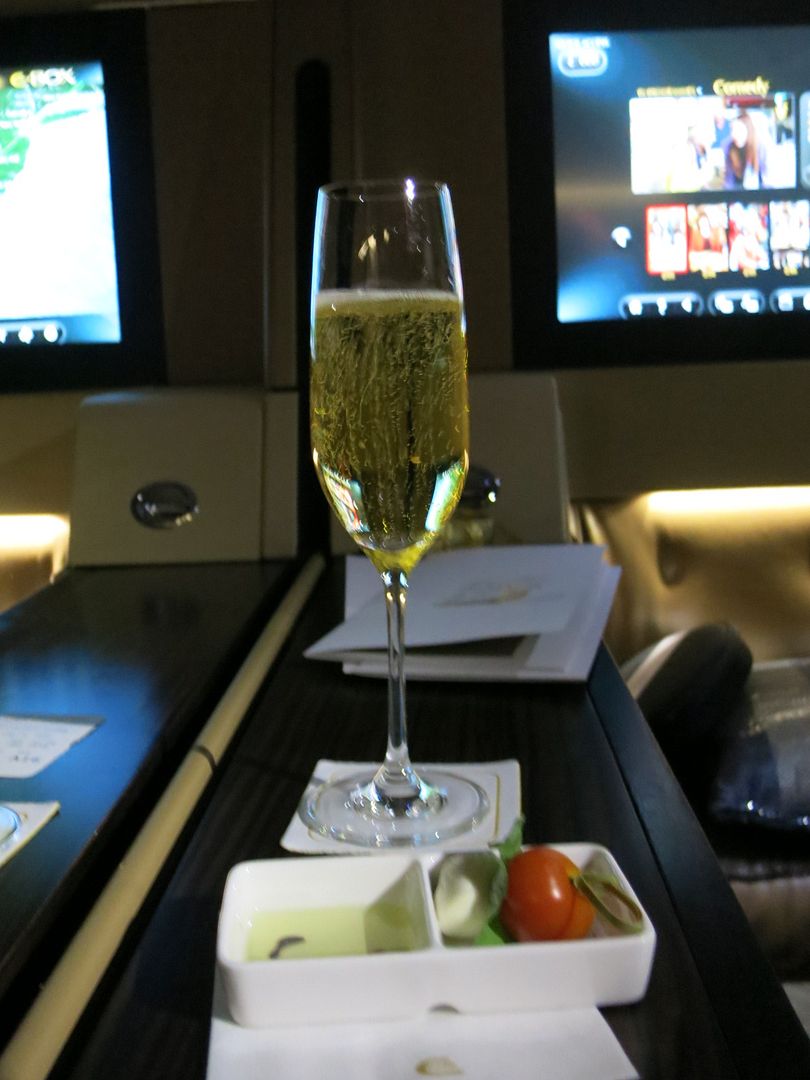 The table is set beautifully, and the first course is a mix of small tastes which went nicely with the bread.
Many folks would have done other early courses but I didn't want to overeat so late and yet so early in the flight. So I was ready to move onto my main, and was served the palette cleanser sorbet.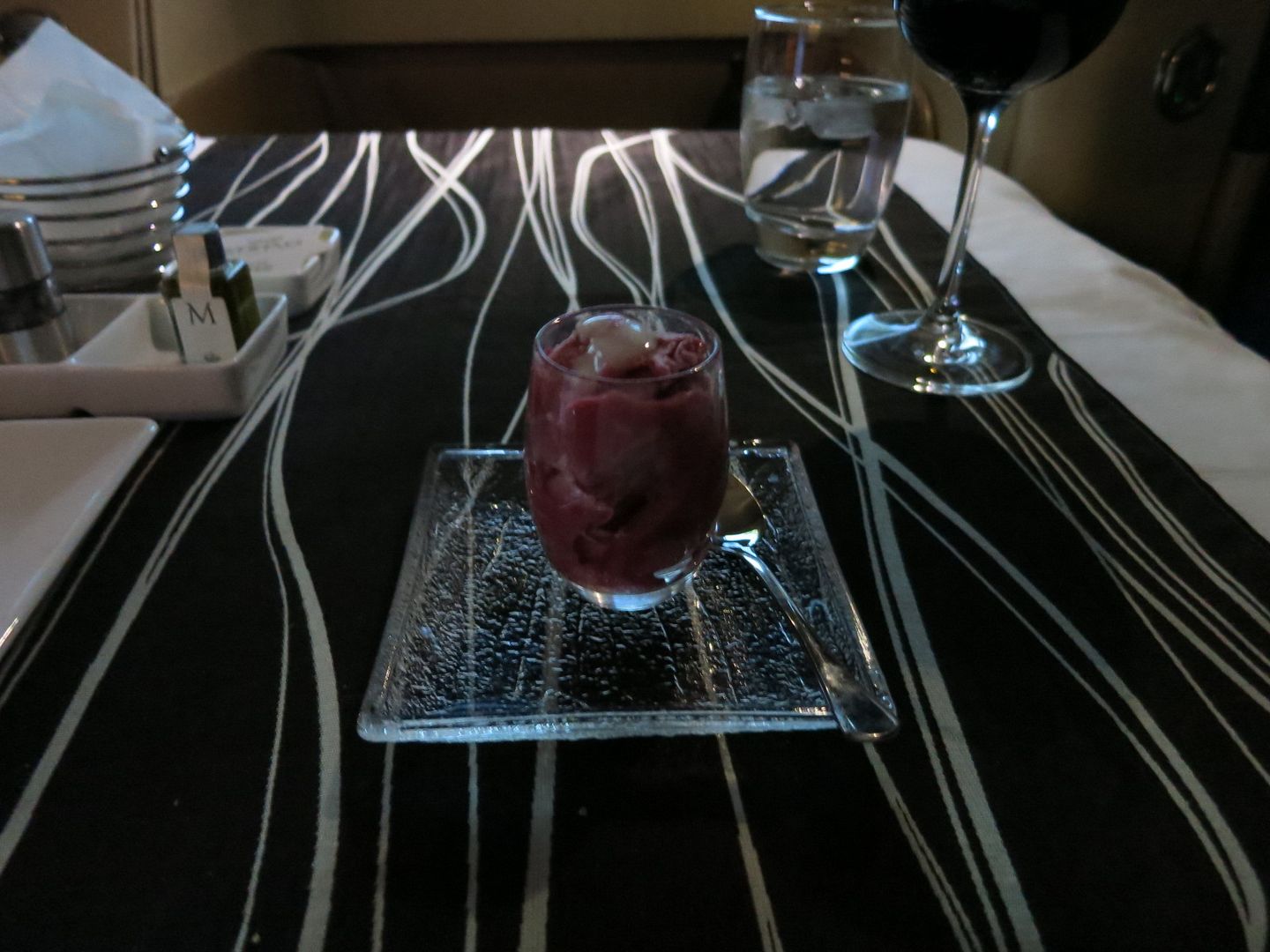 For those interested though, here's the Arabic mezza: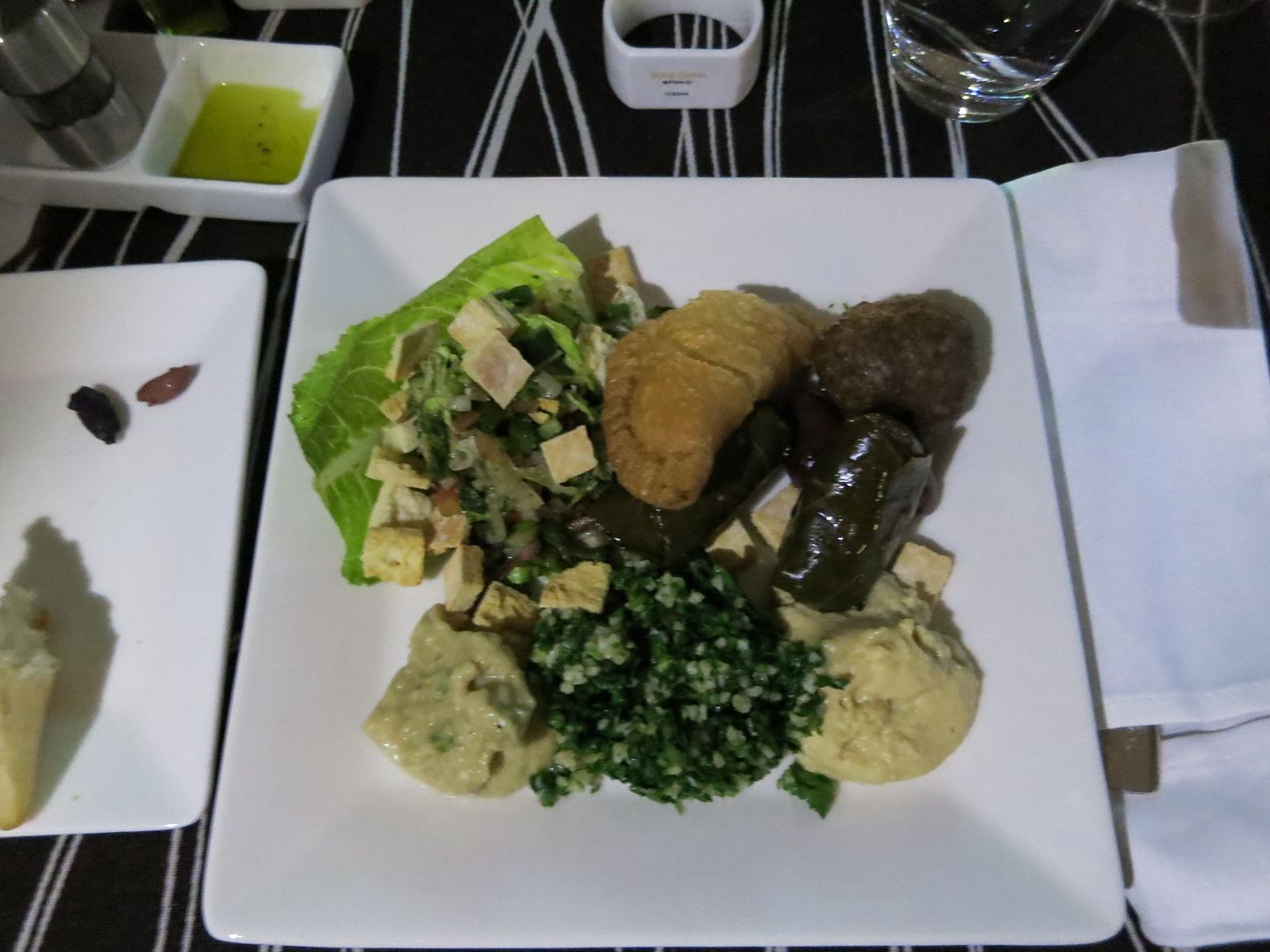 I had the steak and fries for my entrée, which was quite good and the fries weren't at all soggy.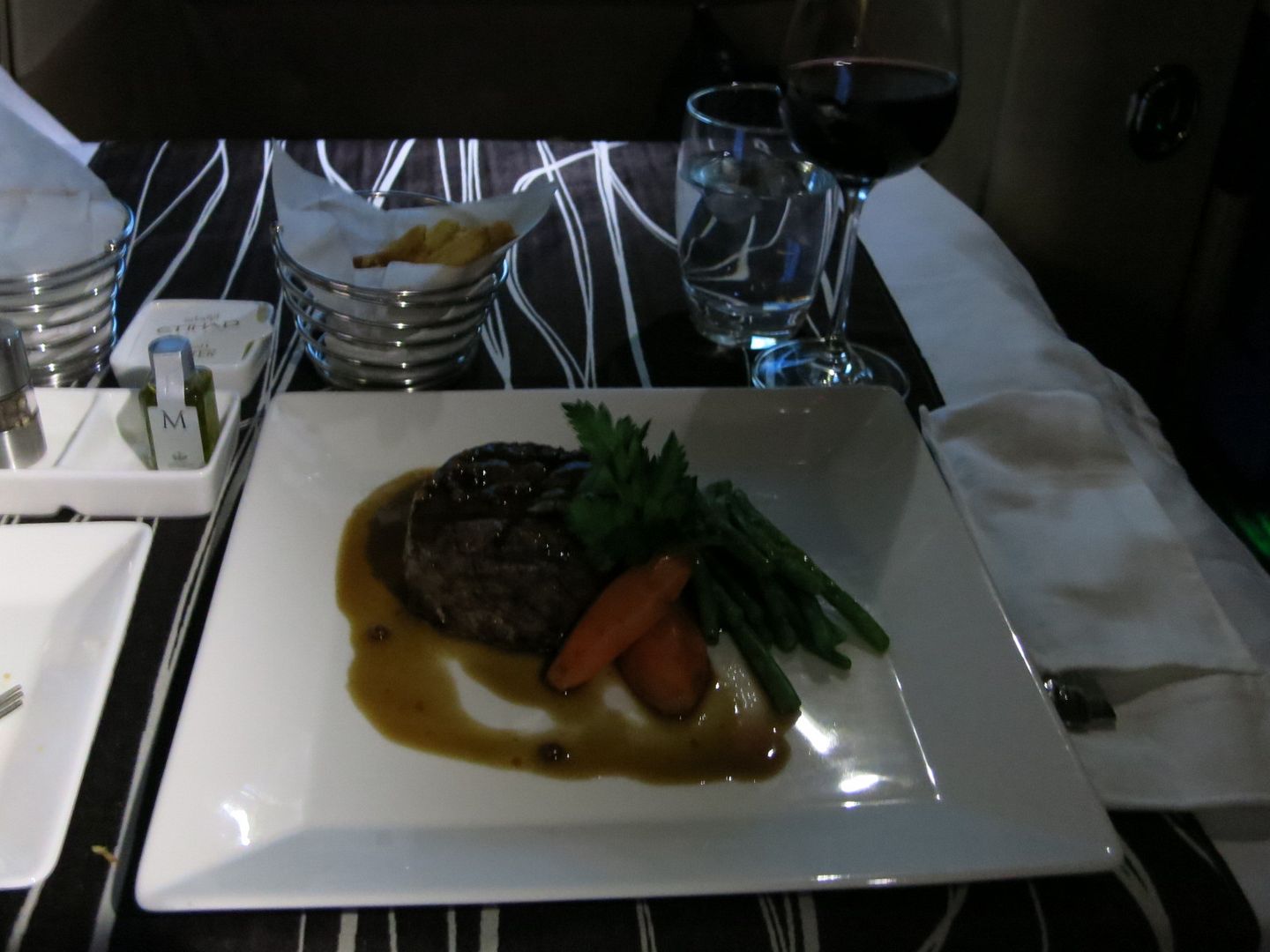 I didn't finish off either, though, in order to have room for dessert.
After dinner I changed into pajamas in the first class oversized lavatory. There's nothing 'special' in terms of features about the lavatory, just its size — it is one of the few that has well more than enough space to change comfortably.
When I returned to my seat I put my clothes away and asked a flight attendant to make my bed. Not quite the proactive service on Asian carriers where they might meet you on your return from the lav to put away your clothes for you, with your bed already made. But simple and smooth enough.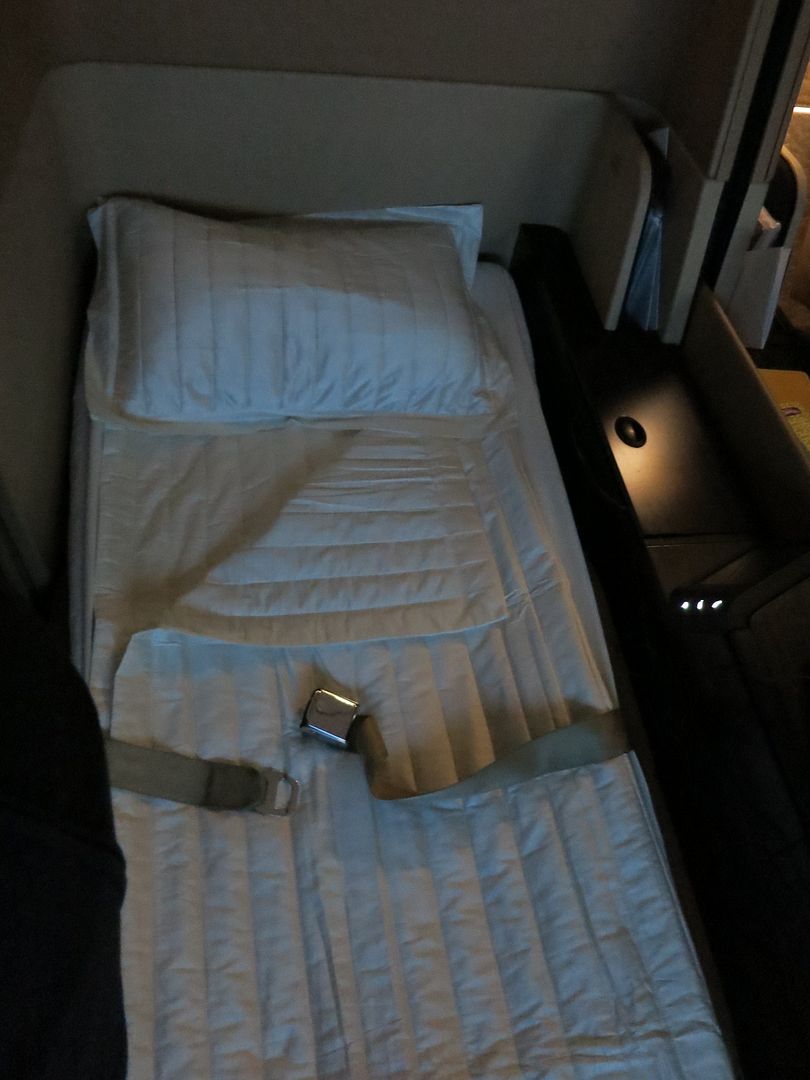 By the time we were midway through the flight, rather than only a quarter of the first class seats being occupied half of them were. It seemed that a variety of airline staff took empty suites to rest in during the flight, and not merely pilots either. Not a disruption, just not really expected.
I slept on and off throughout about half the flight, alternating with watching season 2 of Magic City on my laptop. I never really made use of the inflight video other than for the flight map.
With a few hours left I tried the steak sandwich which is quite good, along with a cappuccino, and also snapped a few photos of breakfast (which I didn't order myself).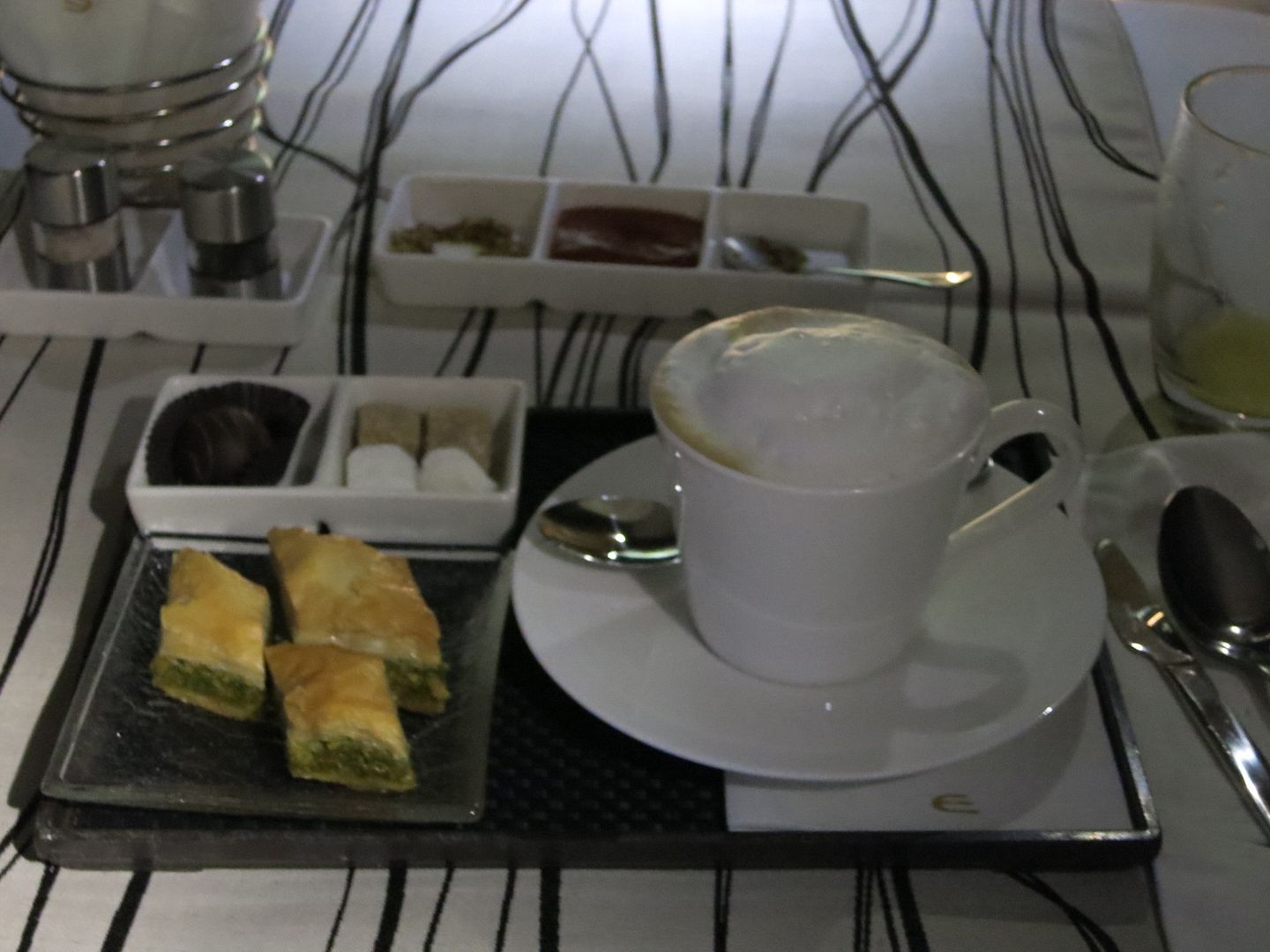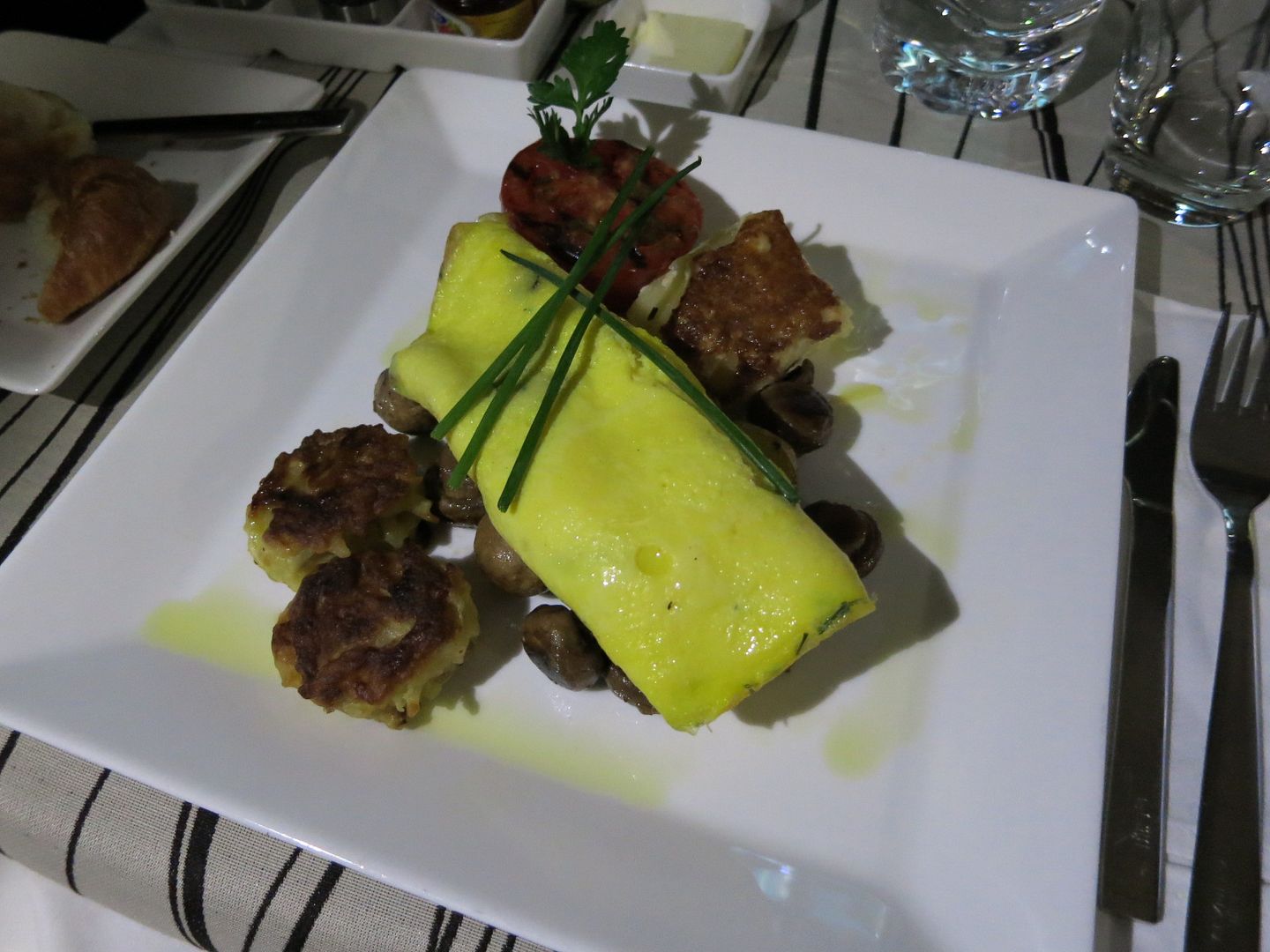 I love the announcement on all of their flights that they are "serving the world from our capital city, Abu Dhabi" reminding that they fly to the UAE capital, in contrast to Emirates which 'only' flies to Dubai. Heh. (Etihad doesn't just offer a car service on arrival at Abu Dhabi and for return to the Abu Dhabi airport to and from anywhere in the UAE for business and first class passengers, there's even a complimentary bus to and from Dubai for coach.(I love the slogan on the side of all of their planes, "From Abu Dhabi to the World" too.)
Despite our late departure, we arrived on schedule. As a transfer passenger I walked through terminal 3, and made the further walk across to terminal 1 where my connecting flight would be leaving from. There's no security or passport check transiting from term terminal 3 to terminal 1, and security checks are done at each group of gates, so there was nothing standing between me and the terminal 1 lounge where I headed next.
Overall, Etihad's first class seat is good and their bedding ok, overall because it's an attractive suite it's a top product though I'd still take Cathay's seat (lacking doors) for overall comfort and spaciousness.
Etihad's first class cabin is stylish, everything is high quality, and I love the dine anytime concept along with a chef who knows what they're doing in food preparation. Give me this hard product, an extensive menu to order throughout the flight, and the service of one of the better Asian carriers and I'd consider theirs one of the very best products in the world if not the best.
As it stands, they are very very good and I'm happy flying Etihad first class any time.
---
You can join the 30,000+ people who see these deals and analysis every day — sign up to
(just one e-mail per day) or subscribe to
free
Don't miss out!