Trip Report Index:
Abu Dhabi – Dusseldorf – London, Etihad First Class and British Airways Club Europe
London Heathrow – San Francisco, British Airways New First Class
When I originally booked the trip we were scheduled to fly Etihad First Class Abu Dhabi – New York JFK – Washington National. But a friend was getting married in San Francisco the day after I was scheduled to make it back to the US and had to find a way to get there. My first thought was to just swap out the final segment home to DC for a three-cabin first class seat from JFK to San Francisco. Except that the last scheduled San Francisco flight left just 5 minutes too early to be a legal connection off of the inbound Abu Dhabi flight.
My next hope was to fly one-stop Abu Dhabi – London – San Francsico. And while Etihad was showing first class award space on Abu Dhabi – London, this was the only time I've ever seen American unable to book award space that was showing up on Etihad's website. It's always been a perfect match. But after literally a dozen calls and agents not able to see or request the space I gave up.
There was London San Francisco first class award space on BA. And there was plenty of space from Abu Dhabi to Europe. I just had to add in that extra connecting segment. I settled on Abu Dhabi – Dusseldorf – London – San Francisco as a compromise and kept checking every few weeks but American was never able to get me non-stop to London on Etihad, though the award space would come and go on the Etihad site. (British Airways never opened up first class space on their Abu Dhabi – London flight either… not that I really relished it, since BA tends to send aircraft with their old first class to Abu Dhabi and since that would incur additional fuel surcharges to boot — the one long haul segment with those junk fees was going to be bad enough!).
When it was time to depart the Park Hyatt Abu Dhabi we were picked up by Etihad's car and dropped off at terminal 3 at the dedicated business and first class check-in facility at the end of the terminal.
There are staff to assist with luggage, and identifying ourselves as first class passengers we were taken past the busy Etihad business class check-in area to the otherwise-empty first class check-in zone where there are couches and seats at the check-in counter. There were several staff members, all looking busy, but not already helping any customers.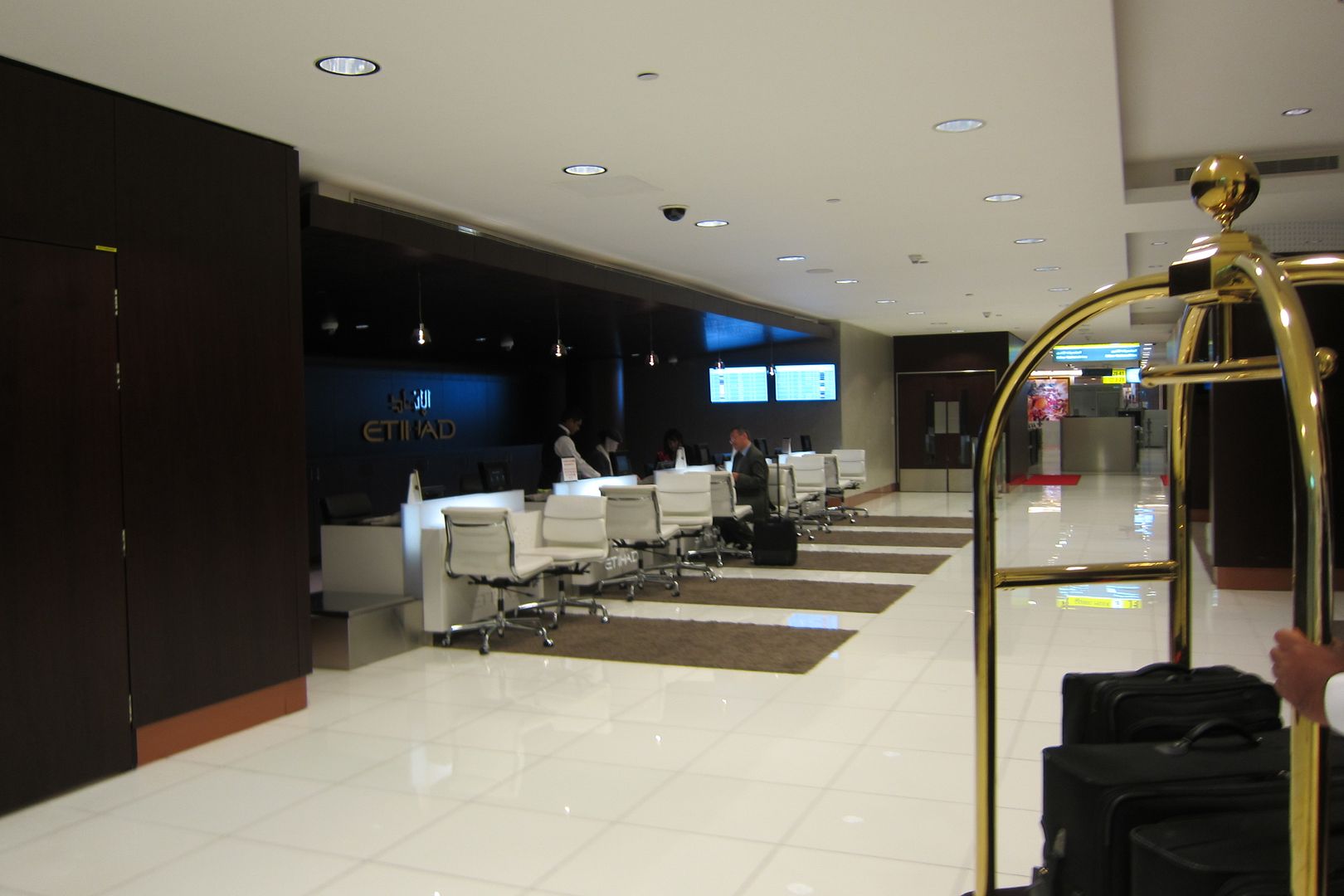 Bags were checked all the way to San Francisco, and boarding passes issued all the way through as well (I was unsure whether they would be able to do this, everything was on the same reservation but British Airways is not an Etihad partner).
There was no line at business and first class immigration, and the line at security just past that was short so I was through in just a moment. The metal detector is especially sensitive though because I alarmed (and I travel in clothes that don't alarm).
Immediately after this security checkpoint is the Etihad first and business class lounges entrance.
A quick walk upstairs and we were welcomed into the first class side. The Etihad Abu Dhabi lounge is a gorgeous lounge. There's a Six Senses spa and nobody taking treatments (I didn't really fancy one myself at the time so didn't give it a go), and a restaurant though you can eat anywhere you wish in the lounge and staff will bring you food off the menu.
The one frustrating thing is that the internet was impossibly slow and difficult to connect to. I couldn't manage it on my laptop after much trying but did get my phone connected so I could at least clean out a few emails before boarding.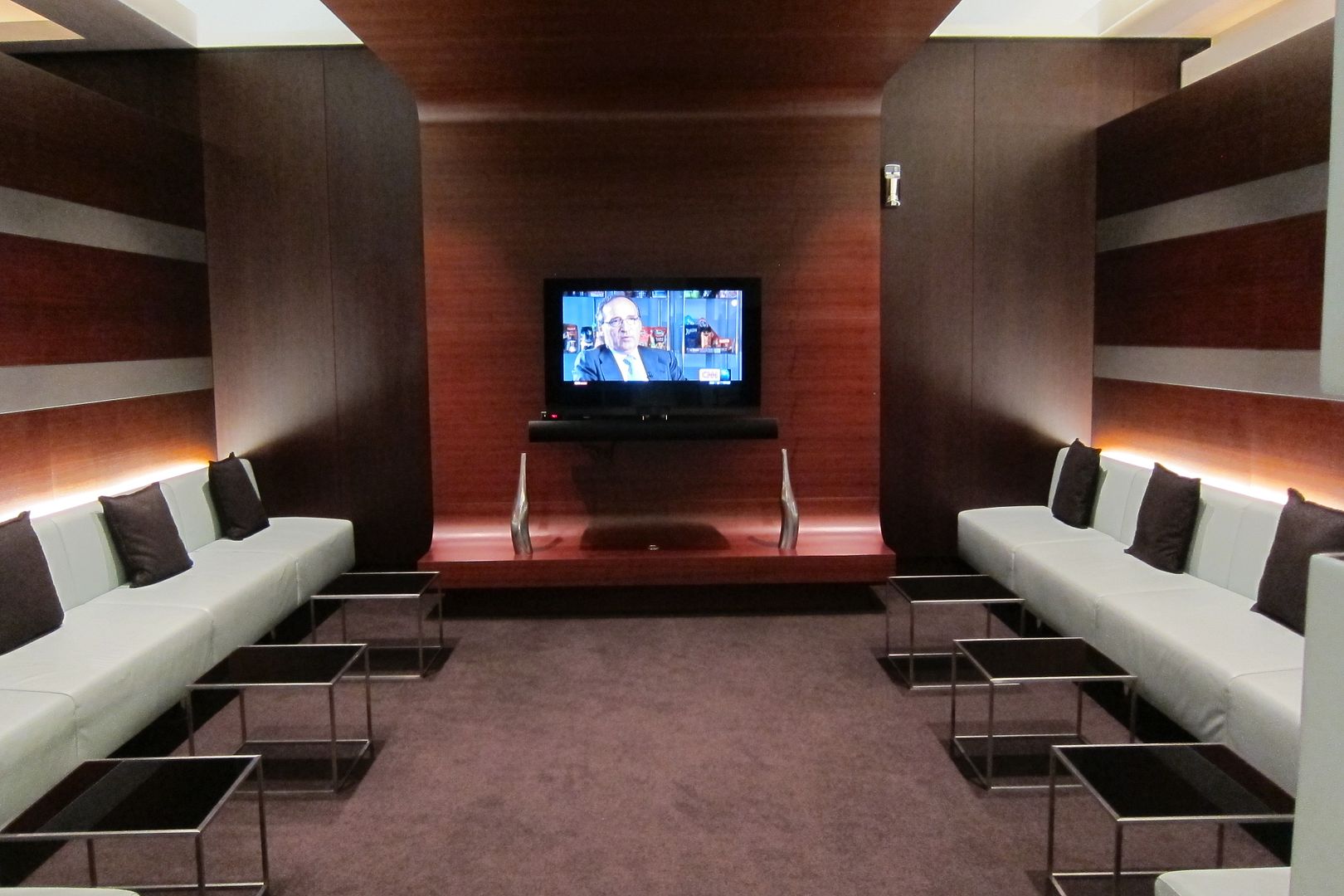 I ordered a few snacks to try. Nothing was especially good, though it all seemed interesting from the menu descriptions, and it was all beautifully presented.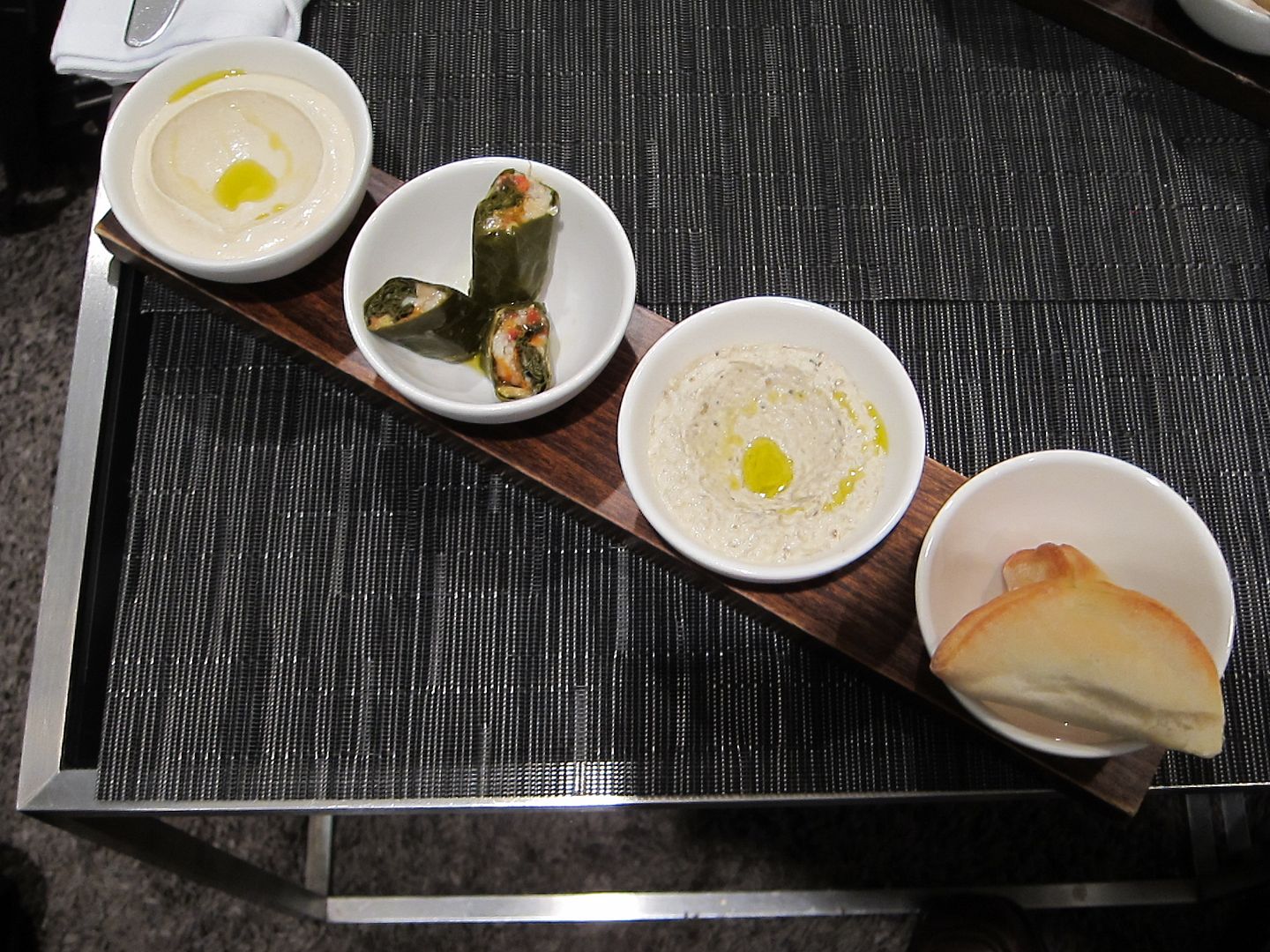 The lounge had everything you'd want (except easy to access internet!) along with attentive service. It's better than most first class lounges, but not among the very top in the world. And there was no escort from lounge to gate, a service they could offer if they wanted to step up their game.
About 40 minutes out we headed to the gate, and discovered that we'd be departing from a non-gate position so would have to be bused out to the aircraft. We drove a long way out to the other side of the terminal for our waiting Airbus.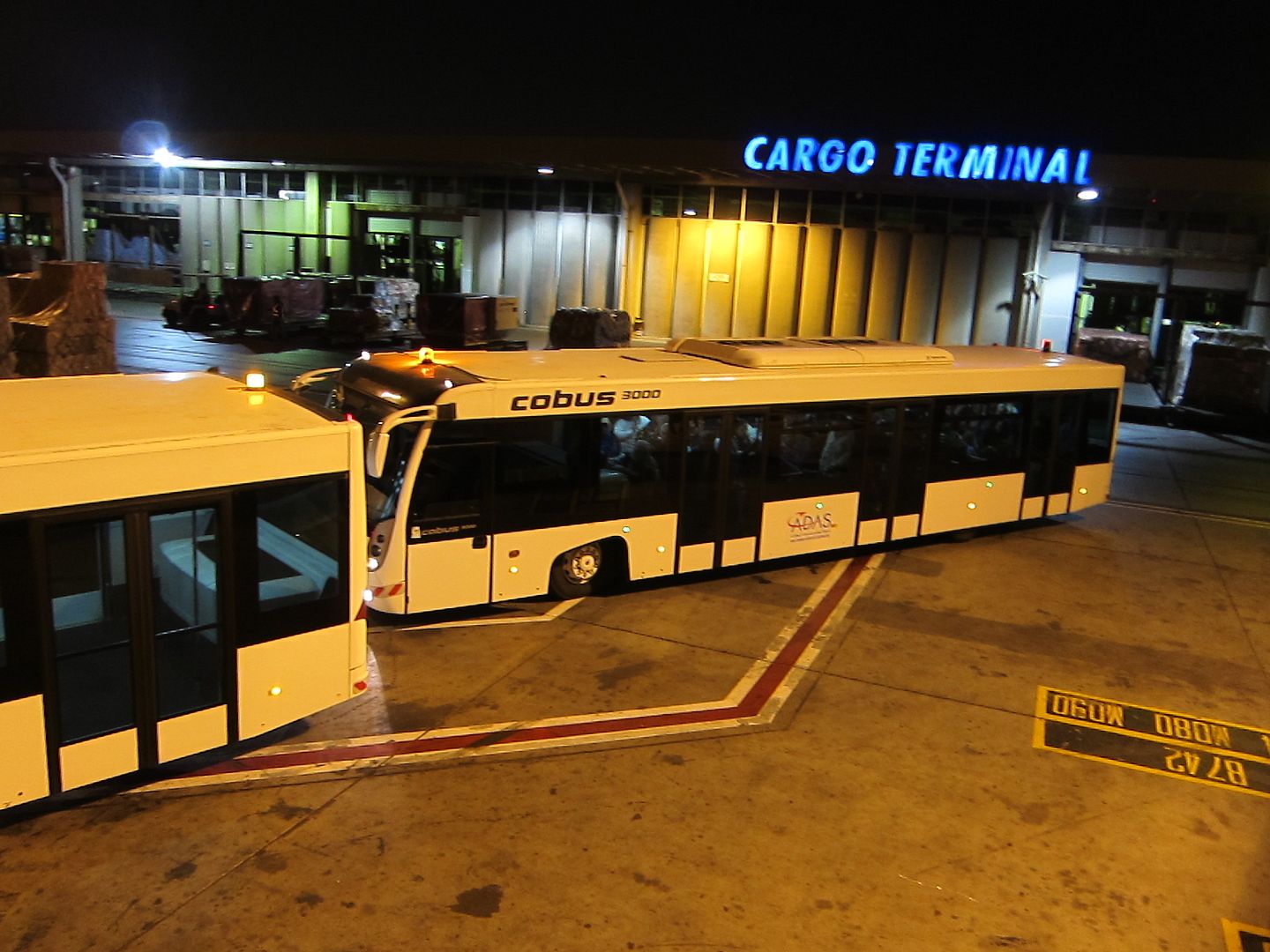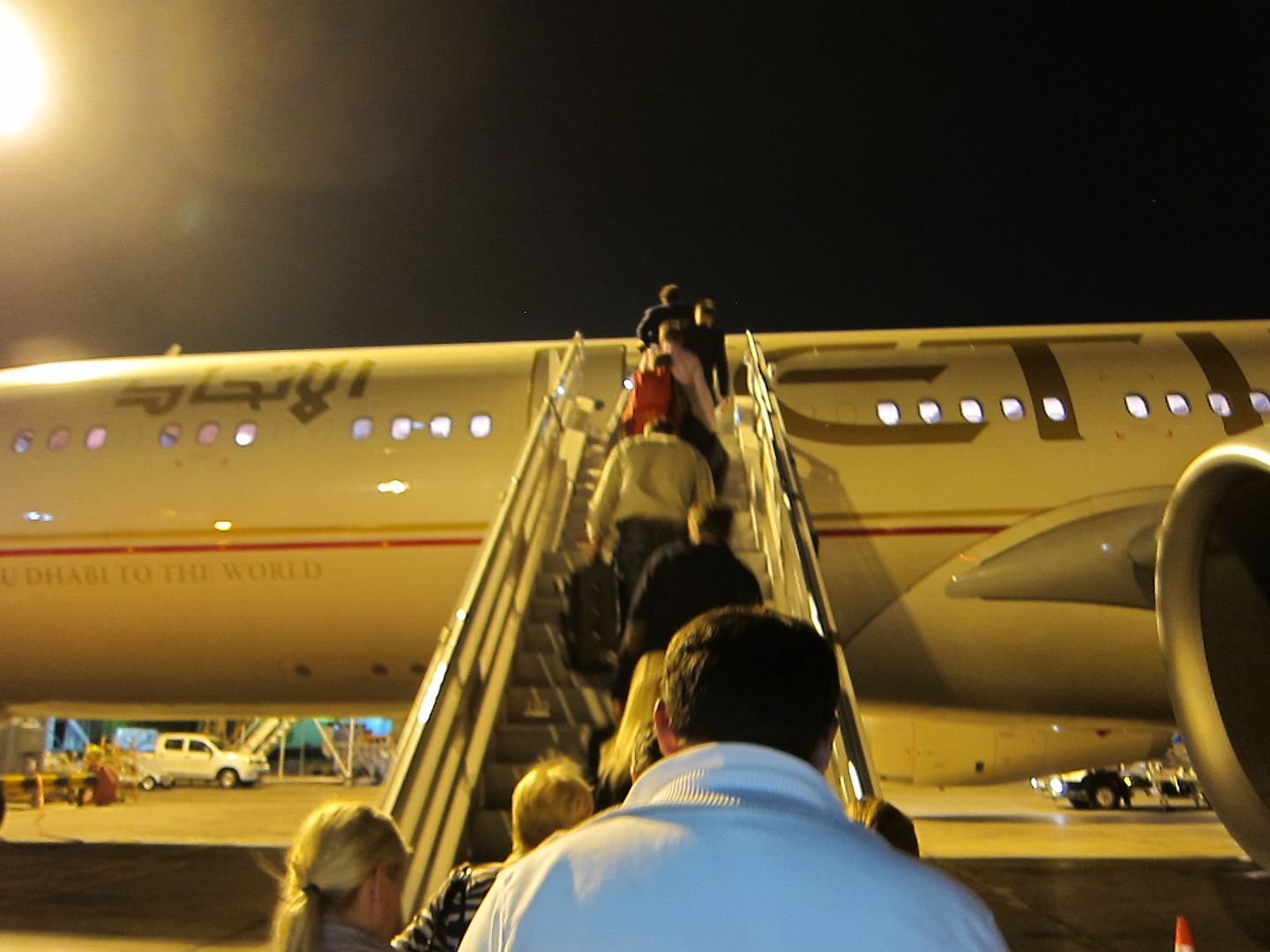 On this flight the first class cabin had just 8 seats, rather than the 12 of our JFK – Abu Dhabi segment, and the cabin was 3/4ths full. It was still the same stylish interior, with the same gorgeous seats, just a little bit more compact.
The seat, of course, has the built-in minibar that I don't really understand. There's only still water, sparkling water, and a salty snack. The area gets warm, so the water gets warm. And airlines generally give you water. But calling it a minibar, I guess, is necessary since direct-competitor Emirates has one in their first class seats.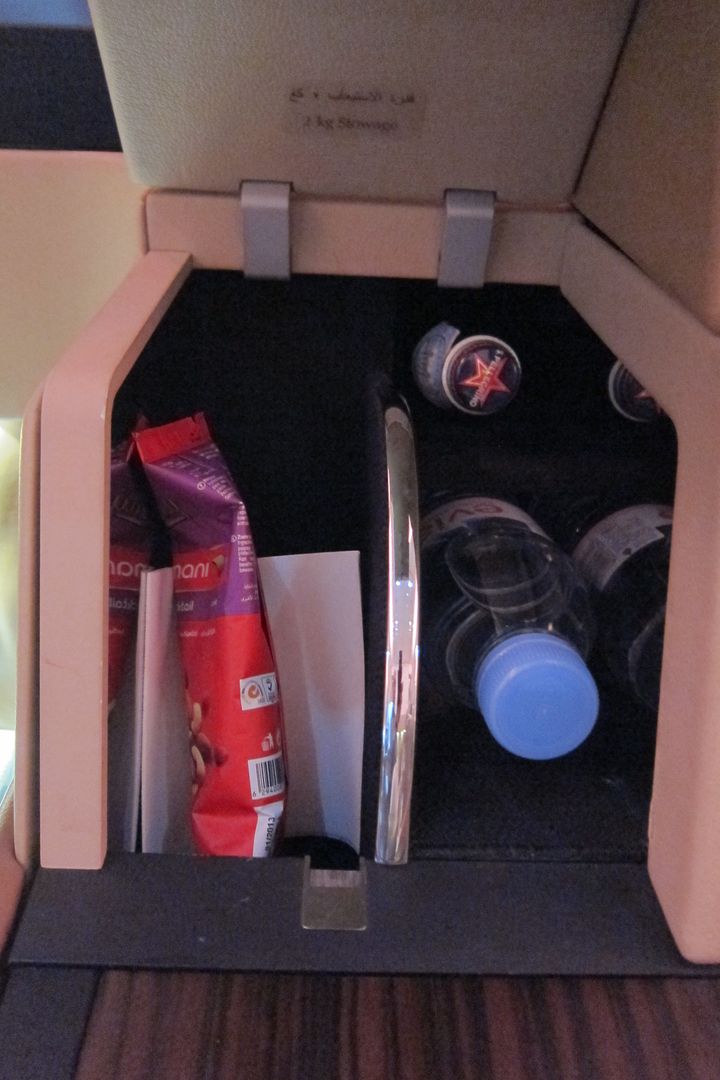 Towels were distributed, along with amenity kits and pajamas — no need to prompt for the PJs after takeoff this time.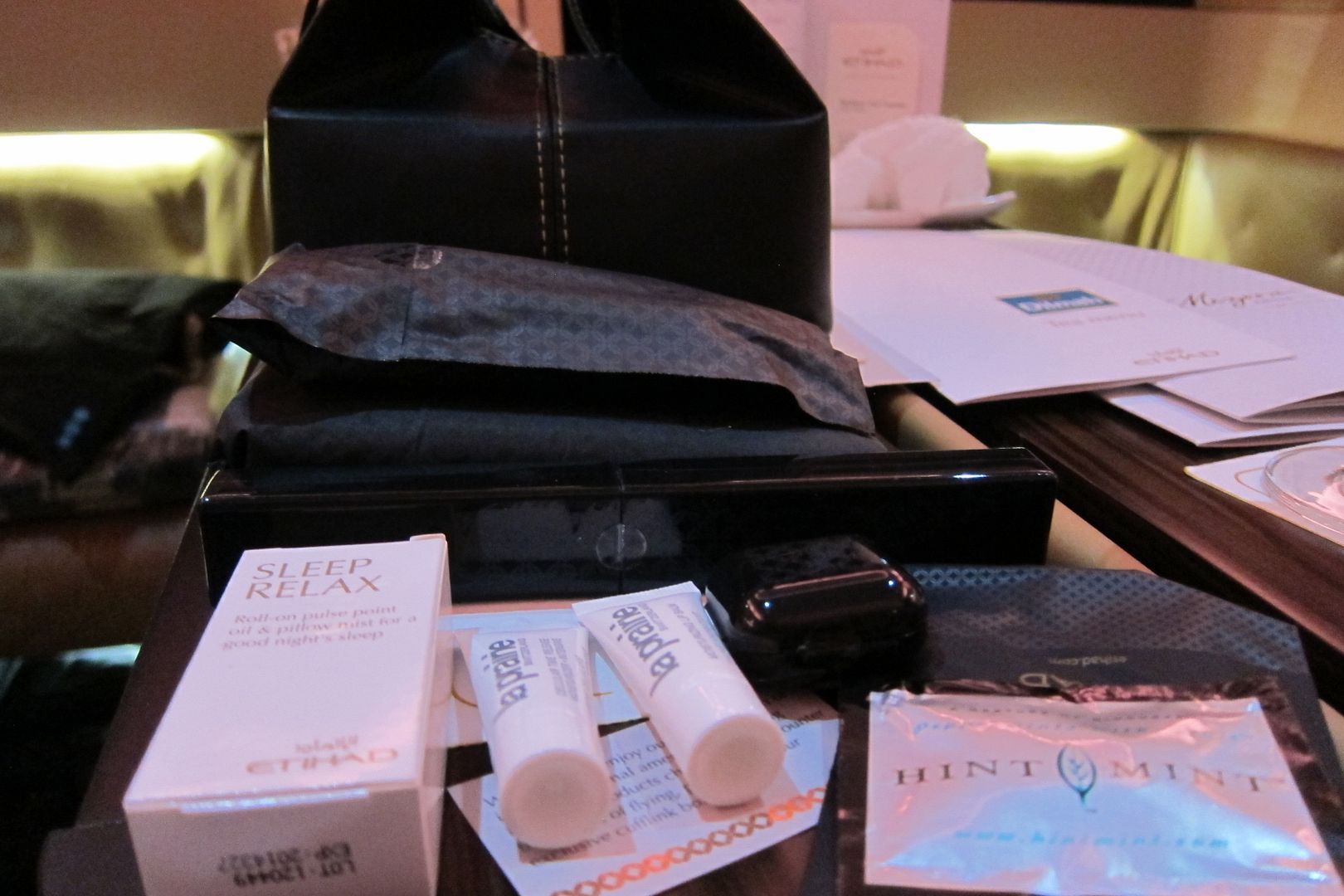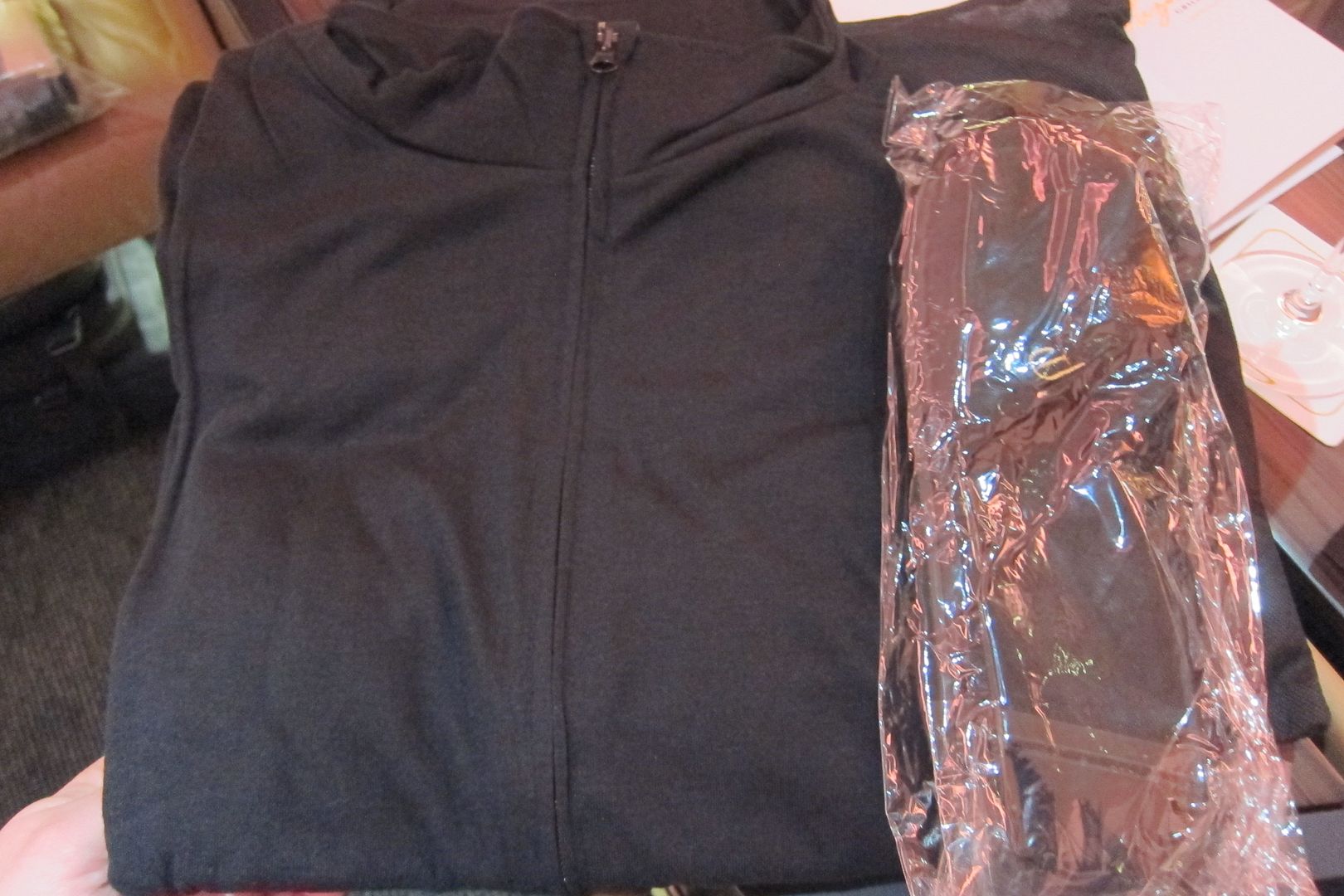 We lucked out and had one of the Etihad Airbus aircraft that's equipped with internet, and I was given a code to use so it was free for the flight. Annoyingly though each time I would close the laptop (such as during meal service) I had to re-login. I didn't realize it would be necessary and didn't keep the slip of paper with the code on it, but fortunately had copied it into an open e-mail so was able to manage this obstacle.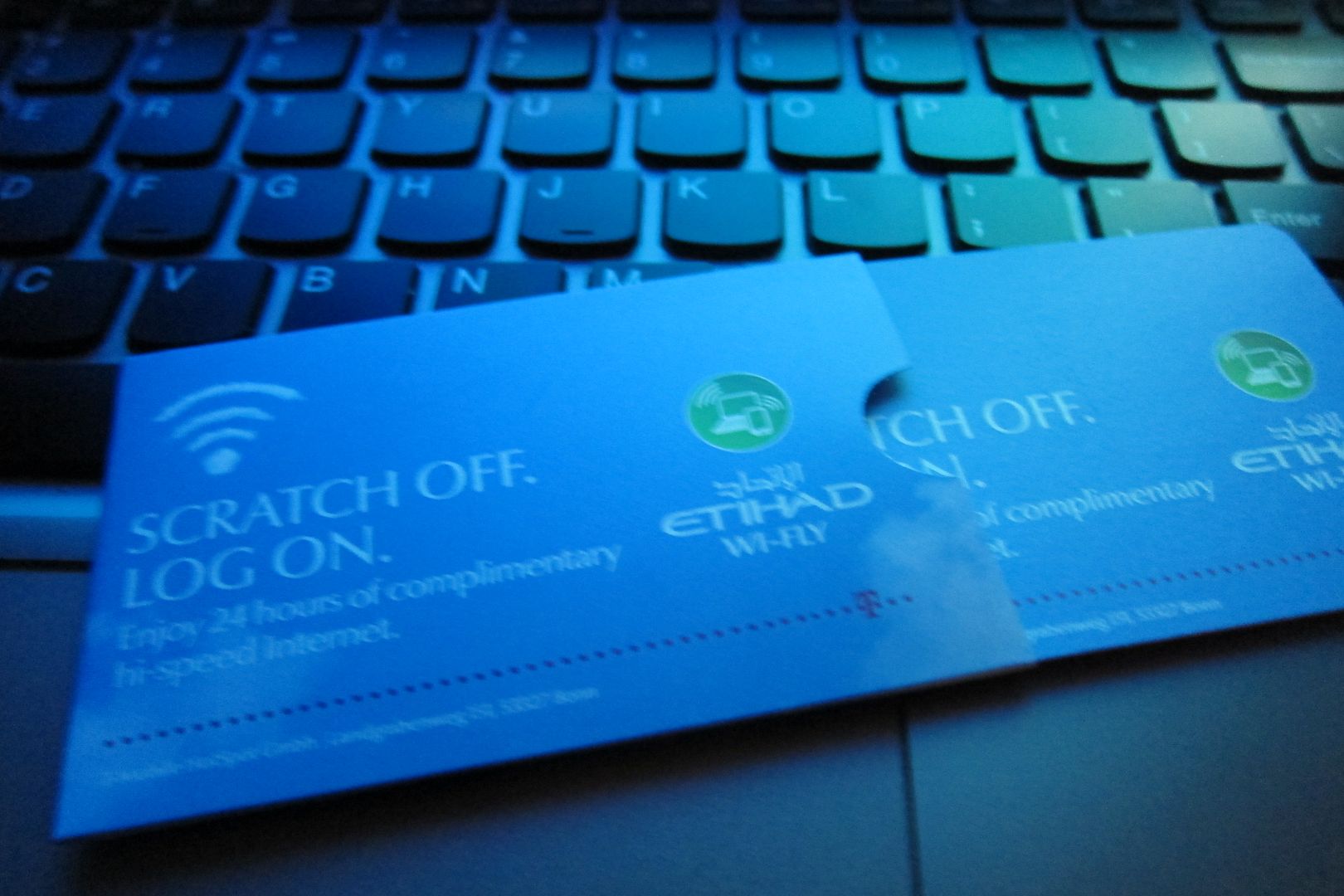 In-flight internet worked great, it was perfectly functional and fast. Much better than the connectivity I got across the Atlantic flying American's 777-300ER a couple of weeks later.
The good thing is I was really productive. The bad thing is I was really productive…and didn't sleep on the overnight flight. Which meant I was really tired the rest of the day when I was less-inclined to sleep (as I wanted to be more thoroughly exhausted on arrival in San Francisco, so I would go straight to sleep and adjust to the time there more quickly).
The menu for the flight was as extensive as ever (especially for a relatively short Middle East-Europe flight) and as follows:
Kitchen anytime

Garden salad
Styled by your in-flight chef

Chef's sandwich
Your choice of filling served with oven-baked fries

The Etihad Steak Sandwich
Rocket leaves, turkey bacon, red onion compote, melted cheese served with grain mustard

Za'atar croissant
Sumac chicken, halloumi cheese and rocca lettuce service cold or warm

Cheese
Selection of international cheese

Sacher torte with peach compote

Fresh fruit platter

Providore natural ice cream – selection of flavours

Nibbles

Potato crisps – selection of flavours

Baked cookies and madeleines

Swedish crisp breads

Arabic baklava

A La Carte Breakfast

Morning bakery and patisserie basket

Energiser fruit smoothie

Assortment of cereals
Full cream or low fat milk

Smoked salmon bagel
Cream cheese spread, capers, dill and tomatoes

Breakfast Quattro
Muesli, fresh ricotta with honey, berry and fruit salad, energizer

Foul medames
Selection of manakish

Peach and custard filed crepe rolls
Apricot compote

Fresh fruits with kiwi coulis

Breakfast from the Grille

Fresh organic eggs cooked any way you like
Grass-fed beef tenderloin
Corn-fed Chicken

SIDES

Sauteeed mushrooms
Grilled tomatoes
Baked beans
Rosti potatoes
Beef sausage
Foul medames

SAUCE

Hollandaise sauce with sun-dried tomatoes
At this late hour I decided to have more of a 'midnight snack', the steak sandwich and some ice cream with coffee.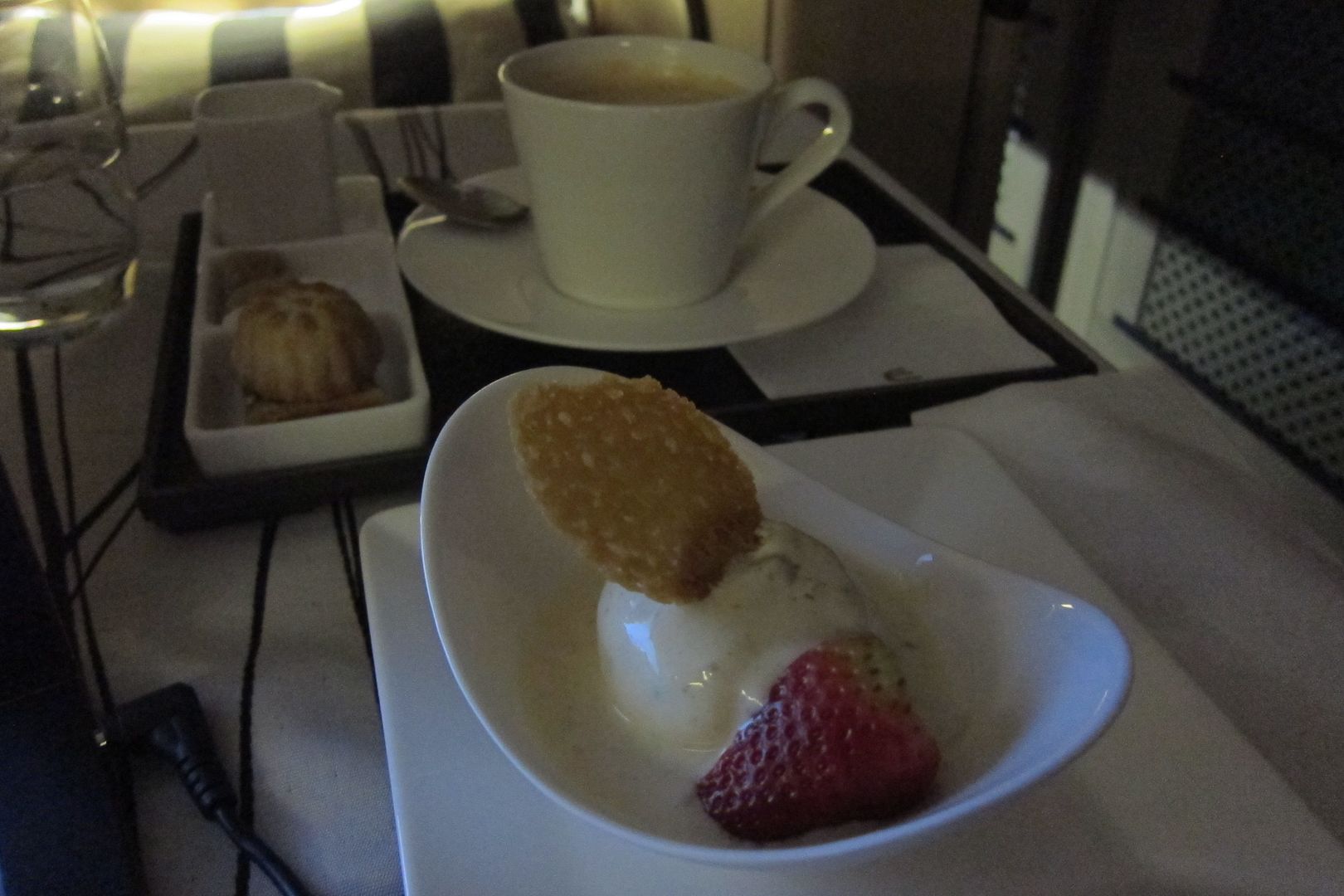 As with the Etihad first calss flight over from New York, the coffee was served with baklava – Cathay is all about the chocolates, Etihad the baklava – only this time it wasn't nearly as good as on the first flight over. Still, even bad baklava on board Etihad is better than what I usually get (and better than anything else but the baklava I used to get at a small takeout restaurant walking distance from my first office shortly after graduating college, where the owner would give me free baklava with my chicken souvlaki a couple times a week).
Since I was working away on my laptop I thought about just powering through but still felt like I wanted to get more comfortable. Service as seems to be the norm was friendly but a bit disorganized. I had to ring my call button after being done with my food for over 20 minutes in order to have my tray removed.
I got up to change into my pajamas and noticed that the crew disappeared from the cabin — the only person up front in first class was doing paperwork and wasn't the chef or first class flight attendant.
I thought about not bothering to ask to have my bed made but decided to ring the call button again. They came by, made the bed, and I got comfortable for the short remainder of the flight with the door to my suite closed.
About an hour and fifteen minutes prior to landing I decided to at least have a taste of some more items on the menu, so I ordered the bagel and lox — the smoked salmon was fine though I prefer it a bit more flavorful (and am a bit in the minority on such things but also prefer my lox to be salty, which this wasn't at all).
The bagel itself though… not so much and only ate about half of it.
I also tried the crepes which were quite good, but also only ate about half.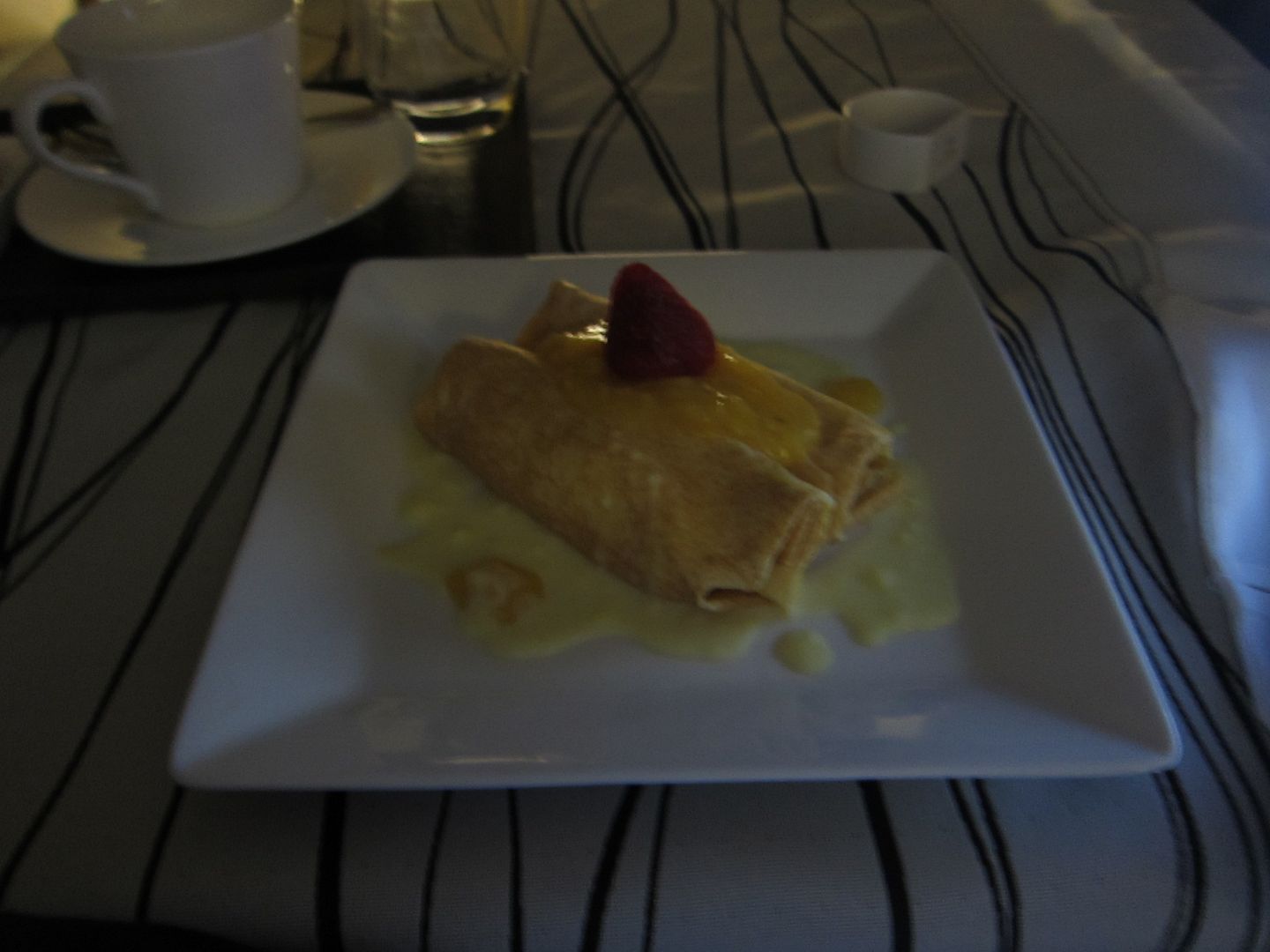 Touchdown was about 30 minutes ahead of schedule, which was going to turn a 4 hour 20 minute (!) connection in Dusseldorf into nearly 5 hours, so I decided to go through passport control and then outside for a breath of fresh air before proceeding to the lounge, stretch my legs and bit and also break up the time at the airport.
Once back through security it was over to the shared, new Hugo Junkers lounge. The lounge had plenty of seating, was comfortable, with a modest amount of food. I sat down, watched a couple of films on my laptop, and whiled away the time until boarding of the British Airways flight to Heathrow.
The Hugo Junkers lounge had a nice view of airport operations
You wouldn't go hungry, but there was nothing so tempting that I wanted to eat after having done so on my flight from Abu Dhabi.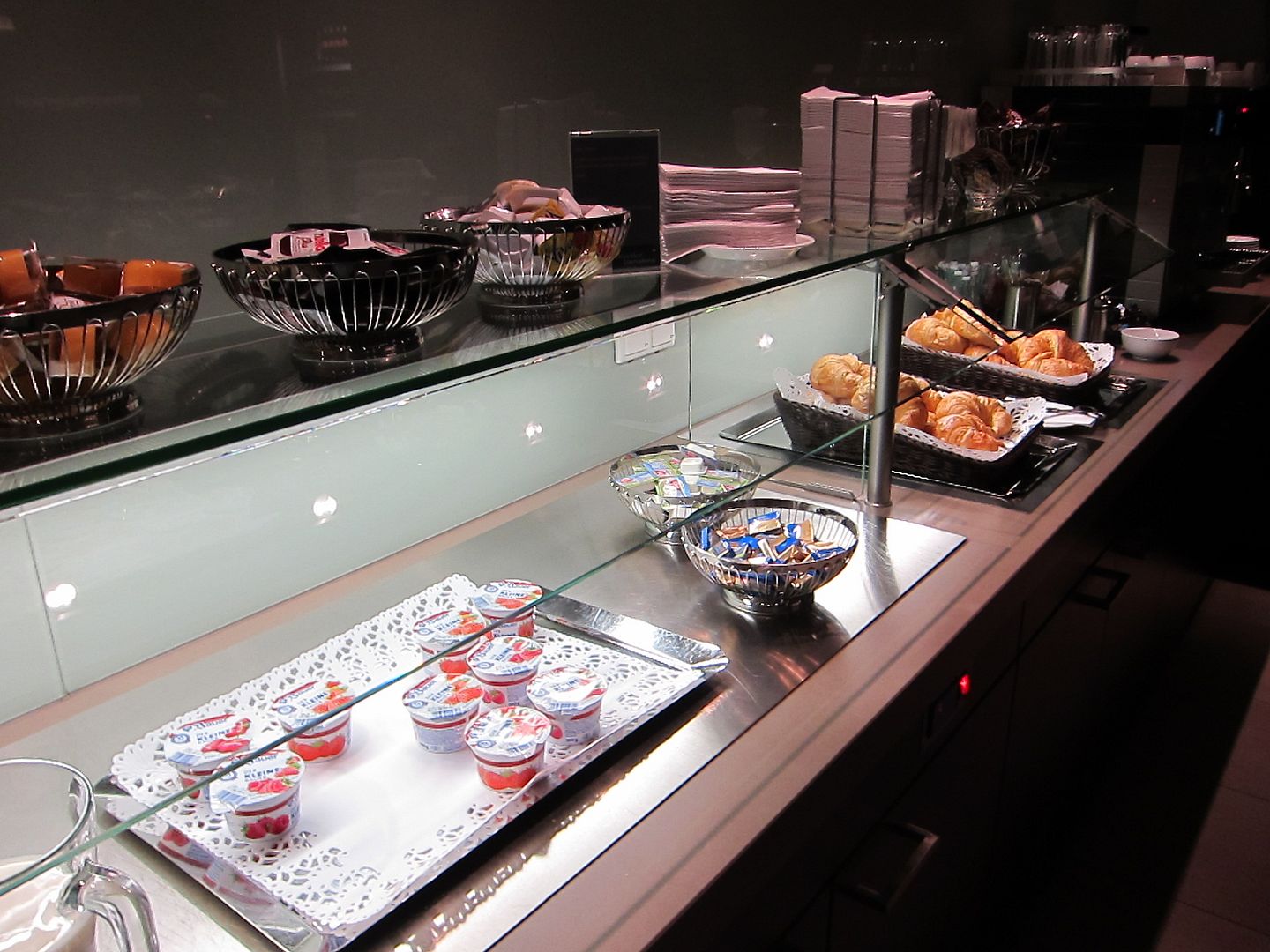 There was also this warning in the restroom:
A little after 10am I decided to go over to the gate, which entailed going through passport control just short of the counter (since we entered and then were leaving the EU).
Just outside the window was our British Airways Airbus that would ferry us over to Heathrow.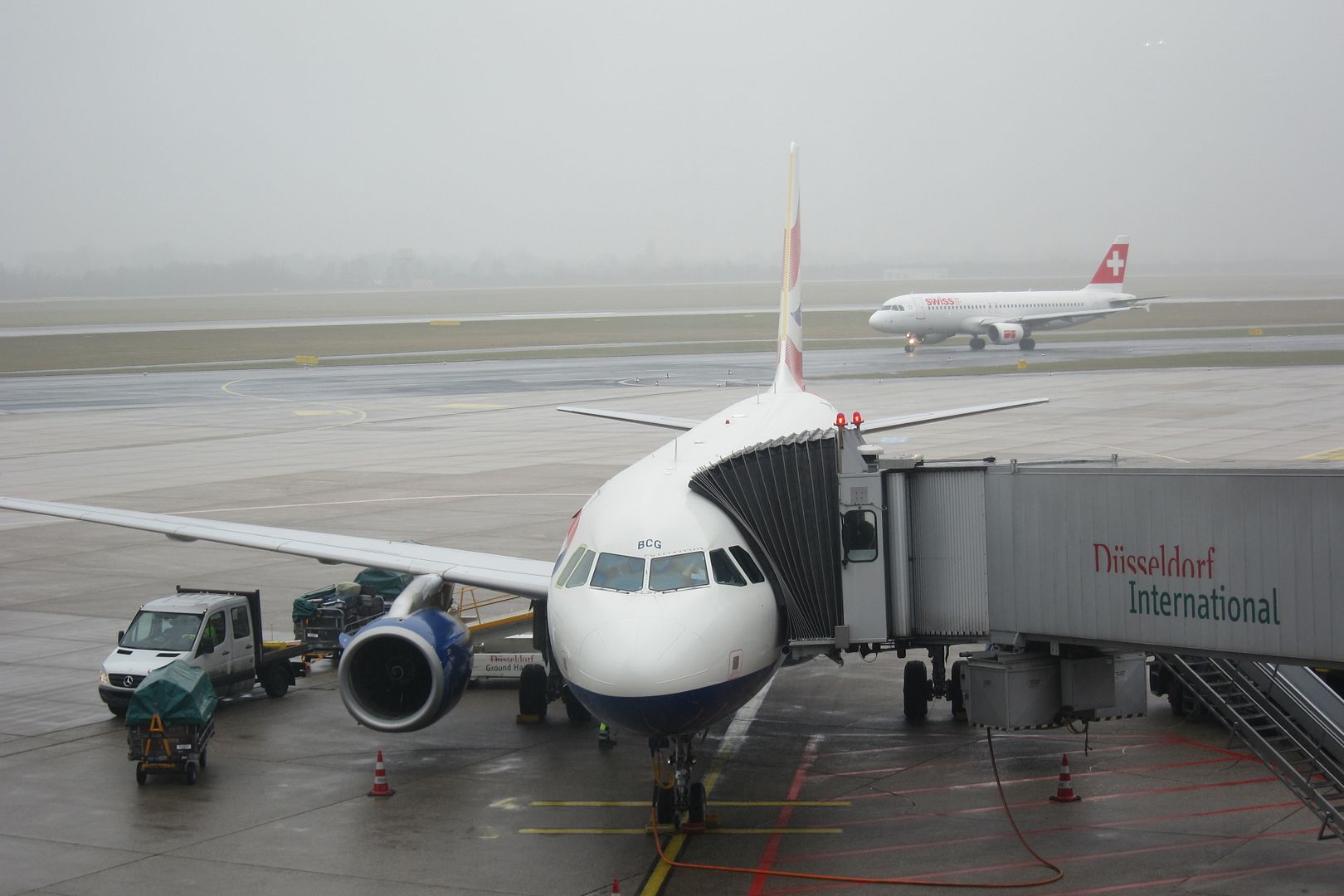 Boarding was quick, the flight uneventful, food tasty for an offering on such a short hop.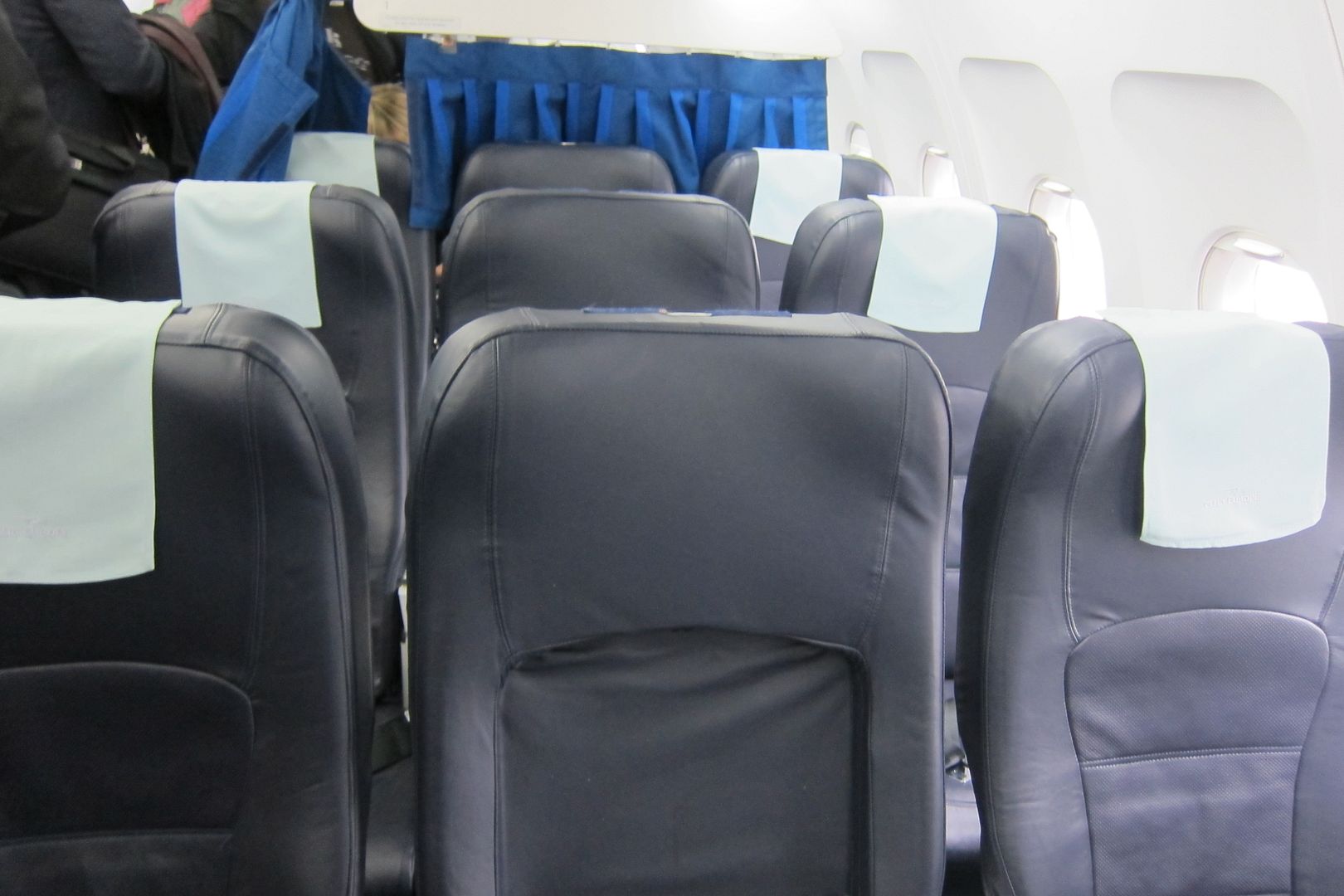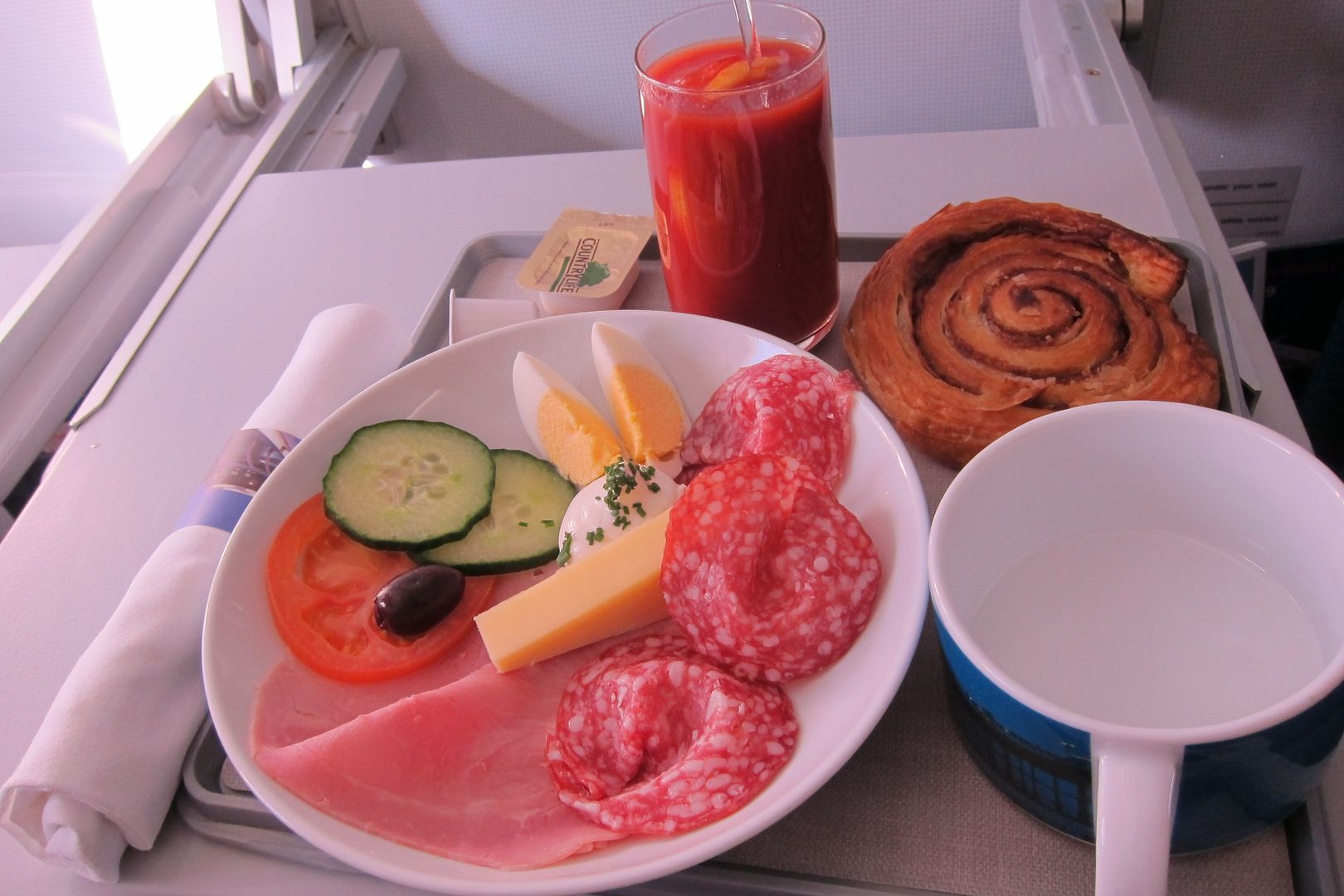 The flight itself didn't take long, but around 11am on a Friday I figured we would taxi right into Heathrow but we did not, we circled for about 20 minutes which ate up the time that we'd have been earlier based on our on-time departure.
Once on the ground I was looking at nearly as much time to transfer between flights as it had taken to get to London from Germany!
We arrived at a Terminal 1 bus gate So while there was a jetway, we walked downstairs to waiting buses — that would take us to the terminal, where we could walk to the transfer area to board a second bus that would take us to terminal 5.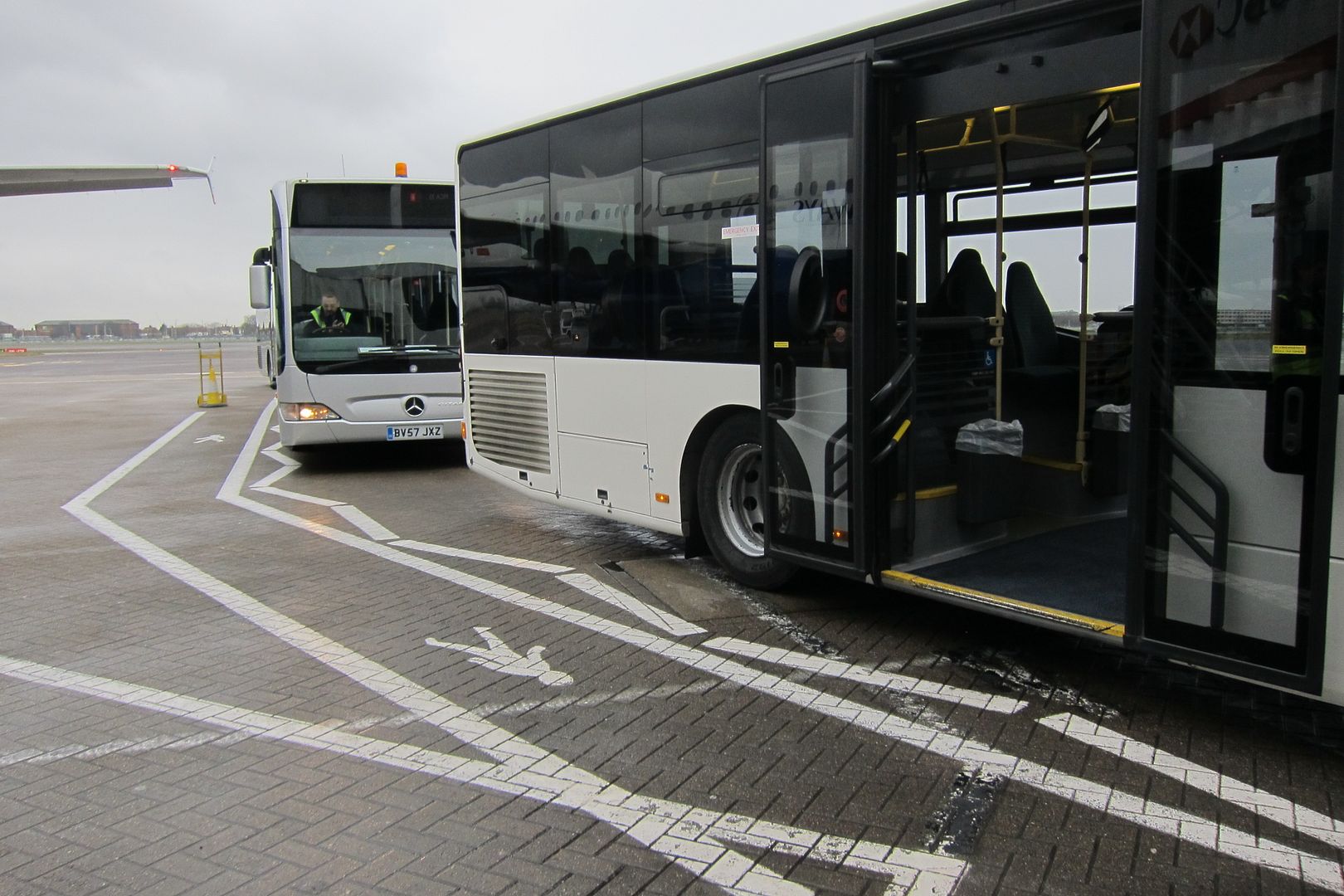 From there I would head to the Concorde Room, covered in the next post, and ultimately onto the terminal 5 train to make it over to my gate.
So transit between the two British Airways flights at Heathrow involved two buses, quite a bit of walking, plus a train. Planes, trains, and automobiles indeed!