American Express' first 'Centurion Studio' opened a month ago at Seattle's international airport, across from gate B3.
Overall it was a nice space, where I enjoyed spending a couple of hours. I definitely prefer it over the Alaska Airlines Boardroom (but no pancake machine) and over the United Club there. But make no mistake, it's not a Centurion Lounge if you've been to one of those in another U.S. airport.
The 'studio' concept is different from American Express Centurion lounges, it's smaller and doesn't feature extensive food offerings, a bar, a kids room, or a spa. There's no conference room.
Basically it's the American Express lounge, their design concept and staff. It's a nice space, and there are modest snacks.
American Express wants lounges in major airports and will take smaller spaces when that's all that's available — and it's a concept they're testing for smaller airports, also.
The full scale American Express Centurion lounges at US airports already open are:

The next Centurion lounge that will open will be Houston.
I visited the Seattle studio earlier in the week. When I walked in the agent at the desk recognized me — he told me he reads the blog. It's funny, I always run into people I know or who know me at Centurion lounges. I don't remember the last time I stopped into a Centurion lounge and didn't wind up chatting with someone there. But it's not usually the staff there so that was surprising.
The entrance is very much like you'd expect at a Centurion lounge, dark desk and a living wall.
Beyond that space is the lounge itself which is more or less one large open area, with a sense of separate spaces created by the furnishings.
There's plenty of window line with a view of airport operations and most uniquely out at Mount Rainier.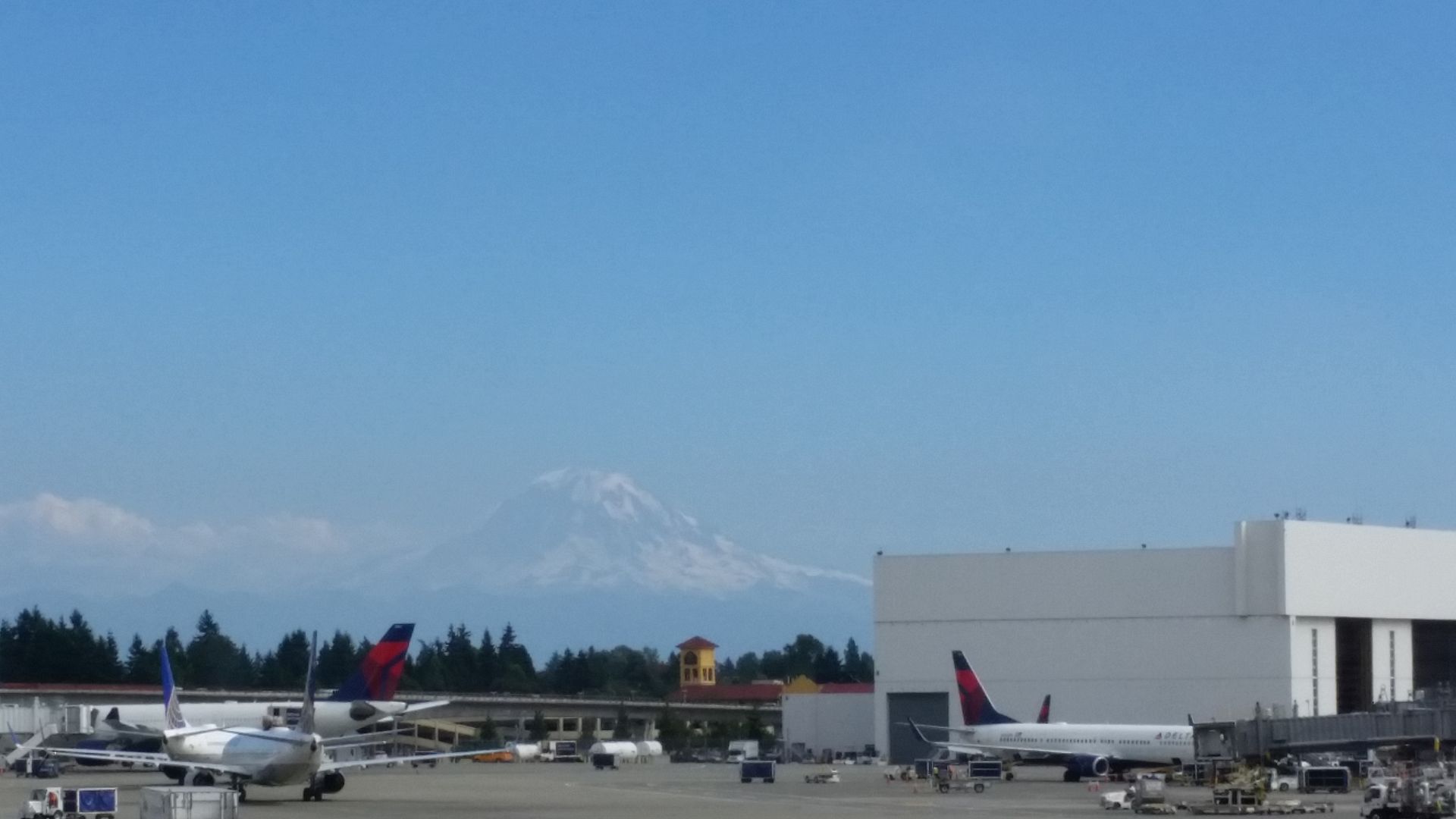 There's a buffet area with self serve soft drinks. Alcoholic beverages are listed on menus, and have to be served by staff who circulate around the lounge.
The spread was modest, though good quality and fresh. But no hot items, so I'd rate is as not being materially better than other lounges in the airport.
During my stay there I met the lounge manager, and she told me about meeting with secret service days earlier about the space as a place for former President Carter to use during time at the airport (her first question, "Is he a cardmember?") but the space didn't work in the end precisely because there's no private areas.
The lounge was crowded, but I found seating right away. It was afternoon on a Tuesday. Others have complained that it fills up and there really isn't enough space. The manager told me they have some ideas for other space now that they're in the airport. I wouldn't expect anything quickly, but she said not to count out the possibility of a larger lounge in the future.
Space aside, I had three criticisms of the lounge.
First, the place where I found seating was an area of the lounge without power outlets. And I don't think there are enough outlets even through the rest of the lounge. I want to sit somewhere that I have access to two outlets, and for the person I'm with to have access to two outlets as well (though I can pull out my own compact power strip of course and make better use of just one, many don't come prepared for that).
Second, the two single-person bathrooms just aren't enough. I stood for nearly 10 minutes waiting to use one for about 30 seconds. I actually gave up waiting, thought about going out into the terminal to find a restroom, but decided to just come back in a little while and got lucky.
Finally, even without kitchen space where they're having to bring in packaged food into the lounge, they can do better. They don't have kitchen facilities to duplicate what they have at the other lounges, but they can bring in cold items. They need to embrace the region – where's the salmon? The lounge has a view of Mount Rainier, where are the Rainier cherries?
And since they aren't spending nearly per guest what they do in the other lounges on food and drink, without a full bar, they should be able to invest in wine at least at the level of the San Francisco lounge and offer a better Washington State cab or Oregon Pinot.
Here's the current beer and wine list: (Click to enlarge.)

They do seem to have a great staff, very friendly. They're walking around, helpful, bringing you something to drink and clearing plates actively.
Ultimately it's a great concept for smaller airports and I expect we'll see something like it pop up elsewhere. It doesn't really work well for an airport this size, although they've compensated with more restrictive access policies to keep it from getting too crowded. They only allow one guest if you're not bringing in immediate family (rather than their standard two guests) and they don't sell day passes to other American Express cardholders — access is Platinum and Centurion cardholders only — the way they do at other lounges.