North Korean state airline Air Koryo's $9 all-in mistake fare was first discovered on the Pyongyang – Vladivostok route.
It turns out that the fare sale is much broader. In fact, it's systemwide. All routes, and classes of service.
You can fly between any of the cities they currently serve:
You can book Beijing – Pyongyang roundtrip, in business class even for $0 plus online booking fee or $9 all-in.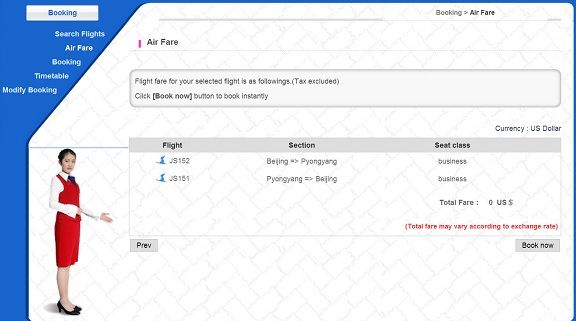 Let's take a closer look:

Now, you may be skeptical that this fare will be honored. After all, no DOT rules require it. And even if they did, North Korea has nuclear weapons.
Let me reassure you. Air Koryo's online web bookings are reliable.
In fact, Air Koryo is proud of its comprehensive online booking capability.
You can make a convenient reservation on Air Koryo booking channel available day and night.

At the time of reservation, you can request any service on demand in advance.

∙ On-line reservation 
 You can make a reservation and direct purchase of tickets online anytime, anywhere.
Online bookings are even more secure, they're the only reservations that do not require re-confirmation.
You are to be reconfirmed and revalidated of booking up to 72 hours before aircraft departure. Such reconfirmation and revalidation can be done at all overseas Air Koryo offices. Non-observance of these requirements would be leaded to automatic cancellation of booking.

∙ On-line reservation 
On-line reservation makes you free from reconfirmation and revalidation of booking.
No need to re-confirm or revalidate. Book online, and you're fine.
---